With plenty of festival health supplements on the market, Rave Doctor has made a name for itself and continues to draw in fans daily.
---
Editor's Note: Rave Doctor sent us samples of their Protection & Recovery Formula as well as HydroRX in exchange for an honest review of the products.
Ask your typical raver what's in their "starter pack," and you'll probably find armfuls of Kandi, multiple packs of gum, diffraction glasses, good vibes, and of course, supplements to help them recover from partying. Whether you're a chill concert-goer or going wild for the night, supplements from companies like Rave Doctor are touted to help you feel refreshed, awake, and ready to take on the following day.
No matter the event or time of year, if I'm planning to party I always make sure to load up with supplements both before and after the event. The long days and late nights can really wear you out and it's crucial to be in the right mindset so you can recover properly and do as little wear on your body as possible. That's where Rave Doctor comes in, as they've combined 13 fundamental ingredients into one dosage that's been formulated by actual medical professionals.
I've tried various rave supplements in the past and always heard positive reviews about Rave Doctor, so I was stoked to finally be able to give it a try.
When deciding between other supplements in the past, I've always looked to the ingredients first before making my final purchasing decision. To make sure it's the right supplement for me I usually compare the different amounts of each ingredient, what benefits certain ones give over others, and whether it's best to take dosages with food versus just water.
Rave Doctor includes Vitamins C, E, B1 (Thiamin), B6, and B12 in their formula, as well as other valuable staples like Magnesium for muscle soreness and 5-HTP to help with mood regulation. I was thrilled to see such a high inclusion of Vitamin C as I regularly take this as a supplement in my water; plus, it helps tremendously with tissue repair and the upkeep of the immune system. Alpha-Lipoic Acid (ALA) and CoQ10 are included as well to aid in metabolism, rounding out the key set of ingredients in Rave Doctor Protection and Recovery. (Check out the full list of ingredients below!)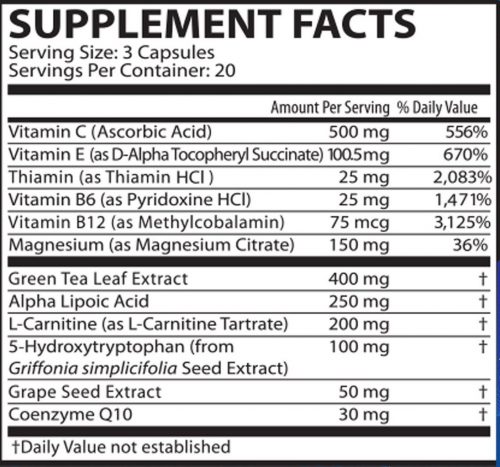 I took Rave Doctor during a New Year's Eve event in San Diego and I definitely felt a difference after the show.
The instructions prescribe users to preload and start taking servings three days before the event, each morning of the event at least six hours before, and three days following the event to help with recovery. Thinking that might be a bit excessive, I ended up taking Rave Doctor the day before I attended OMFG NYE in San Diego, on the day of the show eight hours before, and during the two days after the show.
Even though I did not take it as prescribed, I could tell that the supplements still took effect. I felt rejuvenated the day after the event when I'm usually super groggy and tired from being out until 4am.
While these products are typically geared toward people who are partying hard, they still work wonders for those who aren't partaking in festivities and just want to feel fresh the next day.
I attended OMFG NYE sober, but going into the show I felt like I was coming down with a slight cold. I was worried that going out would make me feel even worse the following morning and I couldn't risk getting sick either. While I did wake up still feeling a little under the weather, I continued to hydrate and take the supplements for two more days after the show. Each day I felt increasingly better and I do believe that Rave Doctor helped me to return back to my normal, healthy self.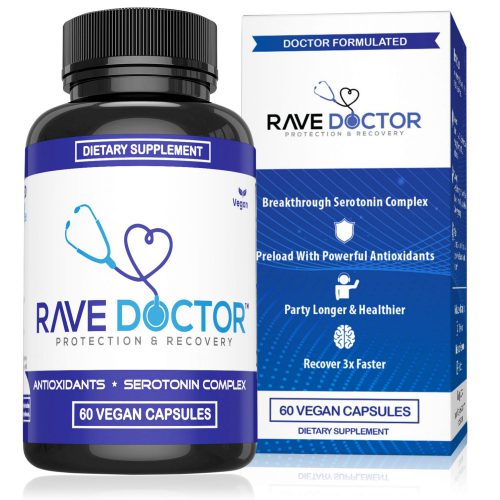 Well, what's the verdict? Can we recommend giving Rave Doctor a shot?
I'm thankful that Rave Doctor allowed me to recover quicker after an event and I was honestly surprised at how awake I felt the next morning even if the signs of a slight cold were still present.
To help even further, I also gave HydroRX by Rave Doctor a go in between my post-recovery days that I did not take the regular capsules. HydroRX was quick and easy to mix in with a glass of water in the morning and it was way more effective than the typical Emergen-C packets I consume daily. The mega-load of electrolytes and vitamins gave me sharp alertness that came on smoother than coffee's caffeine spike. When paired with their supplement, I can see how HydroRX would help with hydration after an energetic night out.
Nothing can truly beat a good night's sleep, but for those nights where you're just having too much fun, I would recommend trying Rave Doctor's Protection and Recovery and its companion HydroRX. Of course, everyone reacts differently to supplements and I am not a doctor, so be sure to consult with one if you feel you might adverse effects or are on medication. Doing research on anything you put into your body is important, so make sure you rave responsibly!
Both Rave Doctor's Protection and Recovery and HydroRX can be purchased via their website.
---
Connect with Rave Doctor on Social Media: