Unsure what to pack for your next event? We've got you covered with our list of essential items that you absolutely must have in your bag!
---
Well, fellow festival aficionados, the time has finally come: festival season is here! That perfect outfit you spent weeks scouring the internet for arrived yesterday and you just received an email confirming that your wristband has been shipped and is on the way. The best weekend of your life thus far is fast approaching and you are so ready. Or are you? Will you remember to pack your sunscreen in your bag? What about a portable charging case?
We know you're fully prepped and ready to go for everything leading up to the moment you scan your ticket at the gates, but what about what happens after you're already inside? For music festival veterans and newbies alike, it can be daunting trying to figure out what exactly to bring to a festival. Luckily for you, we've got you covered with a few examples of what our veterans pack in their bags when they head to events!
Read on for an inside look at what's in our festival bags and some suggestions on what you should bring to your next event! 
---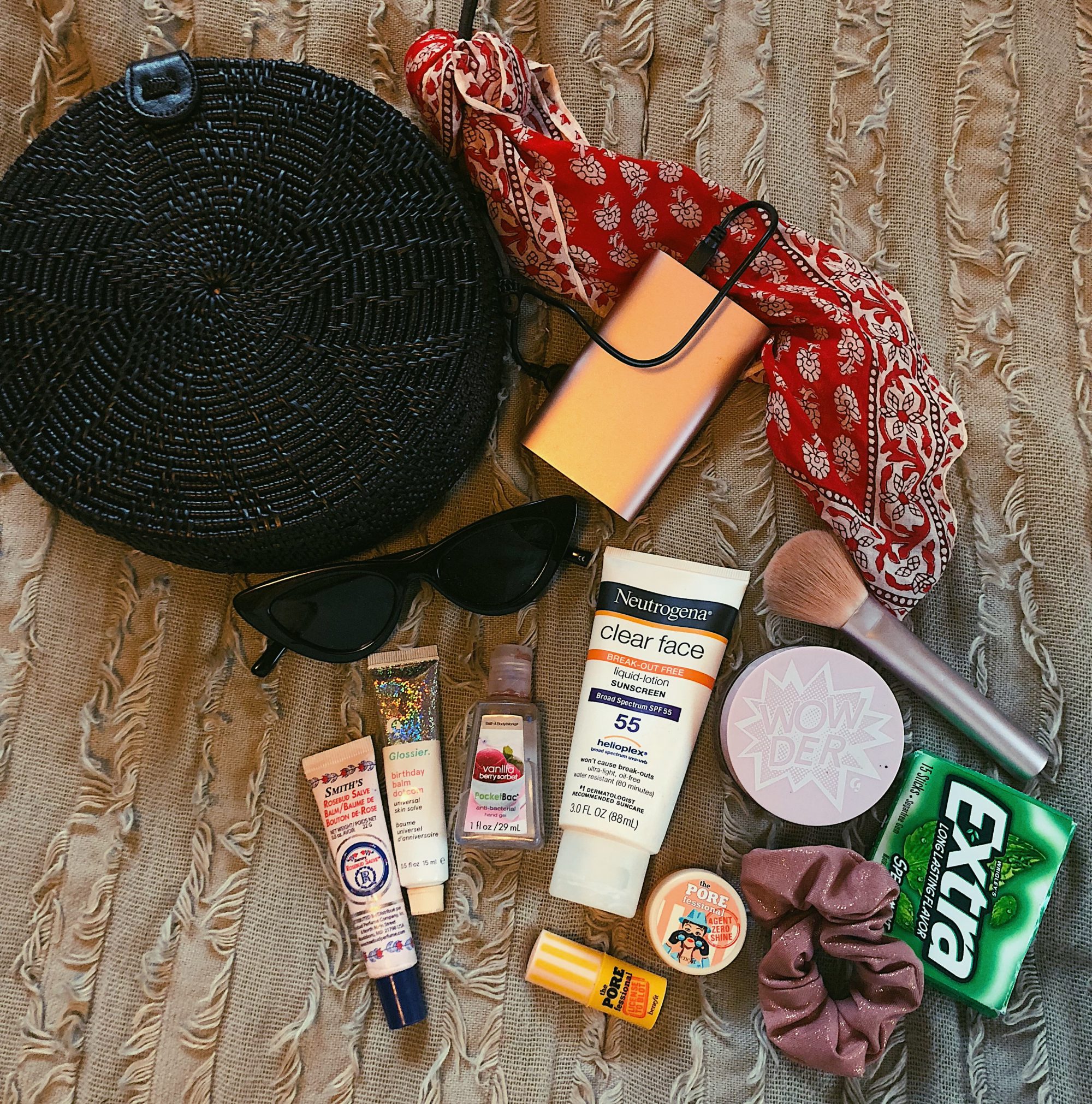 The Fashionista: Sydney's Fanny Pack of Fabulous Tricks
1. Les Specs X Adam Selman The Last Lolita Sunglasses
I snagged these shades a couple of weeks ago after misplacing my Ray-Bans (again). I'm super into the whole retro cat eye sunglasses look that's going on right now and can't wait to channel my inner Wendy Peffercorn this season. Of course, any pair of glasses will do–just make sure to bring a pair because no one wants to be squinting their way through a sunny festival!
You can get the sunglasses pictured, or if you want to opt for a cheaper option as there's always the high chance you end up losing your pair in a crowd, check out these vintage-inspired mod glasses from Amazon or these retro cat eye sunglasses from Urban Outfitters.
2. Smith's Rosebud Salve Balm
My holy grail of lip balms. I literally go through these like candy–and not just because they taste amazing! As aptly described on Sephora's website, this "multitasking miracle balm" not only moisturizes even the dryest of lips but can also be used on cuts, cuticles, knees, elbows, and basically anywhere you have irritated skin.
Especially at dryer desert festivals, your skin is going to need all the moisturizing it can get and this baby will deliver it in one, conveniently sized tube. You can purchase the balm off Sephora's website.
3. Glossier Birthday Balm Dotcom
And for an extra hint of shimmer and fun, I usually slather this subtly sparkly Glossier Birthday Balm on over my Smith's. It also doubles as a skin salve so even more the sparkle! You can pick up this cult favorite off Glossier's website.
4. Bath & Bodyworks Anti-Bacterial Hand Gel
The brand isn't important for this one. Really all that I'm just getting at here is that music festivals are not all glitter and rainbows. They're actually pretty gross. People are sweating on you, the bathrooms usually run out of soap before sundown, and you more often than not end up sitting on the ground. So please, for the love of Coachella, bring some hand sanitizer along. Trust me, you'll thank yourself for this one.
Also not pictured, but equally as important – Wet Ones Antibacterial Hand Wipes are a must-have for any festival. You can probably imagine how many awesome uses these guys can serve, so I'll just leave it up to the imagination.
5. Neutrogena Clear Face Sunscreen
Sunscreen, sunscreen, sunscreen. I don't care if the weather is overcast and you don't catch a shred of sunlight the entire weekend. It's 2018, we all know the importance of protecting oneself against those harmful–albeit lovely–rays by now. If you're like me and are not exactly blessed with the most flawless of skin, this particular sunscreen is a great option.
It'll keep your face nice and protected against both the sun and blemishes! If a stick is more your shtick, Neutrogena has a great one of those, too.
6. Glossier Wowder and Brush
I feel as though I can speak for many of us when I say that I devote a far-too-large of a portion of my time and money desperately working toward achieving that perfect "Dewey Glow". You know, like that Beyoncé skin that looks as though she has someone employed whose sole job it is to follow her around and mist her face? When it comes to music festivals, though, there is a fine line between dewey and downright sweaty.
Despite the fact that I'm overall just a sweaty person, this mattifying powder will be your saving grace at any festival that's on the warmer side. It'll hide your pores while maintaining that glowy greatness you spent three hours in the mirror trying to achieve. You can purchase the Wowder-brush duo through Glossier's website.
And for an extra-added shield against sweat and shine, check out 9. The POREfessional Agent Zero Shine and 10. The POREfessional License To Blot. These oil-fighting superheroes work as instant mattifiers to keep you looking smoother than smooth. You can get these perfect-for-travel sample sizes through Operation: PORE-proof! kit off Ulta's website.
7. Gum
This is just a personal essential of mine because 1) I'm a total gum junkie and 2) seven hours spent screaming the lyrics to your favorite songs and snacking on some festival nachos tends to take a toll on overall breath freshness.
8. Scrunchie
You may care about maintaining your meticulously-styled hair for a while, but trust me, by the end of the day you're going to want to throw that mangled mane of yours back as far away from your face as it will go. I happen to have terribly thin hair that gets crimped from ponytail holders easily, so I opt for a scrunchie instead.
Added bonus: the 80's are in right now and so there like a million different colors and patterns to choose from. I got this particular one a while ago from Urban Outfitters but this one from ASOS one and this one from Princess Polly are two of my current favs. These telephone cord ties also work wonders and are totally cute.
11. Bandana 
Bandanas are a must for dusty festivals like Coachella or even EDC. All of the people dancing and kicking that dust into the air up into my lungs? No thanks. Bandanas can be great at keeping the wind from blowing dust into your nose and mouth; plus, they double as a killer accessory. Not to mention, you can also roll them up and wear them as a headband/sweatband!
12. Portable Phone Charger
One of the worst things that can happen at any festival is getting separated from your group. Even worse? Getting separated from your group when your phone is dead. *gasp* To avoid this, I never, ever, ever attend any event without bringing a portable phone charger.
These bad boys will save you and your phone's life when it's barely 4 PM and you've already drained your battery from Snapchatting the entirety of Justin Martin's set. Plus there are two outlets, so you and your bestie can share and save some bag space. This is a great option from Mophie, available through Amazon.
And if you're tight on room and need to pack a bit lighter, this wireless charging case from Mophie offers battery life and added coverage for your device.
13. A Bag to Put it All in
And of course, you're going to need a bag to shove all of these essentials into! If you're like me and can't get enough of the picnic-basket-turned-bag look, you can order it off of Revolve. I'm also a huge fanny pack advocate since they're hands-free and therefore never hinder your dancing abilities. And it doesn't hurt that they make it 100 times harder for thieves to slash your pack and steal from you, either.
This has unfortunately been a big problem within the festival circuit lately and so should always be a factor to take into consideration when attending any event. This one from Sojourner bags is relatively cheap and comes in 21 different colors/designs!
---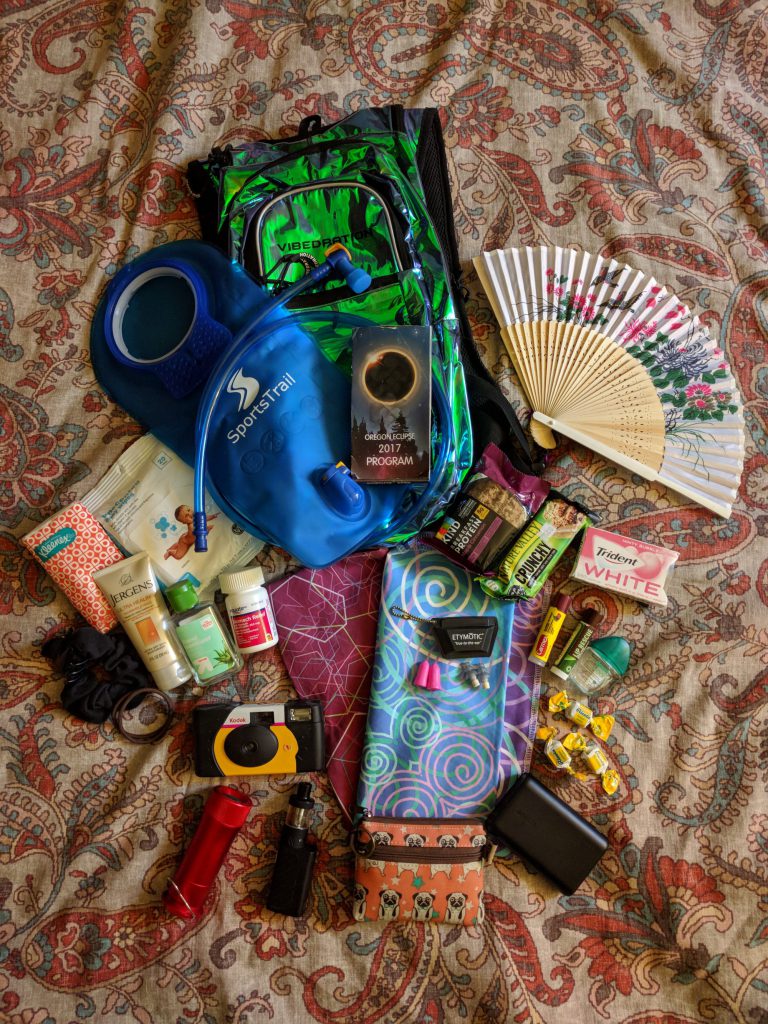 The Mom: Julia's Comprehensive Hydration Bag
I know what you're thinking… "How could all of that fit in her bag?!" Trust me, it can: the backpacks from Vibedration fit a surprising amount despite its size. If you're anything like me, you like to be prepared while you're out on the dancefloor. Here's what I keep in my bag while I'm at a festival!
This one does come with a 2.0L hydration bladder, but when I used it at Lightning in a Bottle last year it leaked all over my stuff (including my friends who bought Vibedration backpacks). I highly recommend purchasing either a Camelbak brand or SportsTrail (which works wonderfully at a great price!). Vibedration has awesome bag designs and there is a perfect style for anyone!
2. Program/Map
It's necessary to stay on top of who's playing next, figure out where you are, check out activities and workshops, and more! You'd be surprised at how many people don't carry the program with them and ask you for help.
3. Fan
Sometimes, it gets hot and sweaty and you need sun protection or to cool yourself (and others) down!
4. Snacks
All that walking and dancing builds up an appetite and it's important to give your body sustained energy. I like to keep two snacks because you never know if someone else might need a snack!
5. Gum/Mints
6. Chapstick
7. Eyedrops
8. Cough drops
This one saves me from any type of event where I talk more and louder than I normally do.
9. Portable power bank
10. Wallet
11. Earplugs
Everyone should be wearing earplugs! Seriously! I honestly wish I wore earplugs from the first day I started being around loud music. It wasn't until a couple years ago when I started wearing them at every event and I definitely don't miss the horrible ringing in my ears.
12. Bandana
I keep an extra one or two in case I want to sit on the ground or if a friend needs one for face protection.
13. Vape
14. Flashlight
15. Disposable Camera
16. Stomach Relief Medicine + Any Other Medication/Supplements
17. Hand Sanitizer
18. Baby Wipes
19. Tissues
20. Lotion
Does anyone else get super dry hands at festivals?
21. Hair Ties/clips
Enough for yourself and to help a friend in need!
---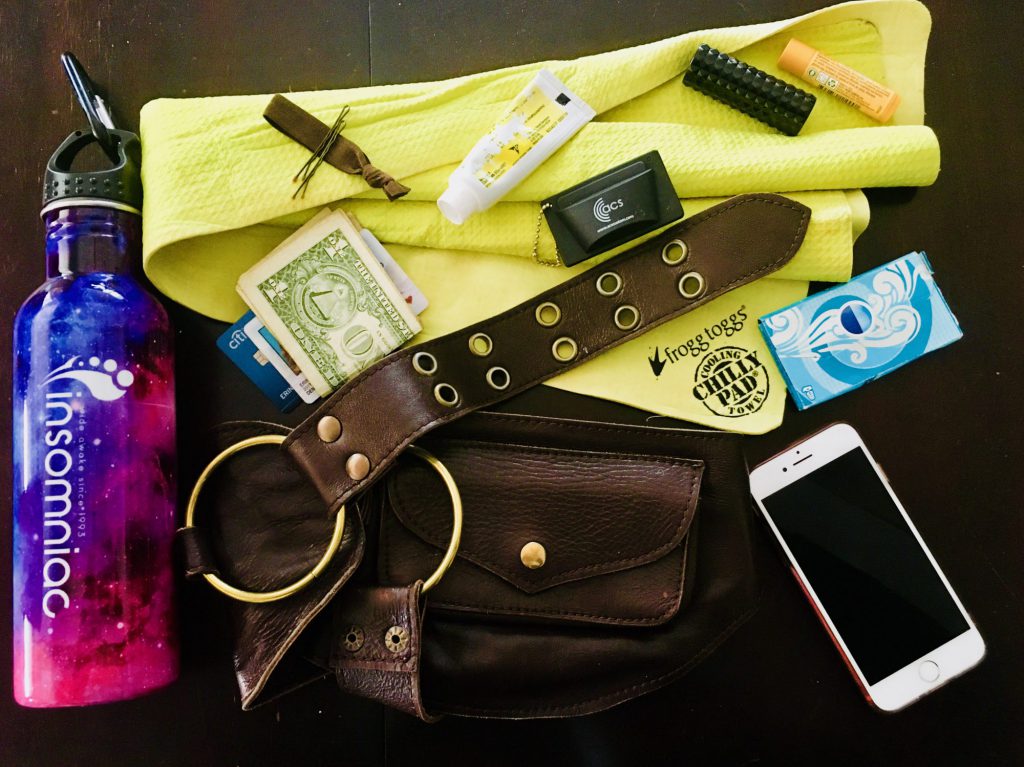 The Minimalist: Erin's No Frills Utility Belt
1. Leather Utility Belt
I know what you're probably thinking… how can you possibly fit enough stuff in a leather waist belt to make it through a full day of a festival? It's taken years of festival packing to get to this point, but after slinging loads of stuff in a backpack for years, I finally got sick of carrying so many things in my bag, and instead, I've opted to go the lighter route and I've never looked back.
There are plenty of options for leather utility belts at all sizes and price points, but look for one with rings to clip things on and a zippered inner pocket for your most important items, and make sure the pockets are big enough to fit your phone. I make judicious use of carabiners and clips so I can bring enough stuff with me, and I unabashedly tie my jacket or sweatshirt around my shoulders or waist because at this point, I'm too old to care if anyone judges me for it and I'd rather have more freedom to dance!
2. ID, Credit Cards, Map/Schedule, and Cash
These are a given, but I strip down to the very bare minimum, which usually consists of my ID, a credit card, my debit card, cash, and a paper schedule if they're handing them out.
3. Phone
For me, my phone is my lifeline, and I use it for communication, photos, festival map and schedule, and a flashlight. If you can, always put the festival schedule as the lock screen on your phone so you're not constantly opening it to see who's on next!
4. Chapstick and Lipstick
I'm a huge fan of Burt's Bees, and if you aren't, try it out, and you will be, too!
5. ACS Customs Earplugs
I'm a big proponent of earplugs, and after spending far too long going without when the cheap ones became uncomfortable, I finally sprung and bought a pair of solid, custom earplugs from ACS–and I am never looking back because they were worth every single penny I spent on them.
Bonus: they come with a little pouch that I stick into my zippered pocket for safekeeping, so I can take them out and store them when I'm getting food or taking a break.
6. Anti-Chafe Gel
On hot days when I'm in a skirt, there is nothing worse than sweaty thighs (and if you've got thick legs like I do, then you feel my pain!). I've tried out a lot of different varieties, and in my opinion, Lanacane makes the best powder gel. For particularly hot days, I always bring it with me just in case.
7. Hair Ties & Bobby Pins
8. Gum
9. Chilly pad
Does this technically fit into the utility belt? No, but the idea is that you're wearing it, anyway, so it doesn't really matter. Hot, sweaty festivals are tough, and they only get tougher when you're spending hours dancing in the blazing sun.
Enter the Frogg Toggs Chilly Pad, which is my absolute favorite daytime warm-weather festival accessory. Head over to the water refill station and douse it in some cold water, then wear it around your neck for a nice dose of cool that will stay that way for hours and help drop your body temperature to a bearable level. They come in tons of colors, but be aware that the lighter colors might show some grime if it's dusty (so if that grosses you out, go darker).
Protip: the drier it is outside, the quicker these lose their cool, so refill whenever you hit the water station to keep it fresh. The cooler the water is, the better! And once it hits night time in a cooler climate, I just tie it through one of the rings on my belt (or if I'm festivaling with friends and we're all taking turns using it during the day, one of them might be nice and toss it in their backpack once it's dried out some!).
10. Water Bottle + Carabiner for Clipping
I never used to leave home without my hydration pack, but once I ditched backpack life for something slimmer, I opted instead for a lightweight aluminum water bottle attached to one of the rings on my belt with a carabiner (the bottles Insomniac sells in their merch store are absolutely perfect for this). It holds less water than my Camelbak did, but I find that having it at hand height makes me remember to drink it more often.
As an added bonus, if you like to have a few drinks at festivals, the aluminum bottle makes a great container since it doesn't pick up anything that goes in it. I like to put my drink in the bottle to keep it from spilling on the dance floor, and then in between, I'll refill it with water to keep hydrated and pace myself!
---
Hopefully, this guide has alleviated at least some of your festival bag-packing stress. Regardless of what you end up bringing, make sure not to forget the most important thing of all: have a good time!
What are your must-have items when you head to a festival? Let us know what's in your bag in the comments below!