Zeds Dead just dropped We Are Deadbeats Vol. 4 that provides a fresh take on their unique sound that we have grown to love over the years!
---
Zeds Dead has been a household name in the bass music realm for years. What first started as a Pulp Fiction reference grew into a devout fanbase throwing up the iconic "Z" with their hands. At the same time, they have curated such a unique sound that shows off their influences that come from genres like dubstep, DnB, and house.
Additionally, they've helped the community continue to grow by supporting rising stars in the scene with their label Deadbeats. While starting your own label can be daunting, Zeds Dead has been able to manage theirs in a seemingly flawless manner. From bringing on the freshest talent to hosting their annual Deadrocks show, this duo has found the recipe to success with their brand.
Now, on their latest compilation, We Are Deadbeats Vol. 4, Zeds Dead's vision for their label could not be clearer and the result is some insanely great tunes! The duo has flexed their skills in the studio with 14 fresh collaborations featuring artists ranging from Deathpact and DROELOE to Subtronics and Ganja White Night.
Stream or purchase We Are Deadbeats Vol. 4 on your favorite platform and read on for some of my favorite tracks on the release!
Listen to We Are Deadbeats Vol. 4 on Spotify:
---
We Are Deadbeats Vol. 4 is a fantastic blend of dubstep, trap, and drum n bass songs from some of the hottest producers around right now!
Kicking off the compilation are "Asteroid" with Holly and "Bumpy Teeth" with Subtronics and both are wonky in their own way! On "Asteroid," Holly brings his heavy drums and glitch-type noises into the mix. These sounds pair beautifully with Zeds Dead's long sub hits resulting in a trapped out intro track.
It's hard not to want to jump around when "Bumpy Teeth" comes on. The song is full of so much energy and wonk that you can't help but move around! Subtronics brings his trademark vocal samples and plucky bass to this one and it's one of my favorites from the entire compilation.
A Zeds Dead compilation would not be complete without some songs that have beautiful vocals. "Rescue" and "Save My Grave" deliver just that!
A previously released single, "Rescue" brings one of my favorite vocalists, Delaney Jane, together with bass heavyweight Dion Timmer. The song embodies feel-good vibes as Delaney Jane's vocals shine through along with catchy bass melody patterns laid down by both Zeds Dead and Dion Timmer.
"Save My Grave" is a slow-rolling beauty of a track that lives amidst all of the heavy bass tunes on the compilation. GG Magree lays down some ominous vocals that sit on top of DNMO and Zeds Dead's future-bass/trap production. The song is an easy listening track that you can have on repeat and not get bored!
Picking up the pace is "Shake" a collaboration with none other than Jauz.
"Shake" is a massive tune that literally makes your speakers heavily vibrate with how much bass it has in it! The dubstep production on this one reminds me of old-school Zeds Dead. Further, Jauz continues to shine and show his versatility as a producer on these bass-heavy tracks.
Rounding out this unbelievably produced compilation is Zeds Dead's collab with DROELOE called "Stars Tonight". It features lush melodies and vocal elements among trumpet sounds all brought together with some thumping drums in the first drop. The second drop is a bit heavier and provides a contrast to the first one, which elevates the listening experience even further. It's a song that everyone can get behind!
Overall, We Are Deadbeats Vol. 4 is chock-full of pristine tracks that you can't help but be wowed by.
There's something for every type of listener on this compilation and each track stays true to the Deadbeats sound. We can't wait to see what other surprises Zeds Dead will have for us in 2020!
---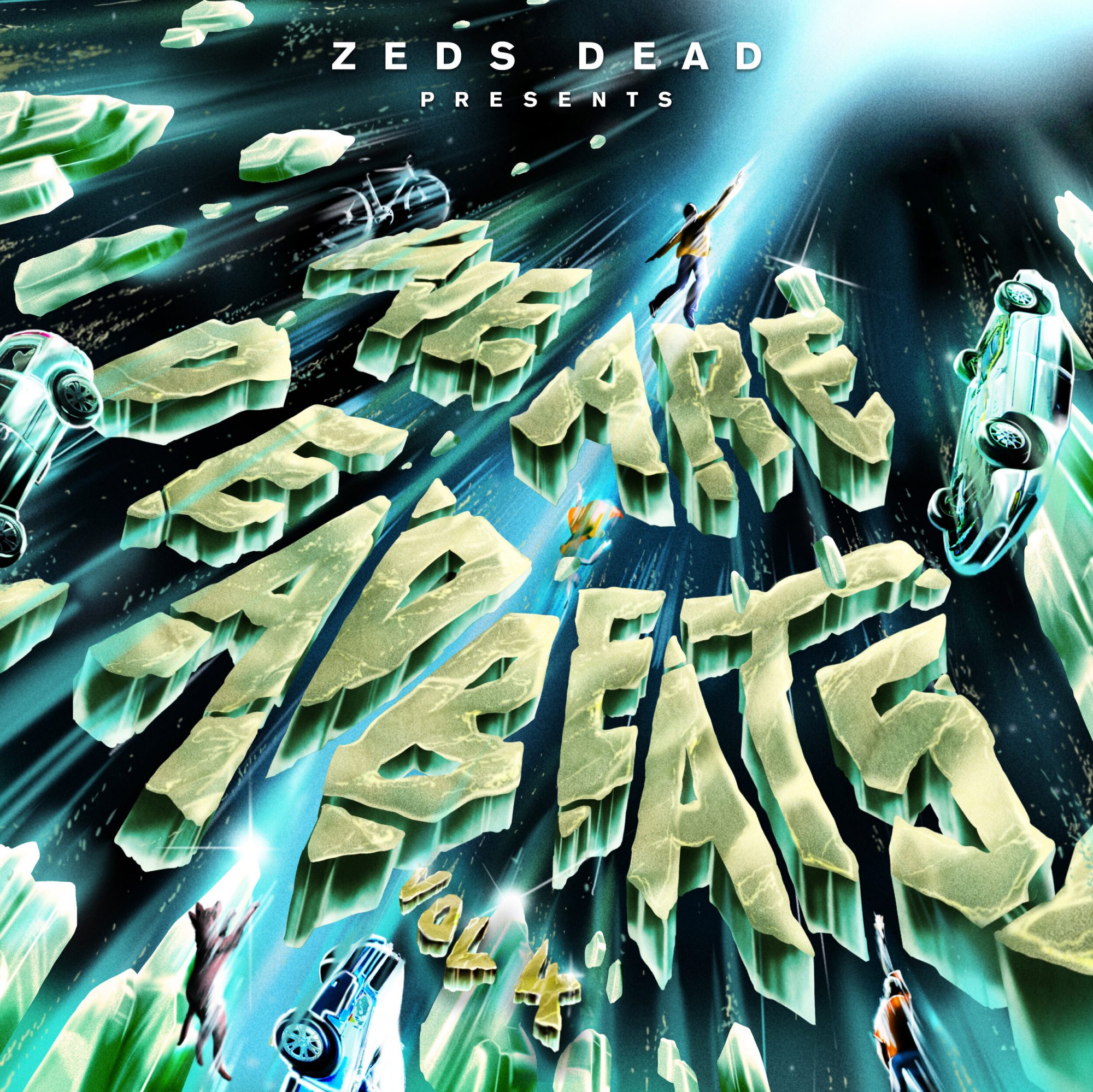 We Are Deadbeats Vol. 4 – Tracklist:
Asteroid w/ Holly
Bumpy Teeth w/ Subtronics
Just Wanna w/ Loge21 & Polina
Ether w/ Deathpact
Save My Grave w/ DNMO & GG Magree
Leave You In The Ground w/ Omar LinX
Sound of the Underground w/ Urbandawn
Dead of Night w/ Ganja White Night
Rescue w/ Dion Timmer & Delaney Jane
After The Water w/ Champagne Drip
Shake w/ Jauz
Lift You Up w/ Delta Heavy
Stars Tonight w/ DROELOE
Drifting w/ Slushii
---
Connect with Zeds Dead on Social Media:
Website | Facebook | Twitter | Instagram | SoundCloud | YouTube
Connect with Deadbeats on Social Media:
Website | Facebook | Twitter | Instagram | SoundCloud | YouTube