Explore over a decade of Camo & Krooked as we discuss new musical adventures, working with hip-hop legends, and reflect on years of amazing experiences.
---
Since first breaking onto the scene, Camo & Krooked have made waves in the drum and bass circuit. As difficult as it is to imagine, the drum and bass scene ten years ago looked vastly different than it does today. Large genre-specific festivals still had not come into vogue, big brands started to form but were still in infancy, and vinyl had only just given way to the now mighty CDJ controller.

Camo & Krooked saw market recognition with the success of their first LP, Above & Beyond. This album netted them a coveted "Best Newcomer" award at the annual Drum & Bass Arena Awards. From there, the duo skyrocketed with releases on Hospital Records, Technique Recordings, Breakbeat Kaos, Viper Recordings, and more. Most recently, the duo started their own label Mosaik Music in partnership with RAM Records and BMG and stirred the formula with their latest album Mosaik in 2017.
This year will see the duo bring a unique artistic endeavor with the Vienna Orchestra and they'll also share the stage with Mefjus for a massive b2b performance at Rampage. This b2b performance at Rampage will be one you won't want to miss, so grab your tickets now via the Rampage Website!
As the decade rolls over, we sat down with Camo & Krooked to really see what's on the horizon as they continue to evolve the music they love. So dive deeper into the story of this duo in this fun adventure of an interview below.
Check out this special set from Camo & Krooked up in the Alps last April!

---
To both Reinhard & Markus, aka Camo & Krooked, thanks for sitting down with us! 2020 is ready to roll in and you've got big plans. What are you most anxious to take hold of in the new year?
On February 1 and 2 we have two sold-out shows in one of Vienna's finest classic locations, the "Konzerthaus". We will perform alongside a 70 people orchestra and present a mashup of our biggest tracks and some unheard material combined with the natural sounds of a symphonic orchestra, led by conductor Christian Kolonovits.
Your brand new release "Set It Off" dropped with Hip Hop legend Jeru the Damaja. It definitely is a breath of fresh air for the drum and bass circuit. Creatively speaking – what drove the stylistic decisions within the process as there are definitely hip hop focused sections and then big bass music moments as well?
As always, we tried to make the drop different to what everybody is doing at the moment, because that is basically what excites us when making music, reinventing ourselves over and over again. After nailing the drop we thought that adding Hip Hop flavor would give the tune more character than just your usual DJ tune. After nailing the half-step part, we approached some '90s Hip Hop legends and Jeru got back to us being totally excited about the project!
When producing "Set It Off" did you get the vocals laid down first, or did you work on the instrumental sections and then combine together with Jeru?
Jeru had been rapping over the instrumental and laid down his two incredible verses. We're really happy with the outcome!
https://open.spotify.com/album/0p4AcAccytQADrKZkicltt
You also announced a rather unique experience thanks to working with Red Bull Symphonic for 2020. What drew you to collaborate with them on "Drum'n'Bass trifft Klassik" which will combine your talents with that of the Vienna Orchestra?
Red Bull approached us with this project and we loved the idea from the very first second. We have been working hard on it for the last 3 months and it's going to be a really special event that no one really can say how exactly it will turn out in the end, exciting!
If you can attend the event, grab your tickets over at Redbull.com!
How are you preparing for the one-off collaboration with the Vienna Orchestra?  What do you find the greatest challenge in getting ready for the event?
We reworked most of our tunes to make space for the orchestral elements, so it's not just the original tune with another layer, it's a melting put for both genres creating something completely unique.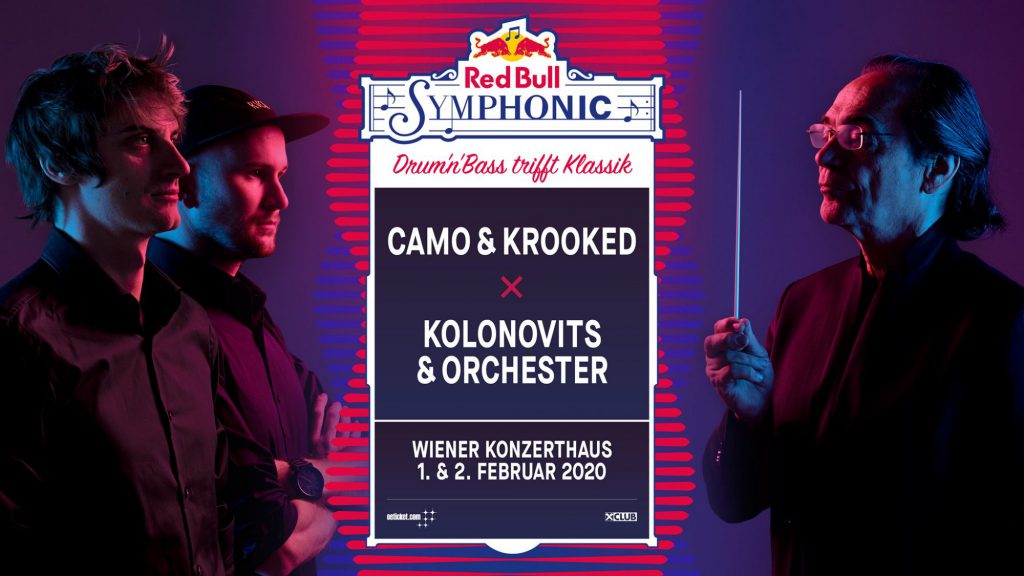 Switching complete performance gears – you've been a flashpoint for this coming edition of Rampage! When you found out about the unique opportunity of the show to collaborate in a back-to-back with fellow production buddy Mefjus, what went through your heads?
This B2B was on our minds for a very long time already and what better platform than Rampage could you ask for as the introduction of Camo & Krooked B2B Mefjus. We will have lots of exclusive material and are looking forward to how the set will turn out, we'll start preparing soon!
Speaking of Rampage and related drum and bass-centric festivals like Let It Roll, you have to spill the beans on your favorite festival experience!  Is there any festival you've yet to join in that you really want to try?
I think we really ticked all the boxes of our D&B festival bucket list and had so many good experiences over the years that its hard to pick one. We are just happy to have a strong following for D&B and us over Europe and even the globe, that wherever you play a gig, enough people are there having a great time listening to the music you provide!
Touring is no doubt a challenge – as you just announced an Oceania tour with Australia and New Zealand stops. Name the three most important travel tips you would offer an up and coming performer new to the circuit.
Touring is very energy and time consuming indeed! Coming back from Australia and NZ tours you will need some time to recover, but it's always worth it!
The best travel tip is sleep when you can, don't get too wasted on the first nights of a tour, and make sure you travel in good company!
We've heard rumors that the rocker titled "Atlas" that was released to support the UKF 10 year anniversary might get the VIP treatment.  Any word on when the VIP mix may drop?  What was the best aspect of working on the UKF 10 project?
We have the first track of UKF 10 so its nice to be able to rock it with the Atlas VIP. UKF are good friends with us for over the past 10 years. It's always a pleasure to work with them and get their support; very grateful!
https://open.spotify.com/playlist/3v5tFfbH0iZPY0RE6NhsEd
Looking back over the years since your debut nearly a decade ago, did you imagine that you'd see the success or growth of the industry as a whole? Is there any single moment that absolutely stands above the rest?
We already surpassed our expectations by far but still seeing one goal after the other, climbing up the ladder of production skills and forming a healthy fan-base. The big moments have been our albums throughout the years and we are very happy that they still stand the test of time!
To conclude, you rocked the last decade with amazing success. To carry that success forward, list the five ingredients that must remain part of the formula for Camo & Krooked!
Be different
Trying to evolve in production skills
Grow with new influences
Listening to lots of different genres
Having fun with it!
---
Connect with Camo & Krooked on Social Media:
Website | Facebook | Twitter | Instagram | SoundCloud | Spotify