Amazing music, beautiful scenery… and a car crash? These were the three ingredients that made my first SnowGlobe experience an unforgettable one!
---
As 2019 comes to a close and the upcoming edition of SnowGlobe grows near, I can't help but think about the first time I went to this winter wonderland of a festival. The year was 2014 and life was good. I was on winter break from my first year at college, Obama was still president, and my rave career was still in the wondrous beginning stages. 
When I saw the lineup ahead of the festival, I knew there was no way I was going to miss it. At the time my favorite artists were Flume, Porter Robinson, and Disclosure, and they were all headlining! Of course, Skrillex and Zedd were performing as well, and even though I probably couldn't have named a single song by each at the time, I did know they were legends I had to witness.
It's funny looking back at the billing now, realizing how many incredible names I hadn't even heard before but would never miss now! But even though I cringe now thinking about how I missed Justin Martin, G Jones, and Justin Jay, I had an incredible experience. 
Related: Heading to SnowGlobe this year to ring in 2020 right? Get hyped and explore the lineup with our playlist!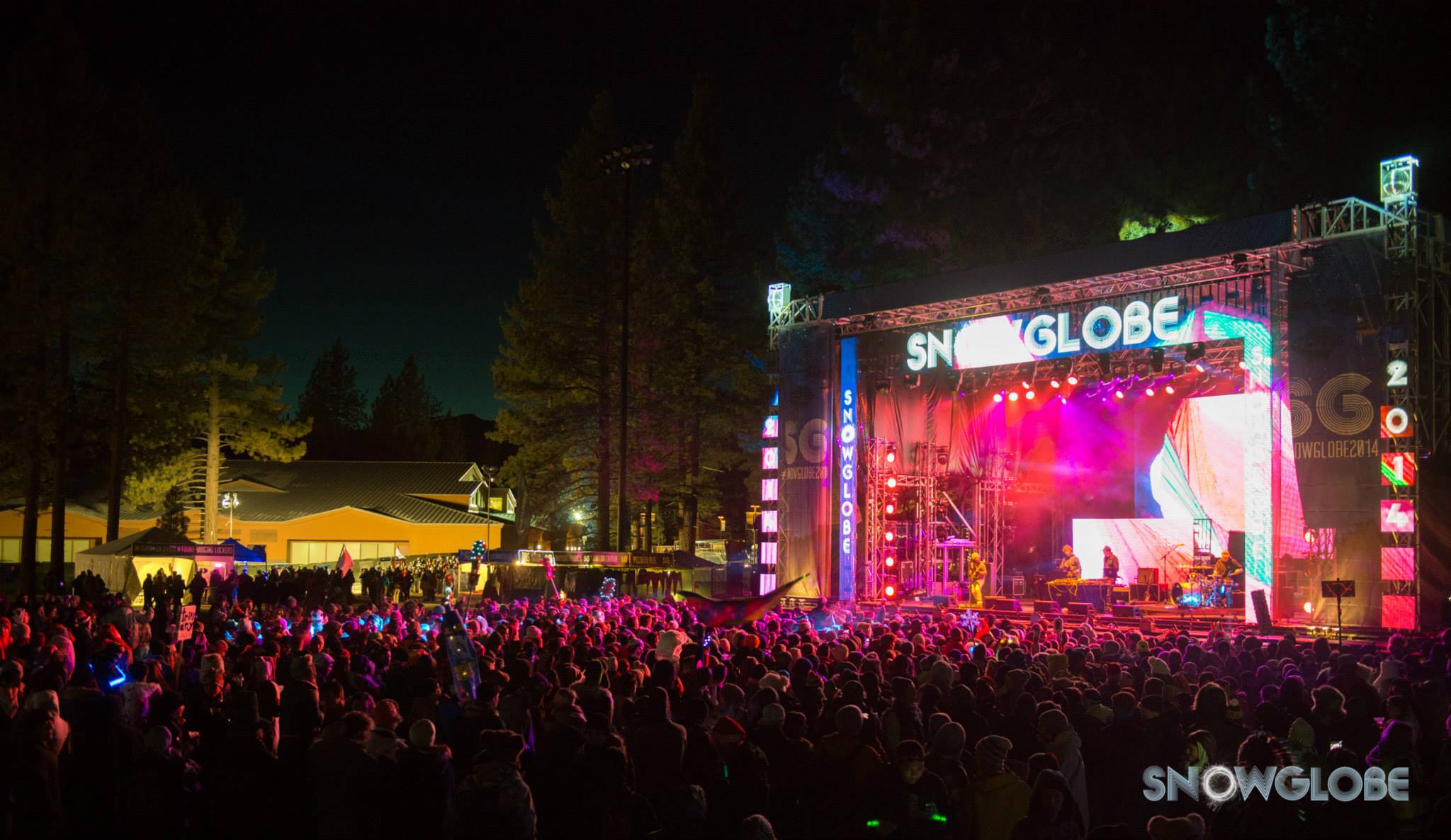 My festival curse…
My friends and I have this recurring joke that we are cursed when it comes to music festivals because one traumatic experience happens that ages us a couple of years but eventually makes for a good story. From getting our car towed in the EDC Las Vegas parking lot to having a car-top-carrier fly off the hood of our car onto the 405 on the way to Desert Hearts Festival, I've got enough stories to fill up a book. But the curse hit us differently at SnowGlobe 2014. 
The Friday morning before the festival, we got into our car to find the local South Lake Tahoe craft store. It was imperative we find some beads to make Kandi before SnowGlobe. So, following the GPS, we attempted a right turn onto a residential street. Unfortunately, the intersection was covered in black ice and we lost complete control of the car. We tried turning the steering wheel in the opposite direction of where we were sliding, but we were no match for the ice. Our car slid across the intersection, just missed a telephone pole, and hit directly into the corner of a house! 
As we assessed the damaged, panic and shock took over. The car was totaled and the house had an unexpected new window, but the kindness of the locals in Lake Tahoe really surprised us. The neighbor of the house came out and reassured us that tons of black-ice accidents happen this time of year. She invited us in for warmth and tea while we waited for a tow-truck. The owner of the house was shocked but not even angry with us. He was understanding and even offered us rides back to our hotel. There must be something in the Lake Tahoe water because we were only met with kindness and generosity!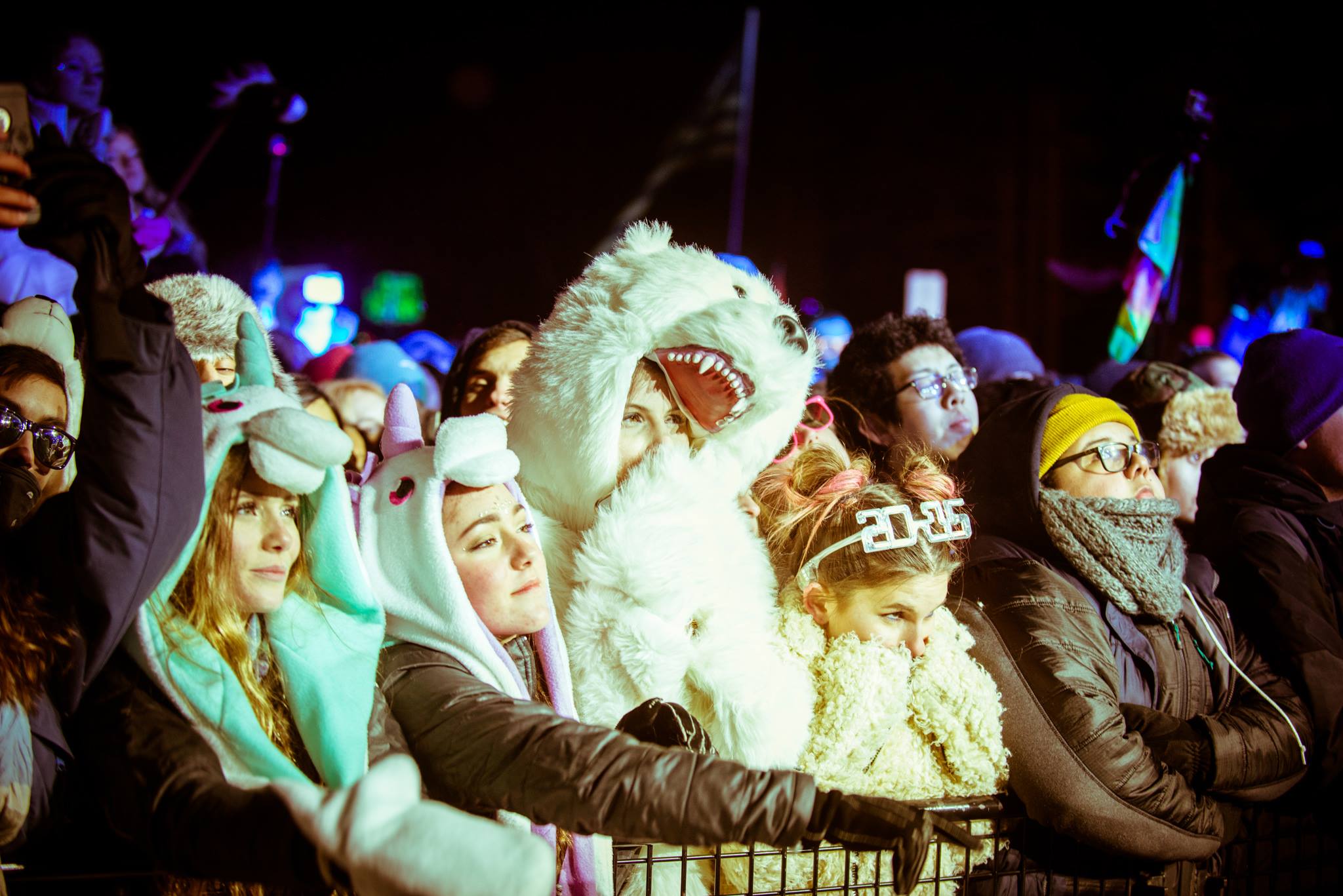 But we still had a festival to go to. 
I remember us trying to comfort our friend driving the car by saying, "Don't worry, in just a few hours we will be at a music festival!" Knowing we still had SnowGlobe to look forward to kept our spirits alive. So we made the necessary phone calls, handled all of our transportation logistics, and threw on some glitter because we still had a festival to go to. 
Without the car, we ended up walking to and from the venue each day. Luckily we were not alone in this venture, as many people chose to endure the short walk through the snow to the festival. And even though it was cold (19 degrees one night), the scenery made up for it. Walking home one night we passed by a creek with snow on the banks that lit up and glistened from the moonlight!
The Lake Tahoe Community College was a surprising venue. It is smaller than most festivals I've attended but did not feel overcrowded. There was still plenty of space around each stage to dance and walk around, but we quickly learned the trick is to stay warm by immersing yourself deep into the crowd. The Sierra and Igloo stages were also crucial to keeping warm because they were covered tents! I appreciated the solutions to the cold that SnowGlobe provided, and look forward to what they have in store this year. 
The attendees of SnowGlobe were so kind, too, so making friends was easy and genuine. Since the event ends around midnight each night, it is not uncommon to find yourself with invitations for warmth and after-hours parties at a local cabin.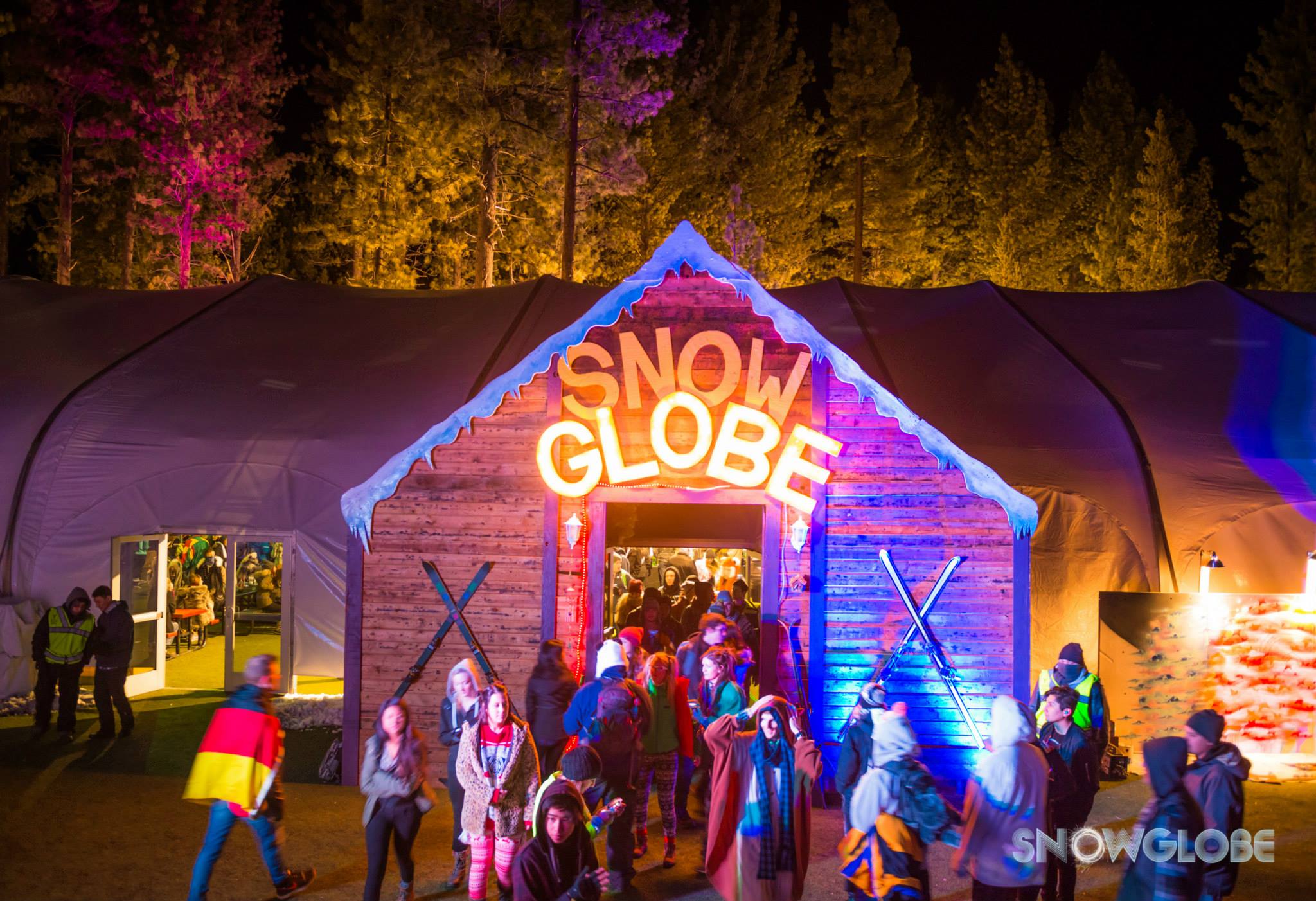 The best part was the music, though.
With sets from Disclosure, Phantogram, Branchez, Odesza, Flux Pavillion, and Bro Safari we stayed busy and warm, dancing until close every night. But my favorite sets were definitely by Flume and Porter Robinson.
I remember Porter played "Sad Machine" (my favorite song at the time) and I couldn't believe how perfect life was at that moment. With his feelgood music, the lights of the main stage hitting the trees, and the snow sparkling, it truly felt like we were inside our own little snow globe.
And the countdown to the new year was made so special by Flume's performance. His show at the Fonda that year was my first time going to a fully EDM show, and it blew me away! It sparked my love for this community and set me on my journey as a music festival addict. His music really made a mark on me that year, so it felt fitting to finish out 2014 to his soundtrack and remix of Disclosure's "You & Me."
I can't think of a better way to finish and start a year than at a music festival and I'm excited to make my return to SnowGlobe this year.
Being in the festival environment is good for the soul, and feels like home to me. I can't wait to make my way back to Lake Tahoe this NYE for the close of the decade! Returning to SnowGlobe as a seasoned festival-goer will be a fresh take on a familiar event and I'm excited to check out how the event has evolved over the years. But this time around I'll be Ubering and avoiding black-ice at all costs. See you there!
---
Connect with SnowGlobe Music Festival on Social Media:
Website | Facebook | Twitter | Instagram | Facebook Event Page