Madeon's GOOD FAITH LIVE show at The Shrine was a spectacular display of extraordinary visuals and breathtaking new sounds off his long-awaited album.
---
French prodigy Madeon has definitely proved his return to dance music after releasing an album four years after his debut Adventure in 2015 and embarking on another solo tour. After announcing he'd be playing The Shrine in Los Angeles for two nights of GOOD FAITH LIVE, and selling out the first of the two, I knew I needed to attend the second night. Not only was I excited to see Madeon, but Devault and Giraffage were opening up as well to provide ambient, pop tracks before he took the stage.
After arriving at the venue and vibing with the opening sets, it was finally time for a dose of Good Faith. Anticipation built as the crowd chanted "MADEON!" and fans got their phones ready for whatever was about to happen next. Finally, a screen flashed "GOOD FAITH", Madeon hopped on stage, and the crowd went wild as everyone sang along to "All My Friends". This song is one of my favorites off the new album; Madeon created it to be a fun, upbeat pop track, and it ultimately became an anthem this past summer.
Mixing in songs from Adventure with his more recent hits, Madeon did an amazing job of catering to fans' nostalgia.
Madeon did this by throwing in tracks such as "Pay No Mind," "Beings," "Imperium," "You're On," and the infamous "Shelter" with long-time pal Porter Robinson. These songs all tell a coming-of-age story of his youth, while Good Faith proves he's grown up, survived, and thrived over the past four years.
Madeon's sound has matured immensely since his debut release, with Good Faith evoking more spiritual, church-like, sometimes even jazzy vibes that are all prevalent throughout the show. The audience can really feel his confidence exude through his onstage presence, and it makes me proud to see how far he's come.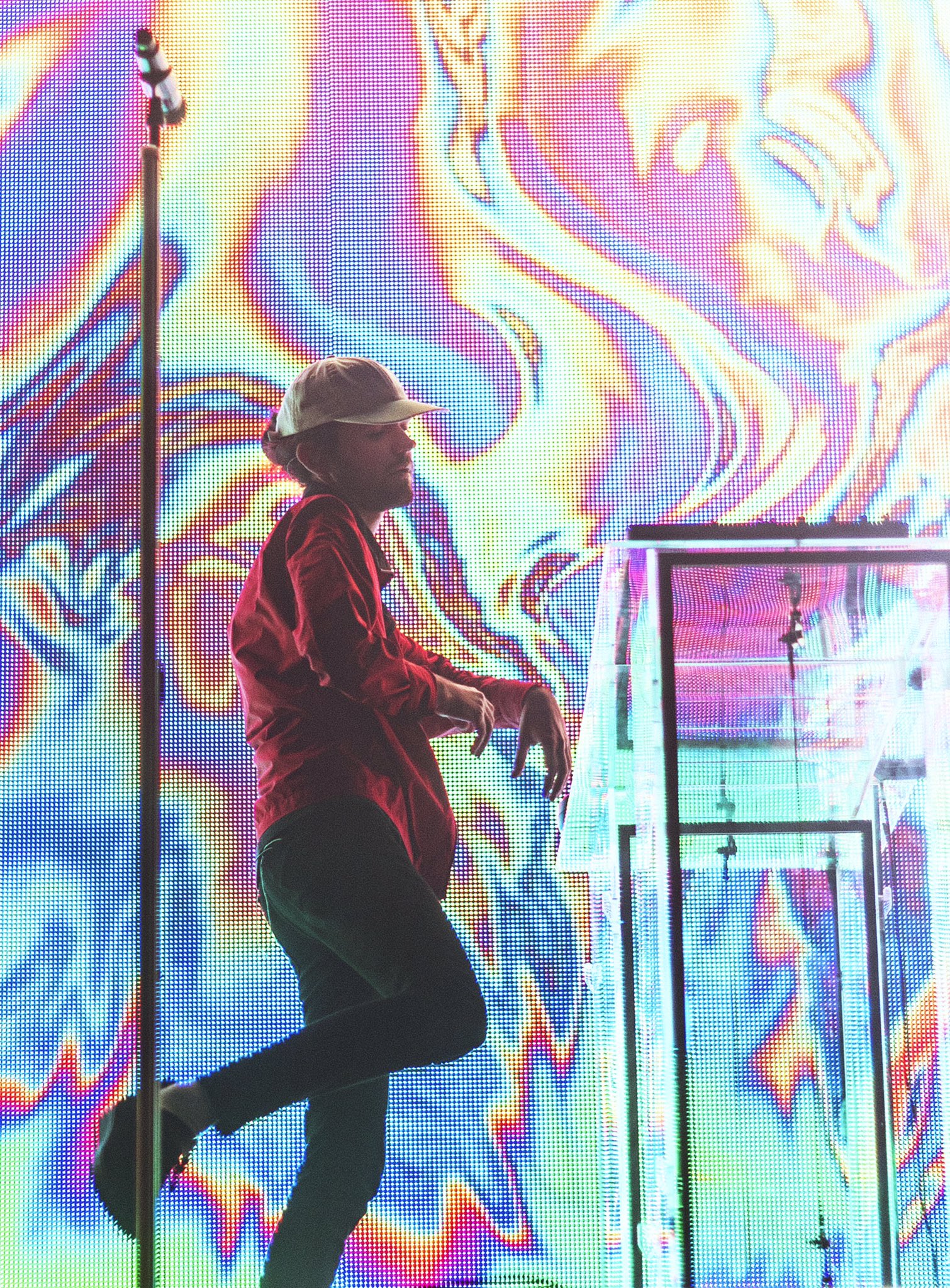 Madeon continued to mix songs from Good Faith throughout his live performance, with the most stunning and colorful visuals being displayed behind him throughout the show.
By colorful, I mean WOW, these visuals were actually some of the most beautiful ones I've seen out of all dance music shows I've been to. From fascinating waves of rainbows to color bleeds and more, each song had its own unique visuals and set of colors to go along with it, all contributing to one big mind-blowing experience. You could really tell all the effort that Madeon orchestrated into this show, even incorporating his own signature alphabet onscreen throughout the performance.
Other solid moments in the night were when Madeon dropped "Shelter" not once, but twice, even coming back for an encore to play it again for the finale.
He also performed "Nirvana" into "Mania" the same way they flow into each other on the album, which is such a truly graceful transition. Before his encore, though, Madeon performed "Miracle" and sang his own vocals to the crowd, while multicolored lights and images flashed before everyone. It really felt special for us to be in that moment with him, as you could hear the passion in his voice and giddiness in his excitement as he constantly thanked the crowd.
The electric vibes and soulful music still rung in the air as Madeon left the stage and I chatted with a few fans after the show. "I think waiting for so long for new music from him has been very rewarding through the album, and I feel so excited about the future of music for Madeon," superfan Emily Peters said. "Everything Madeon does evokes so much feeling, and I feel so blessed to live in this life with such an incredible artist."
Madeon really has found his sound and is ready to share it with the world. A show four years in the making, you could tell the relief that this artist has that we can finally listen to his new music, hear his story, and understand where his mind has been over the whole Good Faith project. This truly is the era of Good Faith.
---
Follow Madeon on Social Media:
Website | Facebook | Twitter | Instagram | SoundCloud | YouTube