German melodic techno duo GNTN stopped by to reflect on their year, chat about how they approach their live sets, and the scene in their home country.
---
Since first breaking out onto the scene back in 2015, German duo GNTN has been making a serious name for themselves in the realm of melodic techno. First coming together after discovering a shared passion for underground styles of dance music, Jan Gasber and Marcel Woiczech developed a serious synergy in the studio and behind the decks.
Over the years GNTN has honed their production techniques and let their creativity drive their sound forward. This has led to labels like Suara, Filth On Acid, and Stil Vor Talent taking notice and releasing their tunes that are simply stunners. On top of that, the duo has taken the stage at festivals like Parookaville in Germany while also jumping to Egg London for a club night that their fans won't soon forget.
Now, with the end of 2019 on the horizon, we got the chance to sit down with GNTN to reflect on the massive year they've experienced, their recent show Perspectives, and so much more. Listen to their exclusive guest mix below and read on for the full conversation!
Stream EDMID Guest Mix 195 || GNTN on SoundCloud:
---
Hi GNTN, thanks for taking the time to chat with us today! Let's start off by taking a look back in time. Who were some of your earliest influences musically and what brought you both together?
Hey guys!  Thanks for having us. A pleasure to chat with you!
Actually, it's quite hard to name actual names regarding the exact musical influences we had early on. We were inspired by various genres in electronic music in general and as we more and more developed our own musical vision, we realized that melodic techno was what we are going to do. After that, we were definitely inspired by names like Adriatique, Stephan Bodzin, Oliver Koletzki, and Township Rebellion. 
We met in school around seven years ago and quickly noticed that we had a similar musical taste. Right after that we started playing around with Ableton live and met more often in our free time. Then it all started, we got the first releases and first shows and today we even share a flat together to spend as much time on music as possible. 
This year has seen you release tunes like "Atlas" on Suah Records and "Zenith" on Stil Vor Talent. What has it been like working with these labels and receiving their support?
Stil Vor Talent was always a label we wanted to release with.
It started with our first track "Arapa" on their Schneeweiß compilation and quickly more and more tracks were signed, which made us super happy! As previously mentioned Oliver is a huge musical influence for us, so it was a huge pleasure releasing on his label. 
We became aware of Mia Mendi through their huge YouTube presence. We also quickly noticed their label and played a lot of their tracks live, so it was just a natural step to send them some finished productions. We are super into their visual direction as well, which always is really important for us when working together with a label. 
You also have a series called Perspectives that just recently launched back in August. Can you share the story behind the series and how it came to be?
Perspectives is our interpretation of music we enjoy, not only for playing out live but also the music we enjoy listening to at home. 
Everyone has their own perspective on electronic music and we love this variety, so the mix series is our way of sharing our own musical taste & the unique perspective that goes with it. Visually these different views & perspectives are emphasized by the visual direction of the Perspectives artwork, through the use of mirrored landscapes. 
When you're putting together the monthly show do you curate the tracks in the same way that you would for a performance? 
When playing live, we usually have a large selection of tracks that we like playing out. We know pretty intuitively which tracks fit well with each other and where to place them during our sets.  It's a much more flexible approach. We are always building a musical story in our sets while remaining flexible to the reactions of the people. 
For Perspectives, we still have music which overlaps with our live sets, but we take out the freedom to also play out more abstract music, we may not play out live. Also, we plan our Perspective sets in a much more structured way, compared to our live shows.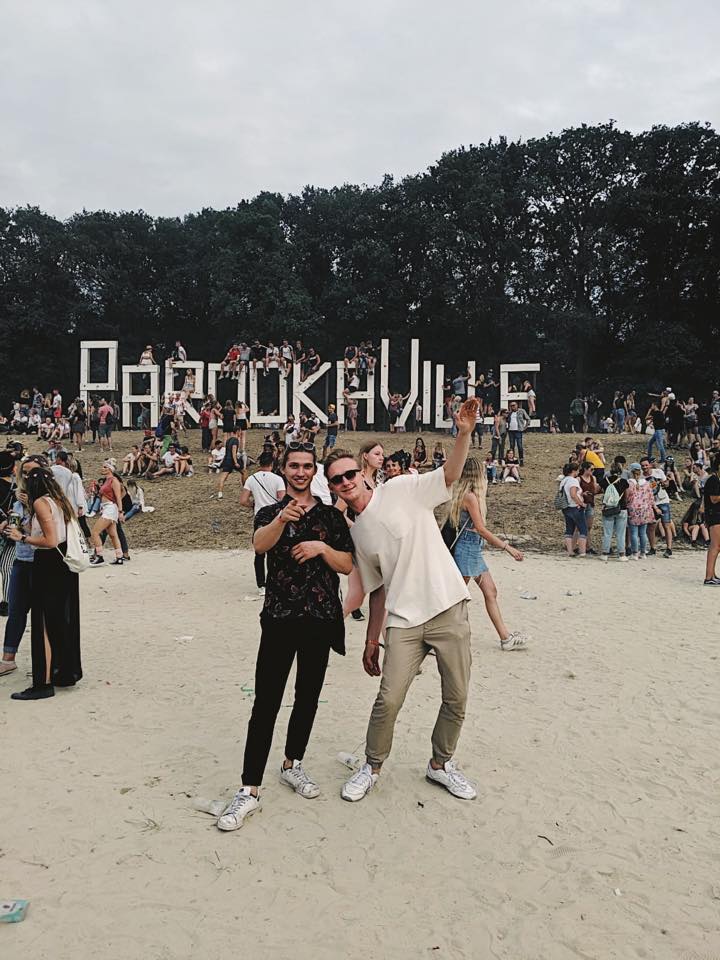 Speaking of performances, you've taken the stage at festivals like legendary festivals like Parookaville as well as nightclubs like Egg in London. Is there a difference in how you approach a set when you're at a festival compared to a nightclub?
This is an interesting question and always depends on different factors like the time are we playing, is it an open-air or indoor, who played before us, what was the last track the artist played before us and so on.
For example, if we are playing a sunset slot on a huge open-air festival stage, we'd put the focus on longer, more atmospheric breakdowns, to enhance and play into the overall vibe. The peak time club set is obviously a slightly different structure; we pay more attention to creating moments of heightened tension, energy and playing a faster pace. 
This is also one of the most exciting parts of DJing. We approach each set in a different way, which is always a nice challenge for us (in a positive way of course).
Germany is renowned for its dance music scene with major festivals and clubs of its own. What do you feel makes the scene there stand out compared to other places in the world?
In Germany, we have a huge variety of clubs and festivals but they distinguish in many aspects like the overall orientation and the general style/mood they represent. It's like an offer of identification for people and goes beyond the aspect of clubbing. Cities like Berlin or Cologne are a brilliant example of that. People with different cultural backgrounds are coming together in one place where they can totally forget about those differences. 
Also, the historical events in Germany have shaped the scene to what it is today, which is in our opinion amazing and we are happy that we achieved such freedom of the scene and the awesome artists that grew out of that.
With the end of the year coming closer by the day, what has been a favourite moment from 2019 that sticks out as truly special to you?
This year we had so many great memories, it's hard to pick just one. We had a really nice summer tour and played a bunch of huge festivals we always wanted to be part of.
A moment that really sticks out in our minds was playing the closing set at In Retraite Festival in Holland this year. The special part about it was the location; the floor we played on was in a big church. At a certain moment during our set, we looked around and it just felt a bit surreal. The whole atmosphere was so unique & inspiring. 
Another surreal moment was during a club show in Münster this summer. We played our track "Helios" suddenly a large part of the club started singing the main melody of the track. These moments give us the inspiration and motivation to keep on going and always aim to reach the next step. 
Further, we felt more creative than ever this year. We produced a lot of new music and we can't wait for the reactions in 2020! 
When you're not producing music or playing shows, what do you both enjoy doing in your downtime to relax?
We really enjoy going to the gym at least three times a week to keep ourselves fit. Also, we are really into inspirational books to feed our minds with new ideas and creativity. 
We also recommend meditating on a regular basis, it's such an amazing tool to centre after busy days and free the mind for a period of time. It sometimes also changes your view on things, musically and personally. 
Finally, are there any goals you hope to achieve in 2020 or releases we should keep an ear out for on the horizon?
2020 looks like the most promising year yet in terms of musical output for us! We got so much music coming up on some of our favourite labels and hope this music creates a lot of amazing memories for people around the world.
---
Follow GNTN on Social Media:
Facebook | Twitter | Instagram | SoundCloud | YouTube