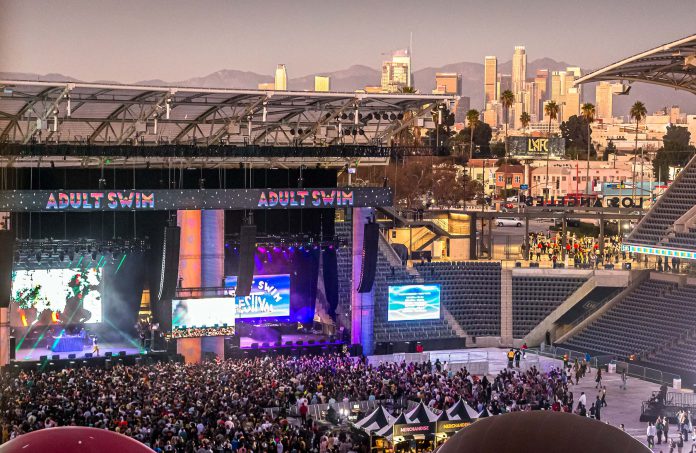 Adult Swim Festival returned for a successful sophomore edition that highlighted both the uniqueness of the network and artists featured on the billing. 
---
As a long-time Adult Swim viewer, I think it's safe to say that I'm definitely a fan of the network. Even before Rick and Morty first aired – and then proceeded to garner the massive cult following it has today – I remember falling asleep to the late airings of shows like American Dad and Aqua Teen Hunger Force. So, when I learned that the Adult Swim Festival would be returning to Los Angeles this year for its second installment, I knew that, as a loyal Adult Swim-er, I just had to attend.
Upon entering the Banc of California Stadium, the first thing that I immediately noticed was the apparent divide between the two types of attendees. Not that the crowds seemed disjointed or separated at all, but you could definitely tell the difference between those who bought their tickets due to their love for all things Adult Swim and those who chose to attend based on the lineup.
Although there were fans dressed up as characters outside of the Rick and Morty universe Ricks dominated the stadium.
Parading around the venue in their white lab coats and blue wigs, there was a plethora of Ricks present at Adult Swim Festival. As far as music goes, Friday evening's lineup was lighter than Saturday's and leaned heavily on the rock and metal side, with Dethklok closing out the night before the Crunchyroll Anime Rave. This resulted in an eclectic mix of attendees Friday, as metalheads intermixed with Morty-lovers and hip-hop fans alike.
Unlike Friday, Saturday began early – the stop-motion anthology series The Shivering Truth kicked things off in the Meatwad Dome at 1PM – and ended around 11PM. Speaking of the Meatwad Dome, the fan-favorite returned with more 4D goodness, immersing those who entered in pilots, season premieres, and to close out the night, six minutes of their lives that they never got back.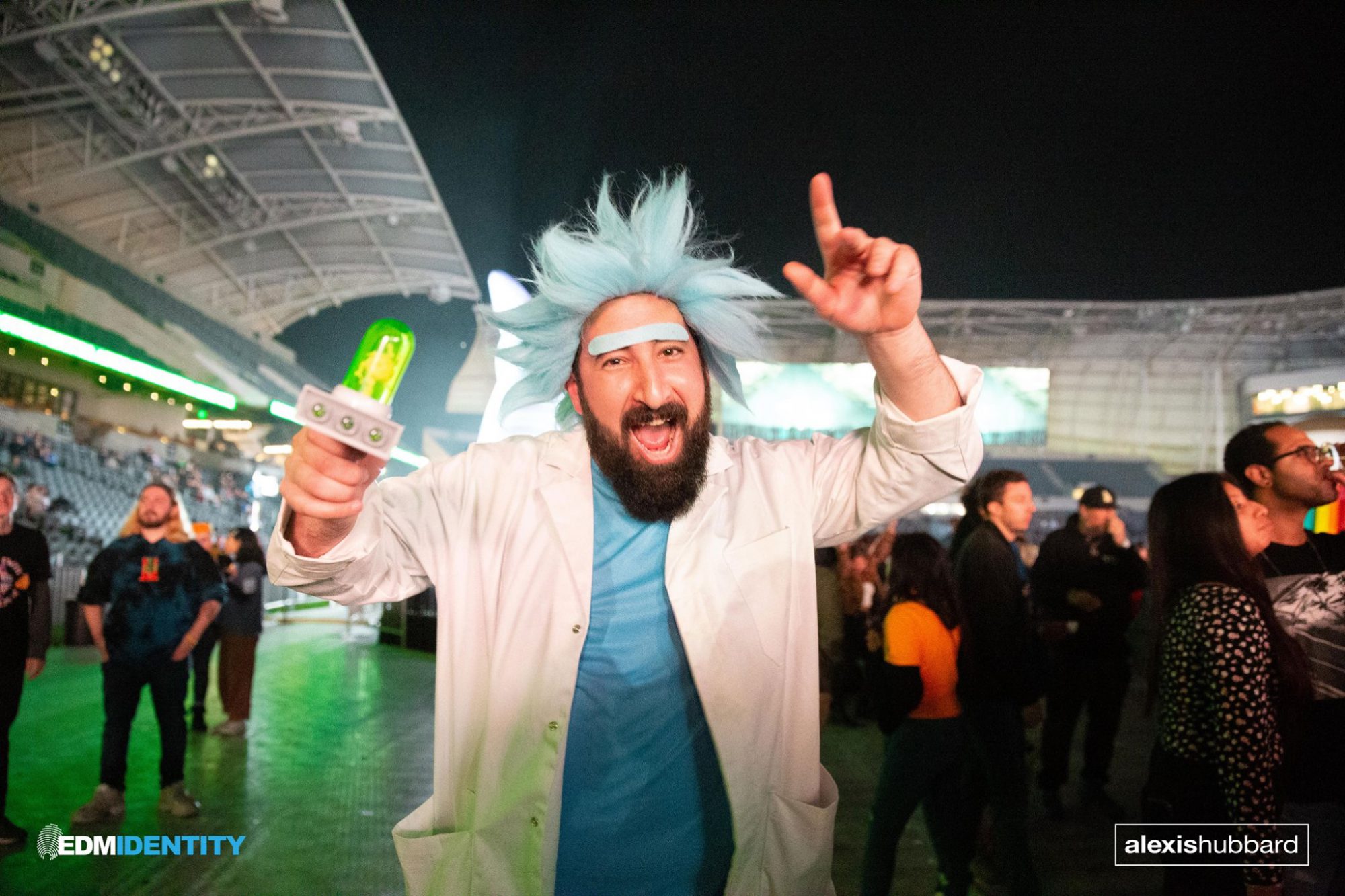 Besides the Meatwad Dome, there were plenty of other activations to satiate even the greatest of Adult Swim fans.
Panels and screenings were held in the Babycat Stage but required either reserving one's spot ahead of the festival or waiting in the hour-plus-long standby lines. For those who didn't plan ahead, there was also the massive, four-story Morty Slide to enjoy, as well as the return of the famed hot-dog ride. Also, if knocking your friend off a mechanical cat with a foam sword had always been a dream of yours, you were in luck, as the new attraction Cat Joust offered attendees the opportunity to do just that.
Saturday's rap and hip-hop-dominated lineup attracted a larger turnout than Friday's, but the new, bigger venue easily accommodated the crowds.
Another notable improvement Adult Swim made from last year was the stage layout. Rather than trekking to and fro' the different stages, this year's event opted for a side-by-side setup that eliminated that issue entirely. Obviously, having two stages directly next to each other would result in some serious sound bleed, so this year's lineup was staggered. The Calico and Tabby stages would switch off, so all you had to do was shuffle back and forth between the two to catch every set.
This setup proved to be particularly helpful in regard to Saturday evening's stacked lineup.
Rather than stress over running over to Vince Staples' set immediately after The Eric Andre Show Live!, audience members just shifted slightly to the right while the poor crew members cleaned up the catastrophe that was left in the former's wake. They sure left quite a mess.
Prior to both of these, the North Carolina-born rapper Rhapsody started the night off strong by pulling an audience member onto the stage to give him a lesson on "how to treat a woman." Artists continued to engage the crowd throughout the evening and later, Tierra Whack led fans in her own rendition of "If You're Happy And You Know It Clap Your Hands," as well as also pulled a crowd-member on stage to join her in singing "Pet Cemetary".
Other highlights included a ranch-guzzling competition orchestrated by Eric Andre, as well as an electrifying performance by Vince Staples. After opening with apologizing for not being Frank Ocean, he efficiently carried the crowd through an hour of straight bangers before handing the night off to the Jamie XX to close things out by transforming the stadium into a technicolored disco dream wonderland.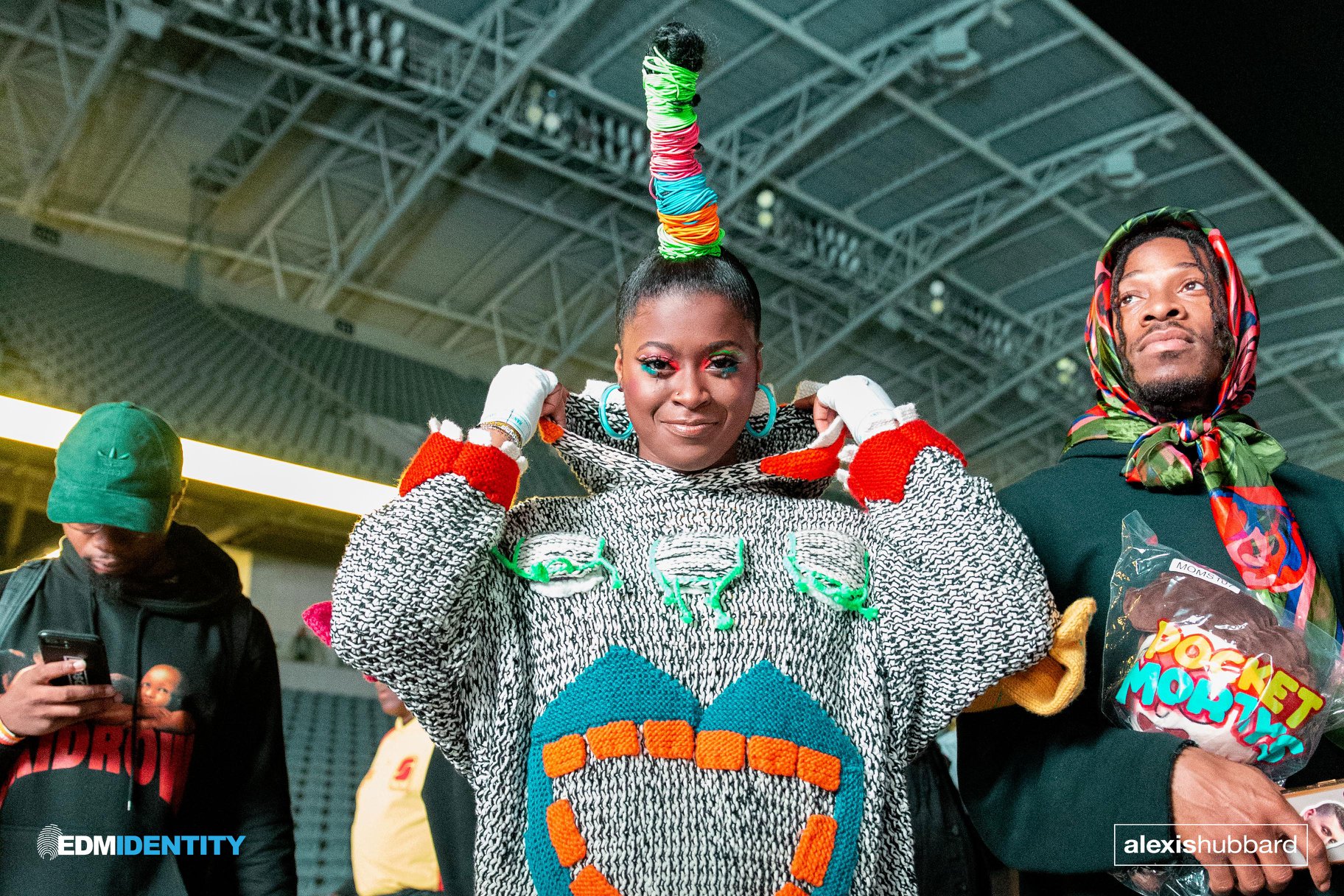 In the era of music festivals, when it seems there are new ones popping up every weekend, it's becoming increasingly difficult for smaller events such as Adult Swim Festival to stand out.
Thanks to the network's uniqueness at its very core, however, Adult Swim Festival seems to overcome those odds and continue defining itself as one of the events to look out for each year. I mean, come on. Where else can you chant along to "I'm Different" with 2 Chainz and ride a mechanical hot dog in the same night?
Between the festival's eclectic billing, fanbase, and activations, Adult Swim Festival will certainly go down as one of my favorite events of the year. I can't wait for 2020!
---
Connect with Adult Swim Festival on Social Media: