The music, production, and moments that I shared with friends made my first Escape: Psycho Circus an unforgettable experience! 
---
I always wanted to celebrate Halloween at Escape: Psycho Circus, and this year I finally did it. I made the drive to San Bernardino Friday afternoon and met my group at the Comfort Inn which is two miles away from the NOS Events Center. We settled in, talked about the sets we wanted to see, and got ready to drive over. It was a short drive to the venue, and we entered the festival just as the sun went down.
Insomniac is a powerhouse production company and that really shined at Escape. I was blown away by the production and attention to detail in everything. There were different themed streets like Haunted Hay Road, Boulevard of Bones, and Inferno Avenue that led attendees from stage to stage. There were creepy masked performers, even some on stilts, walking the festival grounds. It seemed there was always something to catch your eye anywhere you adventured.
Related: Make sure to check out all of our photos over on Facebook!
The first major set that I wanted to see was Said the Sky, so I meandered my way through the festival to the main stage, The Grimm.
When I finally made it to the main stage, the first thing I noticed was how massive it was. The whole stage was designed as a grim reaper with arms that moved and there were arrows suspended from the ceiling. Said The Sky threw down a fun set full of originals like "Potions", "Hero", and my personal favorite, "Where'd You Go". It was the perfect way to start the festival and by the end of the set, I was feeling even more energized for the night.
The rest of Friday was stacked with highlight sets from Duke Dumont, Dubfire B3B Nicole Moudaber B3B Paco Osuna, and Deadmau5.
It was a more of a hard-hitting, bass-heavy day with the Bassrush and Basscon stage takeovers. At the end of the night when it came to the Deadmau5/Excision conflict, it was clear a lot of attendees came for the bass. The crowd at Excision was overflowing with people, and it was a major task to get into the mix. I ended up going back to Deadmau5 at The Grimm which was totally worth it. I met up with my friends, there was enough space to dance, and he closed the set with "Strobe".
Saturday was my favorite day for music with highlight sets from San Holo, Eric Prydz, and Gorgon City b2b Nora En Pure.
San Holo gets better ever time I see him, and his set at Escape: Psycho Circus was one of my favorites. He is always full of energy going from mixing on the decks to running around playing his guitar and interacting with fans. The Sanitarium stage was going crazy when he dropped his famed "Light", "We Rise", and "BWU", as well as tracks from Album 1. Anytime he spoke on the mic, he was full of love and gratitude which made his set that much more enjoyable and wholesome. One could even say it was very vibrant.
Closing out the night was Eric Prydz who was nothing short of spectacular.
His sets are always different and captivating. This time, he sprinkled in some Cirez D and had the most insane lasers of the weekend. At points, it seemed like the ceiling of lasers was firing off for seven minutes at a time. Anytime I see a Prydz set, it reminds me of why he is one of the best.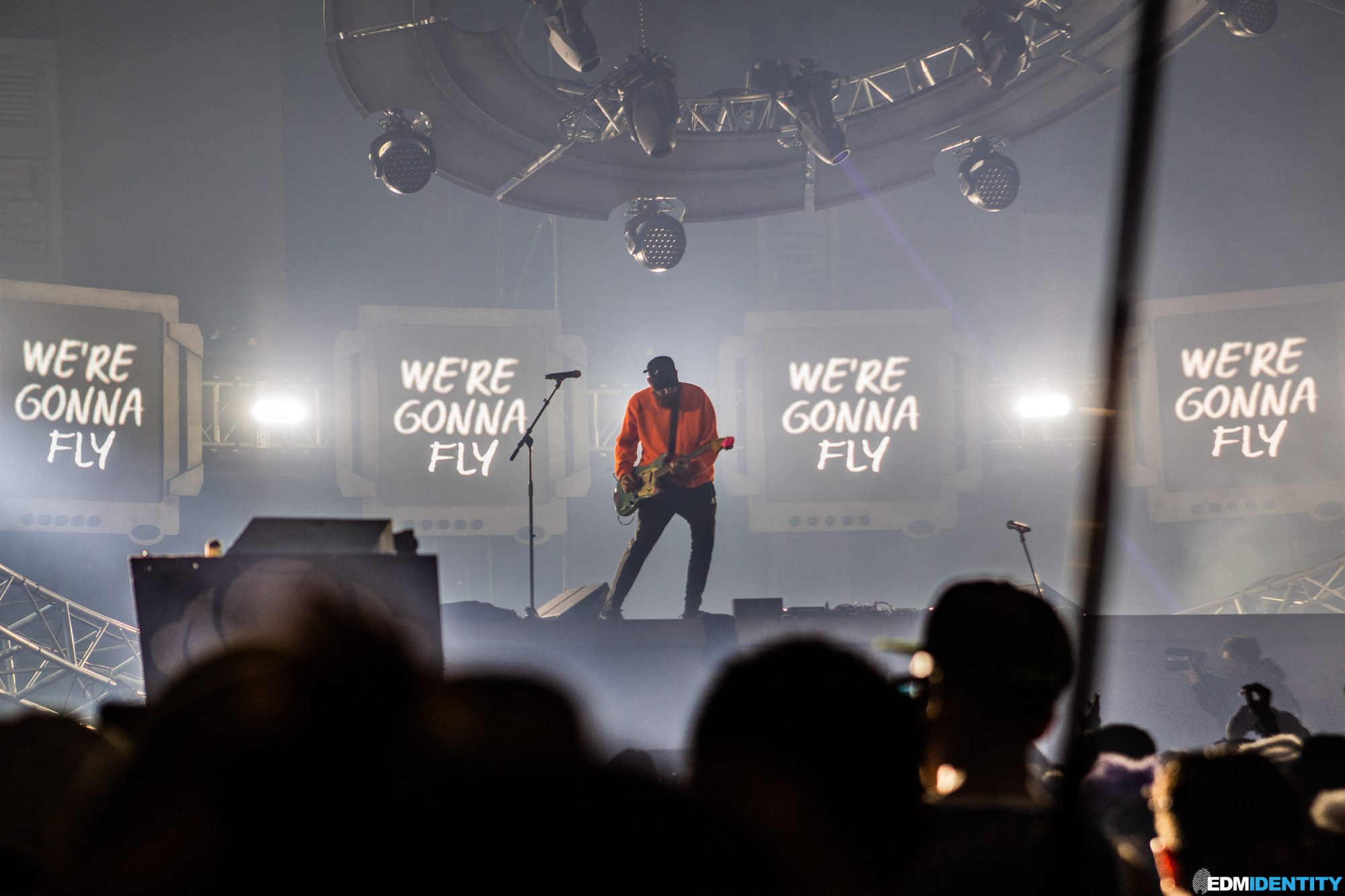 One of my favorite moments of the weekend was being able to sit down for a chat with Alok.
The Brazilian producer is one of the world's top DJs, so when I had the chance to chat with him, I couldn't pass it up. It was really interesting to hear Alok's take on the electronic music scene, creative process, and endeavors. The whole interaction is a moment I won't forget and made my experience at Escape that much more memorable.
In addition to music, there was a variety of fun things to experience.
One of my favorite things to stop and watch were the fire breathers, spinners, and dancers. Every 15 minutes there was a performance and it was mesmerizing each time. The mini-stage was set up in the lake so the lights and fire would cast colorful reflections on the calm surface.
After being entranced by the fire, you could go on the ferris wheel for a one of a kind view of the festival or ride the swings. There were also magic stands, double-dutch, and immersive environments to explore making it a real circus of an event. It was hard not to get distracted walking from stage to stage by all the cool things going on.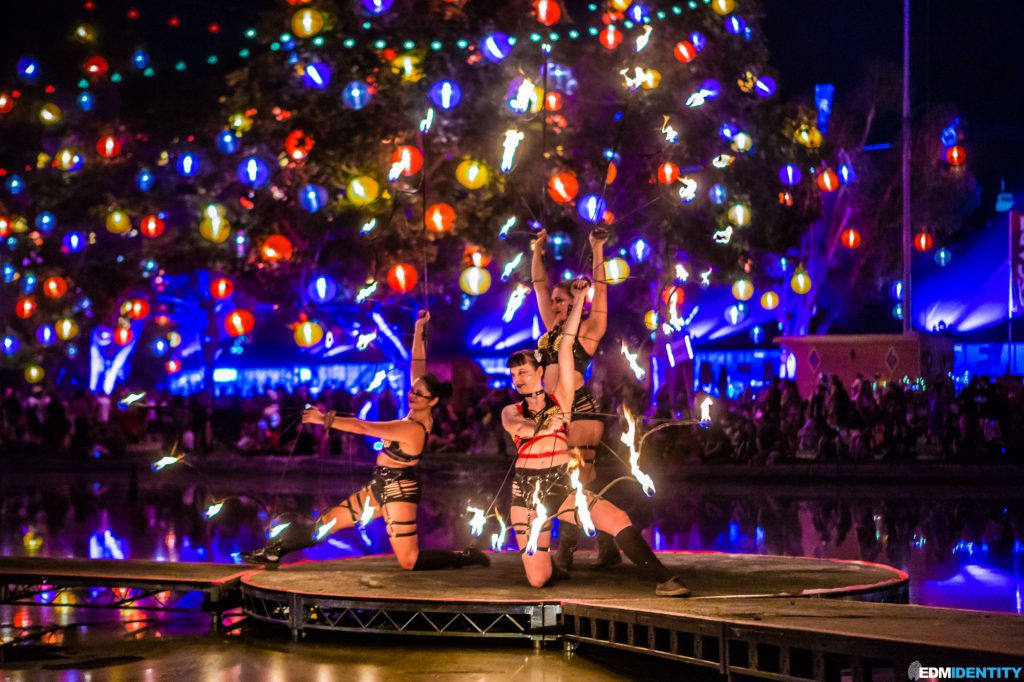 After so many years of wanting to attend Escape: Psycho Circus, I am so happy I finally made it happen.
I knew the event was going to be fun, but it's not until you're actually there you see why it is the place to be for Halloween. Between the amazing lineup and insanely detailed production, celebrating Halloween at Escape is the way to go. Insomniac is no stranger to throwing high-caliber events, and if you have ever thought about going, I highly suggest making it happen next year. It's like a little slice of the production level of EDC with a sprinkle of spooky mixed in for good measure. I'll be sure to keep it on my radar for all future Halloweens to come.
---
Connect with Escape: Psycho Circus on Social Media: