The 12-hour Cityfox Halloween Festival did not disappoint, delivering an amazing experience and plenty of energy right through the sunrise!
---
From the moment my group entered the doors for Cityfox Halloween Festival we knew we were in for something different. Admittedly, the idea of an indoor, one-day festival was foreign to me, but if anyone could pull it off, it would be Cityfox. And if there's a complex in NYC that can house such an audacious party, it would be the Avant Gardner. The warehouse complex includes three permanent stages and numerous additional configurable spaces. Cityfox took advantage of every nook and cranny including some chill rooms and a few rooms featuring interactive visual arts.
The first space we entered at Cityfox Halloween Festival was a chill room called Limbo Lounge with downtempo tunes and lots of bench seating. 
Many events at Avant Gardner include at least one chill space, a welcome addition to any rave setting. We next entered a long corridor called The Clearing and we literally stopped in our tracks. Spooky ambient music was playing and a synchronized lighting setup from 404.zero that gave the corridor a convincingly otherworldly feel. While paused we took some (terrible) photos and video trying to capture the trippy lighting effects. 
After successfully passing through The Clearing we entered the Immortal Kingdom where Rodriguez Jr. was performing his set.
As a trance fan, I didn't know much about the Cityfox Halloween lineup and I'm always trying to expand my musical scope. Friends advised me that, of the lineup, Rodriguez Jr. would be a great starting point. Sure enough, his set of melodic house and techno felt fresh and also familiar. In fact, within the first 15 minutes we were there he played his remix of "Night Blooming Jasmine" from Eli & Fur. Since this is a personal favorite track of mine, I took it as a good omen for the festival to come.
While we were enjoying the Rodriguez Jr. set, we were also trying to locate friends and eventually got a text from them watching Monolink in The Blood Shed. Not included in the permanent setup at Avant Gardner, I was curious how this space would sound and feel. 
While Cityfox did a fantastic job configuring the space they were working with, there are limitations in a complex like this.
Getting to Monolink was the only dubious moment we experienced throughout the festival.  There was a choke point when trying to enter The Blood Shed and with no crowd control in that area, it was a jam-packed scrum getting through. It never felt dangerous as the crowd was behaving well at this early hour, but I could see deteriorating as sunrise approached.
Once into The Blood Shed we wandered around a few times because the sound wasn't spectacular. To be fair, the sound in the back corners of this temporary stage was better than some long-standing Brooklyn venues, but Monolink deserves impeccable sound and we ended up in a spot near the center that made the grade.
If you aren't familiar with Monolink there's practically no way to describe his music in traditional terms.
Right as we found our spot he played "Return To Oz" (Artbat Remix) – the only song in his set I recognized easily. The reason to appreciate Monolink is that he defies genres and borders. He's electronic, yet he isn't. He plays live instruments. He sings. He talks and even seems to be reading poetry at times.
A mainstay at Burning Man, his dynamic style is exactly what a Burner would expect. And his set tonight was no exception; I only wish they had put him on the main stage. Then again, the visual production on that stage aren't needed for his music and may have actually been a distraction. 
From Monolink's bio, "passionate physicality meets sublime stimulation for the mind" and this only makes sense once you've experienced him live.
We stuck to The Blood Shed for WhoMadeWho next. Cityfox listed WhoMadeWho as a "Hybrid Set" which was basically the same as a live set. Another act that defies genres they identify themselves as experimental pop which is probably accurate, but I feel like "pop" is underserving their talent. The set was undoubtedly experimental which ambient electronic beats and the trio all playing live as well. Each song was a unique, standalone experience that I really loved.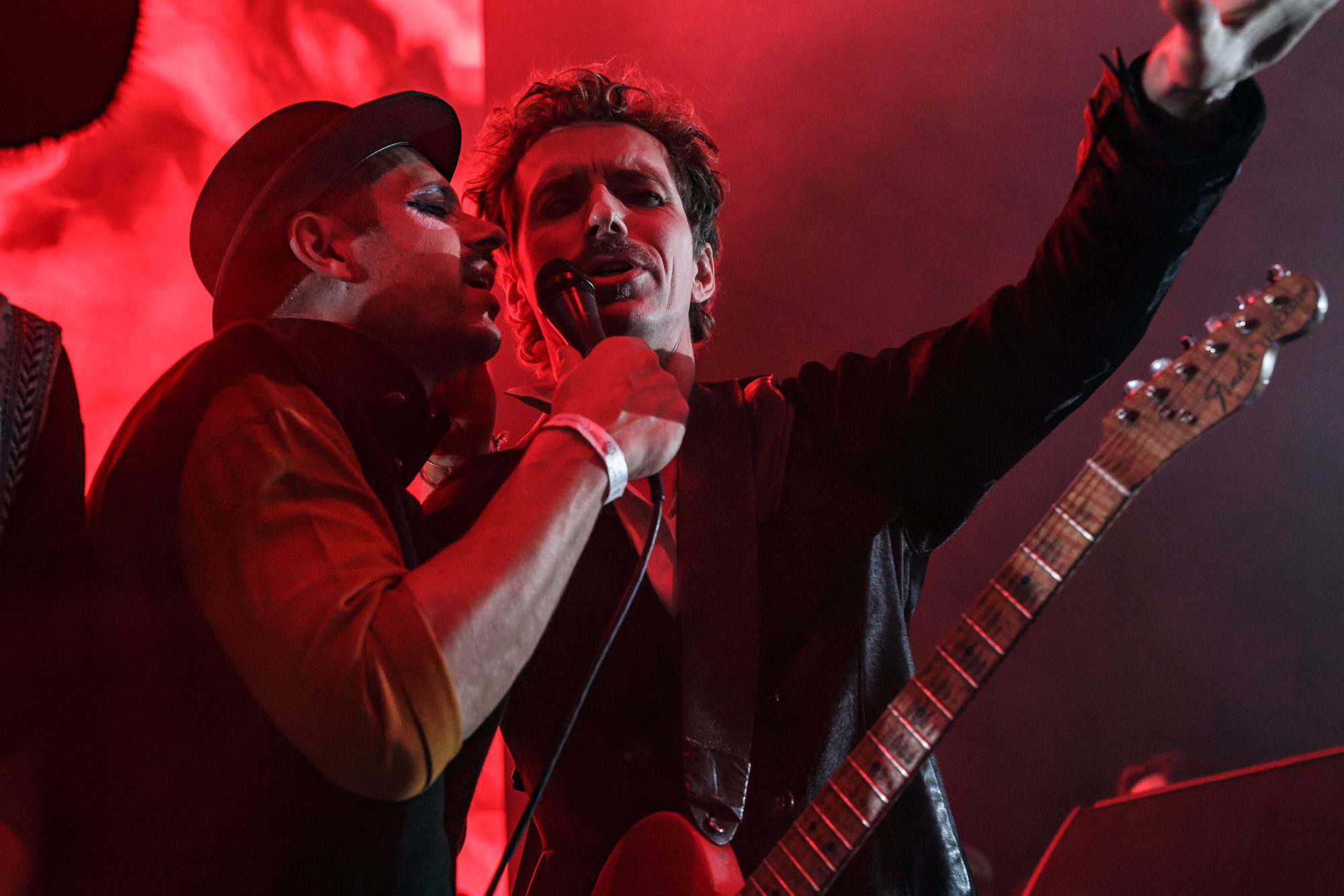 It was now 4:00 AM and the Cityfox Halloween Festival had another five hours to go, so we decided to take a break.
We sat on a curb in one of the outdoor spaces between stages to cool off and recharge before our second push. While resting we took in more of the crowd, the flow, and the layout. Again, I want to give mad props to Cityfox for how well they configured a challenging space. In addition to the already ample permanent restrooms they added a huge bank of port-o-potties outside. There were also food and non-alcoholic drink options available at multiple locations. And security seemed present, but not aggressive.
After our rest, we made it into The Great Hell, the main stage, for the first time where we expected to spend the rest of the festival.
It will come as no surprise that the two artists I most anticipated where the last two on the main stage. First up was Gui Boratto and probably my favorite performance of the event. Gui's solid tech house style was exactly what I needed to get my second wind. In fact, I entered the room feeling like I could close my eyes and "sleep dance" and was quickly pulled though that feeling into the zone of afterhours revelers. And when he played his remix of Azzurra (It's Not The Same Version) from Massive Attack, I knew I'd stay in the zone till close.
On top of his steady, dancy beats, the visual production in The Great Hell was next level.
Avant Gardner typically has great lighting productions in the outdoor Mirage space, but the indoor spaces, while solid, typically lack some of the things we've come to expect like lasers and pyrotechnics. Well, not for this show! There were eight laser banks and an alarmingly large number of pyrotechnic elements for an indoor space. Each time the flames popped, the whole room felt the heat. Add in a bank of flames on the audience side of the decks and it was definitely a Halloween spectacle.
After a long and solid dance party, at 6:00 AM we'd made it to the main event.
At the time I'd normally be getting to bed after a Brooklyn Rave, Cityfox was just getting the party started and fully committed to dancing us into the sunrise. When legendary Lee Burridge took the stage, the first thing I noticed was the fox mask he was wearing in the style of Cityfox. He's clearly the type of performer that loves what he does and will take on whatever persona is needed to fit the mood of that event.
The next thing I noticed was about a half-hour into his set, there was a continuous breakbeat rhythm to his tunes. Add in a dash of jungle and short recognizable musical phrases from popular songs in the 70s and 80s and I was truly in heaven. It's fun to both recognize a song because of a phrase and yet absolutely not know but still enjoy the rest of the song.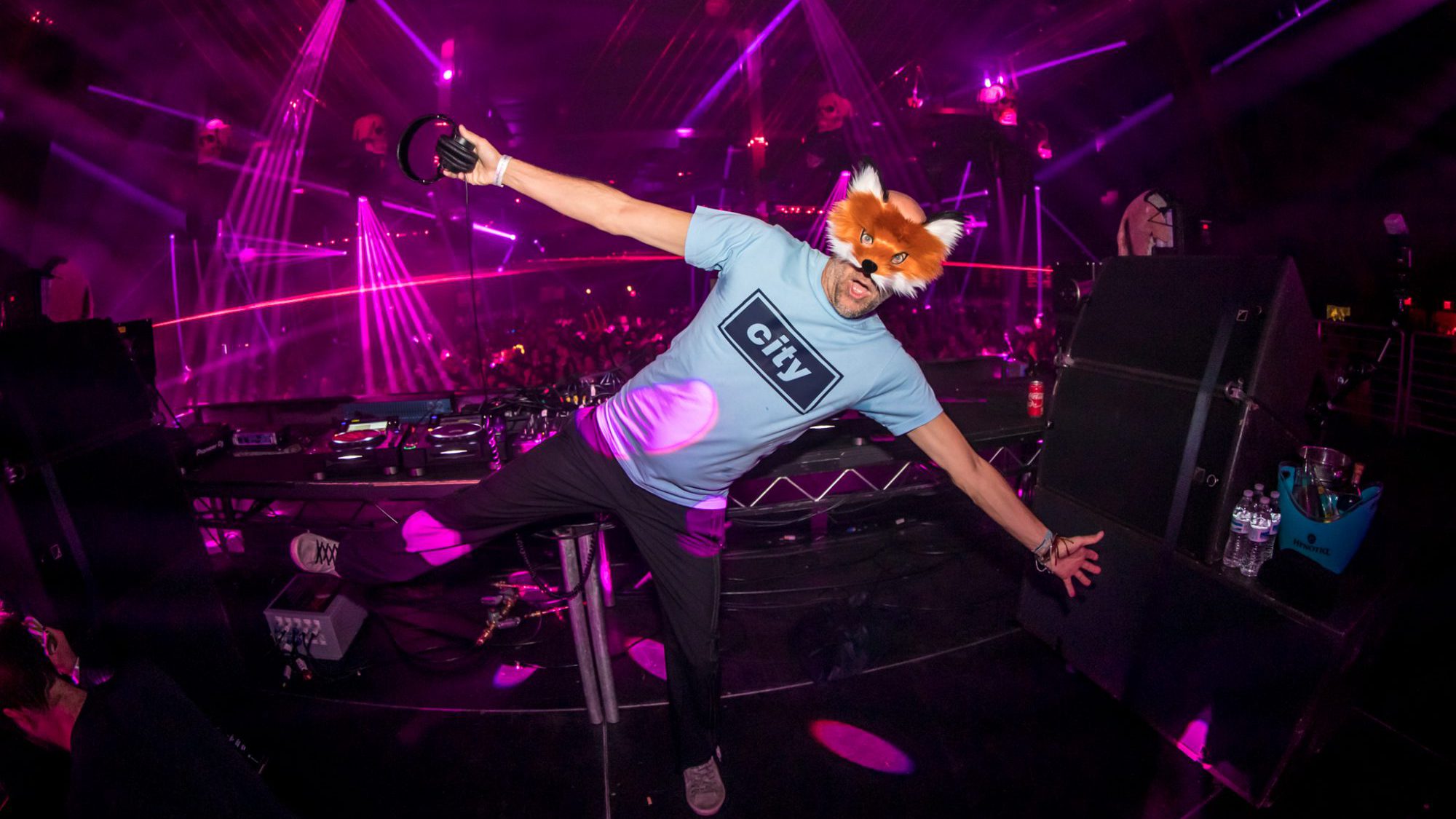 We didn't make it all the way till 9 AM, and yet this was still the latest (earliest?) I'd ever left an overnight show at 8 AM. 
I still question the concept of a one-day, indoor event actually being a "festival"; that aside, Cityfox Halloween Festival was a terrific all-around experience. Cityfox calls a lot of their similar events Cityfox Experience and I think that's the right term because it truly is just that. I can't wait for their next event, Cityfox Odyssey NYE & NYD which will last a staggering 27-hours! Stay tuned, I'll let you know how that one goes!
---
Connect with Cityfox on Social Media:
Website | Facebook | Facebook (Cityfox NY) | Instagram | SoundCloud