All My Friends Music Festival took over Skylight ROW in DTLA and filled the streets with house, techno, and plenty of dancing.
---
After a debut edition in 2018 that was the talk of the town and a lineup that was filled to the brim with talent for this year, the hype for All My Friends Music Festival had been building for my group and I. Heading up from San Diego, we arrived in Downtown Los Angeles not long after gates had opened and were stoked for the two days ahead.
Security and ticket lines were moving swiftly and it wasn't that much longer before we were walking into the festival and were met with a poster covered wall. In the center was a raised circle with the AMF logo printed over it and two diagonal lines of LED lights on either side, a solid photo opportunity.
On the other side were lockers, the medical tent, and a row of circle swings. The swings glowed a soft light from within and provided the perfect place to sit, and take a break from all the dancing. Beyond the swings was the Rockstar booth offering a variety of caffeinated beverage flavors to keep our energy up and another themed area, Tienda Tecate, that was outfitted to look like a street market.
The first stage we encountered was the BFF stage, which featured LED columns formed in a radial clamshell around the DJ booth.
The columns at the BFF stage were bent giving them an arrow type of look. At the back of the stage were a couple of vendor booths selling sunglasses, scarves, and fans. Additionally, there was the Svedka booth offering a variety of Svedka cocktails and focused on their newest product, Svedka Rose.
The second photo opportunity was made up of three rows of the letters AMF in LED lights, and there was additional seating was located between the Svedka pod and the other vendors. They were benches but padded and covered in a leather material that kept them constantly busy with guests looking to take a break from dancing.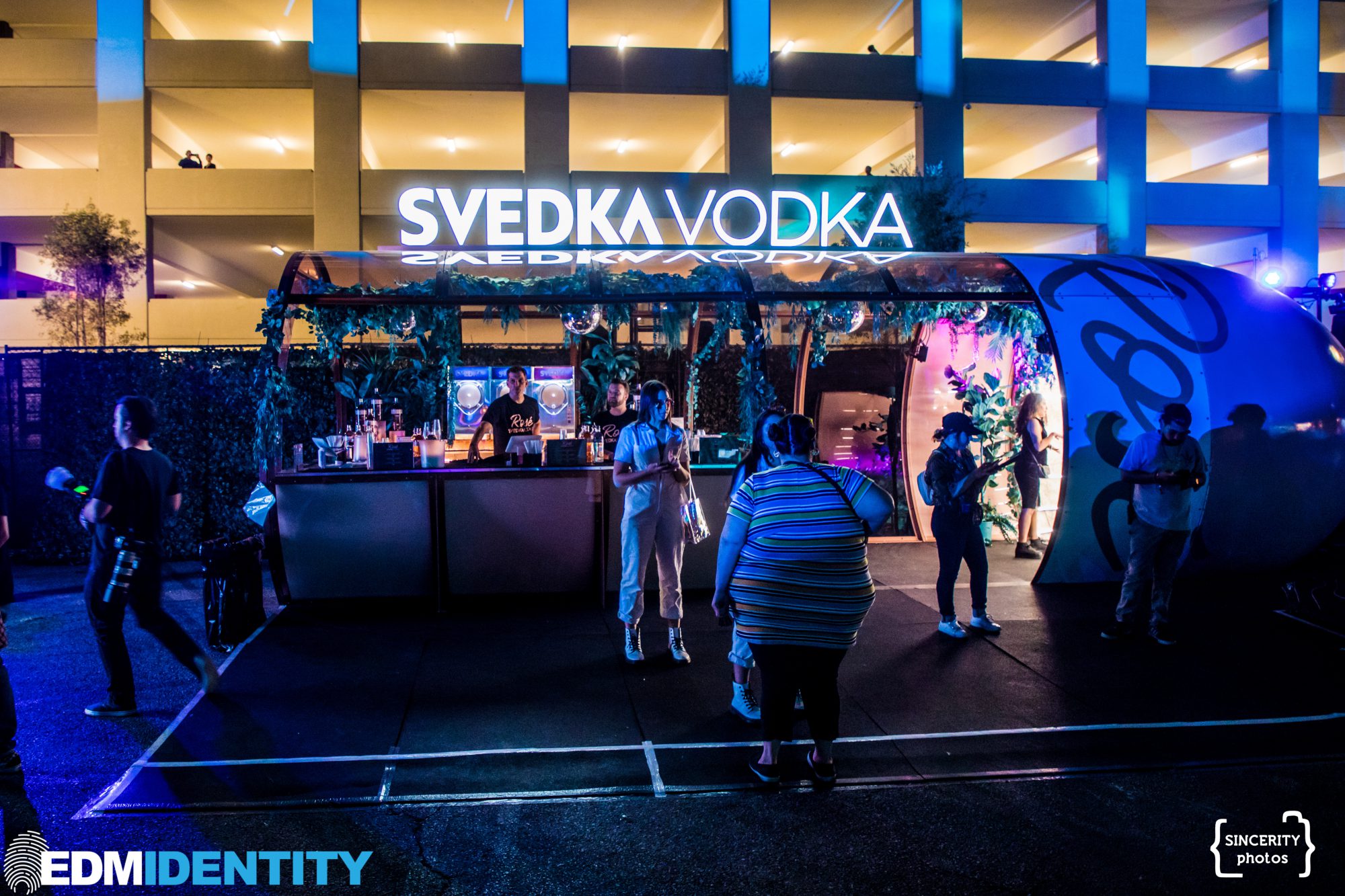 Between the stages was the food truck village that I was happy to find since I was already getting hungry.
In the center were numerous picnic tables and benches surrounded by a variety of food trucks. They had food offerings of sushi, Greek food, tacos, fries, chicken wings, and more! I was impressed by the diversity and the wide variety kept all the lines fairly short. Beyond the food was the main stage, the Friendzone.
Having seen pictures of last year's edition, I recognized the Friendzone stage design immediately.
Three overlapping shapes that form the letters AMF when looked at from different angles. Each shape displaying a variety of images and below the decks was a full LED panel in sync with the columns. The right side of the stage was lined by the VIP area and offered an elevated view as well as seating for those attendees.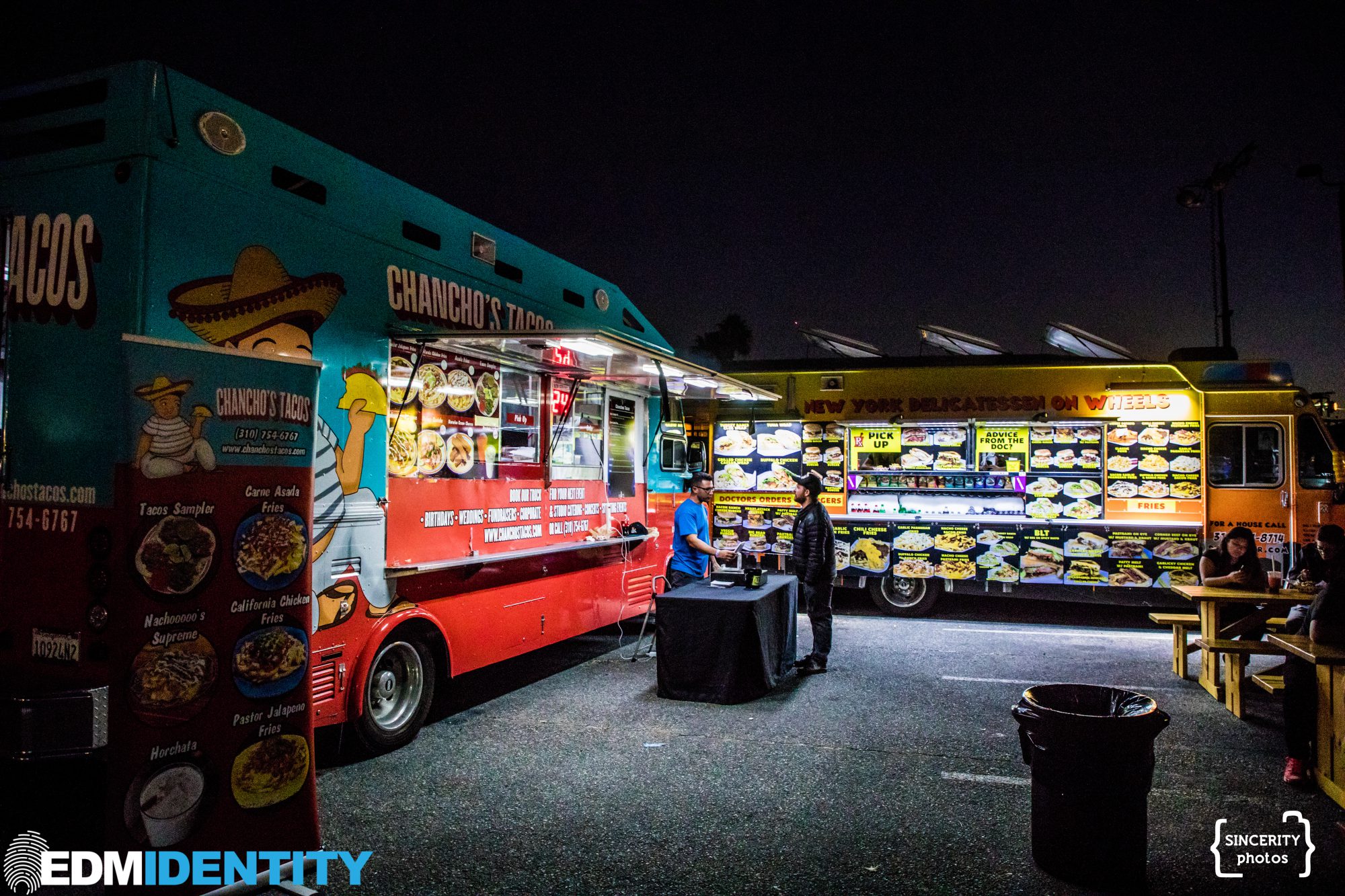 All My Friends wasn't just about the stages, photo ops, and food, there was some amazing music as well.
The first day we split time between WONGO and Busy P. I hadn't really been familiar with either of those artists so it was a good way to ease into the night. We, of course, caught Destructo whose set was honestly too good to leave. His style of hard-hitting bass house was giving life to the whole crowd and keeping them moving. He had two dancers on stage dressed as cheerleaders and they were wildly entertaining.
This was also my first time seeing Idris Elba and he captured my soul during his set.
I had always heard good things about him and his set lived up to the hype. He mixed in classics along with house ragers so smoothly I wished it could have been more than the hour and ten minutes they gave him. We wrapped up the first night by closing out with Justice which is always a good time. Their strong electro vibe gave us all energy and their use of strobe lights is iconic.
On the second night, we started with Dillon Nathaniel and then split our time between Bruno Furlan and Blond:ish.
I've seen Bruno Furlan multiple times throughout the year and every time he brings an unreal amount of energy. His house blend highlights his Brazilian roots and there's something about his set that just feels uplifting. I didn't know much about Blond:ish but when she dropped "Give Dem" the entire crowd lit up and knew the words, I'm definitely a fan now.
The last set of the night that really stuck out was Diplo b2b MK.
The combination of Diplo and MK was definitely unique. You could feel the shift in tracks when each producer took over but overall they did a really good job of complementing each other. Diplo mixed in Jade's "Don't Walk Away" which is such a classic song and even better with a nice house beat. MK, of course, included "17" to which the entire crowd sang along.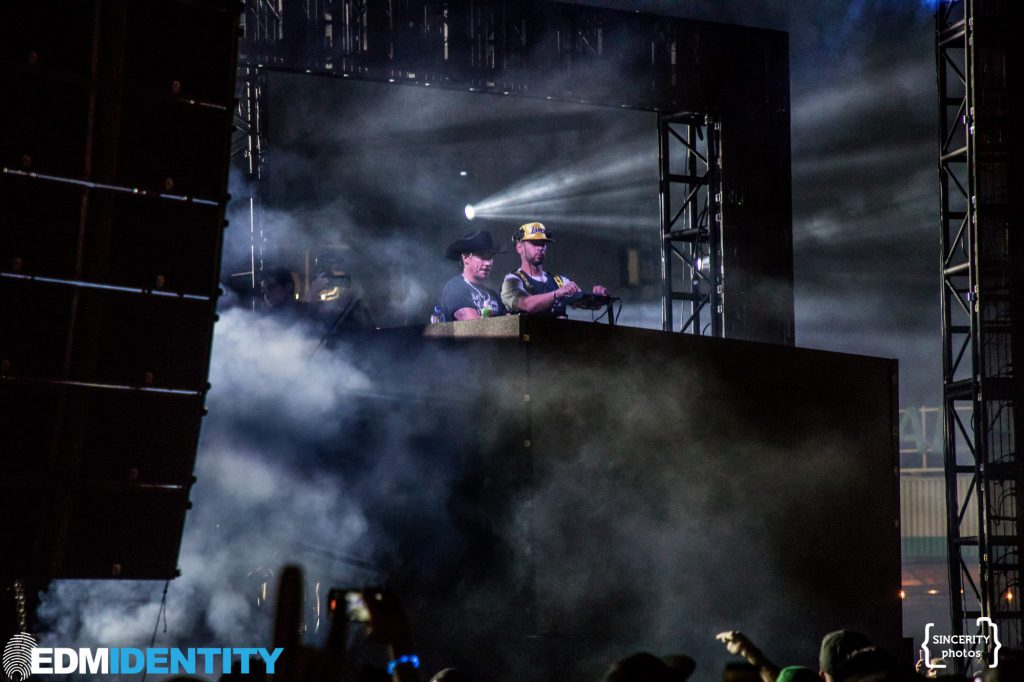 The festival also featured a secret stage tucked away from all the bustle of the main grounds
It wasn't hard to find as it was covered in jungle vines that could be seen from quite a few feet back. The entrance also wasn't hard to find because there was a line almost the entire weekend. A single security guard stood watch over this porta-potty entrance. Once opened the door lead to a small grassy path with large warehouse fans stacked on each other.
Around the corner were a couple of bars, a piano, and the third stage that featured a chandelier hung from the center of the room. The secret stage area itself wasn't very large and got pretty warm at times but it was nice to walk on grass and just enjoy a smaller portion of the festival. Although I never really knew who was playing it was all house and techno, so you couldn't go wrong.
Overall, All My Friends was the perfect size festival for a fun fall night.
The AMF team focused on their strengths in curating quality house and techno artists and added amenities like the seating areas, swings, hammocks, and photo opportunities that make a big difference. Additionally, they used stages that mostly highlight the minimal production house and techno fans are generally accustomed to while still having spotlights on the artists themselves.
Seeing such a positive response to their sophomore edition, the memories made at this festival will definitely stick for some time to come. I can't wait to see how this festival and the AMF team continue to grow in 2020 and beyond. See you there next year!
---
Connect with AMFAMFAMF on Social Media:
Website | Facebook | Twitter | Instagram | SoundCloud | YouTube