After several festival appearances in 2019, Tripnotic caught our attention and is a dubstep artist to watch closely in the future.
---
Since breaking onto the scene, Tripnotic has been working hard to develop his sound and make a name for himself in the dubstep community. He's already leaving a lasting impression on listeners with a style that spans across multiple subgenres, from the deep dub track "Interference" to the harder vibes in his official remix of "Alien Invasion" by Moonboy.
This year, Tripnotic traveled across the country while showcasing his unique take on bass music with a big summer tour that included festival stops at Electric Forest, Imagine Festival, and Summer Camp. After stumbling upon his set at North Coast Music Festival in Chicago, I had to learn more about this up and coming artist and what he has planned for the future.
Following the biggest year of his career yet, Tripnotic is wrapping up 2019 with an appearance at Lights All Night and has more tour dates and track releases to look forward to in 2020. We sat down with Tripnotic to learn more about his influences, his production style, and his favorite memories from this year!
Stream EDMID Guest Mix 191 || Tripnotic on SoundCloud:
---
Hi Tripnotic, thanks for chatting with us today! Let's start off by taking a look at your background in the EDM world. Who are some artists that first got you into the scene and what led to you making the aggressive style of dubstep that you're known for today?
Yo, thanks for having me, I appreciate the opportunity to share a little about myself! To be honest I couldn't tell you who the first artists I really listened to were, when I first heard EDM it was at "rave parties" in peoples' fields, barns, and basements (I'm from the South if you can't tell) but I didn't even register it as EDM at the time.
One of my friends from those parties eventually convinced me to come to a real show with Flux Pavilion and after that, I was hooked. I started off listening to mostly bigger artists like Borgore, Pretty Lights, and of course Skrillex. I actually started off making more trap when I started producing almost three years ago but once I started to learn more I fell in love with making dubstep. I'll make any genre honestly but with how dubstep has been evolving it's just currently my favorite. I just make what I like hearing and if others like that too then it's even better!
You just released "Gas Pack," another collaboration with Infexzion. What's your favorite part about working with him and how did that relationship start?
This one's actually funny, a lot of people don't know this but plot twist… Infexzion and I are actually twin brothers, so basically when our Mommy and Daddy loved each other very much is when that relationship began. We definitely butt heads at times being brothers and all but it's a huge blessing to share the same passion with a sibling and chase our dreams together.
Some of your most recent releases are bootlegs of Griz and Subtronics' "Griztronics" and "Illusion" by Bassnectar and Peekaboo. What are some production techniques you utilize when remixing someone else's song and does that differ from your original work?
Bootlegs are a little different since I don't have the actual stems of the track, I'm just working with the master WAV. For those, it's a lot of finding pieces I can work with then resampling and post-processing to make it sound more like my own.
Depending on what I'm trying to do for the track sometimes I want it to sound really different like "Griztronics" and I'll add more of my own sounds, drums, etc. With "Illusion", I kept most of the core sounds the same.
What are some of your favorite parts about the production process, and do you have any favorite plugins or techniques that really enhance your sound?
Honestly, just the whole process of creating and playing with sounds and trying things out is something I love. There's no real right or wrong to an extent, just what sounds good. I use a lot of the Waves bundles more than anything, Izotope Ozone a lot, and you really can do some cool stuff with Convolution Reverb.
Serum and Phase Plant are really my go-tos though I guess. I've really been really focusing on layering and just giving more depth and uniqueness to my tracks now.
This past summer, you performed at Imagine Music Festival and the GoodBus Stage at North Coast & Electric Forest, as well as other fests. How do you make your sets stand out when you're playing for new fans at a festival?
I try to play a little bit of everything and give each person there a taste of something they might like, plus trying to expose them to new music as well… but honestly, at the end of the day, I just play tunes that I really enjoy and hope that means everyone else will too!
You played several shows over the last few months on the Synthesize Me Cap'n tour – can you share some of your favorite memories from those shows and this summer?
17 shows and 9 festivals was definitely a blessing. It really took the tour ending and looking back on the whole experience for it to set in, and it was just surreal. I met a bunch of new friends and had the best summer of my life.
If I had to pick a few I think playing Houston Grimefest was one of my favorite shows, I stood on the booth for the first time and the energy that night was insane. It also linked me with some of the most amazing people I've met on the Nocturnal Waves team that I'm working with now.
North Coast was probably my favorite festival set this year. Every festival was an amazing experience and I had a great time playing, but spending the weekend with all my Chicago homies on the GoodTeam is always a good time. Love that crew. Also have to mention the first show of the tour in Arkansas with the Hidden Sound team, even though it wasn't huge it was special as the first show and my first tour and love the guys in that fam as well!
Thank you to all the dope promotion teams and hospitality for having me out, taking care of me, and friendships formed! Much love to all the photographers, VJs, and other artists I played and worked with. Y'all were amazing, keep grinding and I look forward the next time we work together on even bigger opportunities. Last but most definitely not least thank you to all my friends (fans) who came out or supported me making this all possible, I love you guys and had a blast raging with y'all! Most importantly I wanna give all the credit and glory to God though, without Him I wouldn't be here doing any of this and I'm truly blessed for these opportunities.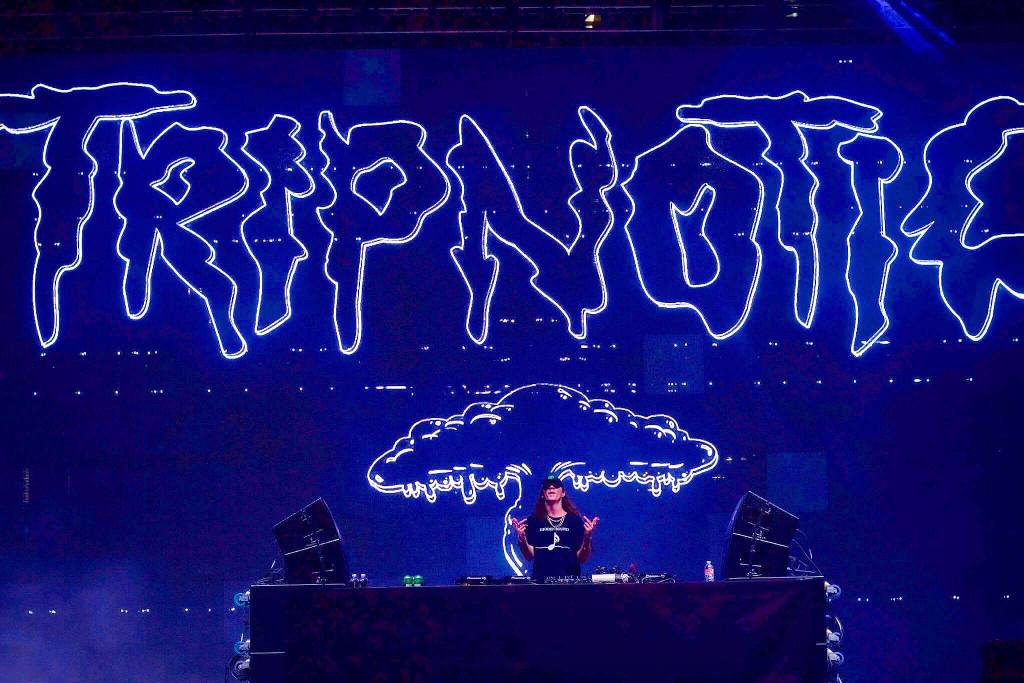 If you could share one piece of advice with other up and coming producers looking to make their break in the dubstep scene, what would you tell them?
Make more friends than connections. Don't compare yourself or measure against others' progress, everyone has a different path. Work harder, it's never hard enough. Establish a clear consistent brand, interact with your supporters, keep up with content. These might sound vague but honestly there are no "A, B, C" steps to this, you have to find what works for you but hopefully, these guidelines help some….I'm still figuring things out myself.
You recently gave a shoutout to EDM Twitter for helping to kickstart your career this year. What's your favorite part about connecting with your fans on that platform?
All the EDM Twitter fam definitely holds a special spot in my heart. I've just received a lot of love and support from that community that helped get my name around for the tour. I got to meet and work with other awesome talented people from the community on tour which was amazing but I hate the word "fans". Everyone has a part to play in this beautiful scene and none of us could do it without the others, I'm just grateful to have people to support my dream and share experiences together.
Looking towards 2020 and beyond, what does the future hold for Tripnotic? Is there another tour and more original releases on the way?
Oh yeah, I mean it's cliche but lots of "big things" coming soon. I have a couple cool releases and event announcements to make closing out this year but 2020 is gonna be a new level. I'm wrapping up my first EP for a major label that I'll build a tour off of but expect to see me on more than just one tour next year…maybe even as support for a top tier artist. I have to keep things pretty vague but there's gonna be a lot of chances to see me play in 2020, some cool merch things, and a couple unique announcements. I can't wait honestly!
Finally, what are some fun non-music related facts you can share with us?
Before DJing took over my life I was a Division 1 paintball player, sponsored competitive snowboarder, and published poetry writer. I have a "third set" of most of my teeth behind the adult ones so I'm part shark (lemme on a Bite Me tour, Jauz), I've been growing my hair out for four years, and I'm a black belt.
Thanks so much for having me and listening to ramble; I enjoyed letting everyone get a glimpse into my trippy mind…. and yes I go by Tripnotic for the exact reason you think I do. Much love and stay blessed!
---
Follow Tripnotic on Social Media:
Facebook | Twitter | Instagram | SoundCloud