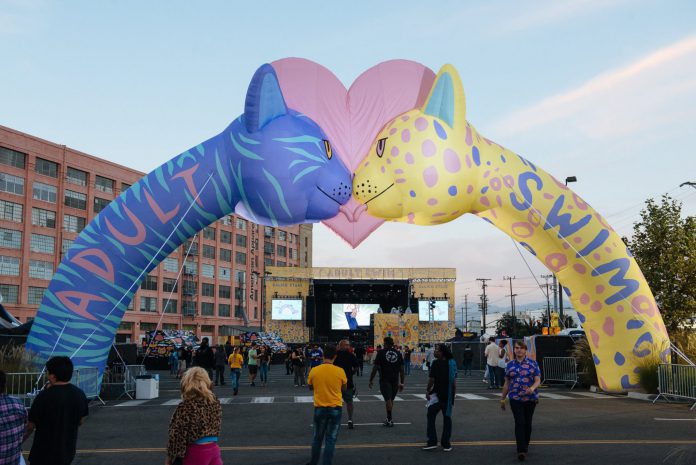 Calling all Adult Swim fans! If you aren't planning to head to Downtown LA next month for Adult Swim Festival you're going to be missing out!
---
If you're one of the many people anxiously counting down the days until Rick and Morty Season 4 or have always wanted to experience what it's like to ride a giant hot dog, you're in luck! The second annual Adult Swim Festival is returning to its home in Downtown LA on November 15-16 for two days of music, comedy, and, of course, Adult Swim. This year will see the Banc of California Stadium play host to the two-day festival, so you're not going to want to miss it.
From The Eric Andre Show live to musical performances from artists like Flying Lotus' animated alter ego Captain Murphy and Jamie xx, this year's edition of the fest boasts a unique lineup you can't just see anywhere. Also on the billing are rap superstars Vince Staples and Young Thug, as well as our favorite cowboy Lil Nas X and Philly rapper Tierra Wack.
Attendees will also get the opportunity to chill out in the newly revamped and famed Meatwad Dome, an homage to Adult Swim's own Aqua Teen Hunger Force. Inside the dome, you'll get the chance to experience Adult Swim premieres and fan favorites – all in 360 degrees.
As for our aforementioned Rick and Morty fans, you'll get the chance to check out themed activations like The Rickflector, The Morty Slide, and even partake in your own game of Cat Joust! Plus, Adult Swim will also be premiering Rick and Morty Season 4 at the festival, so yeah, enough said.
Planning to attend? Early Bird tickets are sold out, but GA and prestige passes are still available through the Adult Swim website. Snag yours before it's too late!
---
Adult Swim Festival 2019 – Event Information:
When: Friday and Saturday, November 15-16
Hours: 5pm – 11pm Friday, 1pm – 11pm Saturday
Where: Banc of California Stadium – 3939 S Figueroa St, Los Angeles, CA 90037
Ages: 18+
Tickets: On sale now through the Adult Swim website.
Facebook Event Page: RSVP HERE
---
Connect with Adult Swim Festival on Social Media: