We sat down with Felix Jaehn at Chicago's Prysm Nightclub to talk about his favorite shows of 2019 and the release of his latest track, "Never Alone" with Mesto.
---
Felix Jaehn is one of Germany's brightest stars in the dance music scene and has had quite the year in 2019. After performing at some of the biggest festivals overseas including Tomorrowland, Lollapalooza, and Parookaville, Felix Jaehn recently made several tour stops in the States and completed his US Summer Tour.
Some of his releases this year include "So Close" with NOTD, "Love on Myself" with Calum Scott, and now, "Never Alone" with Mesto. "Never Alone" also features VCATION which consists of John Martin and Michel Zitron. The duo has previously provided songwriting and vocals to Swedish House Mafia, Martin Garrix, Tiesto, and more.
We sat down with Felix Jaehn prior to his set at Prysm Nightclub in Chicago, one of his last stops on a tour that included stops at Breakaway Festival in Columbus and Marquee in Las Vegas. A talented musician who found success at an early age with "Cheerleader", Jaehn told us about the inspiration behind his tracks and some of his favorite memories of 2019 before an extended set in an intimate club atmosphere.
Take a listen to "Never Alone" with Mesto and VCATION below, stream or purchase it on all platforms, and read our in-depth interview below!
Stream Felix Jaehn, Mesto – Never Alone feat. VCATION on Spotify:
---
Thanks for chatting with us tonight! You're wrapping up the last weekend of your 2019 US Summer Tour. How have the last few weeks been, and what do you love most about visiting America?
The best part is always the people! It's so fun to come out and play here. This tour has been especially fun because, in Europe, I'm always playing main stage festivals. In the US, it's been cool, small clubs. I really love this change of vibe because it's more intimate and the people are much closer. I feel more like a DJ again.
When you're on the main stage, you have to be a performer and entertainer. You have to fill up the stage and kind of be a pop star. Over here, I really feel like a club DJ. I see the people having a good time, and I love it.
What's the vibe like when you're up there? How are your sets different?
Towards the end of my set today, I'll play some of the more uplifting future housey stuff, and some more energetic stuff, like my song "Feel Good" with Mike Williams. When I play festivals, I play way harder. 
When I'm a festival stage, and someone like Steve Aoki is on the same stage along with all these big EDM artists, I play a bit heavier. For example, for my song "So Close", I have a deep house VIP remix that I only play exclusively at club shows like this. At festivals, I'll play the Curbi remix which is super in-your-face. I like to switch it up a bit.
2019 was a big year at festivals for you, with Tomorrowland, Parookaville, Lollapalooza, and more. What's your favorite festival or memory from this past summer?
My favorite memory from this summer was definitely playing Berlin Pride on Christopher Street Day. It was such an iconic moment for me. They said there were over a million people at the parade that day. Being bisexual, playing that event was a huge honor and a special moment.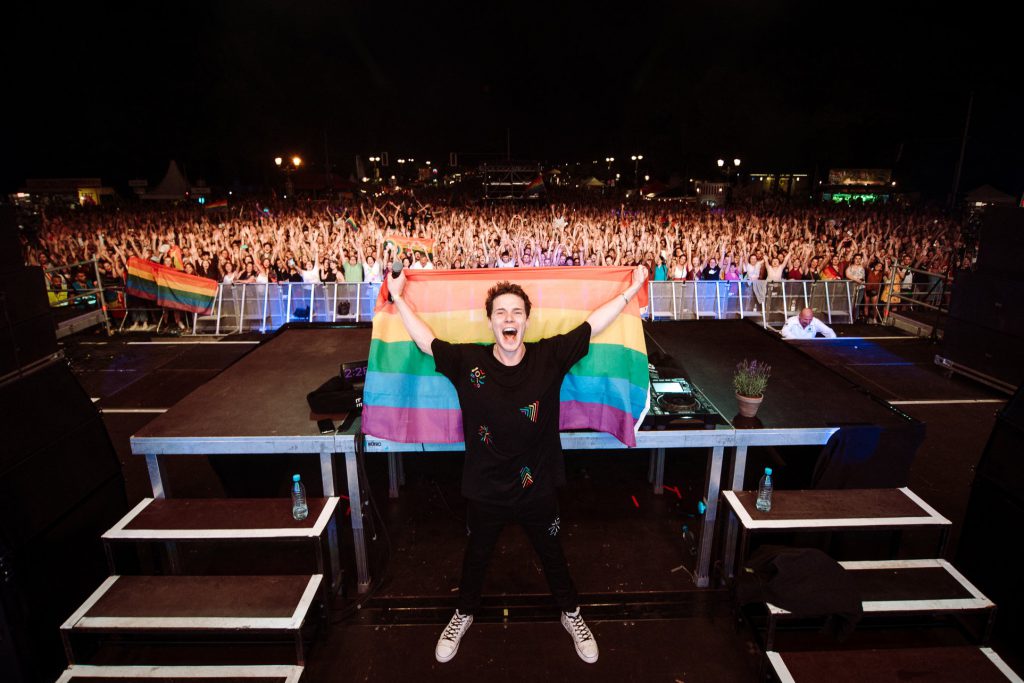 How about the last few weeks in America? Do you have a favorite stop so far?
I think it was Columbus! We did Breakaway Festival – the only festival on this tour. They had Noizu, AC Slater, and Walker & Royce playing on the stage that I was closing down. We got there early, and I was in the crowd dancing for five hours enjoying the music! I was like…shit, I gotta go on! That was super cool.
That's awesome! Since you're headlining main stages in Europe, I'm sure it's nice to come over here and have some fun! Not as many people will recognize you. 
Definitely! Way more chill.
Your most recent single, "Love On Myself", features singer Calum Scott. How did that collaboration first come about, and what was it like to work with him? 
I had written the song already with some other songwriters. When we decided to put it out as a single, we were looking for the perfect feature. For me, the process of self-love in sexuality plays a big role. So I was looking for someone from the LGBTQ community to be on the record. There's not that many when you start looking into it, and you also need a voice that fits! 
At first, I wanted Sam Smith. That's one of my biggest dreams. I actually tweeted at Sam Smith that I needed to play him a record. Then, Calum Scott replied: "send it to me instead!" It had to be Calum Scott.
On the other hand, "LIITA", a track you released earlier this year, is a much different, darker vibe than your other tracks. What was the inspiration behind releasing that one?
My new album, with "Love On Myself" and a new unreleased one called "Never Alone" that I'm playing tonight, is all lyrics about me and my life. This album is gonna tell a story.
There are not only good things in my life – there are some sad moments too. "LIITA" is coming from this place where I know love is in the air, but I can't feel it anywhere I go. It's looking for love and chasing it. I'm travelling to all of these places, but no matter where I go, I'm always gonna take some loneliness with me. I wanted the production to feel like that as well. 
"Love On Myself" is kind of like the way out. I need to put the love on myself first before I can give it back to someone else. There's much more coming on the album! I co-write the lyrics for all of my songs now, and they're all telling a story.
Man, you're really talented! I can't wait for the album, when can we expect that?
Thank you! Early next year hopefully. We don't have the date for it yet. There should be two more singles coming this year, so it'll be fun. I have some good ones coming up.
This year has been a bit slower in terms of releases after you released your debut album I in 2018. I'm happy to hear that it's because there's another album on the way.
Yeah, definitely gonna be an album soon! We did almost an entire year of songwriting. We wrote about 100 songs, and now we're bringing it down to one album.
100 songs?? Wow! Tell us a little bit about your production process. What program do you use, and what are some of your favorite VSTs and plugins?
I'm on Logic. It's what I started with, and I've stuck with it. I use a lot of the Waves stuff. Valhalla is the best for reverb. 
I think a plugin everyone uses is Kickstart by Nicky Romero – one knob and you have the perfect sidechain! I like to use a lot of the basic stuff too. Logic has a really good built-in EQ.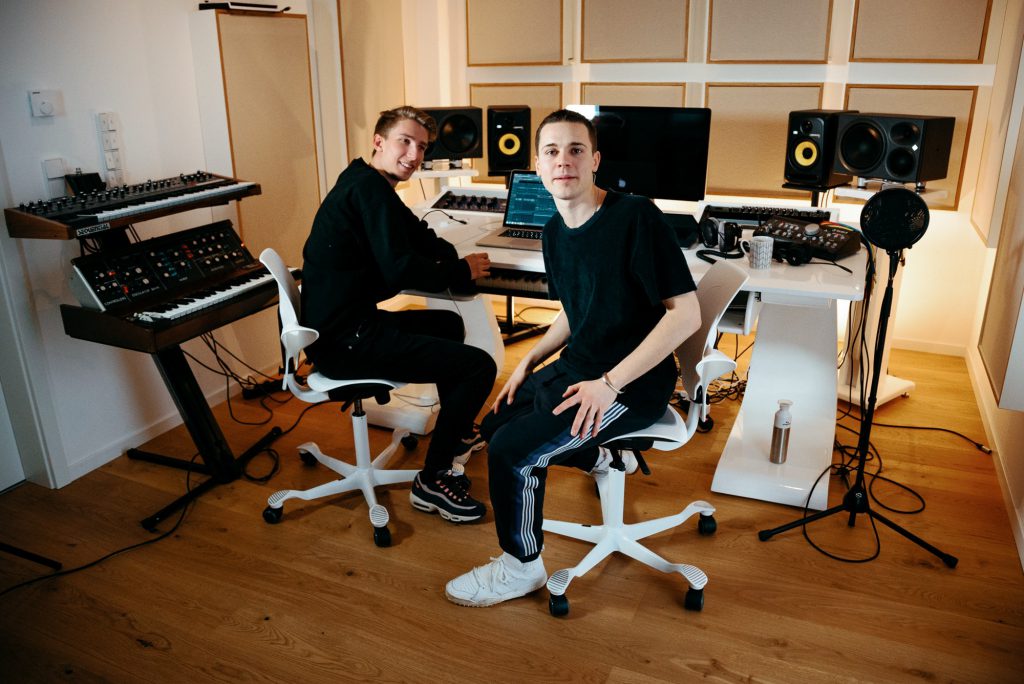 What's the secret to achieving that feel-good vibe you have in a lot of your tracks?
Even though it's kind of obvious, I think one of my biggest secrets is combining electronic music with real instruments. In all of my hits, there's always electronic sounds, but also a marimba, trumpet, strings, piano, or maybe a brass section. There's always real instruments in there, which I think is super important because they just have a different kind of character and flair to them that you can't reproduce digitally.
Any more collaborations that we can expect in the future? What have you been up to in the studio lately?
"Never Alone", which I mentioned before, is a collaboration with Mesto and VCATION (John Martin and Michel Zitron). Being in the studio with them was a huge honor. You know their voices from previous hits like "Don't You Worry Child", and I couldn't believe I was really working with them! It was so cool!
Tell us a little bit about your monthly radio show, Collaction Radio. How do you select the tracks for each set?
I've actually stopped Collaction Radio for the most part. I was always recording myself talking on the episodes as well, and to be honest, it was kind of stressing me out to do it every month. Now, we just select the tracks, and they're airing on radio stations worldwide. I don't have the podcast show anymore.
For the mixes, I kind of have a structure where I start with mainstream house with a lot of vocals, then I go a bit clubbier, then go deeper. I like to tell a story, just like how I do with my DJ sets. I play 90 minutes today, and I think it'd be boring to stay on one level for 90 minutes! It needs to be a story.
The last time we sat down for a chat was back in 2017. Looking back on the last two years, how do you feel you've grown as an artist since then?
On so many levels! I think the biggest step was me getting more involved in the songwriting and lyrics. I've been producing records for a while, but now I'm also writing the lyrics. And the music videos and artwork – I'm directing it all myself. I'm involved in every artistic decision. I'm even wearing my own custom stage collection! 
With all the success I found at a young age, I have a lot of freedom to express myself. I want to do that in every way possible.
Who are some artists that you're listening to now in your free time?
It's always changing. Today I was listening to the new Post Malone album. "Circles" is amazing. I really like NF. Actually, let me look at this playlist and drop a few more names!
Oh Wonder's on here. Tones and I have a song blowing up right now called "Dance Monkey" which is super crazy. Hobo Johnson's "Subaru Crosstrek" is cool. Bazzi is one of my favorite singer-songwriters, and he's really similar to me lyric-wise.
There's some German stuff in here, like a German rapper named Sido. Some J Balvin, Sam Smith, DJ Snake…a little bit of everything. X Lovers are a super cool songwriting duo from California. Actually, surprisingly, there is some dance music on this playlist! But this is what I listen to when I chill. 
If there was a dance playlist, who would be the top artists on that?
Loud Luxury for sure. Chris Lake and Noizu. Calvin Harris would always be on there. HUGEL, a French DJ, he's dope. Toby Romeo – he's a new kid from Austria, just 18 years old. He did an amazing remix for my song "All Of The Lies" together with Alok and The Vamps.
Looking forward towards the next few years, what can we expect from Felix Jaehn? What are some goals that you'd like to achieve?
I want to just put out more records. This next record is gonna be super personal. I'm already writing for my third album now too! I think I'm gonna go back to more happy vibes and feel-good music.
Just keep on doing what I love, spread good vibes, be happy, and make other people happy! 
---
Connect with Felix Jaehn on Social Media:
Website | Facebook | Twitter | Instagram | SoundCloud