Over the past few years Rad Cat has truly grown into his own as an artist as he solidified his style and created music we love!
---
Christian Ariza is a First-Generation Mexican American DJ/Producer who has been making music since he first picked up a guitar at twelve years old. Better known now as Rad Cat, this San Diego native went from rock music to the discovery of electronic dance music and hasn't looked back.
This young producer has been on the rise over the past two years. Amassing millions of streams on his tracks and official remixes, as well as production/remix credits with artists like Blackbear, Enrique Iglesias, Kevin Gates, Mike Posner, T-Pain and more. Rad Cat has been pursuing a unique style of futurepop creating a sound and blend all of his own.
Just two years ago we were able to catch up with him right before his debut at CRSSD Festival. Since then he's continued to create amazing tracks and has played festivals across the country. We were lucky enough to once again touch base with Rad Cat at Nocturnal Wonderland where we talked about his growth and even dropped the news of tracks on the way, read the whole interview below!
Stream Rad Cat – Untitled on Soundcloud:
---
Thanks again for joining us Rad Cat. When we last spoke to you in 2017 you just getting ready to play CRSSD, not only your hometown but first booking. How do you feel you've grown as an artist since then?
I think I've gotten better as a producer and a DJ as well. Over time, I've just had the time to learn different tricks in terms of producing and getting more proficient in the program I use, Ableton Live. I like being able to see the progression I've made with each and every set I've had. If I go back to one from when I played CRSSD, I can go back now and see what I'm releasing and be like, "wow, it's been a great progression." It has definitely changed a lot.
I can definitely relate to photography-wise, my photos from two years ago are so different.
Yeah, it's crazy, at the time you think, "this is great," but then over time you realize that was "OK." Now I'm better.
Now, you're here for a set at the last edition of Nocturnal Wonderland at Glen Helen. What does playing this festival mean to you and how do you approach festival sets compared to club sets?
It was a big deal for me to be able to play here and the fact that I'm playing here when it's the last time they're going to host it here is crazy to me. Everyone keeps telling me, and I'm like, "dude, that's insane." I didn't even know that. It's a huge honor to play here, I have friends that go to a bunch of different festivals and this is one that they go to. It being my first time being here as a performer and just a spectator, in general, has been crazy to me. I never would have thought that this would happen. So that was great.
And festival sets compared to club sets?
I feel like I kind of approach them the same. Whenever I play a set, I like to play different types of music. I know some people like to stick with a certain genre, which is fine, but I just like kind of bouncing around. Today, I started with a hip-hop song that went into a house song and then I went to dubstep and trap, and that's what I did. I just think it's cool to just take people on a journey and I'd do that if I played a set, a club set or a festival set.
Your latest release, "Alright" feat. Dutch Melrose, hit #1 on HypeM and received a lot of support on YouTube as well. What does it feel like to not only have a track that was well-received but then also receive such great online support?
It was honestly very amazing that it received the love that it did because for a little bit I hadn't released a song for a while. But to see it go #1 on HypeM, which I used to use HypeM a lot to discover new music. I always wanted to get my song in the top 10, so the fact that that happened was amazing.
I also have always wanted to get some huge song on YouTube because that's awesome too, that's always been a goal as well. The fact that both of those things happened was amazing.
When you're hitting the studio to make some music, what's your production process like? Do you do anything specific to get into a creative flow?
I love to start making songs with… I'll find a melody first, and whatever melody I go with, then I'll decide what vibe I'm going for because I usually make Future Bass but I like to incorporate hip hop, hip hop drums, you know, just to make it a little bit different. Sometimes I'll do that, sometimes I'll feel like four on the floor, a little slower but the four on the floor vibes… The melody is the most important part to me and then everything you can kind of build it after that.
Who is one artist you'd love to collaborate with for a future project?
That's a tough question because I have a lot. I have a lot of people that I look up to. I guess if I had to pick one or two… definitely Flume. Flume is amazing, he's just one of the biggest Future Bass artists that I look up to. The way that he makes his music, like his drums, for example, he doesn't put them on the grid so they sound like they're off but it's crazy because it gives the song a groove. That's cool, he's really innovative.
Someone else, I'd love to release a song with Bear. That's one of my homies. I've produced a lot of songs for him, it's always great to work with him. A song with him as well, because I love R&B and Future Bass is in that world, it's a blend of that.
You're a part of the Beartrap Music collective, spearheaded by Blackbear. Can you tell us about how that coordination happened and what that experience has been like?
It's been great. So, at the time he was looking for a bunch of producers that he thought were unique and different. So he found a couple of different people and I was one of the people that he found.
He just found you on SoundCloud?
He found me because I made a remix of "IDFC" in 2015 I believe, he actually saw it and retweeted it and DM'd me. That was the first big remix I ever had. It was crazy, it was awesome. Being able to work with him after that was awesome.
What would you say has been your biggest accomplishment so far?
I'll always look back at CRSSD Festival because that was really the first time I ever played on a huge stage or played anywhere in general. I was just kind of thrown into this world and it's crazy to me because it's what I wanted to do since I started making electronic music. That was honestly the craziest thing that's ever happened. Everything that happened after that has been amazing but I think I'll always remember that moment. That's what started it.
Following up, what has been your biggest challenge as a growing artist in the increasingly competitive dance music scene?
I think just being nervous. When you're new to it, it's very nerve-wracking. To get up on a stage especially here at Nocturnal… I've never even been here for one. So it was as a spectator and performer too – it's this nervousness. I think that's the hardest thing to overcome sometimes. Which I feel like I end up doing, but it's just every time. Every time you start playing.
I get that. Do you have specific things you do to deal with that anxiety?
Someone asked me that and they laughed at my response.
Oh no, what was it?
I said that honestly, I will literally just take maybe 2 or 3 shots. Chill out for a bit, try to loosen up, and try to do my best.
I'm surprised someone laughed at that, I would think that's pretty common.
Yeah, I feel like a lot of people do. I don't do anything fancy.
Knowing everything you know now, what advice would you have given your younger self?
Oh man, I would have told my younger self to start earlier. I had a phase where I was into rock music, I was 13 or around that age and I wish I could go back and instead of that started off with electronic music. I was very curious as to how difficult it was to make because everyone at the time was saying, "oh, you probably just press a space bar and the song is done, it's not real music".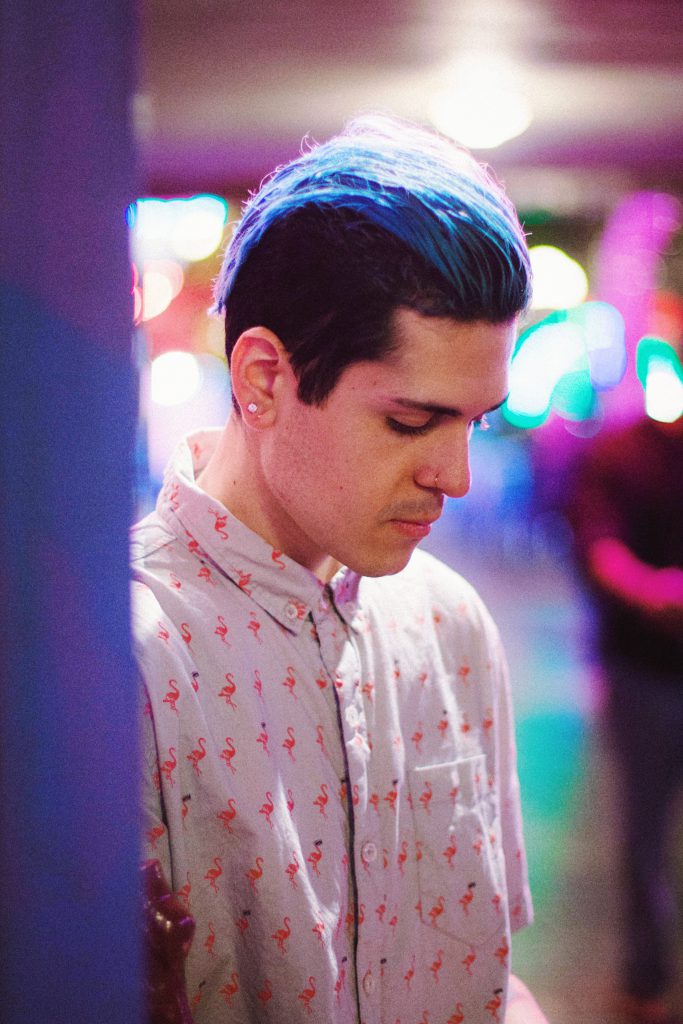 Finally, what can your fans look forward to over the next few months?
Definitely a bunch of new releases. I have releases lined up because for a while it was like we'd release a song and then there would be some months in between but now we're just trying to full-on give people or the fans as much content as we can and keep it going, playing events or releasing new music. I have a hard drive with all the unreleased fire on it.
Do you have any goals you'd like to achieve before the end of the year?
I'd definitely like for the next song to maybe top myself, like the previous release. I just want to keep doing better and better. That's the end goal. Just keep doing more shows, keep releasing great songs.
Anything you want to say to your fans?
Thank you for listening. I think the fans are the most important part of being an artist. Without anyone to listen to your music, you wouldn't be anyone. It's an honor to have people out there that I know care about the music.
That's all the questions I have for you. Thanks again!
Awesome, thanks!
---
Connect with Rad Cat on Social Media:
Facebook | Twitter | Instagram | SoundCloud