After two decades of epic beats and amazing sets, the members of iconic trio NOISIA have decided to move on to new projects and end their run.
---
It was during the early years of this millennium that Thijs de Vlieger, Nik Roos, and Martijn van Sonderen first came together to form what would become the legendary drum and bass group NOISIA. Over the years they delivered plenty of powerful tunes that graced labels ranging from RAM Records and Hospital Records to mau5trap and OWSLA while inspiring countless artists and gaining a massive fanbase.
Now, after pumping out some of the best music the scene has to offer and leaving stunned crowds in the wake of their live performances, NOISIA has announced that 2020 will be the final year of the project. In a joint statement that was released today, the trio cited creative differences that have formed over time to be one of the main reasons that they'll be moving on.
"We've tried to realign ourselves over the last few years to keep the wagon on the rails, but the reality still is: we are not who we were before, and the time of doing everything together because we all want the same is behind us."
Intent on going out in the best way possible, NOISIA has unveiled that they will be celebrating 20 years with a proper goodbye. They'll be giving fans one final year of shows and another year of NOISIA Radio, while also finishing up some music that they've been working on as well. Stay tuned for more details as they surface.
Check out the full statement from NOISIA below and leave a comment with a favorite memory from one of their past shows or releases!
Read the full statement from NOISIA below: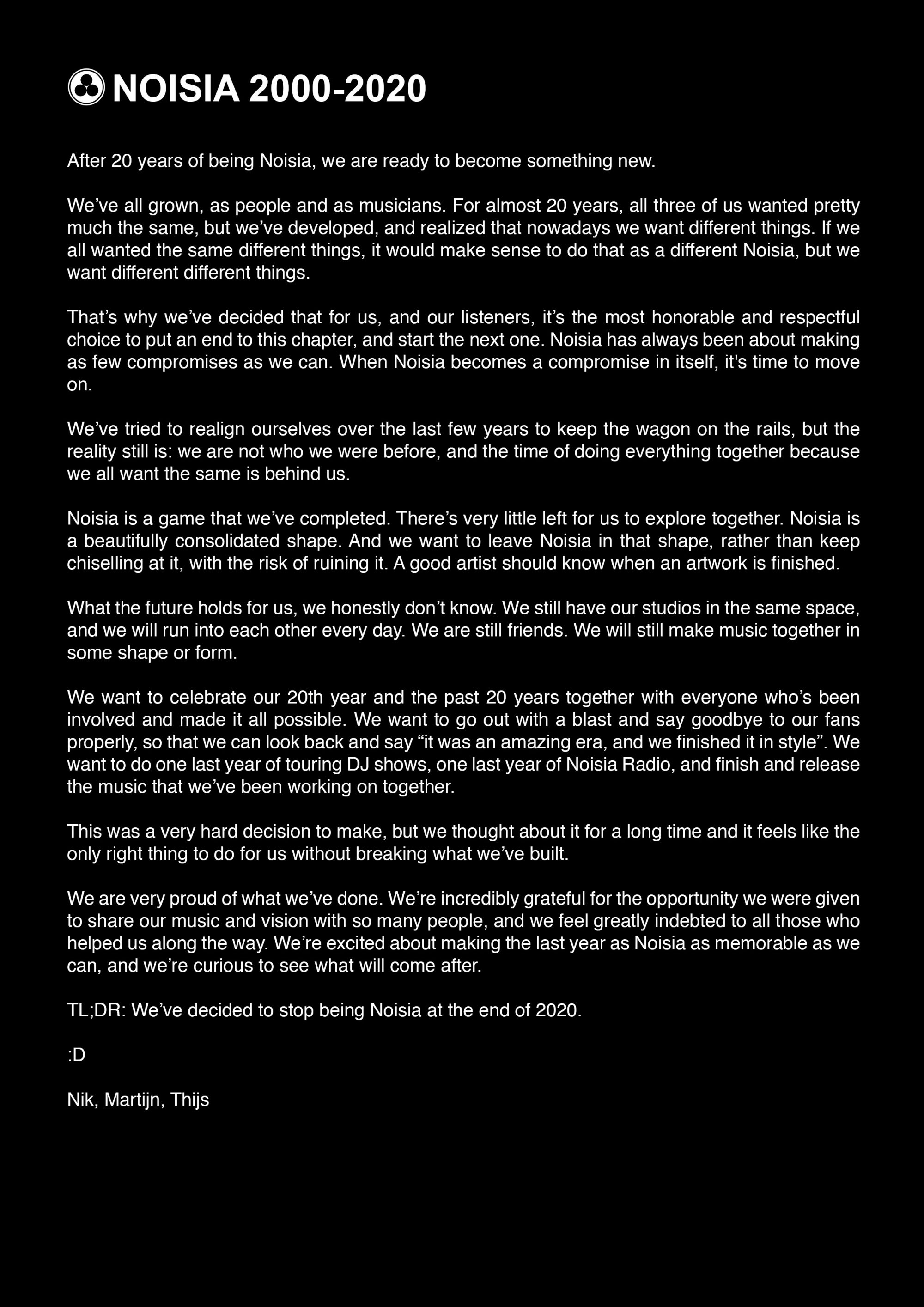 ---
Connect with NOISIA on Social Media:
Website | Facebook | Twitter | Instagram | SoundCloud | YouTube