The Dirtybird Crew headed to Chicago for the latest edition of the Birdhouse Festival that was full of improvements and left us impressed!
---
After moving crowds during the debut edition of the Birdhouse Festival last year, the Dirtybird crew headed back to Chicago for another stunner this month. Moving to a new venue and addressing the challenges from the inaugural event, they were still able to keep that small, street-fair feel. The banging music coupled with great weather and the expansive, grass-filled venue situated just 15 minutes North of the Loop, combined to form a perfect Saturday in the Windy City.
After taking the short drive up I-65 from Indianapolis to Chicago earlier in the day, I arrived at Lakefront Green just in time to catch the second half of VNSSA's set. As has become customary, she delivered a fun, groovy set to set the tone for the day. The early crowd was comprised of die-hard Dirtybird fans who weren't afraid to sweat a little bit in the beating sun.
Next up, Chambray was supposed to perform a b2b set with DJ Deeon; however, DJ Deeon was ill and unable to attend so it was shifted to a solo performance. Chambray's more than adequately handled the decks on his own and delivered a set that featured a more traditional Chicago-style house vibe as compared to most Dirtybird artists.
Mason Maynard made the trip across the pond to deliver what was, without question, my favorite set of the day. 
His style of mixing coupled with stellar track selection created an atmosphere that is exceptionally hard to achieve.  To describe it as raucous would be a massive understatement. The substantially larger crowd was thoroughly getting down to his set and enjoying themselves.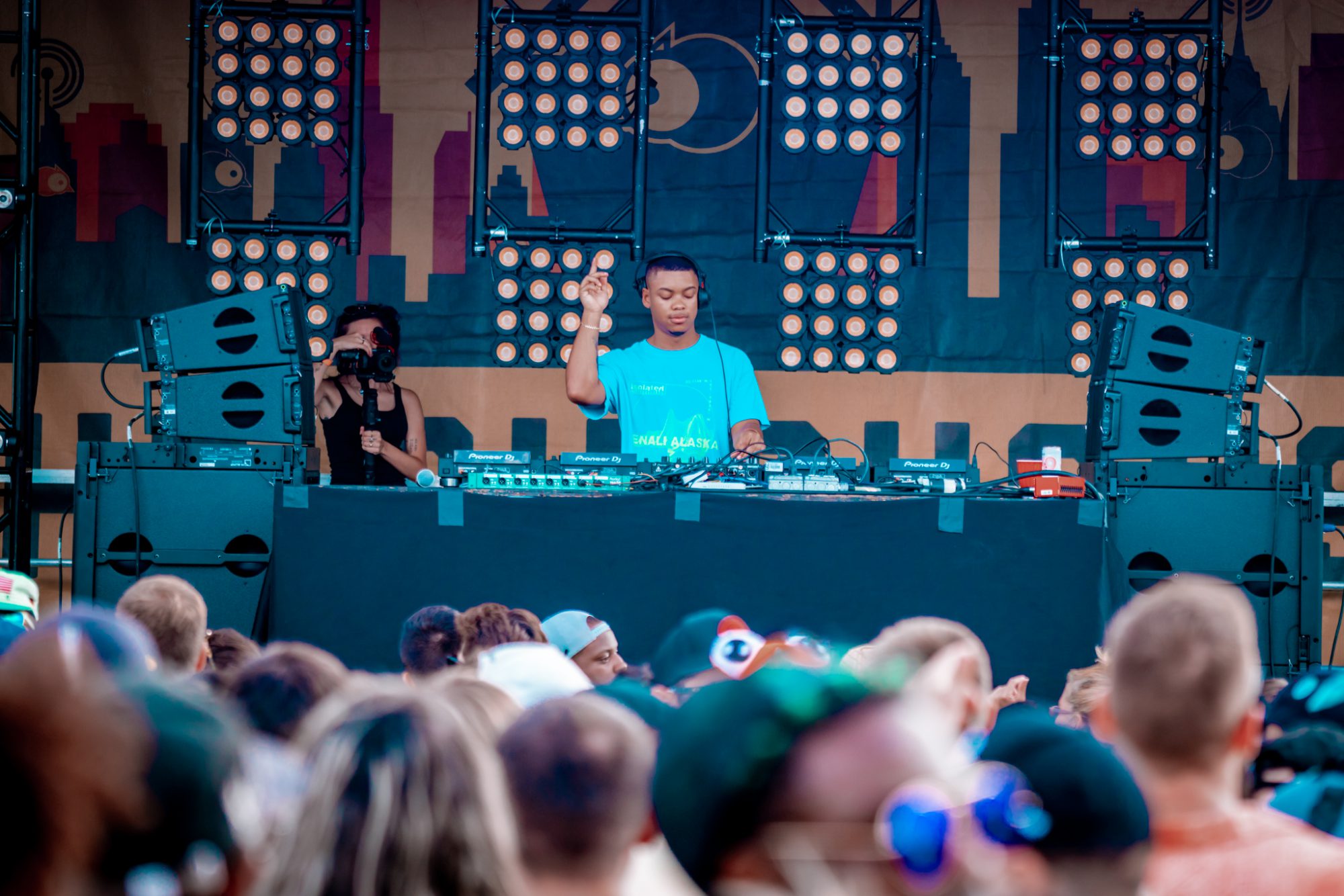 Papa Claude VonStroke took to the decks after Maynard and told that crowd that Chicago's own Paul Johnson would be joining him on the decks shortly. 
A truly special moment was about to unfold as Johnson came onto the stage and took his position to the left of Claude. The veteran DJs went back and forth for nearly 35 minutes trading tracks that perfectly complimented the other; Claude then handed the decks over to Johnson who proceeded to play a new track that he produced with Idris Elba before closing out his set with a best-of series of his own productions.
Nearing the end of the night, Walker & Royce took the stage to a sold-out crowd that was eager to tear the roof off of the metaphorical building. 
As if on cue, the Brooklyn duo played banger after banger and closed with their brand new collaboration with VNSSA, "Rave Grave". Claude again took control to close the night on the decks. Perhaps it was him playing tracks from his new EP Slink, "Make A Cake" or the new, unreleased track with Green Velvet titled "Jolene", I found my tired feet eager to move again with newfound energy.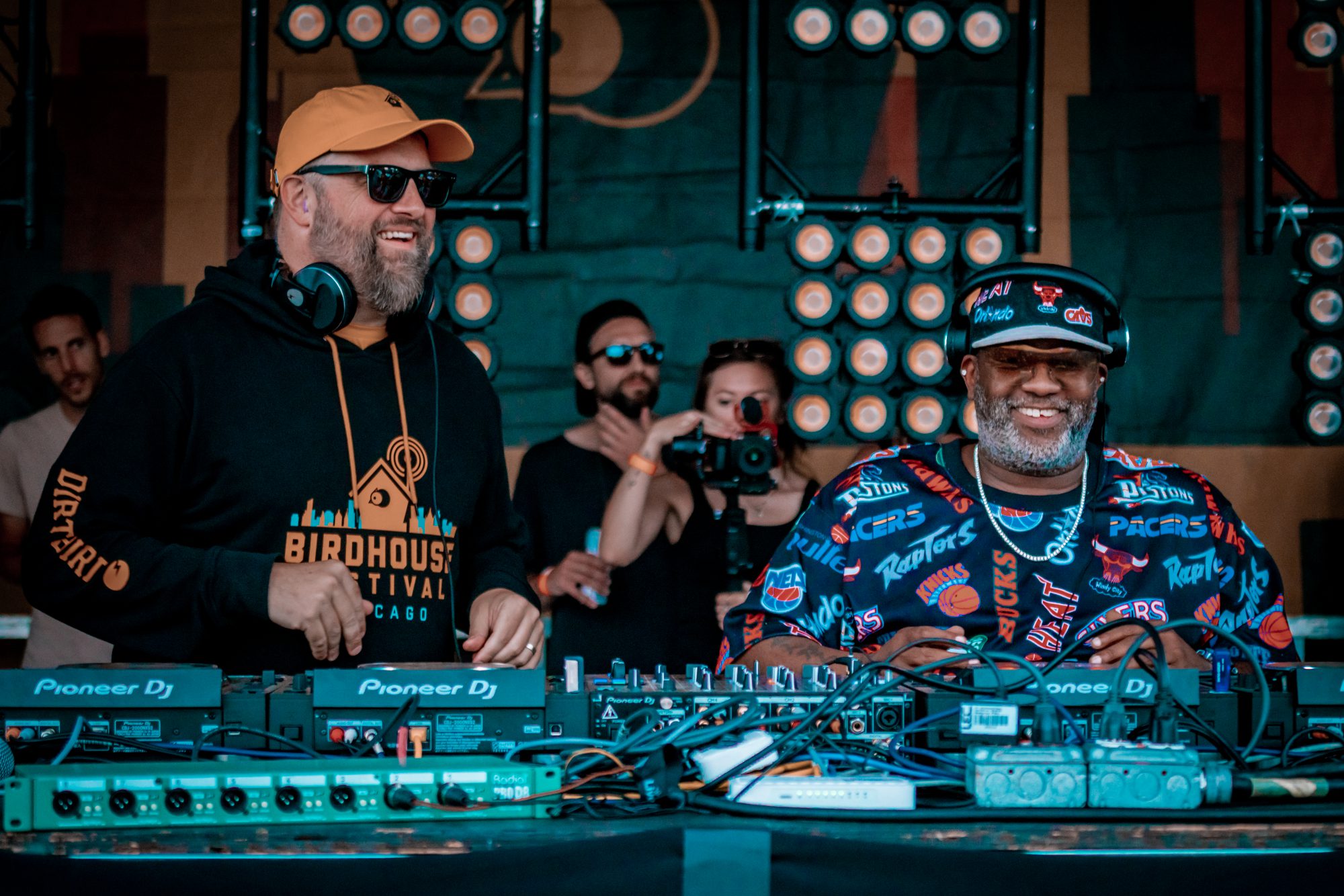 Logistically, the new venue for the Birdhouse Festival was a massive improvement from the 2018 location. 
I spoke with numerous attendees who were elated with the amount of space and ample (soft) grass underneath their feet. That being said, new locations bring new problems and Lakefront Green was no exception. While there appeared to be enough bathrooms on-site, they were arranged in such a way as to prevent queues from forming. This resulted in lines and wait times that were quite long
The food and drink options were adequate for an event of this caliber and size, however, another food truck would have been appreciated.
The lines for both Harold's Chicken and Big Star Taco took North of 30 minutes to work through.  While there was no bar service on-site, the watering holes featured canned cocktails ($10, 2 shots in each can) and hard seltzers ($8, 1 shot per can); I was at first disappointed, however, after not ever waiting more than a couple minutes for a drink, I'm sold on this concept.
One minor suggestion would also be to offer a few more non-alcoholic drink options aside from energy drinks. Festivals and one-off concerts should give strong consideration to moving to such a model for those who don't intend to drink at the show or are a designated driver.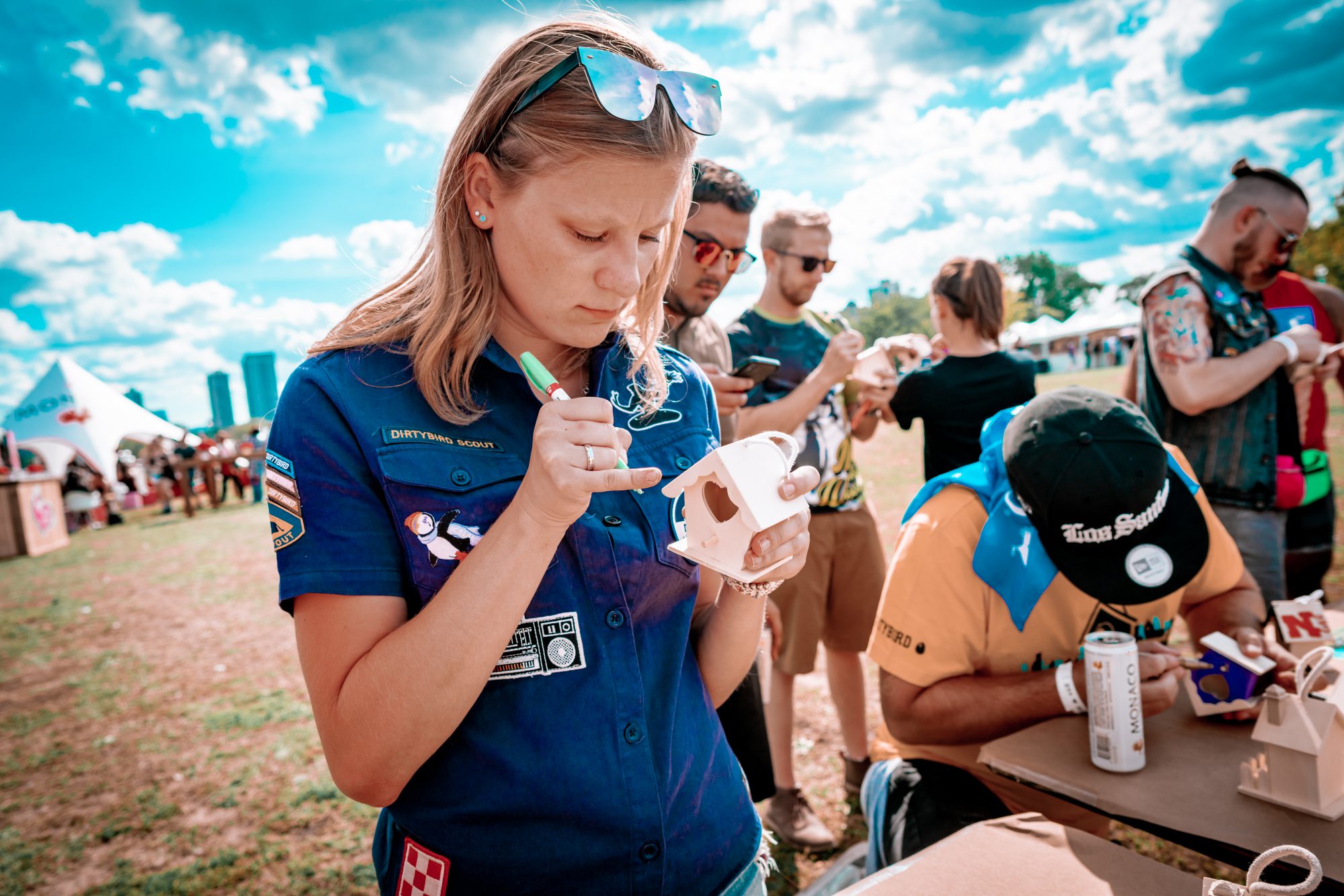 There were also plenty of fun activities to participate in at the Birdhouse Festival.
If you found yourself in need of a break from dancing, the Birdhouse Festival featured an eclectic array of activities to participate in. From ski-ball and birdhouse painting to tarot card reading and even a small carnival ride, there was something for everyone. It was great to see them offer more than just music for attendees this year.
Looking forward to the future, Dirtybird should give strong consideration to creating VIB (Very Important Bird) spaces at all of their non-club one-off events as well.  
While the early crowd was filled with the flock, that vibe was quickly lost as it grew in size.  One of the special things about Dirtybird events are the people and the attitudes they bring with them. Whether it's folks in Campout shirts who trekked across the country or a newly hatched chick, diehard fans deserve a place near the stage where they can all share in the revelry together.
Overall the second edition of the Birdhouse Festival was a great success!
Minor challenges aside, everything could not have gone more smoothly for this year's edition of the event. The weather was perfect, the crowds were rowdy, the music was bangin', and the locale was exceptional. It might not be too long before Dirtybird is looking for yet another (larger) location given their success in moving tickets. Success begets success and if this event is any indicator, Dirtybird continues to soar to new heights!
---
Connect with Dirtybird on Social Media:
Website | Facebook | Twitter | Instagram | SoundCloud