Keeping the vibes from HSMF19 rolling on strong, the HARD Events team has announced the lineup for HARD Day of the Dead featuring Dog Blood, Justin Martin, and more!
---
Last year, one of the most beloved events from the HARD Events' roster, HARD Day of the Dead, rose from the underworld to return to its original home at LA State Historic Park. Packing quite a punch with its lineup that provided plenty of beats to get down to, they paired it with some production elements that made us fall in love with the event all over again.
Now, as we all bask in the afterglow of another epic edition of HARD Summer Music Festival they've dropped the news that HARD Day of the Dead will return once again on November 2 and paired it with a lineup too. Featuring major names in the scene like Dog Blood, The Martinez Brothers, and BLACKLIZT (aka ZHU), the first three artists alone should generate some squeals of excitement.
Related: Read all about how HARD Day of the Dead blew us away last year by checking out our review from the 2018 edition!
But the lineup doesn't stop there as other notable artists from the scene will be taking the stage as well including Justin Martin, Damian Lazarus, and Melé, along with TOKiMONSTA, Lauren Lane, and Elohim as well. Check out the full lineup below and let us know who you're most excited for in the comments!
Tickets for HARD Day of the Dead 2019 will be available on their website starting Friday, August 9 at 10AM PT. 
---
HARD Day of the Dead 2019 Lineup: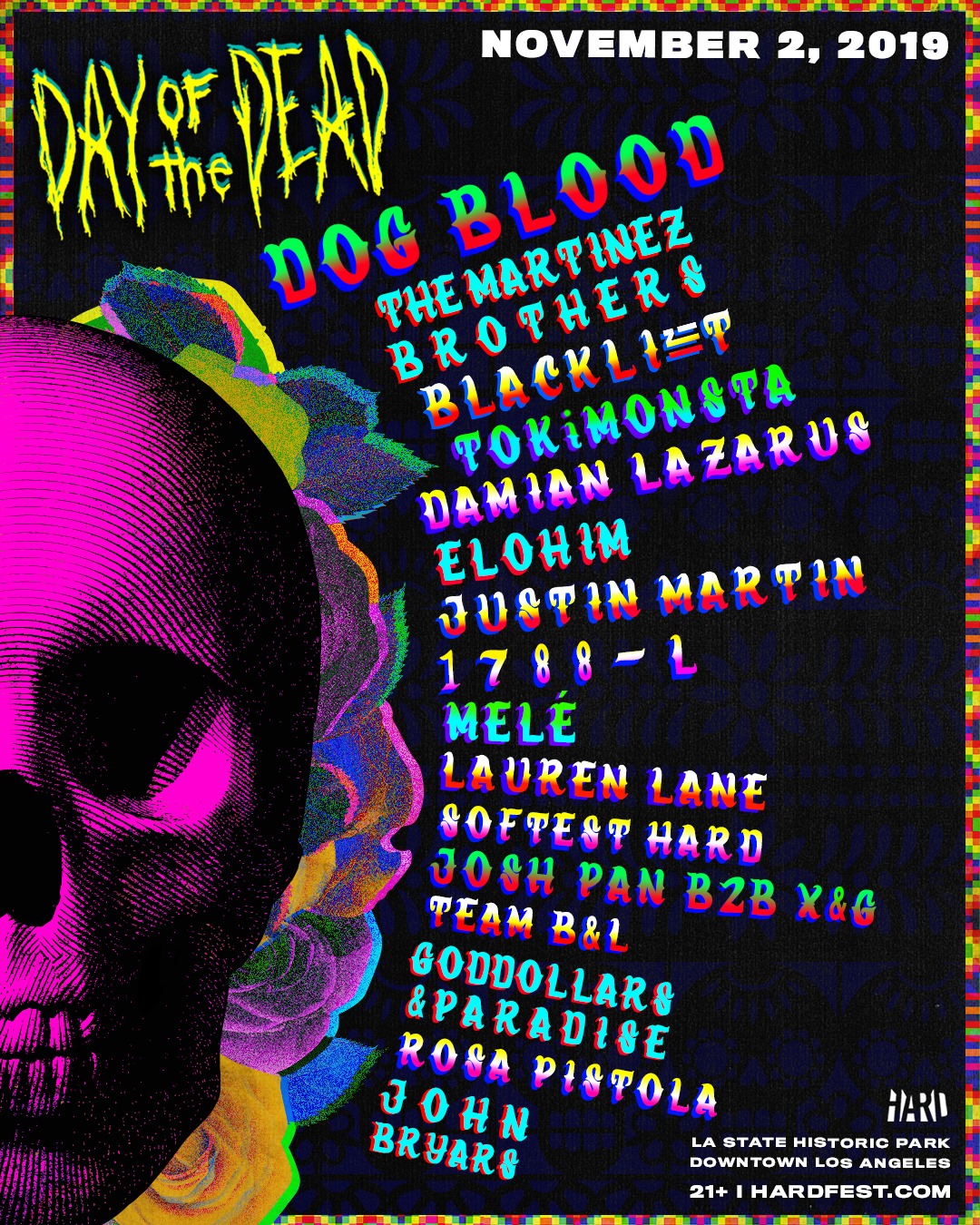 ---
HARD Day of the Dead 2019 – Lineup By Artist:
Dog Blood
The Martinez Brothers
BLACKLIZT
TOKiMONSTA
Damian Lazarus
Elohim
Justin Martin
1788-L
Melé
Lauren Lane
Softest Hard
Josh Pan b2b X&G
Team B&L
Goddollars & Paradise
Rosa Pistola
John Bryars
---
Connect with HARD Events on Social Media:
Website | Facebook | Twitter | Instagram | SoundCloud