As Tomorrowland 2019 draws closer it's important to start planning early. We've got you covered with all the essential information you need to know!
---
It's almost time to make the trek to the gorgeous De Schorre in Boom, Belgium and we can barely contain our excitement as we return for another massive edition of Tomorrowland. This year we're ready to celebrate the festival's 15th anniversary with the thousands of other People of Tomorrow coming in from around the globe.
Tomorrowland is known for its massive lineup and the 2019 edition is no different! Whether you're into trance acts such as Airwave, progressive acts such as Paul Thomas, techno powerhouses such as Adam Beyer, house maestros such as Eric Prydz, hard dance donks from Wildstylez, dubstep wubs from Spag Heddy or big room bangers from The Chainsmokers there's definitely something for everyone on this lineup!
Since the lineup is filled to the brim with multiple artists and styles across the electronic dance music spectrum, we definitely recommend you prepare in advance so as not to miss those big-ticket sets! Also, with Tomorrowland being a marathon of a 3-day festival, definitely know what you can or can't bring. Read on to find out more!
---
Tomorrowland 2019 – Essential Info:
Dates: Weekend One: Friday, July 19 – Sunday, July 21, 2019
Dates: Weekend One: Friday, July 26 – Sunday, July 28, 2019
Venue Address: PRC de Schorre, Schommelei, 2850 Boom, Belgium
Ages: The minimum age limit to enter the festival is 18.
Download the Tomorrowland App on iTunes or Google Play for the latest updates, information about food, transportation, announcements, and more. Don't forget to register your wristband before you leave via the website or mobile apps!
---
Payment Methods
This event is completely cashless. You must add "Pearls" to your wristband. This is the only way to pay for food and drinks. Before heading to the event, you should activate and "top-up" on pearls.
You may add pearls HERE.
Any Unspent Pearls will be refunded after the festival. There is a refund fee of 2 Pearls.
For additional refund information, look HERE.
---
Tomorrowland 2019 Weekend 1 Set Times:
---
---
Tomorrowland 2019 MAP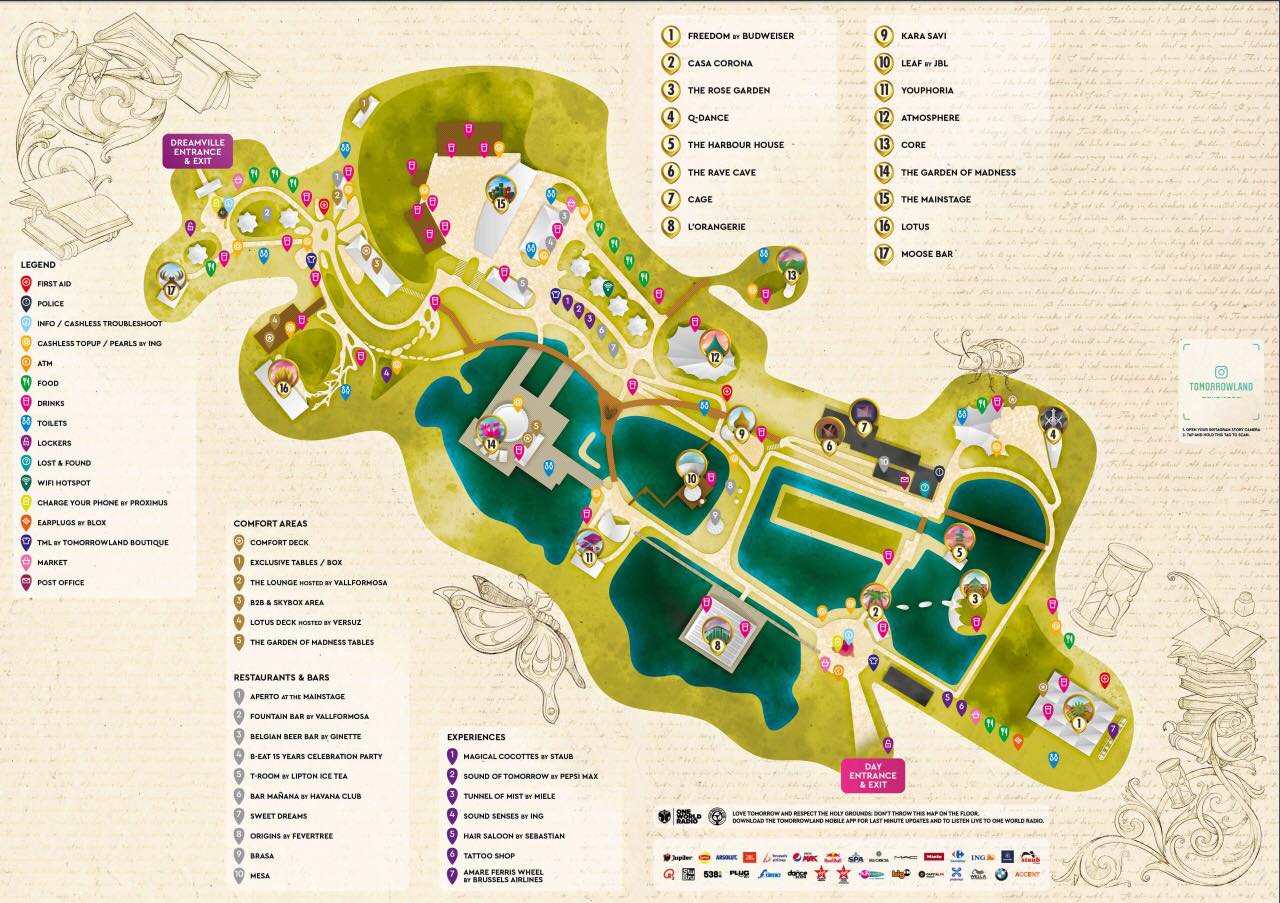 ---
ADA Info:
Tomorrowland puts in a great effort to make the festival accessible to visitors with a disability. So we have paid a lot of attention to the accessibility of the festival site and its surroundings:
Upon proof of the blue parking card, a specially reserved parking space is available. (Parking at Schommelei – main entrance)
At the main entrance, there's an elevator especially for visitors with a disability. Two persons are allowed to accompany him/her through this entrance (if they have a registered Tomorrowland Bracelet)
Guidance dogs are allowed on the festival grounds. Make sure they are easily recognizable.
Adapted toilets are situated in locations all over the festival site and at DreamVille.
The accessibility on the festival grounds is guaranteed thanks to the wooden floors.
There will be a specially provided camping space at DreamVille. Please let us know in advance if you would like to use it.
Should you wish to make use of the aforementioned facilities? Have you got a handicap and are you facing any problems to which you can't find a solution? Would you just like some more information about this issue? Please send an e-mail to [email protected].
More information about ADA can be found on their website!
---
Reminder To Mind Your Belongings
Unfortunately, many people have reported pickpockets, bag slashings, and theft of wallets, smartphones, purses and other valuables during this festival season. While this small number of bad apples in the bunch doesn't define an entire crowd, there are opportunistic people who come to these events to take advantage of unsuspecting partygoers and it's important to be mindful of your valuables while at Tomorrowland
Pay attention to who's around you and what's going on around you. Keep your wallet and phone in your front pocket(s) if you can. Treat your phone the same way you would treat cash; don't set it down on a table or bar and look away. If a friend isn't standing behind you in a crowd, be careful of your backpack or purse, and don't put valuables in a pocket that could easily be unzipped by someone behind in a crowded spot without you realizing. Tomorrowland will have locker reservations for both inside the festival and DreamVille. Log into my.tomorrowland.com to reserve your locker today!
Festivals, in general, are very densely populated and are a well-known place where pick-pocketing of unsuspecting people occurs. It's easy to find yourself in a crowded environment in a line, at a stage in the festival, elevator, or even out on the street where someone could slip your wallet or phone out of your pocket or bag in a matter of seconds. Stay alert, be careful, and make sure to not carry more than what you need!
Safety is one of the most important priorities of Tomorrowland. Therefore, the organization cooperates with Lokale PolitieZone Rupel. They will be responsible for the safety of both visitors and local inhabitants. During the event, Politie Rupel will tweet on a regular basis about what happens on the festival site to keep everyone up-to-date.
---
Do's & Don'ts:
Prohibited items
Animals (except guide dogs)
Own food and drinks
Spray cans
Drugs
Glass, cans, or plastic bottles
Weapons, blunt, stab or thrust weapons, or firearms or other items that might be used as a weapon
Football club flags
Sticks or walking sticks (medical crutches and devices excepted)
Banners
Items with discriminating and/or provocative texts and/or expressions,
Items that might have a negative effect on the safety, health or well-being of the festival-goers
Sprays, fireworks, liquids, torches and any other item which may be considered as dangerous by the organization.
For more details on general terms and conditions of Tomorrowland, visit their website!
---
Connect with Tomorrowland on Social Media: