Lollapalooza weekend in Chicago is almost here, so let's take a look at some of the best aftershows the electronic scene has to offer.
---
It's summertime in Chicago, and that means one thing: Lollapalooza is upon us! Temperatures in the city have finally reached an appropriately high level, and we're just weeks away from Chicago's landmark music event. Originally started by Perry Farrell of Jane's Addiction in the nineties as a traveling tour in multiple cities, Lollapalooza is now a huge standalone festival which has called Chicago's Grant Park its home every year since 2005.
If four straight days of hot weather and the big all-ages crowd isn't your thing (or even if it is), another major part of Lollapalooza is the always impressive lineup of afterparties. Since the downtown Chicago festival ends at 10 P.M., aftershows are an essential part of the Lollapalooza experience. Lollapalooza hosts music of all genres and the official 2019 aftershows follow the same trend. With virtually every big venue throwing an event, the options are endless. There's truly something for everyone during Lolla weekend in Chicago.
Lollapalooza was my first festival, and I've attended at least one day each year since 2010. Whether I'm there for four days or one, it's a given that I'll be hitting up afterparties all weekend to see the amazing talent that this festival brings in. With fresh announcements from Chicago's Sound-Bar, Spy Bar, and Prysm Nightclub, let's take a look at the six afterparties I'm most excited for during this year's Lolla weekend!
Six Lollapalooza 2019 Afterparties to Fill Your Weekend in Chicago
---
Madeon (DJ Set) – Sunday, Sound-Bar
French electronic music mastermind Madeon is back in Chicago for the first time in several years. Fans of the iconic French DJ have been patiently waiting for his return since the Shelter Tour hit Aragon Ballroom in 2016! Following his Lollapalooza performance, where he plans to debut a brand new live show, Madeon will head to Sound-Bar for an afterhours DJ set.
Even though this one's on a Sunday night, Sound-Bar will be packed to the brim with die-hard fans celebrating Madeon's return. Playing in the opening slot will be Night Bass' Tombz b2b Sound-Bar veteran Steve Gerard. A tag team set from these two incredibly talented artists will be the perfect way to ease into an unforgettable Madeon set to wrap up a long weekend. Tickets are on sale now.
---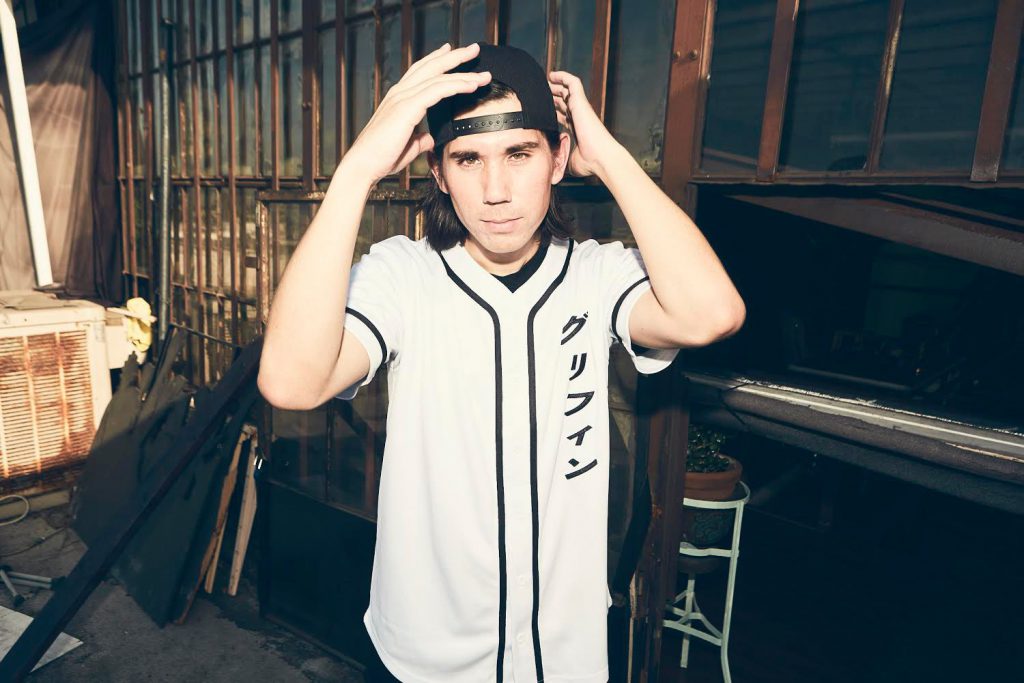 Gryffin (DJ Set) with Win & Woo – Saturday, Logan Square Auditorium
Tickets (Sold Out) | Facebook Event
Not only is the lineup stacked for this one, but the venue is special, too. Built in 1915, the Logan Square Auditorium is a building that's packed with history and sees just a select number of major music events per year. Lately, L.S.A. has gone all out for Lolla weekends, and seeing a show in this decorative, intimate setting is special. Saturday night's show will be kicked off by Chicago favorites Win & Woo.
Gryffin will play a DJ set next, but this will be much different from his live, headlining tour sets that you may be expecting. Gryffin started in the music industry as one half of mashup duo White Panda, and his DJ sets offer an unpredictable mix of high energy music that will keep you going until early Sunday morning. Tickets are currently sold out, but an additional DJ set from Gryffin was just announced at Tao Nightclub on Friday.
---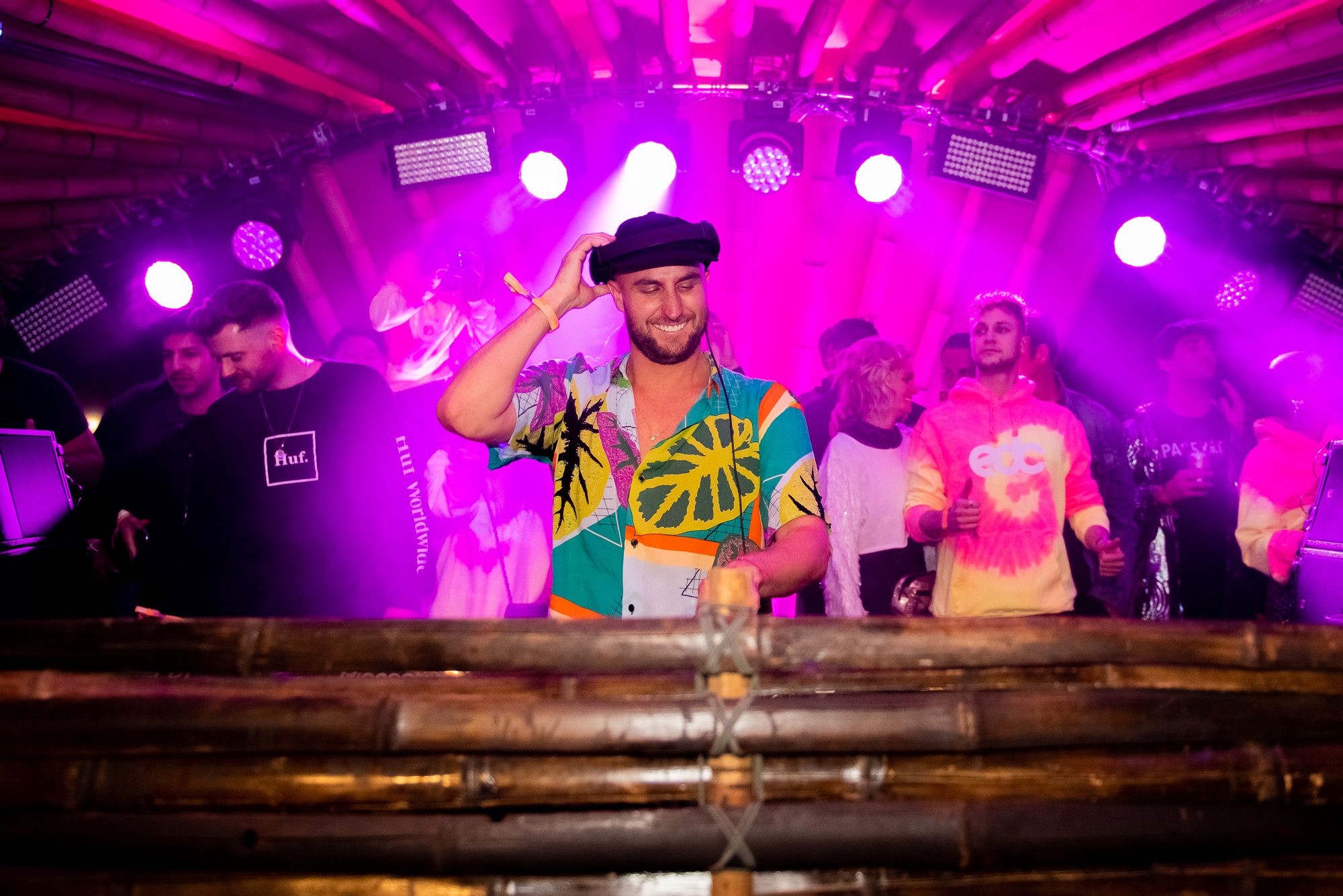 Fisher – Thursday, Sound-Bar
Australian import Fisher has absolutely taken the EDM world by storm since introducing his signature style of booty bouncing, Dirtybird influenced house music. While his originals catalog may only have a few tracks dating back to 2017, these records are some of the hottest electronic music releases of the last few years. Tracks like "Losing It" and "Stop It" have found themselves in some of the biggest festival sets from a variety of artists and genres.
Along with Chris Lake, Fisher is one of the main reasons for the American scene's current love of house music, and he continues to sell out shows across the country. Setting the tone for this night at Sound-Bar will be an opening set from Steve Gerard and Hiroko Yamamura, two staples of the city's tech house and techno scenes.
Thursday night at Sound-Bar will be the perfect opportunity to dance the night away and start off your weekend on a high note. Grab tickets before they sell out!
---
DJ Diesel & Valentino Khan – Sunday, Prysm Nightclub
NBA icon and TV personality Shaquille O'Neal has had no problem showing off his love for DJing and electronic music since debuting his DJ Diesel project a few years ago. Shaq made a fortune as one of the highest paid basketball players in history, and his DJ Diesel sets are purely for his love of music and DJing. With appearances at TomorrowWorld, Lost Lands, and now Lollapalooza, Shaq has surprisingly made a name for himself spinning heavy bass music and hip-hop to crowds around the country.
Appearing alongside Diesel will be Lolla 2018 alum Valentino Khan, who's stopping by the Windy City just for this appearance. Taking place on Sunday night at Prysm Nightclub, this will be a party that lasts until the other half of the city starts getting up for work at 5 A.M. The night will begin with a set from trap/electro local Animale before sets from Khan and Shaq. Let's hope for a late night b2b afterward, maybe with some special guests!
Be sure to dress appropriately for this one, as Prysm has a fashion-forward dress code. Tickets start at just $25.
---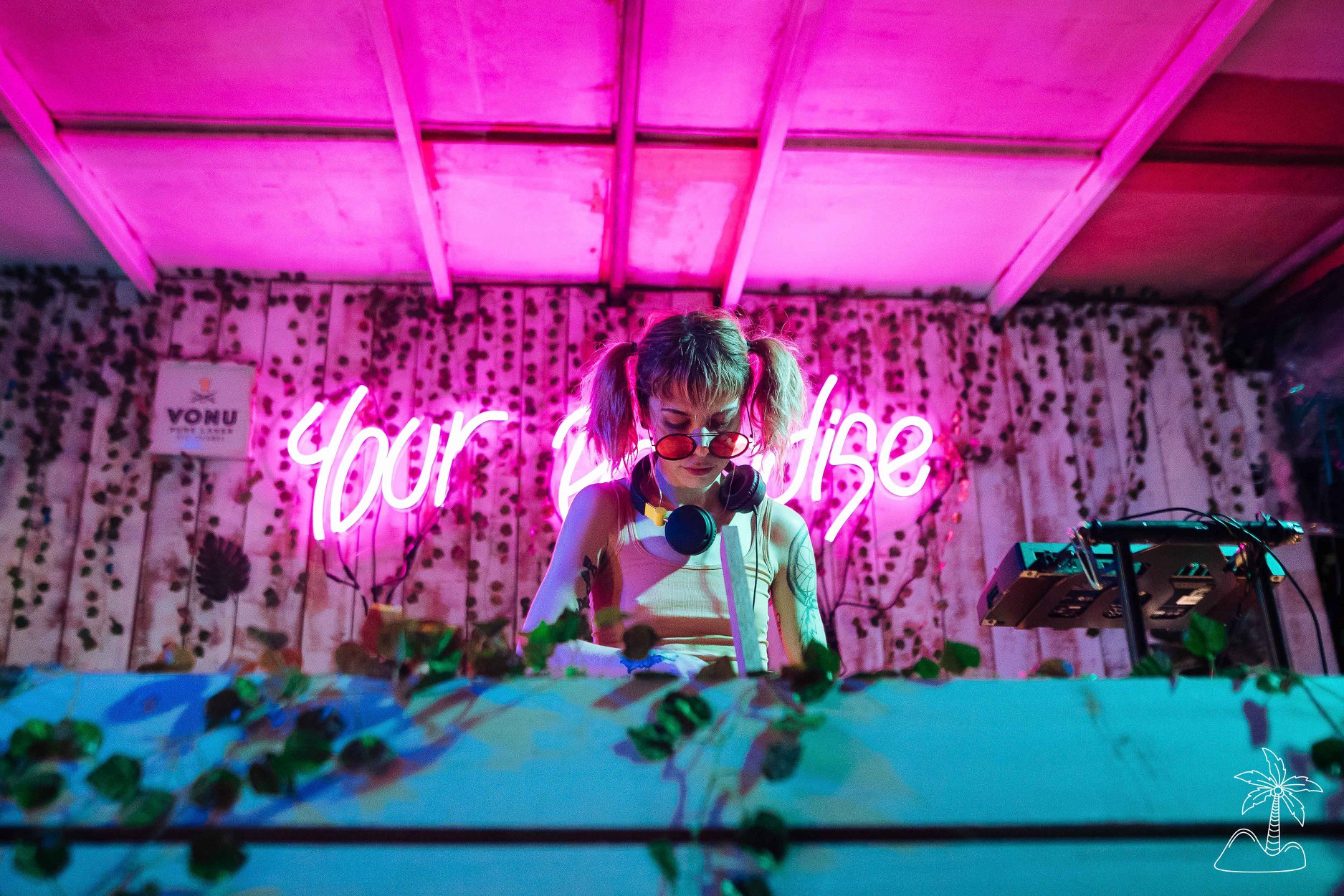 Mija – Saturday, Spy Bar
Originally discovered by Skrillex during a Bonnaroo sunrise set in 2014, Mija has established herself as a well-respected DJ who simply plays what she wants. Although she's not at the festival this year, Mija will be making a stop at Spy Bar on Saturday of Lolla weekend. For the last few years, her sets have mostly consisted of her awesome taste in house music. However, don't be surprised to hear trap, drum n bass, future bass, or anything else she's in the mood for.
Mija's Sweat it Out tour will stop at eight cities around the country, focusing on tiny clubs with an intimate atmosphere. Spy Bar is a legendary Chicago house music club, and I'm sure Mija is already looking forward to this date on her calendar. Tickets are still available!
---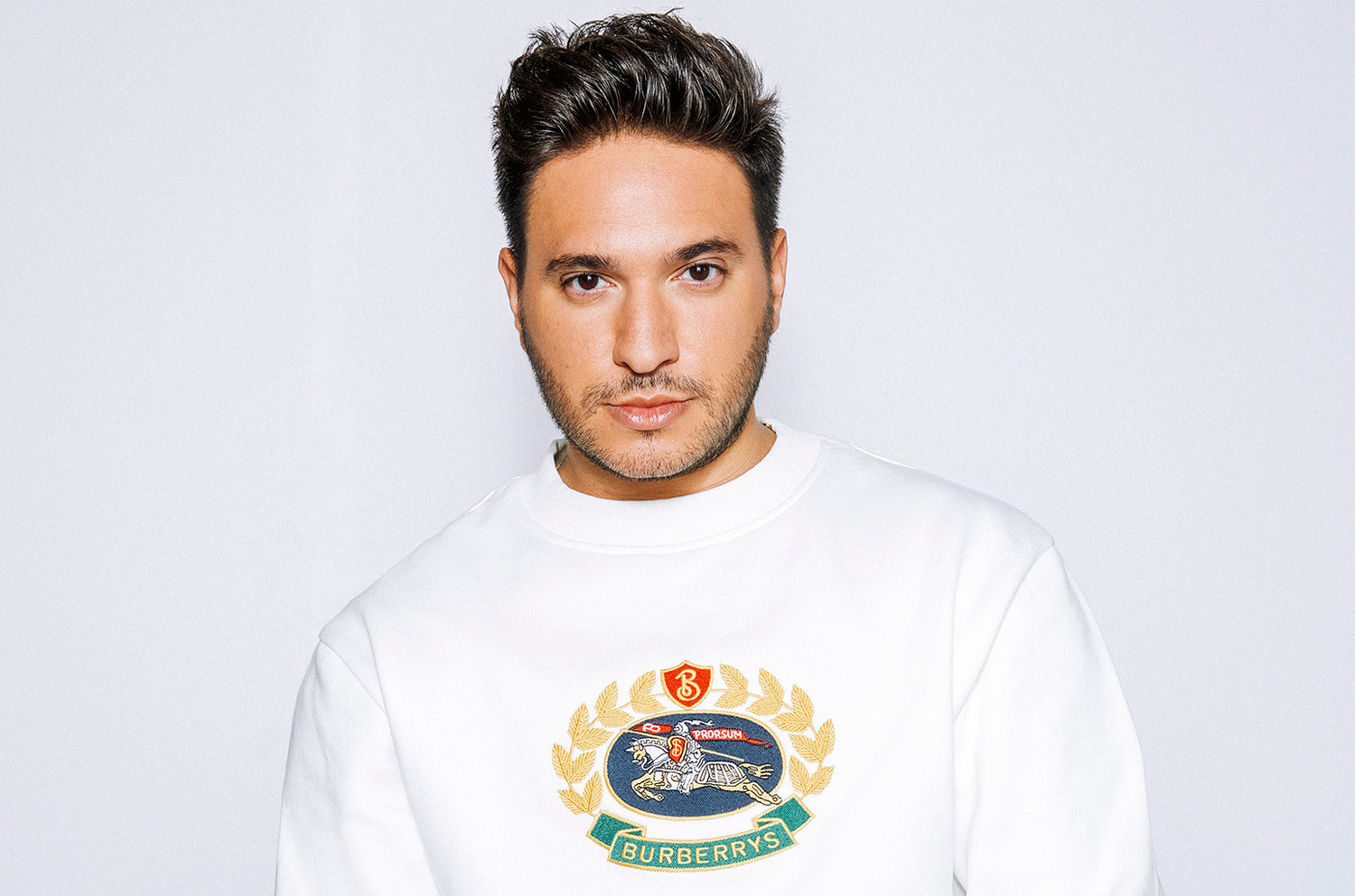 Jonas Blue – ROOF on theWit, Saturday
With a fusion of EDM and pop unlike any other, Jonas Blue is a personal favorite of mine and an artist I can't wait to see at this year's Lolla. I was impressed by his set at Ultra's main stage, as he brought a fun, house vibe rather than just pressing play on his popular tunes. Following his set at Perry's, Jonas Blue will head downtown to perform a special set at ROOF on theWit on Saturday night.
With a newly renovated open-air patio featuring a retractable roof and an amazing view of the skyline, the party will go on rain or shine at this official Lolla aftershow. With tracks like "Fast Car", "Rise", and many more, his debut album "Blue" is well worth your time. I'm definitely intrigued at what this incredibly talented artist will play at a smaller show like this. Tickets just went on sale!
---
Honorable Mentions: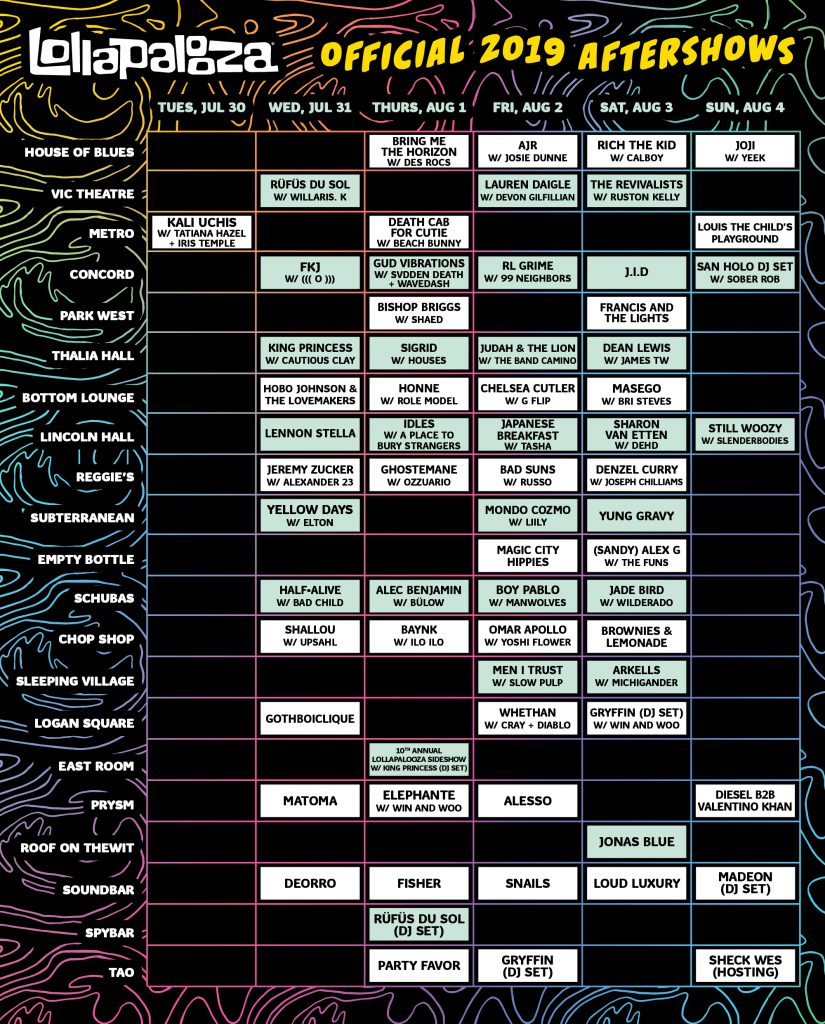 ---
Follow Lollapalooza on Social Media: