Second Sky was an impressive first-year festival as Porter Robinson and his team hit on so many essential points while still being reactive and focused.
---
Every first-year edition of a festival I've ever attended has had its own variety of problems, so I always go into these kinds of events with a flexible mentality to adapt to things that may go awry. For Second Sky Music Festival, that happened outside the event itself as a small delay with our Airbnb check-in prevented us from getting there when gates opened but we hurried to the venue as quickly as possible.
Arriving not long after the Virtual Self set had ended on Saturday, we were quickly searched, went through the metal detectors, and were on to the ticket scanners in a record amount of time. Most of the festivals I've been to in their first year either can't figure out how to move attendees along or get hung up on intensive security searches so this was a welcome surprise at Second Sky.
As we walked past the check-in we were greeted by a lilac arch.
While the flowers were most definitely fake, the nice flowing, purple, and white color scheme was a cool and beautiful effect and helped us transition from the real world to that of Porter's creation. Set against the backdrop of Oakland were the Second Sky letters in a lovely sky blue, making for two picture-perfect setups with a ton of space around them.
As we rounded the corner we saw a long wall. Made of wood and colored in sky blue, there were permanent markers hanging along it to allow for attendees to stop and write a variety of phrases, words, hashtags, or even draw! All over the wall were lyrics from songs by Porter, plenty of anime drawings, and shout outs to different rave families and friends. There were also a few personal letters to Porter and Madeon located all along the wall as well.
The ground was covered with artificial turf from the stage all the way to the back fence line. While it wasn't real grass, it was definitely better than hard asphalt and soft enough that you felt comfortable sitting down, laying down, or even rolling around on it. We saw picnics and people just resting early on and it was nice to have the area during the day time!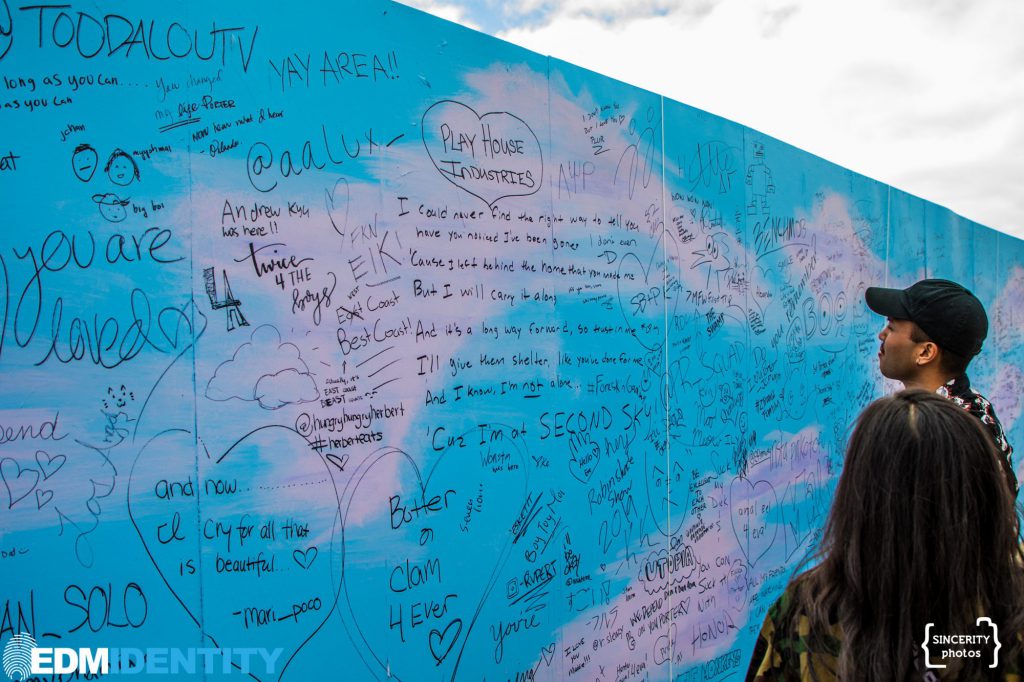 To our left, we saw a variety of food trucks which were serving up some incredible fusions to taste.
Our group would try Indian Street Food, Ramen Burger, and Vegan offerings from the food trucks. I got a burrito filled with turmeric rice and covered in paneer tikka masala along with some vegetarian samosas that were absolutely delicious. The lines for the food were average, with some of the more popular options taking longer than others.
The lines for drinks, on the other hand, were basically non-existent. They had drink booths by the food trucks as well as all along the left side of the festival grounds. I never really saw the lines extends beyond six or seven people. This could have been due to the limited drink choices, but even then the pricing was better than I would have expected from a festival in the Bay Area.
Saying that the merchandise booth was packed would still not quite describe what we witnessed, though.
Bear in mind that we had arrived more than an hour after the first set had started, but by this time, the line stretched it's way back to be parallel with the back of the stage. We heard that it had extended beyond the bathrooms and close to the first bar after Virtual Self had ended, but it was clear that this was something that could use some improvement in the future.
One attendee I spoke to had spent three hours in line, only to find out that they had sold out of everything he wanted.
In a panic he bought a fanny pack just because he didn't want to have waited in line for nothing. It wasn't long after this that we all got a notification via the mobile app that they were going to run a reprint of everything and use the app for pre-orders. This allowed everyone to purchase anything, even the sold out items, without having to wait in line, so I definitely applaud Porter and his team for the quick response.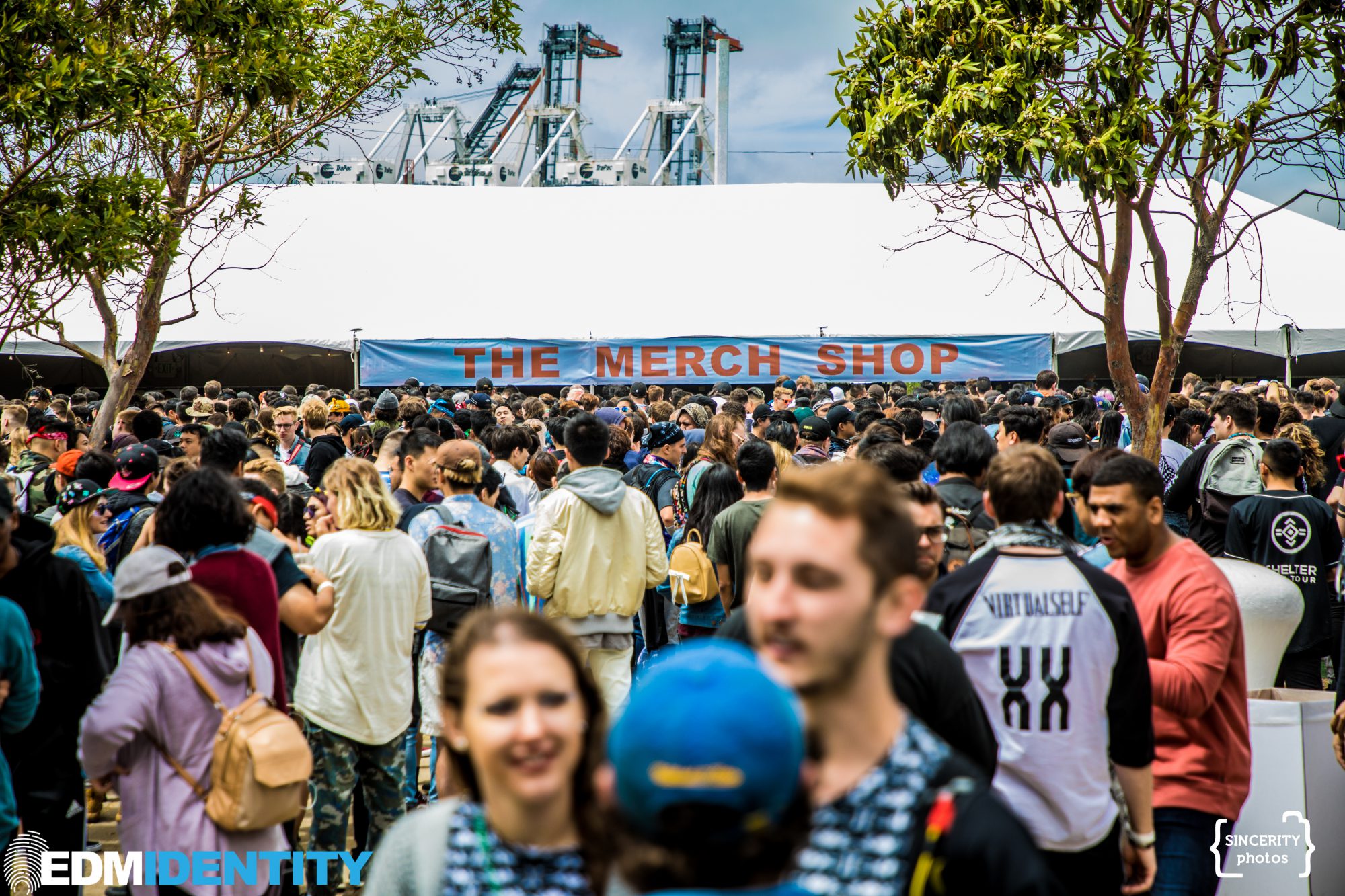 Half the bands and producers on the lineup I had never heard of so I'm glad that our first set was Wednesday Campanella.
A live, four-person band with a vocalist and mellow vibe, Wednesday Campanella really helped shape the atmosphere. Anamanaguchi took the stage after and made video game music come to life! Their high-intensity BPM with a synthesized beat along with their literal visuals of Final Fantasy VII really took me back to my gamer days.
Chrome Sparks and Kero Kero Bonito continued the live band themes and really knew how to hype the crowd. I was impressed with how many people riding the rail knew all the words to many of their songs. More so for Kero Kero Bonito because many of those words were not in English!
G Jones and Cashmere Cat both took us in an entirely different direction.
G Jones' visuals are always a spectacle of monochrome, Egyptian symbols, and eyes and this show was no different. As he closed his set he played two unreleased tracks that were bass heavy and beautiful. Cashmere Cat's approach was a little different with clear breaks between some of his tracks. While the song selection was good, it did have me wondering why there were so many pauses.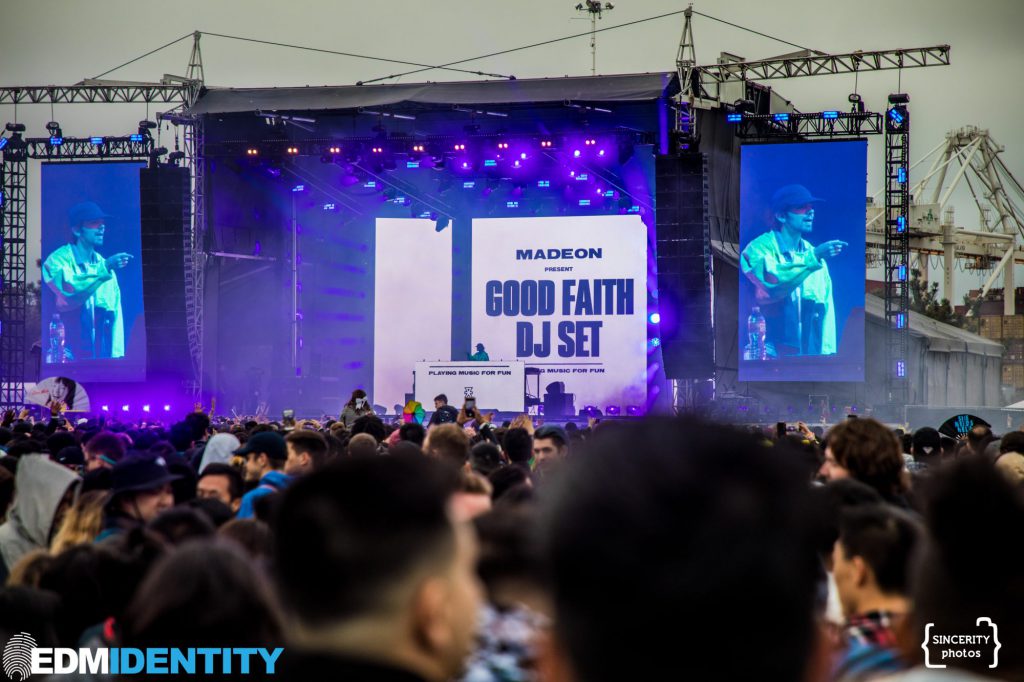 Next, it was time for Madeon's DJ Set… or rather his Good Faith DJ Set.
It was was a phenomenal surprise to get a taste of what would be coming on the Good Faith Tour ahead of the start of that journey. He played music from the new album while sprinkling in a few of his older tracks and even mixing some other iconic tunes as well. At one point he started playing Shelter but changed it into something else fairly quickly, an important detail we only noticed the importance of later.
Finally, it was time for the main event, a Worlds set by Porter Robinson was on upon us and the energy of the crowd was at an all-time high.
When Porter first walked out and the lights came up, no less than three people on the rail immediately started crying. Opening with "Sea of Voices" into "Sad Machine", he played every song that we could have wanted to hear and more. I teared up multiple times and it was just beautiful to watch. Ending with "Goodbye To A World", my night was complete as Porter walked off the stage I had no real complaints to register.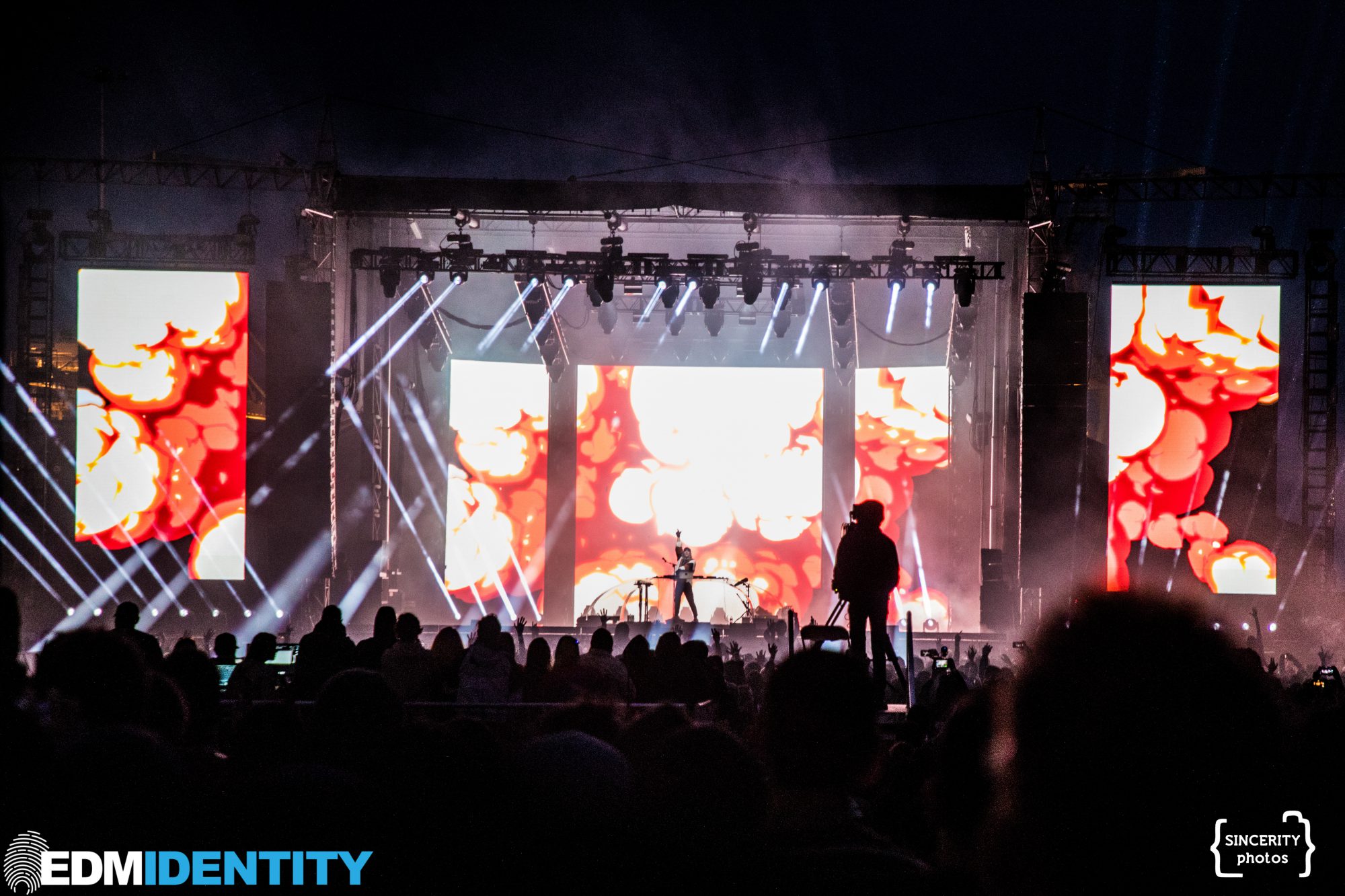 Once the set ended the calls for "one more song" began, and Porter obliged with the request from his passionate fanbase.
The crowd exploded as the Worlds Live Edit of "Language" started and a sense of happiness filled our hearts. I thought to myself, "what a perfect song to end the night with," as the song ended but then one of my friends leaned over and said, "I really wish he would have played Shelter, I mean Madeon didn't even play it really." A sentiment the entire crowd must have felt because right after "Language" they started chanting "Shelter" and "Porter" alternately.
For the second encore, Porter came back out to play "Shelter," and not only did he play it but he also brought Madeon out for a much-desired reunion. Delighting the crowd one last time, it was then that the night felt truly complete and we slowly made the walk out of the venue to find our way back home.
Overall Second Sky Music Festival was, in my opinion, a spectacular event for being its first time.
There were a few logistical things I would have changed, but at the end of the day, there was nothing that really inhibited my experience. The adaptive way they dealt with merchandise should be the standard we expect and the carefully curated lineup has me saying that Second Sky should become a regular event on my calendar in the future.
Be sure to check out the rest of our photos on Facebook!
---
Connect with Porter Robinson:
Website | Facebook | Twitter | Instagram | SoundCloud
Connect with Second Sky Music Festival on Social Media: