Instead of setting sail across the ocean, Holy Ship! 2020 has been shipwrecked and will be taking over an all-inclusive resort.
---
Since their first voyage on the high seas, Holy Ship has become more than just a music festival as it blossomed into a full and vibrant community from all over the world. Now a new adventure awaits as they've been shipwrecked at a luxury resort and oceanfront paradise in the Dominican Republic. Next year, Holy Ship! Wrecked will take place January 22-26 at the beautiful Hard Rock Hotel & Casino in Punta Cana.
Holy Ship! Wrecked will take over the entire resort and feature beach parties, twelve pools to choose from, four swim-up bars, and a lazy river that will be paired with an unmatched list of talented artists from the electronic music scene. Certain fan favorites will return in 2020, including a sunrise set on the beach, the OG Party, and gifts for returning fans, intimate artist-hosted activities, theme nights, and showcases from top labels.
Related: Looking for a taste of the sounds from the most recent sailings? Check out our livesets post!
There will also be some brand new features at this edition of Holy Ship, including complimentary food at the nine restaurants on site, unlimited drinks (yes, including alcohol), and free high-speed internet throughout the resort. Just like on the ship, the resort will only be open to ticket holders and shows will take place just steps away from your own private suite that also features a mini bar, room service, and more.
The resort will also have some pretty impressive upgrades for an additional charge ranging from a full-service casino with sportsbook and golf course, to the luxurious spa and excursions to explore and experience the surrounding area! Each fan will receive unlimited resort credits which can be used like cash all across the property and will cover the advertised price so that you only have to pay 25% service charge on these extras.
"Over the last eight years and thirteen sailings, you have shown that Shipfam can't be contained to a boat. Shipfam exists in the towns and cities where you live, at the shows and festivals where you gather, and in the communities you've created across the globe. Now we get to take over an all-inclusive resort in another part of the world while experiencing the best music, community, vibes, beaches and shenanigans. Together.

When we launched Holy Ship it was the first of its kind. We've seen what works and what doesn't and we've applied that knowledge to bring you something new. We all know the boat is magic – and we're not ruling out returning to the high seas down the road. In the meantime, we know that Holy Ship! Wrecked will give you everything the boat did and so much more. After all, our time on the island was never enough and you won't know how much you love something until you experience it for yourself …

We may be shipwrecked, but this new venue is sure to blow your mind. Let's spread the Shipfam spirit and show them how to party on land in 2020!"

-Holy Ship HQ
Prices per person will start at $1299 for a quad, $1399 for a triple and $1599 for double occupancy. A $250 deposit will hold your spot for when the lineup is announced. Deposits can be placed starting May 3rd EST (10am PST). Only one deposit will be required per room. As your travel mates book their arrangements they will pay their deposit at that time.
Ready to book your Holy Ship! Wrecked adventure? Find out more about booking via HolyShip.com and let us know in the comments if you're planning on going!
---
Holy Ship! Wrecked 2020 Event Information:
Date: January 22-26, 2020
Ages: 18+
Hours: 2pm – 9pm
Location: Hard Rock Hotel & Casino, Punta Cana, Dominican Republic
Facebook Event: RSVP HERE
Tickets: More details at HolyShip.com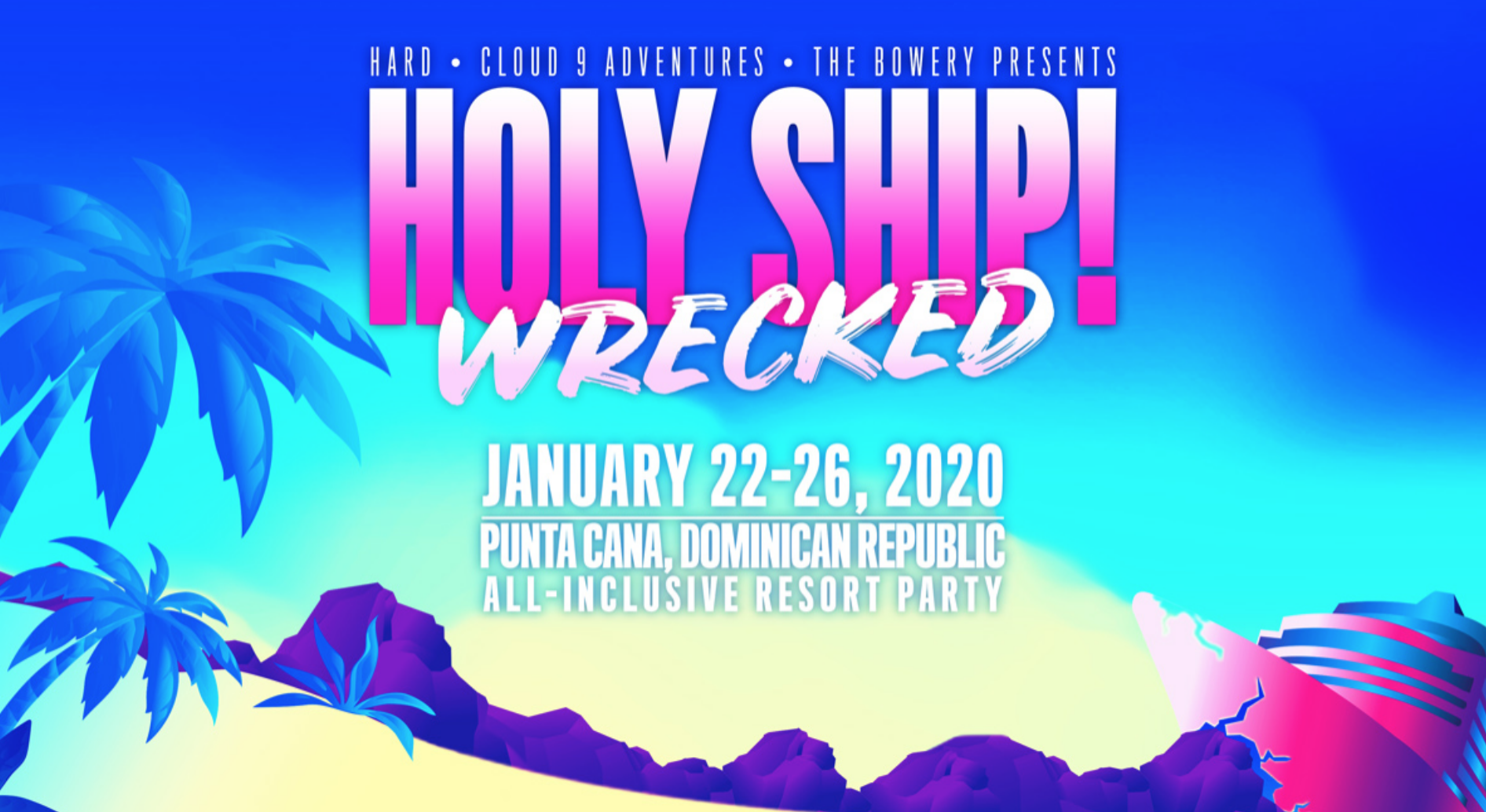 ---
Follow Holy Ship! on Social Media: