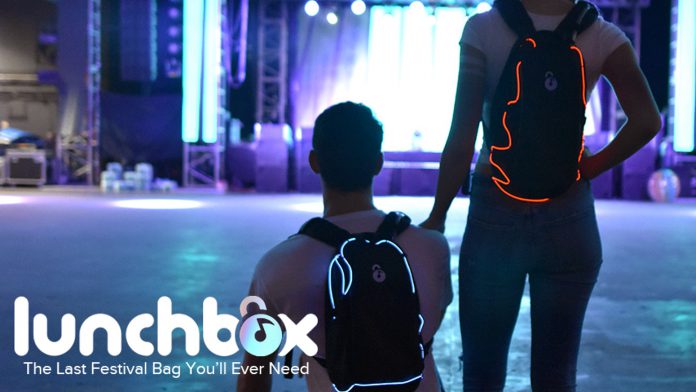 Looking for a new hydration bag to rock this festival season? Lunchbox has you covered with the ultimate bag that is perfect for any attendee!
---
If you've been involved in the festival scene you know how important it is when choosing the perfect bag to carry your gear. But when you're faced with which one to pick, things can become quite difficult as there really hasn't been a true bag made with festival attendees in mind. Many times they're too large or too small, and more often than not they don't fit your style or have security in mind. That's where Lunchbox has come in to change the game.
After taking a long look at all the problems that attendees have faced, the Lunchbox team decided that something needed to be done to solve issues and went to the drawing board to develop the perfect festival bag. What came from their exhaustive research was that festival-goers needed a bag that would allow for proper storage, provide anti-theft measures, stand up to the elements, and hold enough water to get you through the day.
Now in development, the Lunchbox team has created a bag that will help fix all of those problems and more. Featuring anti-theft measures that include cut-proof ballistic nylon and inverted zippers, a side-loaded hydration bladder for easy filling, and weatherproofing, this bag hits on all the marks. Additionally, Lunchboxes are customizable with the addition of EL Wire and changeable skins, and they also feature pockets for your phone, sunglasses, and battery pack to keep them secure as well.
Launching on Kickstarter last year to help achieve their goal, Lunchbox surpassed its original funding estimate with hundreds of backers who believed in their mission and is now available for pre-order on their website. Check out the product features and enter below for your chance to win a Lunchbox of your own that will be shipped in time for EDC Las Vegas!
Enter to win a Lunchbox of your own to rock at EDC Las Vegas 2019:
Win a Lunchbox Anti-Theft Hydration Pack to Rock at EDC Las Vegas!

---
Lunchbox Product and Anti-Theft Features:
---
---
Connect with Lunchbox on Social Media: