The debut edition of Crush Denver broke necks and crushed hearts all in one night!
---
When Insomniac announced that their annual Valentine's Day themed event, Crush, was making its debut in Denver this year, it immediately piqued my interest. While I have been a fan of their events, Insomniac hasn't really hosted major events since the last edition of EDC Colorado in 2011, so Crush Denver was on my radar to see what they would bring to the table.
It had been a hot minute since the last time I went to the Fillmore and man I was overdue. Between the frigid 22 degree weather outside and my excitement for the event, I found myself hurriedly walking towards the venue to explore all that Crush Denver had to offer.
I entered the venue during the last 15 minutes of Monxx's set and aside from the bass, the first thing I noticed was that this was not the Fillmore I remembered from a few years ago.
While grabbing a drink, I asked the bartender about the changes, and he mentioned they did a small renovation back in August of last year that added more seating and pushed the crowd a bit more forward into the venue. These were some changes that I was definitely a fan of, and I was also relieved that they kept the iconic, black-lit chandeliers inside that give the venue some extra added flair.
Towards the final moments of Monxx's set he destroyed the crowd with a remix of Excision's "Rumble", and then I lost it when he dropped Cookie Monsta's massive tune "Ginger Pubes". Despite his track record of not showing up to shows, he blew me away and I'll be sure to catch him again in the future.
Can we stop for a second and admire the sick lighting setup Insomniac brought to the table for Crush Denver?
Insomniac has a great track record of stunning production, excellent lighting displays, and quick set changes. As an avid concert attendee, it was a huge breath of fresh air to see such an amazing production in Denver.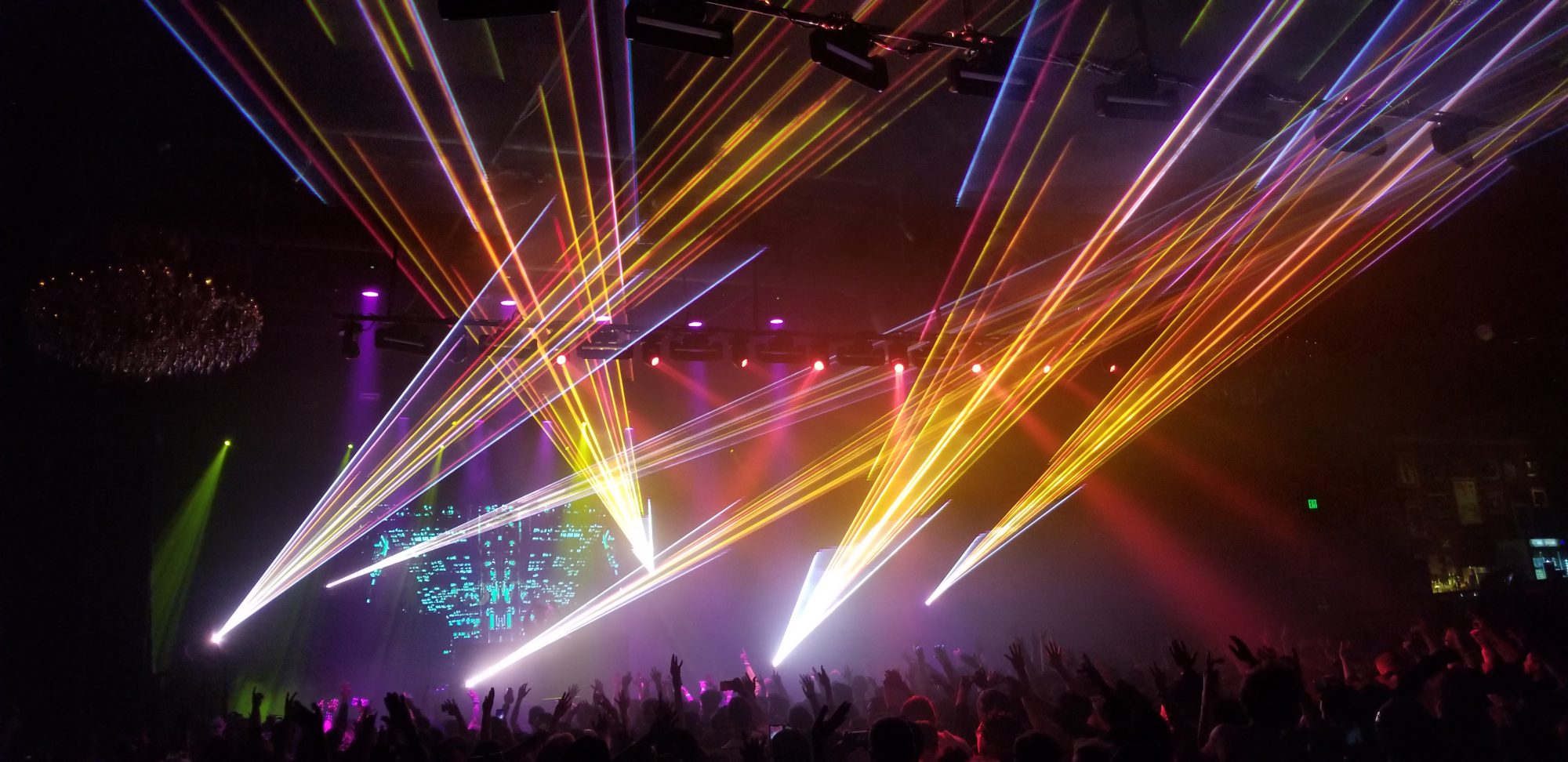 Lost Frequencies was up next, changing the crowd from one that featured a mosh pit filled with thrashing headbangers to one that had plenty of shufflers.
What a shift in mood Lost Frequencies' set was, but I quickly found myself bumping along to his beats, especially when he played a remix of Cascada's "Everytime We Touch" that instantly took me for a trip down memory lane.
After bobbing around during his set while finding friends and shuffling away, it was time for Gareth Emery to grace the stage and the real party got started.
Almost all at once the crowd made a massive push forward and the dancefloor was instantly packed. Gareth caught my attention and got us all grooving to tracks like John O'Callaghan's remix of "Concrete Angel", a track that was perfect for the vibe of the night. At that point my crew and I had moved up to the balcony again, giving us a perfect view of the stage along with the shuffle circle that had opened up on the dance floor. I couldn't believe how great the vibes were during his set.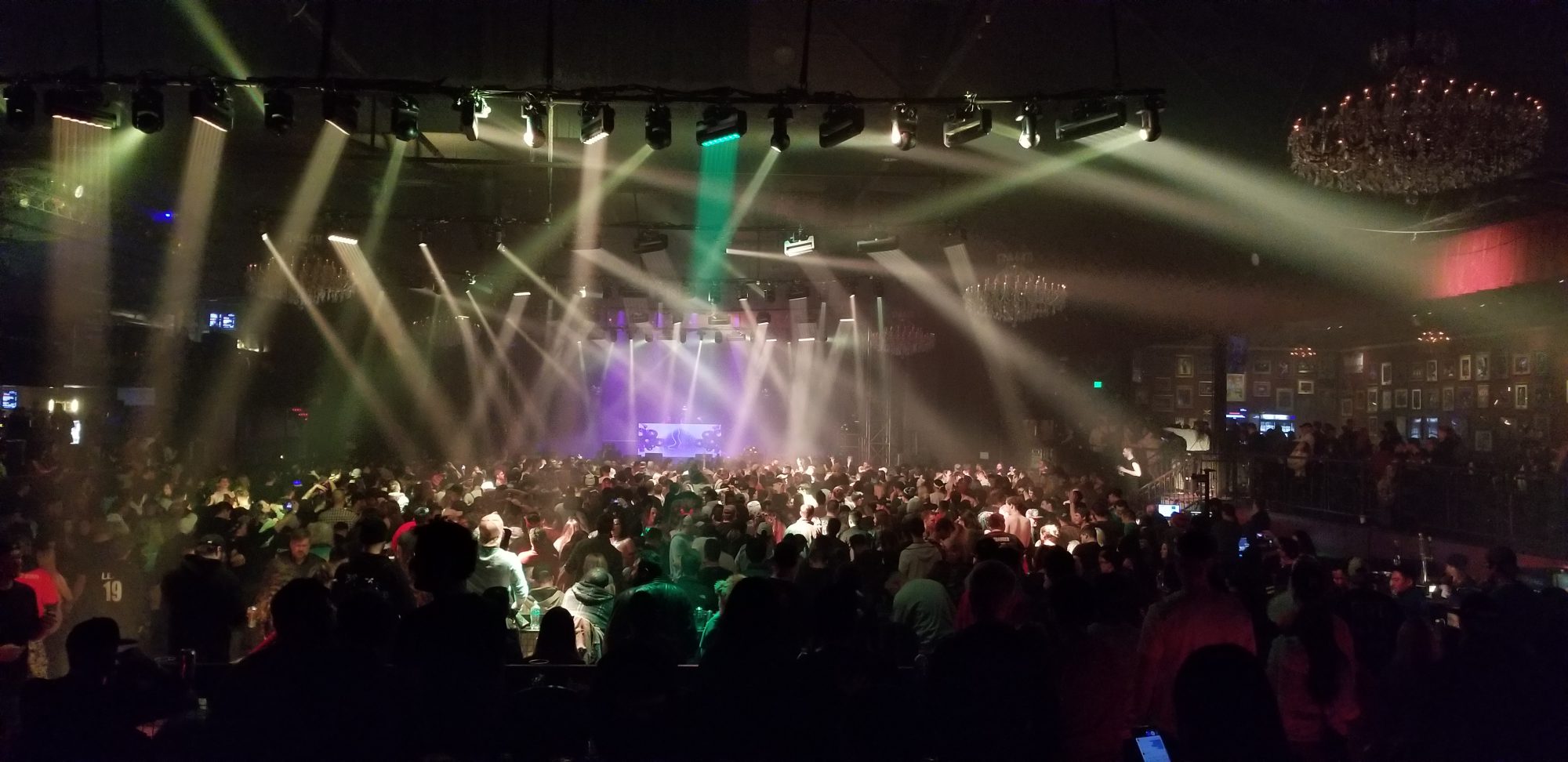 Last but not least Showtek, who brought a crazy mix of hardstyle, big room, and more.
I'm a huge fan of Showtek's sound and they damn near brought the entire house down. My squad and I came down to the floor for this one, squeezed our way pretty close to the front, and had a wonderful time. And then someone pulled the fire alarm at 12:30am. For a second I thought that was the end of the show, but no, Showtek had a whole other hour of bangers for us instead. It was a great end to the night.
Overall, Insomniac really heated things up for the Valentine's Day celebration at Crush Denver this year.
There was some serious magnitude in their return to Denver and after being absent from the Bass Capital for nearly a decade, I'm happy to see them back. The entire event was well-produced and a great step forward for Insomniac to bring future events to this city, and I cannot wait for their next show here in Colorado!
---
Connect with Insomniac Events on Social Media:
Website | Facebook | Twitter | Instagram | SoundCloud | YouTube