Farius talks music production, the evolution of dance music, REALPROG Radio, his dream lineup, and more! 
---
For British DJ/Producer Farius, life couldn't be more promising. Kicking off his career with a bang, 2017 would be the year that would place his artistic stylings on the map. You could catch Farius lighting up the night at iconic venues such as Ministry Of Sound all the while injecting his progressive flavors on Above & Beyond Group Therapy 261. And let's not forget about a noteworthy achievement, snagging his first Beatport Trance Top Ten spot with the mystical essence of "Echo Chamber".
Now at the dawn of 2019, Farius has hit the ground running with a hunger to spread his sounds far and wide. Staking claim as the host of REALPROG Radio and delivering fresh tunes to lift our mood like "Running Away", out now on Zerothree Music, we feel his hold on our hearts continue to strengthen.
So, if you love your beats full of progressive charm and cloaked in euphoric trance magic then listen to his exclusive guest mix below and read on to learn more about this ridiculously talented blossoming star!
Stream EDMID Guest Mix 156 || Farius on SoundCloud:
---
Producing music with a strong melodic focus can be seen throughout much of your work. Why is the melody so important when it comes to building the perfect track and from your experience, how do you feel that the crowd reacts to a track dominated by a powerful melody? 
For me, the melody is where it all starts in my tracks. It's entirely subjective – a lot of my friends place rhythm and groove as more important elements in a track, but from a young age I was always more interested in melody – despite being a drummer growing up! As a teenager, I would sit at the piano and try to work out how many different ways I could re-harmonize the same topline melody with different chords underneath.
In a way, I still do that to this day in many of my tracks; write a topline melody and see how I can make it fit with different chords underneath. It may be contentious, but I feel melody can offer more variation and can invoke more contrasting moods in dance music for a listener – especially in progressive and trance – than rhythm can, and I think that notion is translated on to a dance floor too. For me, when you build a foundation of strong melodic ideas, then add in the rhythmic elements – you can really whip a crowd up and create some of the best moments of a set.
Your track "Running Away" will no doubt be a highlight of many sets this coming season. Can you talk about the message within the track and in what ways do you believe "Running Away" will have an emotional impact on its listeners? 
I think if there's any kind of message within the track it's very similar to many of my other tracks; uplifting, energetic and powerful. I particularly enjoyed putting the vocal in the record as the lyrics convey that sense of uplift and positivity: "The rain will pass and the sun will shine again".
Since we are the topic of track production, back in August you delivered a beautiful remix of Gabriel & Dresden's "I'm Not Like Everybody Else". Can you describe the start to finish process that you went through in re-working the track and what kind of pressure does an artist face when taking on a remix project? 
Thanks! I think the pressure was pretty high on this one if I'm honest – not only was I potentially releasing on a label that I always wanted to release on, but I was remixing a duo who have cemented themselves as two of the most talented DJs and producers on the scene for years, way before I even started out.
I've done a couple of remixes for artists in the past so I just began to work on the track as I've known best – start with the vocal and write a new chord progression under it. I picked this track off the album particularly as I could hear that I only needed to stretch the vocal a tiny bit to be able to write double time underneath it at 128 bpm. When I finally got the chords down, it was then about finding the structure of the track and how it would work best for the dance floor. Following on from there it was my usual pattern – fill out the chords, program the drums and build the record from there.
You stated in your bio that "trance and progressive are our modern-day interpretation of classical music". In your opinion, do you feel that one day in the future we will see the progressive and trance genres evolve into something even more stylized/different than they are in the present time? If you could take a guess, can you paint a picture of what that might look like? 
It's really difficult to say as dance music is moving at such a rapid pace right now – it seems like a new genre is born every few months. I've really enjoyed watching and listening to how trance has collided with the dubstep/future bass sound particularly and also hearing staunch underground house music producers incorporate more and more progressive melodies into their tracks in the last few years. I think the sound is moving on already – what Porter Robinson is doing under his Virtual Self alias has really made people listen to where the sound has the potential to go.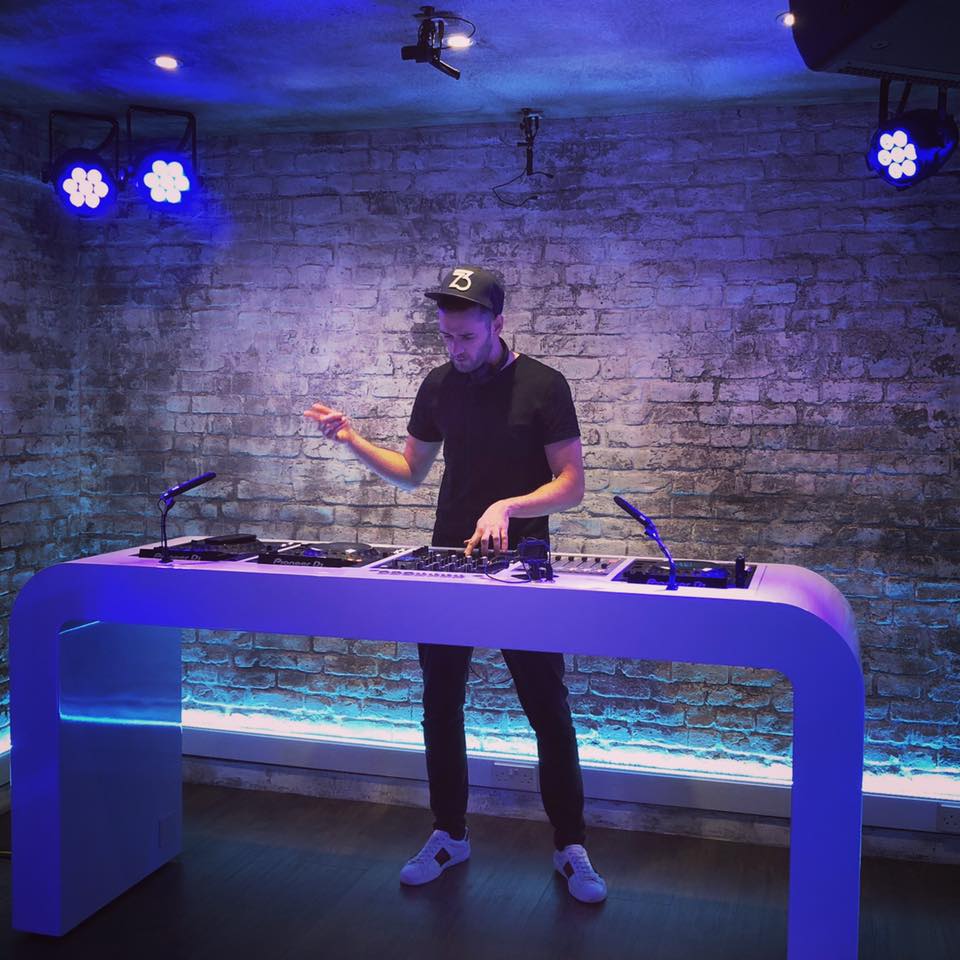 Coming up in the London trance scene, can you talk about some of the similarities and differences in the scene when compared to the U.S? 
I think it's fair to say that the London trance scene is considerably lacking compared to the US, but that said London is a much smaller territory than the entire US. It's great to see nights like The Gallery at Ministry of Sound still going strong so many years later and adapting to the new electronic sounds whilst still maintaining their original credibility. Trance and progressive in the UK certainly isn't what it used to be, but it's so encouraging to see labels like Anjunabeats selling out venues, new nights popping up all over and an undercurrent of new UK progressive producers coming through, which I'm really proud to be a part of.
What is your favorite thing about performing in front of an audience that is vibing out to the beats you control? Do you have a favorite moment that you can share with us? 
It's got to be playing new records out for the first time. There's no feeling like laying your hands on a piano on day one and playing out the finished version of that track days, weeks or months later. I think one of my favorite moments was when I played at Ministry of Sound in 2017, playing a few new IDs and watching the crowd really raise the roof to them, especially as it was a venue I grew up dancing in as a clubber myself.
Let's talk REALPROG Radio. As the host for the radio show now in its relaunch phase, what is your ultimate vision for the show and what kind of challenges does a bi-weekly show add to your plate? On the flip side, what are some of the rewards that come with having your own radio show? 
Well, things have changed already so much in that it's already a weekly show! The time it takes is definitely a challenge but there's so much fantastic progressive dance music being released every week – I think Jamie (label boss at Zerothree) and I have a really clear vision together of getting it out to the world.
It's been great to hear people tell me that the show has carved out its own place in a very crowded world of radio shows and podcasts already and that musically it doesn't sound like anything else out there. I guess that's reflective of Zerothree as a label in general too. I absolutely love sifting through all the new music I'm sent every week – that's rewarding in itself – and to be able to bring it every week to the world is a dream.
Now for a couple of fun ones! What is something the world may not know about you? In essence, what makes you tick as a human being outside of the dance music realm? 
How far do we want to go with this?! Haha. Well, I just got a tattoo on my inner right bicep which is a soundwave that says "trust your journey"… I'm also a huge sports fan – I play football at least twice a week in London when I'm home. When your work is your life 24/7, it's really important to have full on escapes from it every now and then, and sport fulfills that for me. What else? My party trick is folding up my ear up so the top sits inside the main crevasse – remind me to show you next time I swing by EDM Identity HQ.
If you could design the perfect lineup for an event that you would headline, who would you include on that lineup and why? 
That's a tough one. I guess I'd have someone like Bicep, Icarus or newcomer Franky Wah open up the room with some melodic breakbeat stuff, then move into the progressive sphere with some classic Sasha or John Digweed, alongside some of the more mellow Zerothree artists like Gai Barone or Anden, moving through to the bigger prog sound with myself, Tim Mason, Capa, maybe Third Party and then some of the Anjunabeats and Enhanced Progressive artists, finishing off with some more trancey stuff from artists like EJ, Protoculture or Aly & Fila. I'd also have a room 2 of just drum and bass – artists like Matrix & Futurebound, Sub Focus and Keeno would play all night. This sounds like a pretty expensive night to put on already!
Finally, what can Farius fans look forward to in the coming year? Any major goals you have your heart set on to accomplish?
Well, I just got that first tattoo in LA – that is one goal already ticked off in the first month! Music wise I'm really excited to have some big tracks released this year on Zerothree, collaborate with some big names and also branch out to one or two other labels – I have a new track on ASOT out soon.
Gig wise, I'm looking forward to returning to play in Paris and Cologne again, and I'm heading back to the States later this year too. I'm also incredibly excited to see how Zerothree develops this year in terms of doing live shows across the globe. The plans are looking BIG – so watch this space for later in 2019.
---
Connect with Farius on Social Media: