With sunny days and infectious beats on the horizon, SXM Festival has unveiled their final lineup additions and showcases for this year!
---
Announcing that they'd be returning to the island of St. Martin and dropping an initial lineup that was just as stunning as the tropical paradise its set at, more news has surfaced surrounding the upcoming edition of SXM Festival. Hosted from March 13-17, the multi-day festival is set to bring artists like Guy Gerber, Nicole Moudaber, Dubfire, and Francesca Lombardo to the stage.
Now, we know even more artists who will be joining the lineup this year and playing sets at the beaches, nightclubs, and villas spread across St. Martin. Artists like Who Made Who, Hernan Cayetano, Daniel Cowel, Lamache, The Doctors, and more have been announced to help round out the lineup for the upcoming edition.
Aside from the additional artists that were announced, SXM Festival also released the showcases that will be taking place on the island over the course of the week. The Mayan Warrior Art Car will be present at the festival, giving a nod to the burners who are in attendance, and other notable brands like The Kazbah, Flying Circus, XLR8R, and more are set to create an unforgettable atmosphere.
Check out the full list of artists announced below and let us know who you're most excited to catch in the comments. Tickets to SXM Festival 2019 are on sale now, grab your passes today via Eventbrite and get ready for an unreal underground experience!
---
SXM Festival 2019 – Lineup: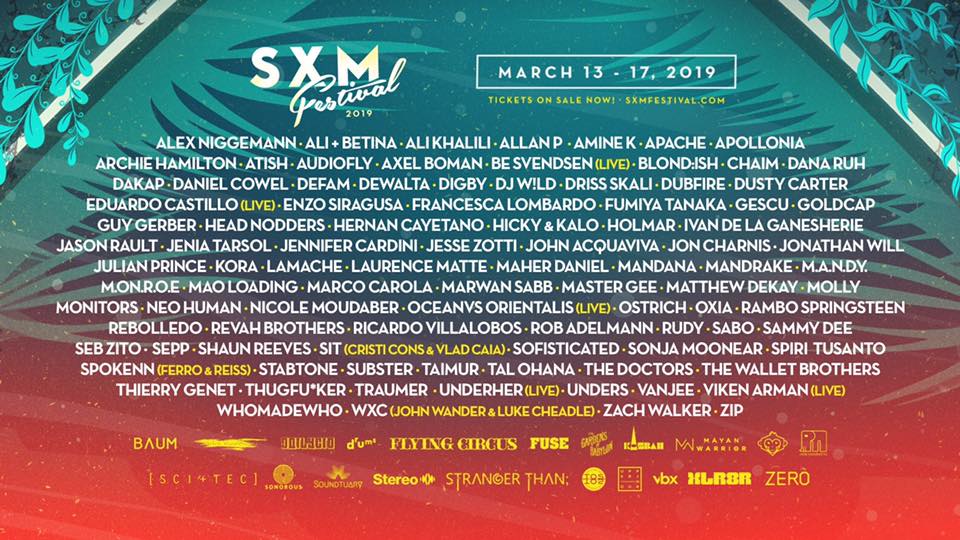 ---
SXM Festival 2019 – Final Lineup & Showcases:
Alex Niggemann
Ali + Betina
Ali Khalili
Amine K
Apollonia
Archie Hamilton
Atish
Audiofly
Axel Boman
Be Svendsen
Blond:ish
Chaim
Cristi Cons
Dana Ruh
Daniel Cowel
Dewalta
DJ W!ld
Driss Skali
Dubfire
Dusty Carter
Eduardo Castillo
Enzo Siragusa
Ferro
Francesca Lombardo
Fumiya Tanaka
Gescu
Goldcap
Guy Gerber
Head Nodders
Hernan Cayetano
Holmar
Ivan De La Ganesherie
Jason Rault
Jenia
Jennifer Cardini
John Acquaviva
Jon Charnis
Jonathan Will
Julian Prince
Kora
Lamache
M.A.N.D.Y
Maher Daniel
Mandana
Mao Loading
Marco Carola
Matthew Dekay
Molly
Monitors
Neo Human
Nicole Moudaber
Oceanvs Orientalis
Ostrich
Oxia
Rambo Springsteen
Rebolledo
Ricardo Villalobos
Rob Adelmann
Sabo
Seb Zito
Sepp
Shaun Reeves
SIT
Sonja Moonear
Spokenn
Tal Ohana
The Doctors
The Revah Brothers
Traumer
UnderHer
Unders
VanJee
Viken Arman
Who Made Who
WXC
Showcase Partners:
Baum Bogota
Blue Shadow
The Garden of Babylon
Sonorous
Soundtuary
(( Stereo ))
The Kazbah
VBX
Mayan Warrior
Monkey Love
Daily Cid
Drums
Flying Circus
Fuse London
Pink Mammoth
Stranger Than
The Other Side
XLR8R
Zero
---
Follow SXM Festival on Social Media: