Baked Up and Motherduckerz are bringing great beats, desserts, and girl power to Los Angeles this month, so don't miss out!
---
Let's be honest. The music industry is not exactly a role model when it comes to gender equality. Although we are finally pushing back on the male-dominated lineups that historically have been accepted as the norm and, catapulted by the #metoo movement, victims of sexual assault are speaking out against their attackers, sexism is still infuriatingly prevalent. So, when we hear about a couple of girl bosses joining forces to put on a show featuring entirely female artists, we are all for it–and now that's happening with Se-duck-tively Sweet!
Both Baked Up and Motherduckerz may be fairly new companies (both were officially founded in 2018) but they've already made an exciting and inspiring impact in EDM. Baked Up was founded by Sydney Rogers with the intent of bringing people together with music and food. What's better than that, right? Her events prominently feature female artists on their lineups, paired with free dessert that she bakes herself. She's no amateur, either. Before starting Baked Up, Sydney was an executive pastry chef for three years.
Motherduckerz is also working to spread positivity throughout the EDM-sphere, but with ducks instead of desserts! Armed with customized rubber ducks, its two female founders only promote the brands and events they truly believe in and Baked Up certainly falls under that category.
Now, these two companies are coming together to bring their girl-powered positivity to LA. Featuring music from KyO_o, Marina Katerina, Amaya, Feld-Scarr, and DJ Blown, and of course, delicious desserts courtesy of Sydney, this is definitely an event that you don't want to miss. Oh, and did we mention that it will be the only female-run EDM event in Los Angeles?
There's no cover and the beats will be going all night long, so make sure to support your local girl gang by coming by, discovering some new music, and making some new friends while you're at it!
---
Se-duck-tively Sweet 2019 – Essential Info:
Date: February 22, 2019
Ages: 21+
Hours: 9pm – 2am
Venue Address: Thirteen Social Clubar, 3514 W 8th St, Los Angeles, CA, 90005
Tickets: Free!
Facebook Event Page: RSVP HERE
---
Se-duck-tively Sweet 2019 – Lineup Flyer: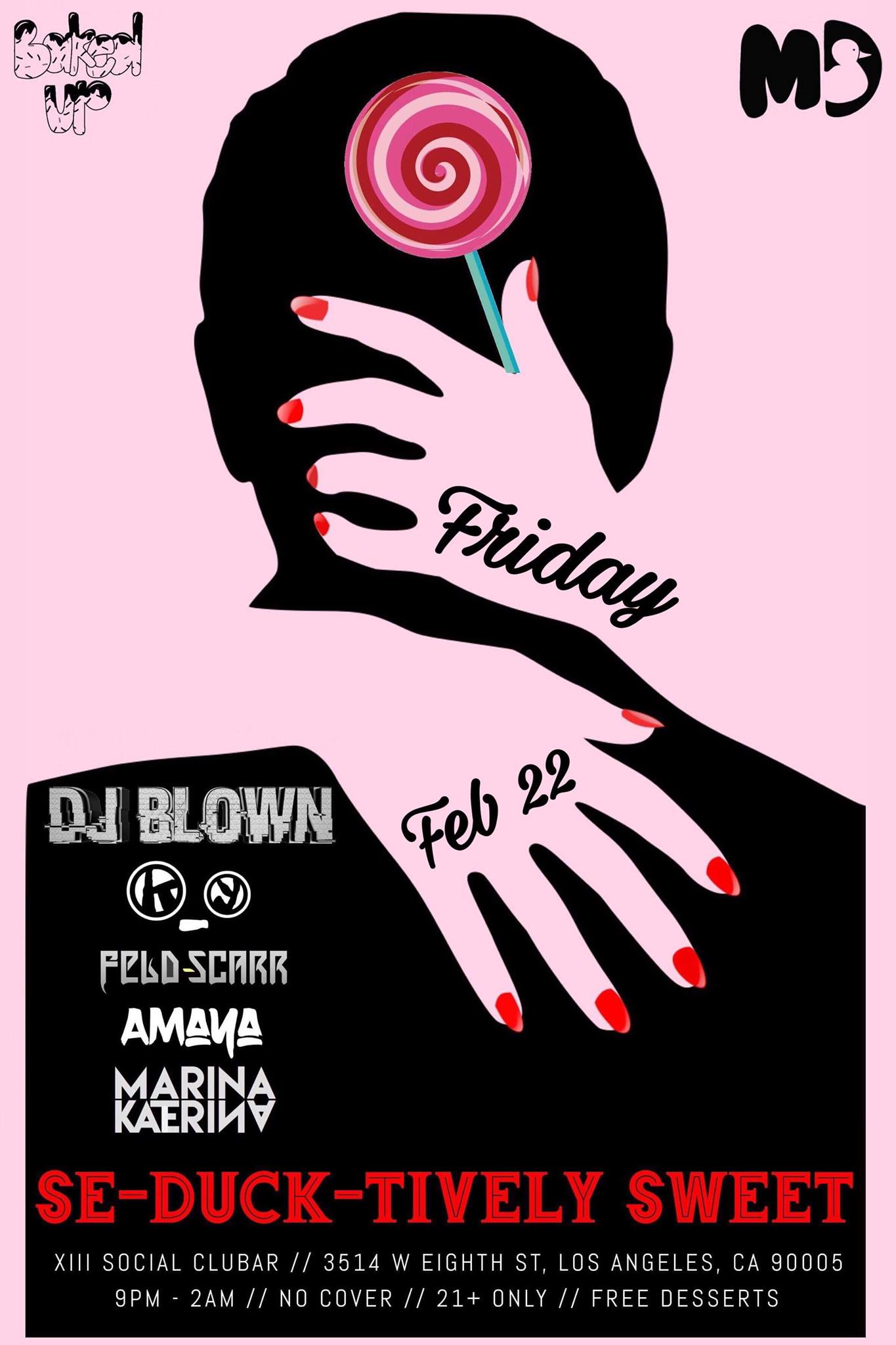 ---
Follow Baked Up on Social Media:
Website | Facebook | Twitter | Instagram
Follow Motherduckerz on Social Media: