Are you ready for an onslaught of house and techno beats at Awakenings Festival this year?
---
It is no secret that the Awakenings brand carries the banner for house and techno. Ultra's RESISTANCE has certainly gained plenty of attention lately, but Awakenings continues to lay the foundation with some of the two genres biggest ambassadors. Today, they have announced the full lineup for their upcoming Awakenings Festival and it is bringing some serious heat along with it.
Occurring on June 29-30, the festival plants itself squarely in the summer swing. Its 110 acts spread over the two days include 15 DJs playing on both days. No one should be surprised that the repeat talents are some of the biggest who's who in the house and techno world right now and include: Adam Beyer, Amelie Lens, Charlotte de Witte, Joris Voorn, Kölsch, Maceo Plex, Nina Kraviz, Richie Hawtin, Rødhåd, and more.
We are excited to see what acts like Attention Deficit Disorder (AnD & Dasha Rush live), Ø [Phase], Shlømo, Spokenn (Ferro & Reiss), Interstellar Funk, and Selección Natural bring to the festival as well. There is also a slew of names that we rarely see stateside so techno fans willing to travel to visit The Netherlands in the sunny season will be in for a treat. The festival returns to its Amsterdam home as well – the Recreatiegebied Spaarnwoude – so no crazy layout changes are anticipated.
Single day tickets cost roughly €75 with fees for Saturday, while Sunday dips the price to €60 with fees. A combined ticket hits the pocketbook at €120 with fees. Included with purchase options is the chance to book accommodations. There are currently tons of options that include options close to the festival, options in the city of Amsterdam, and transportation. We also noticed that Awakenings added the option to purchase a copy of their Awakenings – 20 Years Of Techno book as well ahead of the event.
Grab tickets to Awakenings 2019 today via Awakenings.com/nl/en/tickets-festival and don't miss out on this two-day onslaught of house and techno beats!
---
Awakenings 2019 Lineup: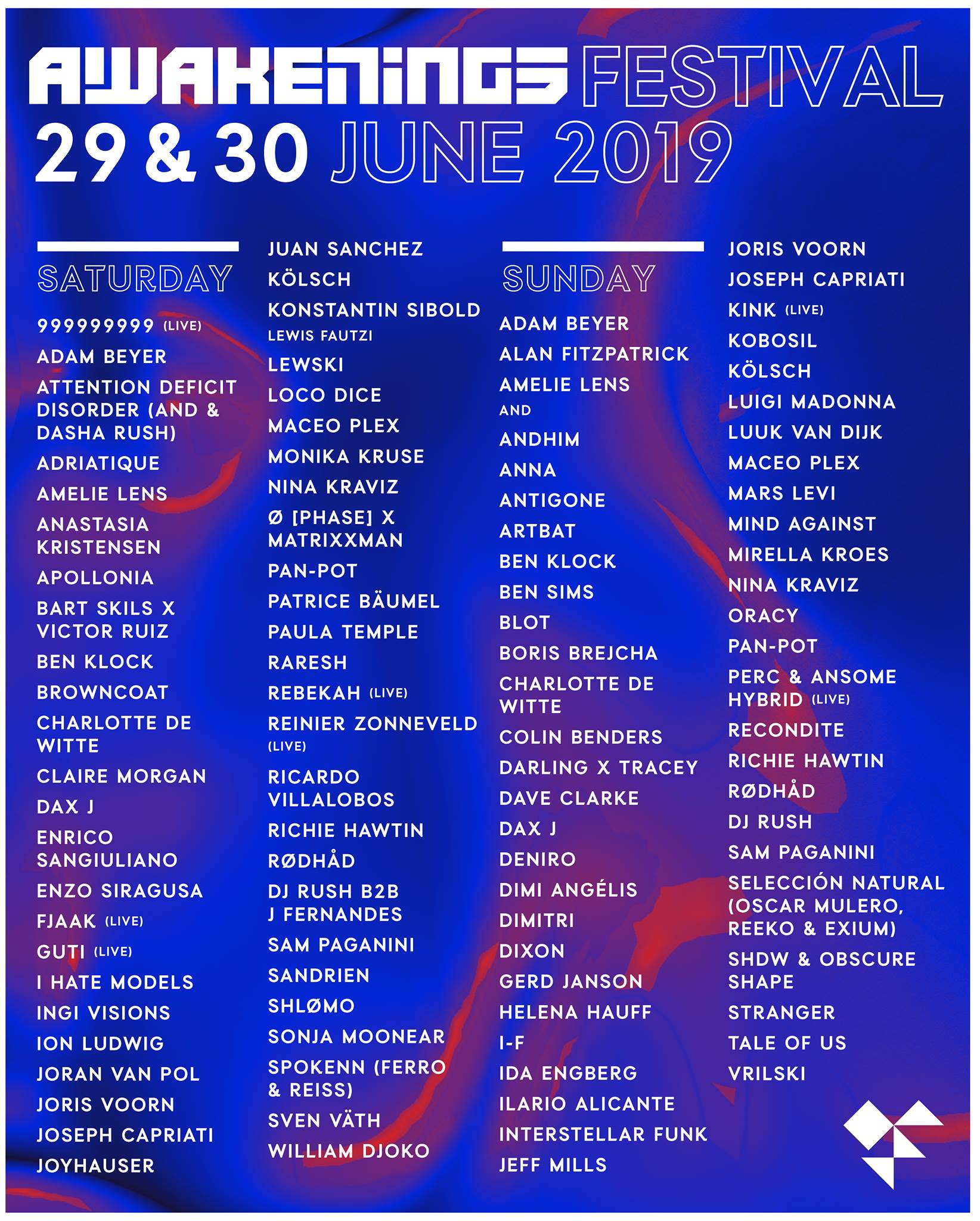 ---
Awakenings 2019 – Lineup By Artist:
Saturday
999999999
Adam Beyer
Adriatique
Amelie Lens
Anastasia Kristensen
Apollonia
Attention Deficit Disorder (AnD & Dasha Rush live)
Bart Skils
Ben Klock
Browncoat
Charlotte de Witte
Claire Morgan
Dax J
DJ Rush
Enrico Sangiuliano
Enzo Siragusa
Fjaak
Guti
I Hate Models
Ingi Visions
Ion Ludwig
Fernandes
Joran van Pol
Joris Voorn
Joseph Capriati
Joyhauser
Juan Sanchez
Kölsch
Konstantin Sibold
Lewis Fautzi
Lewski
Loco Dice
Maceo Plex
Matrixxman
Monika Kruse
Nina Kraviz
Ø [Phase]
Pan-Pot
Patrice Bäumel
Paula Temple
Raresh
Rebekah
Reinier Zonneveld
Ricardo Villalobos
Richie Hawtin
Rødhåd
Sam Paganini
Sandrien
Shlømo
Sonja Moonear
Spokenn (Ferro & Reiss)
Sven Väth
Victor Ruiz
William Djoko
Sunday
Adam Beyer
Alan Fitzpatrick
Amelie Lens
AnD
andhim
ANNA
Ansome Hybrid
Antigone
ARTBAT
Ben Klock
Ben Sims
BLOT
Boris Brejcha
Charlotte de Witte
Colin Benders
Darling
Dave Clarke
Dax J
Deniro
Dimi Angélis
Dimitri
Dixon
DJ Rush
Gerd Janson
Helena Hauff
I-F
Ida Engberg
Ilario Alicante
Interstellar Funk
Jeff Mills
Joris Voorn
Joseph Capriati
KiNK
Kobosil
Kölsch
Luigi Madonna
Luuk van Dijk
Maceo Plex
Mars Levi
Mind Against
Mirella Kroes
Nina Kraviz
Obscure Shape
Oracy
Pan-Pot
Perc
Recondite
Richie Hawtin
Rødhåd
Sam Paganini
Selección Natural
SHDW
Stranger
Tale Of Us
Tracey
Vrilski
---
Follow Awakenings on Social Media:
Website | Facebook | Twitter | Instagram | SoundCloud | YouTube