Looking to pick up some Rave Glasses and LED Flow Toys? GloFX has got you covered with some epic offers you won't want to miss!
---
Known for having some of the best quality rave gear on the market, GloFX has continued to give the world plenty of ways to glow. Whether you're showing off your skills with LED Whips and Poi or soaking in the light show and blasting off to another dimension while looking through their portal glasses, GloFX has something for everyone.
This year, GloFX has something even better up their sleeve, as instead of just a single day of discounts they're celebrating with an entire Cyber Week. From Wednesday, November 21 to Wednesday, November 28, they'll be giving ravers a reason to shop till they drop with fresh deals launching every day.
While the specifics for each deal won't get released until the morning of, they've already teased some insane discounts and offers that have included: BOGO on rave glasses and their best selling products, massive discounts on LED flow toys and rave gear, and some exclusive offers for VIPs only. Check out the deals that have been announced so far below and follow our Instagram Stories each day for the latest offers that have surfaced.
Don't forget to sign up now so that you can get the details on those exclusive VIP items and enter to win a $250 gift card!
Related: Flow Toys aren't just fun, they're also a great companion while raving solo. Check out Erik's top tips and get some insight into why he flows at events!
GloFX Cyber Week 2018 Announcement Flyer: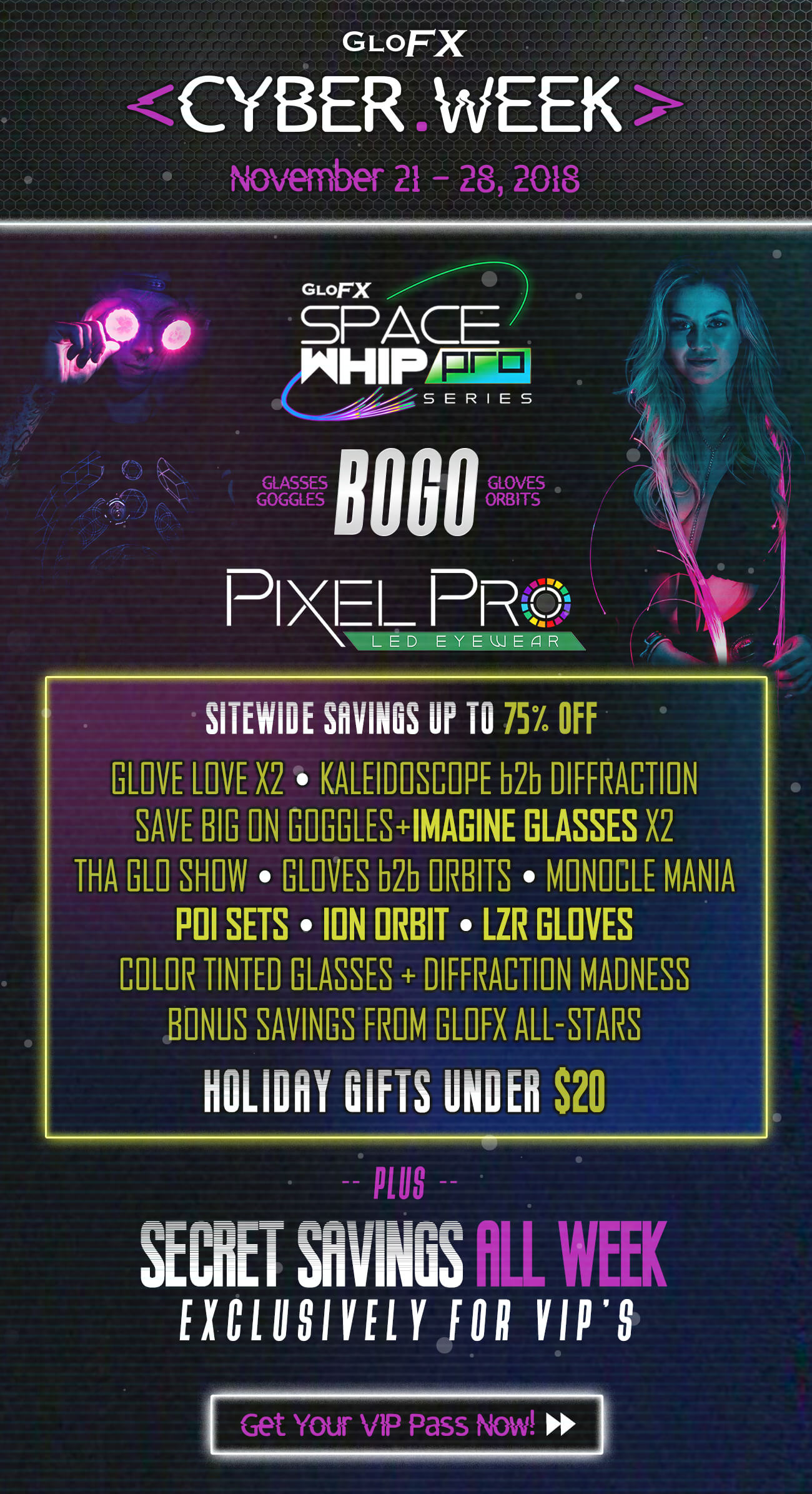 Will you be grabbing some items for yourself or your rave bae during GloFX's Cyber Week this year? Let us know what you've got your eye on in the comments!
---
Connect with GloFX on Social Media: