Stay in the know ahead of the debut edition of RBDeep's Origins with this essential info!
---
The inaugural edition of Origins is taking place on Saturday, November 17 at The Riverwalk at Rawhide Western Town. Featuring an incredible lineup of house artists, perfect Arizona weather, and an amazing venue, the only thing missing is you!
Be sure to get to Rawhide on time to catch, AZ local, Sean Watson. Following soon after that is a special set by Nora En Pure with a backdrop of the setting Arizona Sun. Lane 8 has the penultimate set slot, he will be getting the crowd grooving for the headliner, Duke Dumont who will close the show with his energetic and stylish brand of house music.
We have put together a bit of information to make your pre-planning and journey to the venue a bit easier. Check out the list of set times and the list of allowed/prohibited items below. We can't wait to dance with all our fellow house music lovers at Origins this weekend, see you on Saturday at Rawhide!
Looking to get hyped for the Origins 2018? Check out our Spotify playlist that highlights the artists who will be taking the stage at the festival!
---
Origins 2018 Essential Info:
Date:  Saturday, November 17, 2018
Hours:  3:00pm – 11:00am
Location:  The Riverwalk at Rawhide Western Town
Age Restriction:  18+
Facebook Event Page:  RSVP HERE
Tickets: PURCHASE HERE
Acceptable Forms of Identification for Entry
Arizona Driver's License
Arizona Identification Card
Passport
Military ID
Resident Alien Card
US Driver's License
The debut of Origins is one that any house music lover will not want to miss, grab your tickets today via Seetickets.us!
---
Origins 2018 Set Times: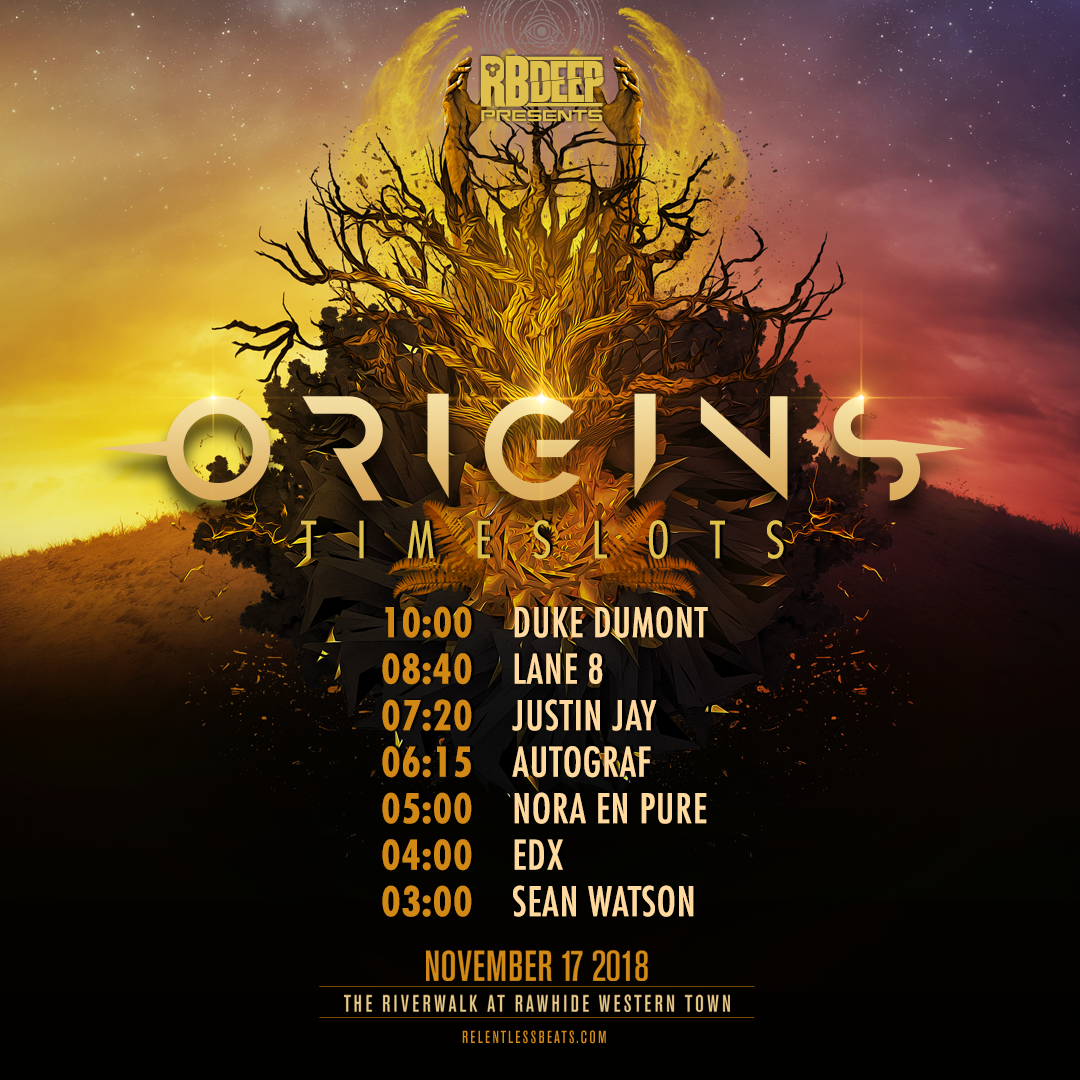 ---
Origins 2018 Do's & Dont's:
Prohibited Items
Illegal Substances
Drugs or Drug Paraphernalia
Pets
Massagers
Laser Pens / Pointers
Eye Drops
LED Gloves or LED Microlights used for Light Shows
Pacifiers or Dust Masks
Eyedrops
Glass, Cans, Cups, or Coolers
Markers, Pens, or Spray Paint
Large Chains or Spiked Jewelry
Stickers, Flyers, or Posters
Hard Balls, Frisbees
Tents, Large Umbrellas, Chairs, or Blankets
Backpacks Over 12″x12″ (except Camelbacks)
Bota Bags
Large Purses or Bags (Anything over 12″×12″)
Open Cigarettes, Lipstick, Chapstick, or Tampons (Upon entry)
Outside Food, Beverage, or Alcohol
Knives, Firearms, Pepper Spray, Fireworks, or Weapons of Any Kind
Toy Weapons or Real Weapons of Any Kind
Professional Cameras – SLR or Detachable Lens (without proper credential)
Video or Audio Equipment
Native American Headdresses
Permitted Items
Small Bags and Purses (maximum 12″×12″ inches)
Reusable Insomniac Aluminum Water Bottles (must be empty upon entry)
Camelbaks (empty upon entry
Fanny Packs
Non-Professional Still Cameras
Cell Phones
Small, Personal Umbrellas
Hats
Lighters
Sealed Packs of Cigarettes
Sealed / Wrapped Tampons
Sealed Packs of Gum
Earplugs
Sealed Chapstick and Lipgloss
Sunglasses
Removable BandanasGlowsticks
String Glowstick / LED Poi is permitted by must be performed 5′ from others (Please be responsible!)
Festival Totems (Pool Noodles or Lights, hollow decorated poles) See below for more info
Glowing / Illuminated Costumes or Jewelry
Hula Hoops (especially LED hoops)
Inflatables (deflated upon entry)
Flags/Banners or Handmade signs (no corporate or company-branded ones)
Handheld camera devices (eg Sony Action Cam, GoPro)
Plush Backpacks
GoPro Extendable Poles
Disposable E-cigs/Nicotine Vaporizer pens are OK, but none with refillable chambers containing visible liquid
Sealed, Unopened Hand Sanitizing Wipes
Totem Guidelines
Decorated festival 'totems' are okay to bring
Maximum 10ft tall
Must be made from lightweight material (eg foam, PVC / no solid metal)
Collapsable camera telescoping extenders that follow the above guidelines are OK (lightweight/hollow aluminum/polycarbonate)
PVC, Light Wood, Aluminium poles must be no thicker than 1″ diameter
Decorated pool noodles work great for easy entrance through security
Inflatables attached to totems must be deflated upon entry.
Please note that any items that are deemed dangerous may not be admitted into the event.
---
Reminder To Mind Your Belongings:
Unfortunately, many people have reported pickpockets, bag slashings, and theft of wallets, smartphones, purses, and other valuables during this festival season. While this small number of bad apples in the bunch doesn't define an entire crowd, there are opportunistic people who come to these events to take advantage of unsuspecting partygoers and it's important to be mindful of your valuables while at Origins 2018.
Looking for tips to keep your belongings safe? Check our post highlighting some ideas!
---
Connect with Relentless Beats on Social Media:
Connect with RBDeep on Social Media: