Clear your calendars for November 10, because Avalon, AMFAMFAMF, and Sublevel are teaming up to present Mark Farina, DJ Sneak, and Doc Martin that Saturday! 
---
Need weekend plans? We've got you covered! This Saturday, Mark Farina, DJ Sneak, and Doc Martin will head to Hollywood to take the stage at Avalon Hollywood. Known for his genre-defying mixes, Mark Farina's affinity for "mushroom jazz" and down-tempo house will no doubt shine through during this set, but don't be surprised if you hear some hip-hop or dub elements thrown in as well.
There's hardly a year that Farina isn't on fire — he's notorious for playing hundreds of shows per year for crowds all over the globe — but we'd be lying if we said that this year wasn't particularly exciting. Just this September, he released his two-track collab with Homero Espinosa, Your Fantasy, which pays homage to house 20 years ago while still highlighting Farina's current sultry house sound. Give it a listen before the show for a preview of what it's like to get down to Farina's soulful house stylings.
The self-proclaimed "House Gangster," aka DJ Sneak, will also be joining the party. This Puerto Rican-born, Chicago-based DJ is one of the granddaddies of house. As someone whose music has helped shape the scene for decades, DJ Sneak sure knows how to work a crowd. Given his love for the classics, his set is guaranteed to take you on a rhythmic ride through some of the best retro tracks out there, but not without reworking them with his Chicago and Latin-inspired elements first.
And of course, we cannot forget Doc Martin, known for his epic sets that take him all over the world, from his residency at Sublevel California to Japan, and his unique, futuristic sound. Most recently, he released "Our House" with CJ Jeff and Sublevel partner Lillia, which serves as an excellent example of his signature glitchy house. Martin's sets often jump through the decades, serving up a delicious array of newer and more classic tracks alike within the techno/house genre that are sure to get the crowd going.
Grab your ticket to the event via SeeTickets.us and enter our contest below for your chance to win a pair! 
---
Enter to win a pair of tickets to see Mark Farina, DJ Sneak, & Doc Martin:
Win a Pair of Tickets to See Mark Farina, DJ Sneak, & Doc Martin at Avalon Hollywood!

---
Mark Farina, DJ Sneak, and Doc Martin at Avalon Hollywood – Essential Info:
Date: Saturday, November 10, 2018
Ages: 21+
Hours: 10PM – 8AM
Venue Address: Avalon Hollywood – 1735 Vine St, Los Angeles, California 90028
Tickets: Purchase HERE
Facebook Event Page: RSVP HERE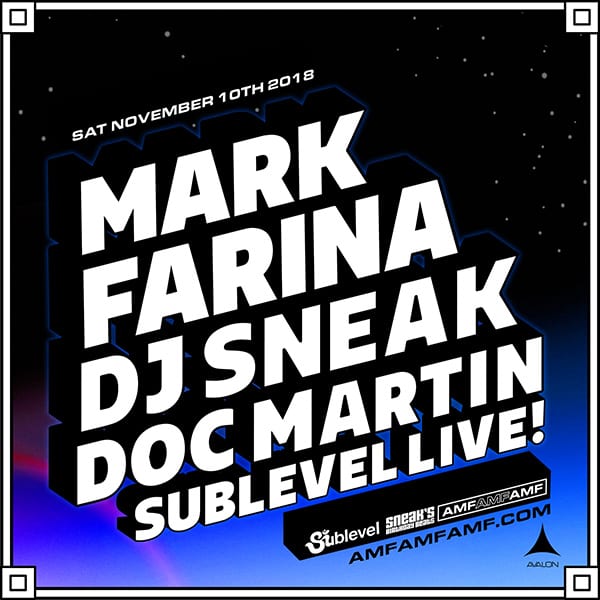 ---
Follow Mark Farina on Social Media:
Website | Facebook | Twitter | Instagram | SoundCloud
Follow DJ Sneak on Social Media:
Facebook | Twitter | Instagram | SoundCloud
Follow Doc Martin on Social Media:
Facebook | Twitter | Instagram | SoundCloud