UKF is back with another Bass Culture compilation after a four-year hiatus. This edition brings you 30 of the hottest bass-heavy tracks around right now!
---
As a dance music listener, there are certain brands that become heavily associated with the genre the more you dive deeper into it. One brand that has withstood the test of time and is synonymous with dance music is UKF, having generated an immense following through their YouTube channel. Specifically centered around bass music, UKF has been a stepping stone and has given the genre an expansive reach. While they have compilations centered around Dubstep and Drum & Bass, since 2011 UKF has also been releasing a compilation that blends together some of the best bass music around on Bass Culture.
Although the last Bass Culture compilation was released in 2014, and we have anxiously been awaiting its return! Finally, Bass Culture 4 is here and ready for your ears. From house to dubstep to drum and bass, there is something for everyone in this massive 30 track compilation. Furthermore, UKF has gathered top-tier artists to contribute such as AC Slater, FuntCase, Axel Boy, Upgrade, Chris Lorenzo, Skepsis, Doctor P, and many more.
The compilation provides listeners with true energy from the moment you press play on track one. Every artist that is on here brings some of their best production and unique sound, making this an enjoyable listening experience. What I personally enjoyed about Bass Culture 4 was the wide variety of artists and styles that were brought to the table. It's a great way to get introduced to brand new artists you have yet to hear!
Stream Bass Culture 4 on Spotify:
Download or stream your copy of Bass Culture 4 on your favorite platform!
---
Here are some personal highlights from the Bass Culture 4 compilation!
"Gammy Elbow" by DJ Zinc and Chris Lorenzo came out in 2017 and absolutely destroyed DJ sets – and I mean that in the best way possible. The energy the track brings is unlike anything else and it might have been one of the best collaborations of 2017!
Skepsis' hit track "Goes Like" was another tune that was widely played out by DJs when it first came out. The VIP offers a slight pattern difference but I feel as if it hits a little harder and provides the listener with a more exciting listening experience.
I had never heard of Holy Goof before until listening through this compilation; however, after diving a little deeper into his artistry, I am extremely impressed with his quality house production! On "Shutdown", both he and Chris Lorenzo came together for one of the most upbeat and energetic tunes I have heard in a while.
"You Must Comply" features FuntCase's signature sound design and atmospheric production along with Teddy Killerz's DnB expertise. It's a dark and gritty track that provides the same groove you find in DnB along with a harder, more dubstep-type of sound.
"Diamonds" by Champion and AC Slater is absolutely groovy!
Both house producers bring their A-game to this collaboration. The vocal samples they use throughout the song gives listeners something to gravitate toward amongst the funky g-house house vibes. Don't sleep on "Diamonds"!
I'm a big fan of Taiki Nulight so when I saw he had a track on Bass Culture 4, I knew it was going to be amazing and he did not disappoint! You can hear Taiki Nulight's distinguishable punchy synths at the drop of "Nu Good" combined with Hot Goods' groove and drum patterns that make this track an incredible work.
Axel Boy's contribution to this compilation is a wild bass house tune called "Gripped". The track is loud, energetic and in your face but in the best way possible! If you want something that is produced immaculately and incredibly catchy, this track is the one!
I had never heard of Darkzy, XX92, and Glove before, but once I heard "Simplicity" I knew I had to dig a little deeper and find out more.
All three artists hail from the UK and have had some successful releases under their belt. On "Simplicity" they come together and the result is a unique track that is somewhat of a hybrid between a house and dubstep track. It has the house bounce, but the grimy noises of dubstep!
Noisia is legendary and I love their productions, but I had never heard their remix of "Asteroids" before. It's a DnB song that is expertly crafted and has such a strong attention to detail. Whether you like DnB or like heavier bass music, you will surely love this remix!
What was your favorite track on Bass Culture 4? Leave us a comment below!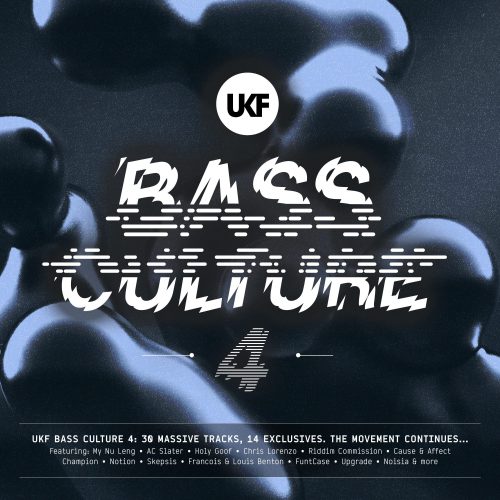 ---
Connect with UKF on Social Media:
Website | Facebook | Twitter | Instagram | SoundCloud | YouTube