Dive deeper into Life is Beautiful's uniquely curated food, art, and comedy lineups!
---
Life is Beautiful 2018 returns to Downtown Las Vegas with more than just a stunning musical lineup. While we might be highly anticipating some amazing performances from artists billed on the lineup, there is way more to this festival than the music that will be pumping out of the speakers. Over the weekend of September 21-23, the festival will also host the world's most renowned chefs, artists, and comedians for attendees to enjoy.
The city blocks will come to life as artists paint the sides of hotels, chefs conjure up delicious smelling dishes, and comedians shake the streets with laughter. There is undoubtedly a ton of great music to see over the weekend, but don't miss out on the other aspects of Life is Beautiful that make it so special.
---
The Culinary Experience
The options to satisfy your hunger cravings will be endless at this year's Life is Beautiful. General admission attendees will have access to over 50 food vendors as well as specially curated experiences like The Cookout and Cocktail School. The Cookout makes its Life is Beautiful debut and will host live fire cooking with Chef Justin Kingsley of The Kitchen Atomic. The Cookout area will be located by The Huntridge Stage and feature a rotating list of chefs offering a new menu every day. Dishes are limited so follow your nose fast before they're gone!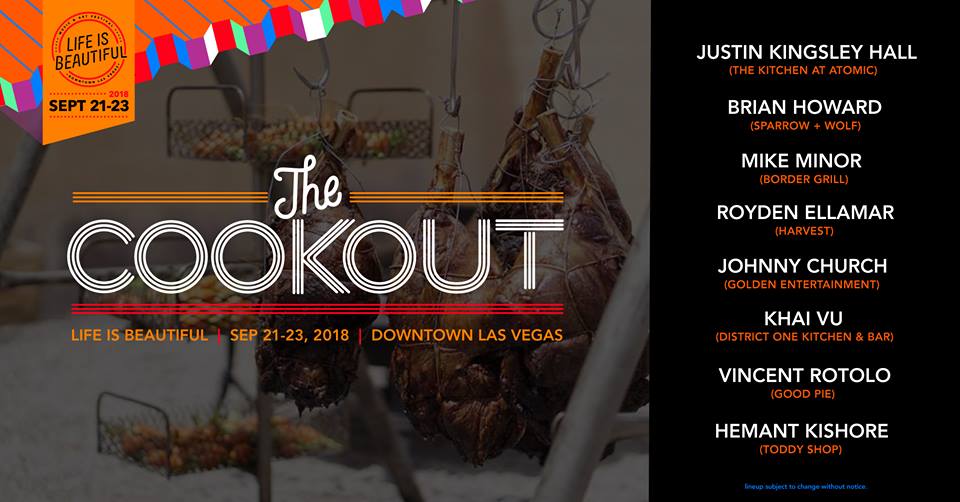 The Cocktail School also returns to Life is Beautiful and will offer attendees a nine-session learning series taught by local and national master mixologists. There will be three sessions a day beginning at 3 PM, 5 PM, and 7 PM hosted by Gene Samuel of The Fabulous Swiggavino Bros. Mixologists lead the sessions and share their tips and tricks for making a variety of popular drinks.
VIP ticket holders will have access to additional food options and Pop-Up food experiences at the Downtown Stage. The Pop-Up experiences will include surprise bites from Chef Sam Marvin of Echo & Rig, Chef Gina Marinelli of La Strega, and Chef Emily Hansen of Masso Esteria.
V+VIP ticket holders will have access Eataly Comes To Vegas! at the Starboard Tack on the upper viewing deck of the Downtown Stage. The takeover will offer Italian favorites prepared by Chefs Nicole Brisson and Fitz Tallon. If you splurged and bought an All-In ticket you will have access to the full experience including everything mentioned above as well as artist hospitality and a three-course backstage brunch.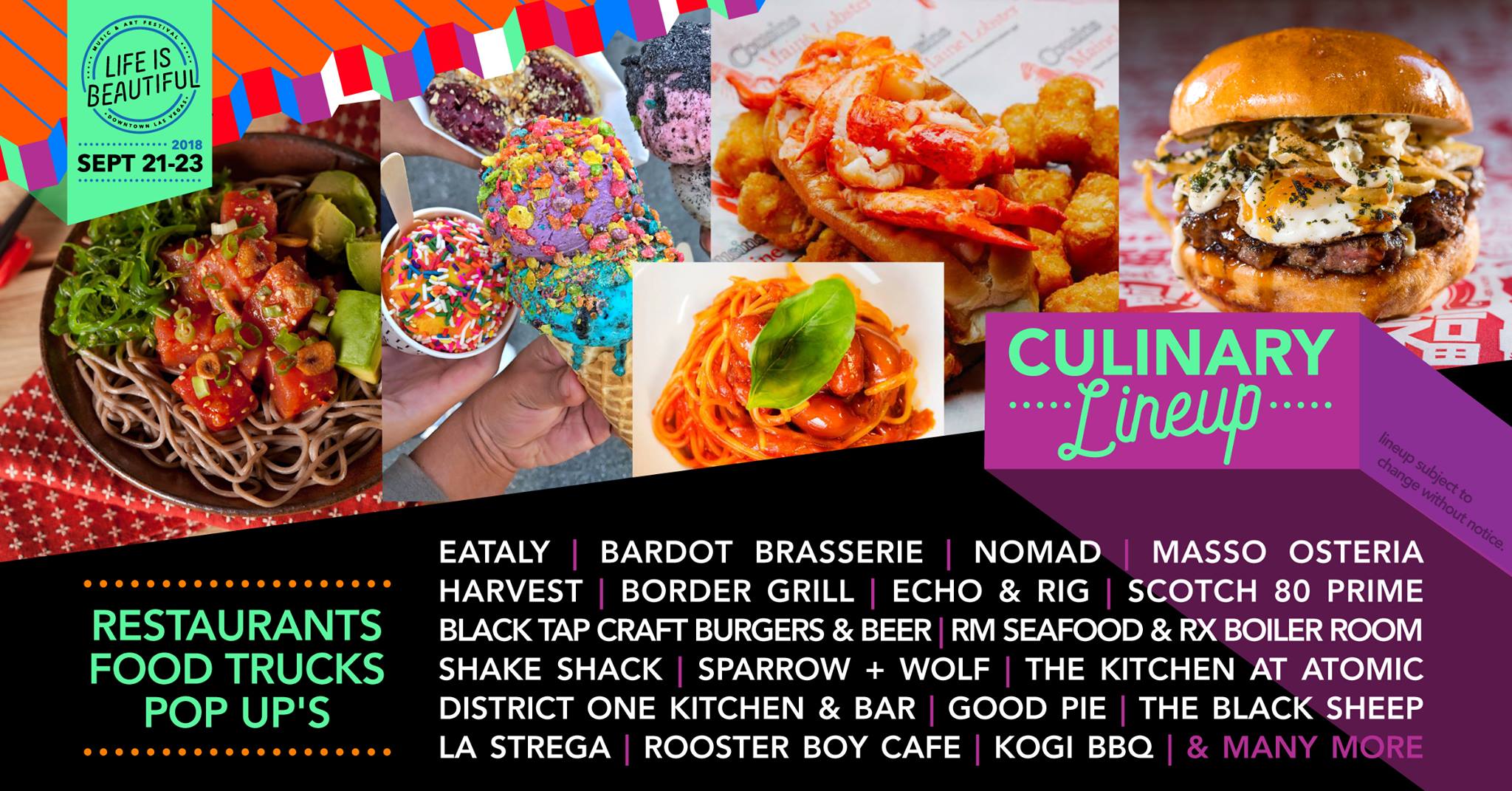 ---
The Art
Anywhere you turn at Life is Beautiful there is a building with beautiful a mural, an interactive installation, or a Cirque Du Soleil performance going on. The festival has always been a stage for creators to showcase their talent and leave attendees in awe with their large-scale art pieces.
This year, Life is Beautiful will have murals created by Retna, Andre Saraiva, Lakwena, Egle Zvirblyte, Aware, Sebas Velasco, and Sado. Installations will also be constructed by Bordalo II, Stereobot, and Christopher Schardt, all of which are pieces you have to check out. The "Crime On Canvas" art exhibit will also return for its third year allowing attendees to view and purchase rare artwork that is out of this world.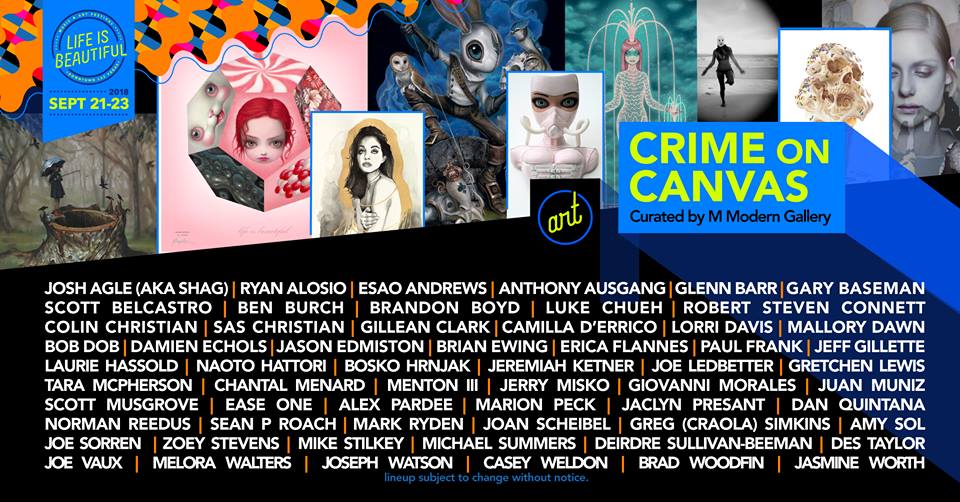 ---
Comedy
To top things off, Life is Beautiful has assembled a hilarious lineup of comedians to bring laughter to streets of Downtown Vegas. Attendees can take a break from the music and catch Hannibal Buress, Michelle Wolfe, Pete Davidson, Natasha Leggero, and many others at The Kicker stage. The Kicker will be located on the corner of 8th and Fremont and will be a great way to beat the heat during the day while enjoying some laughs. Check out the full lineup of comedians who will be performing at Life Is Beautiful 2018 on their website!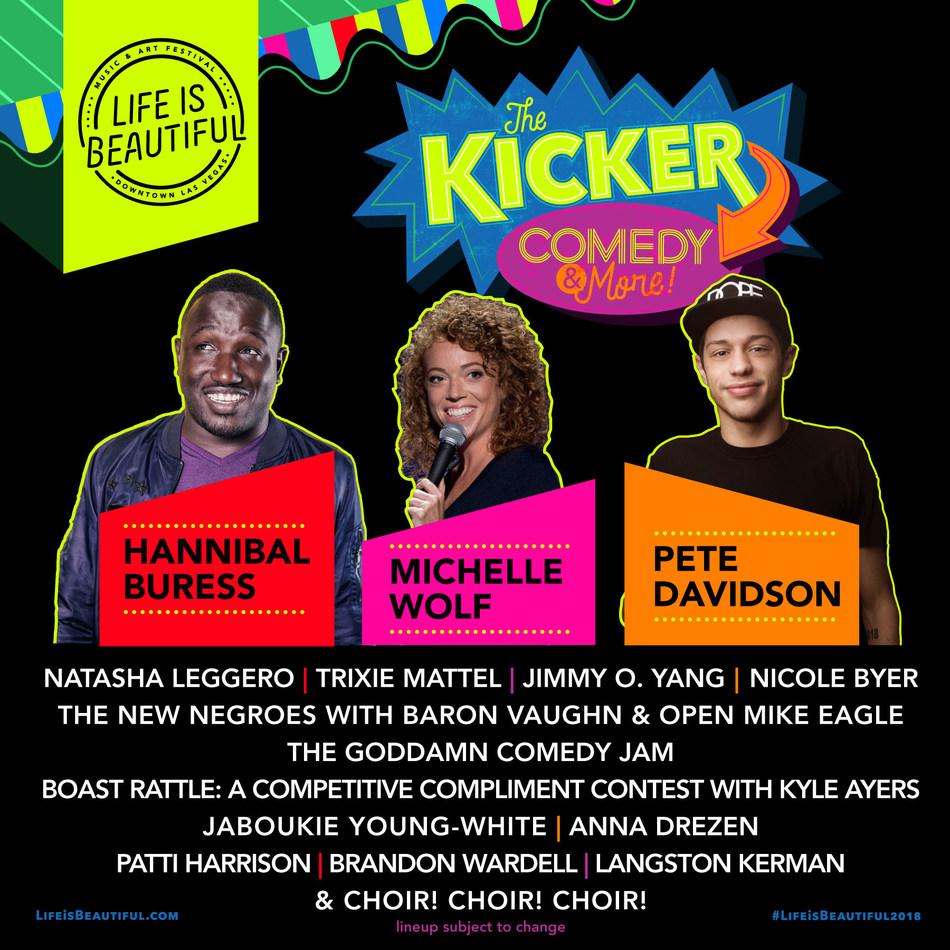 ---
There aren't many places you get all these forms of entertainment in one place, but Vegas is a special place. Get in the festival early to make sure you can enjoy all the little things that make Life is Beautiful one of the best festivals out there!
Will you be attending Life Is Beautiful this month? Let us know in the comments!
---
Connect with Life is Beautiful on Social Media: