Learn more about rising star Hood Rich as he discusses his latest releases, working in the industry, biggest challenges, and more!
---
Hailing from Down Under, Hood Rich is already making waves up here in the Northern Hemisphere with a string of original releases that have kept crowds dancing deep into the night. Aside from his solo work on tracks like "Innit" and "Get Got", he has also collaborated with artists like Stace Cadet on "One Way", and most recently Acaddamy on "Caller #10".
Generating support from tastemakers in the industry like Sinden and brands such as Insomniac, he has continued to ascend to the top with his infectious style. The draw to his sound comes through even further when you listen to his mixes which show off his own abilities in creating proper vibes from behind the decks and set the tone for the night.
Looking for some insight into this fresh talent on the scene, we sat down for a chat with Hood Rich to discuss his latest work, beginnings in the scene, and more. Listen to his exclusive guest mix below and read on for our interview with him!
Stream EDMID Guest Mix 129 || Hood Rich on Mixcloud:
---
Hi Hood Rich, and thanks for taking the time to chat with us today! Let's start by digging into your history a little. When did you first discover electronic music, and what helped you decide to embark on a career in music?
I first started listening to electronic music early in high school and back then I was listening to almost anything that was electronic. I started going to doofs and other bush parties but it wasn't really until I was maybe 16 or 17 that I found myself enjoying the house artists who were playing these events more & fell in love with that. That lead to exploring almost every house subgenre until I found the various sub's that I love today.
I guess I didn't really decide to do take music on as a career until about 18 months ago when I was noticing DJs that I admire were playing my music and at that point in time I had just signed my first single to Medium Rare Recordings. So it was pretty organic I guess; people are playing my music and label's wanted to release my music.
Aside from being a DJ and producer, you've also been on the opposite end of the industry as a talent curator, booking artists for Very Casual. Has looking at the industry from that perspective altered the way you approach producing music at all?
It does when I'm not in the studio; I'm always looking at how a particular artist is going statistically; how many plays they have, what their social media engagement is like, etc. I think "I should just write a pop track to try to get heaps of traction" but once I get in the studio that all goes out the window and I just wanna write something that will work in my sets.
You recently teamed up with Acaddamy on "Caller #10", Stace Cadet on "One Way", and Mike McFly on "Goldbrick" which are all solid tunes. How do you approach collaborative tracks compared to solo ones? Is there a different workflow for you?
Approaching every collab is very different as every artist works differently. For me personally, I like to sit down and get a feel for what each person's vibe is musically. Listen to tracks which we have been playing in our sets, each other's tunes that we're about to release, etc. Get on the same vibe then, open the DAW and get to work.
Workflow wise; it's a lot slower doing a collab. I can finish a solo club record or remix in about week cause it's all I'll think about for that week whereas a collab takes a lot of back and forth (for sometimes months). You work on the collab for a few days then flick it back & then you don't get it back for another few weeks then you need to get back in the vibe, etc. That's not always a negative though, it's great to be delicate with music and take your time but sometimes it's slightly to go maintain the vibe. There's so much to learn in the production world and I think nearly every time I do a collab I learn something new which is awesome!
There has already been loads of support for your tunes from artists like Sinden and brands like Insomniac. As a rising talent, what has it been like seeing such a positive response to your work at this stage of your career?
Feelsgood.jpeg! It's an amazing feeling to get a DM or Instagram story sent with an established artist playing your record and the crowd going nuts. Makes me feel like "ah cool I'm doing something right" which is then super inspiring.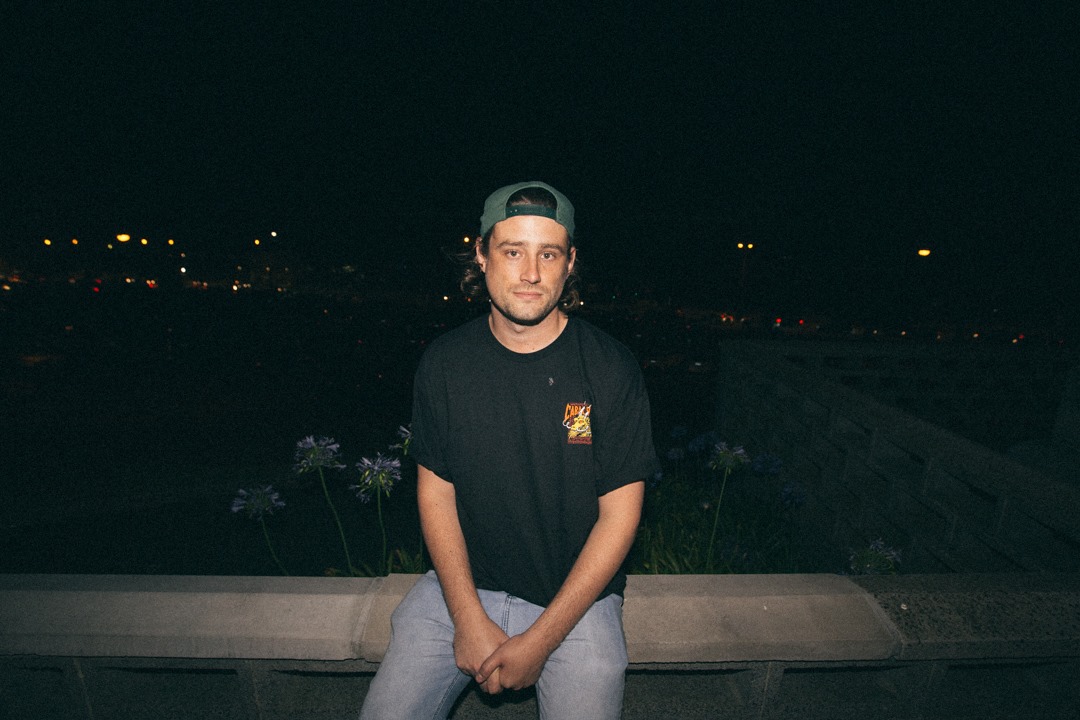 What has been the most difficult challenge you've faced as an artist so far, and how have you overcome it?
Writer's block used to devastate me; not being able to come up with something cool or fresh for weeks at a time. I would try to force myself to finish records which is not a good idea at all. If I'm not feeling a song or idea now then I won't work on it. I'll watch production tutorials or fuck around designing sounds or cut up samples.
For me, writer's block is a periodic thing that comes and goes without consciously knowing it. I'll be able to write a tonne of music in one month, then not have a solid idea for two weeks. It's really odd. So, I don't think I have a way to overcome it but you can use that time to help better yourself when the block leaves. If you're learning different techniques or creating new sounds then when you go in the studio to work on new music it's like "oh dope I have all these new techniques and sounds to use on this idea."
For those who haven't visited North Queensland, can you share what the scene is like in the region, and what is the biggest reason we should come visit?
Unfortunately, the house music scene doesn't really exist here anymore; there are some really cool spot shows but it's not a thriving culture like it used to when I was younger. I think the main reason to visit North Queensland would be for the natural beauty. The coastline is speckled with tropical islands, reefs, rainforests, and amazing swimming holes.
When you're not listening to, or making, electronic music, which genres or artists do you find yourself tuning into?
These are probably the most common genres that my diet consists of:
Instrumental hip-hop (Flying Lotus, Shlohmo, and Kenny Segal)
Classic and new disco (Evelyn Champagne King, Diana Ross, Parcels)
Dance rock (!!!, Holy Ghost, Talking Heads, Toro Y Moi, LCD Soundsystem)
Psychedelic era inspired rock (King Gizzard, Unknown Mortal Orchestra, Badbadnotgood, Pond)
There are heaps of other artists that I really dig within those genres too!
You're stranded on a desert island and only have three items with you. What are they and why do you have them? 
A fishing rod for recreation & gathering food.
Henry, my doggo, for company.
Maybe an old-school iPod (the ones where the battery lasts forever) so I've got some tuneage for me and Henry!
Since we've been dealing with some insane heat waves all season long, can you share some of your top tips to keep cool? 
Over summer I'm a huge fan of cold showers in the morning and going for a swim at the beach or pool in the afternoons. Taking a spare T-shirt everywhere helps reduce the chances of constantly being a puddle of sweat. Cold coffee and fruit for breakfast is something I fuck with heaps too!
Finally, what toppings make up your perfect slice of pizza?
Pretty boring but some quality cured meat, fresh basil, tomato, onion & capsicum. Chilli oil is also a big vibe!
---
Follow Hood Rich on Social Media:
Facebook | Twitter | Instagram | SoundCloud