With amazing people, incredible music, astounding art, and a Prop 215 zone, Northern Nights was one of the hottest events of the entire year! 
---
After hearing so many great things about Northern Nights Music Festival, it quickly rose to the top of the list of festivals that I needed to attend this year. Nestled away in the heart of the emerald triangle, Northern Nights Music Festival has cultivated many relationships with local cannabis farmers, residents, as well as artists.
Whether you like to enjoy some of the best music, amazing artistry, enticing burlesque, or yes, even take part in enjoying some cannabis, Northern Nights has got you covered! Come with me as I break down my experience and relive every magical moment from a weekend I won't soon forget!
Check out our interview with Northern Nights founder Andrew Blap and learn all about the history behind the event!
---
As a person that has been to many different types of festival and events, there are certain things that I look for as an indicator as to how the rest of the festival will be.
One of the most import things that I look out for is whether or not the ground is littered with people's garbage. This often times is a sign that the crowd that is attending may not be as conservation-minded as I generally like my crowd of peers to be. I look at the people who are working the event to see if it looks like they have been overworked, which can lead to some tense times. I also look at a multitude of the smaller things that I love about these kinds of events; clean restrooms, variety in art and art installations, as well as the variety of vendors.
In all my years attending events, I have never seen such a well-organized and well-rounded event that was put together so thoroughly.
When you first enter, the ingress is moderately easy. After having your car checked and getting your ticket, we were escorted into either GA or VIP parking. If you have lots of gear for your camp, my suggestion is to get the VIP parking because you can save yourself a lot of time and energy from carting your stuff back and forth from your car.
Another idea that would be helpful in the future is to bring a wagon. This allows you to take much more supplies in less amount of trips. In the hot sun, this is a huge advantage, so don't forget one! The sooner you get a cool drink in your hands and are able to hop into the even cooler river water, the better.
The delicate 2,000-year-old root system is one that is being preserved by not letting cars drive on the earth above them. With the protection of the redwoods, you are able to recuperate in such a way that you can enjoy the event in a fresher state. Let's be honest, the sun can really drain the life out of you. And one of the most precious resources at these events is your own personal energy.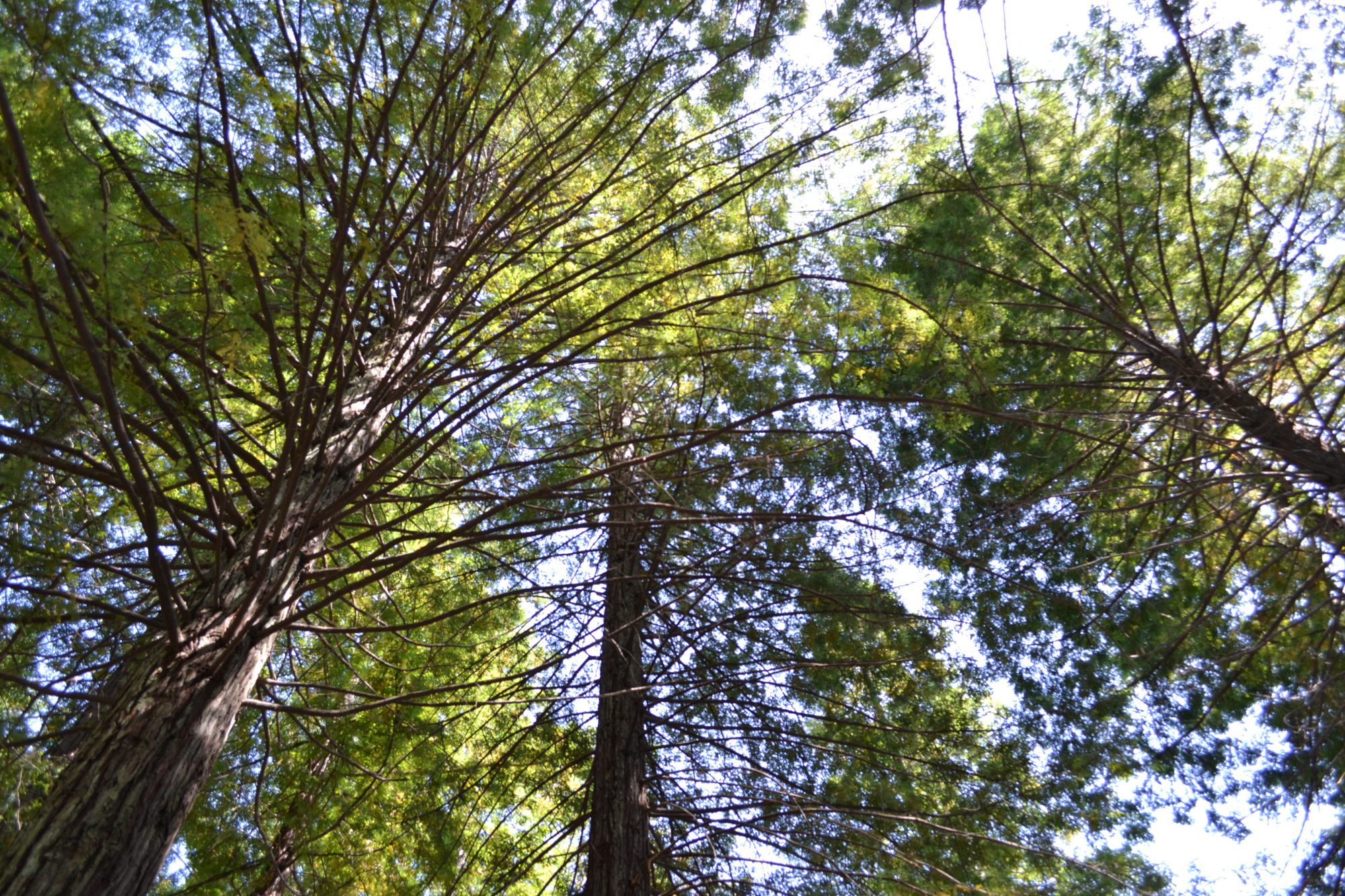 One of the many suggestions that I received for this event, was to make sure to get the reserved Grove Camping.
Without knowing how important it could be, I went ahead and upgraded to that spot. The fact that you get a constant cover of shade offers such a relief and adds to the experience. I must make a note to say how absolutely worthy the Grove Camping is, if you plan on going I highly recommend it. After we set up camp and cooled off, we set out for our first set of the night.
On Friday, the main stage filled with the Dirtybird Records takeover, and they did not disappoint.
From Worthy b2b OPTION4 and Ardalan to Walker & Royce and Justin Martin, the delicious sound of tech house was getting everyone pumped for all that was in store for the weekend! Walker & Royce's set was especially good as they are one of the hottest acts that you can catch this summer. Not to be outdone, the other stages were packed with amazing talent as well. The moment you'd arrive at any stage you were surrounded by great music and awesome people looking to have the time of their lives!
One thing that really stood out to me was that this festival had a healthy mix of those looking to stay up, and those looking to get some sleep.
For both of these types, there were options for the late night. The main stage hosted a Silent Disco with three separate channels so most anyone was sure to find something that they could groove into the night with. If you were looking to get down late at night in a unique setting, the Bunker Stage was just a short walk away as well. This was the place to be able to get all your dance fever out before turning in for the night.
Saturday morning greeted us with a beautiful blue sky and refreshingly cool air, preparing us for a relaxed afternoon as we explored the festival amenities.
With a restful nights sleep and some camp-made breakfast tacos, we headed out to see the festival in the light of day. First stop was over to the Prop 215 area, appropriately named the Tree Lounge. Northern Nights has garnered strong relationships with some of the most popular cannabis companies in the emerald triangle and the bay area like Madrone, Marley Naturals, Guild Extracts, and General Extractions.
In order to be a compliant Prop 215 festival, these companies made a major focus on the education of people on their products and about their company. Some areas even had dab rigs, bongs, and pipes for everyone to use as well as samples of their product for everyone to try. Nothing is quite as nice as knowing that you are near a friendly dab rig while still being able to rock out at the main stage.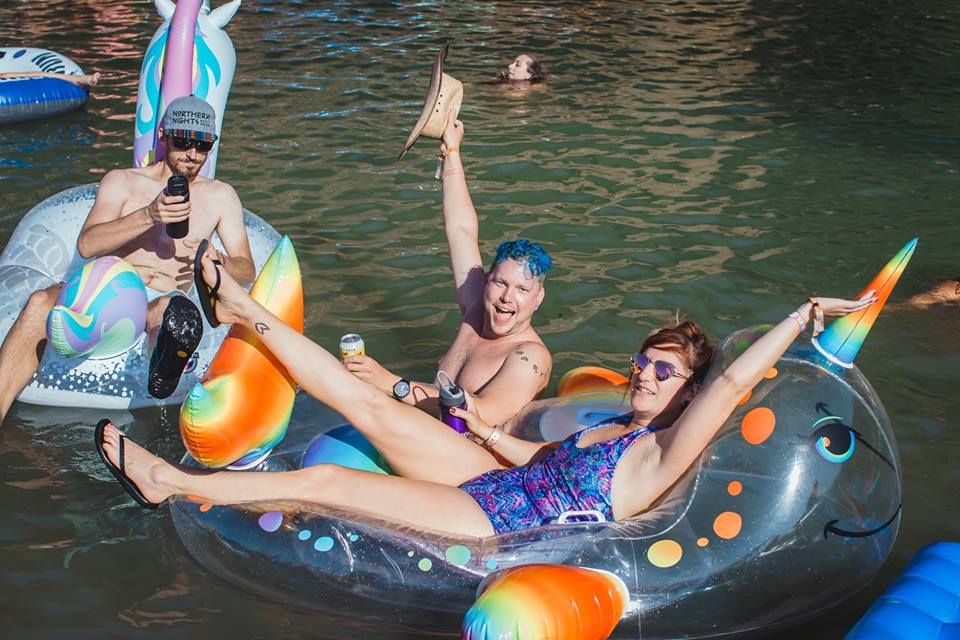 Moving forward, we made a trip to the river where we knew would find some respite from the long hot day in the sun.
Filled with floaties and good times, the river was just the thing we needed. We showed up right after Dub Smugglers took the stage, and it was the perfect place for some great reggae. The crowd was loving it and the water was bouncing with people dancing. Shortly after, THAT'S COOLFACE turned up to amaze the crowd with sick bass, funky fidgets, and amazing house beats that made the crowd kick up a little dust on the dance floor.
After we returned to camp we decided to take the time to enjoy a nice shower.
There were professional mobile showers available for anyone who wanted to remove the grime of the day. At $8 for one shower or three for $20, you had options to save a little money for couples and those who feel they need more showers to feel comfortable. The stalls were clean, and the water was warm. The only downside was that the showers ran out of water late on Saturday so those who had planned to take one on Sunday were out of luck.
After getting all cleaned up, we headed over to check out what kind of food the festival offerred. While there were only a handful of food vendors, the food was all top-notch. I personally got to try the lamb gyros from Spykos and the carnitas burrito from Taco my Heart. Both of them were filling, and there was plenty to share and still be full. The prices were reasonable at about twelve to fifteen dollar per plate, I definitely got my fill.
There was also a stand that was offering sno cones, which was a welcomed relief from the baking sun. Ice is always a commodity at festivals, and at Northern Nights it cost $10 for a five-pound bag, which is pretty reasonable by festival standards. A quick tip to save on ice is to bring a second cooler for just bags of ice and a layer of dry ice in there. This is also a way to allow you to bring frozen items with you on our festival trip!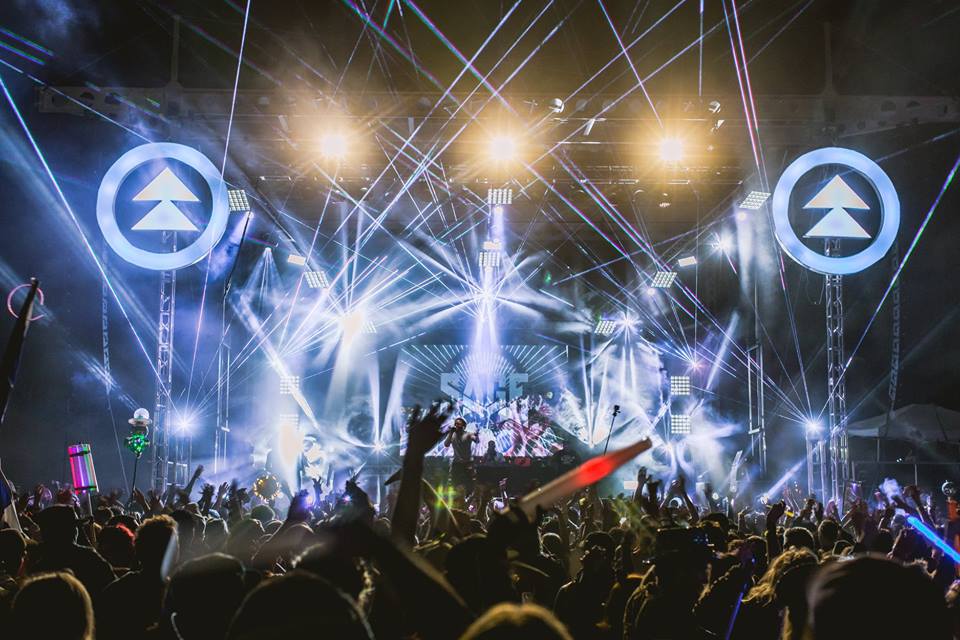 On Saturday night the main stage was filled with all different types of amazing music.
From Sage the Gemini, to Brasstracks, to Mr. Carmack, the music was so eclectic that everyone was able to find something that they could groove to. And even if the main stage wasn't really your vibe, there were three other locations that you could try on for size. The Grove Stage had enticing burlesque acts from the Pussy Cat Parlor and fresh hip-hop acts like Arcata Soul Party.
After the Grove Stage, the Purple Art Gallery was hosting some amazing DJs, spinning all sorts a heavy bass and dubby vibes to go along with some of the most beautiful art that I have ever seen. Check out the gallery at the end of the article for some of my favorite pieces!
After having my ears and mind blown for a few hours I decided to take a look around the main stage to see what else could be discovered. To my delight, I found many live artists doing amazing work right next to the main stage as well. Saturday wrapped up with people parting late into the night at either the Bunker stage or the Silent Disco, both of which had amazing acts. I headed to bed and got my mind ready for the last day of the festival.
Sunday was spent relaxing by the river, accompanied by some quality beats of course!
Since the showers had run dry, the river was the best way to stay cool in the Mendocino sun. Grease Withaspoon showed up to play an awe-inspiring set. The perfect accompaniment to a lazy Sunday relaxing on the river. With darkness approaching, we headed back to camp to refresh ourselves for the final evening.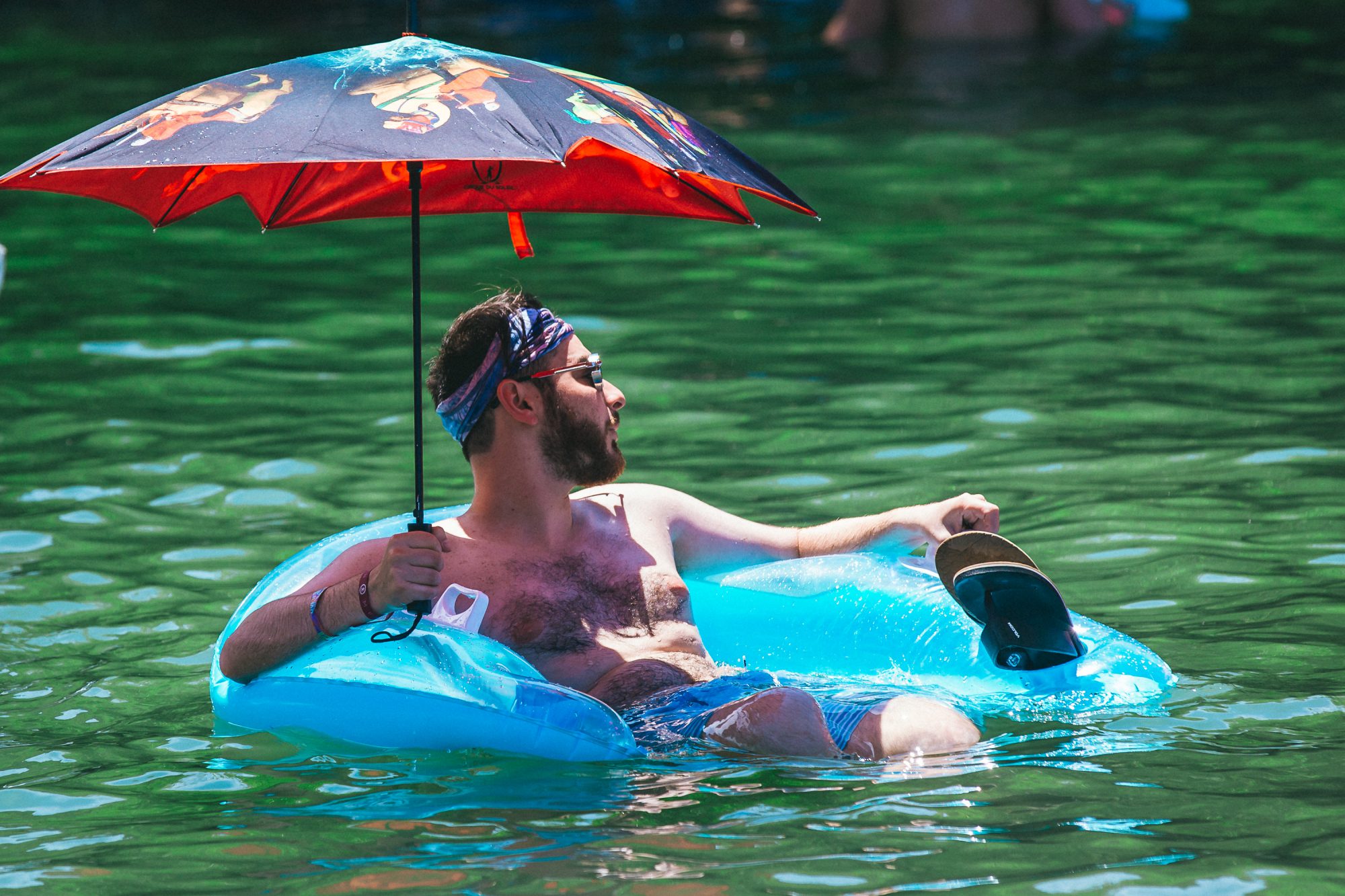 On Sunday night, Jack Beats and Thomas Jack brought the heat had a great reaction from the audience.
Both of their sets were a great way to kick off the main stage. With the smooth melodic sounds of violin, the final hours of the main stage were filled with wonderfully composed music that took everyone on a journey through time and space. The bunker stage had amazing artists such as Miss Cooper and Little John, keeping the people alive and filled with energy in the waning hour of the event.
Adding to the fun, the silent disco opened up a little earlier so you could get your fill of the three separate channels that you could tune into. I love that because it lets you get down to different music without ever having to leave the stage that you were at. It was the perfect way to close out the festival.
My first experience at Northern Nights was absolutely amazing, and it's a festival you should consider making the trek to in the future.
Before I close out this review, I'd like to give a special thanks to the deep cleaning crew of this festival: I had an unfortunate nightmare-like situation on my exit to the festival. My keys went missing. I've never lost my keys in the ten years that I've been attending events. Somehow, my keys had taken a trip down to the river, and a member of the deep cleaning crew was able to find them, so I'd like to extend my gratitude!
Between the art, music, and vibes that were at this festival, I couldn't have asked for a better time. I would love to give a big thanks to Northern Nights for bringing the entire event together, and the crew for their hard work! I can't wait to see how this festival continues to grow in the coming years, and I'm intent on returning!
---
---
Connect With Northern Nights on Social Media: