Alison Wonderland just dropped the full details for the fall portion of her Awake North American Tour!
---
Since her first album Run in 2015, Alison Wonderland has really found her stride within the scene. She made history by becoming the highest billed female DJ at Coachella this past year and followed that performance up with her latest album, Awake. By combining pop with heavy hitting bass, her sound is not only unique but a beautiful work of art.
After having just played on the main stage of Tomorrowland, Alison is ready to come back to the United States and has revealed the rock star talent she will be performing with. The Awake North American Tour starts on August 3 in Denver and will continue with dates in Los Angeles, Seattle, Dallas, and San Francisco. She'll close things out on September 1 in Washington D.C., so make sure to catch her!
One of the songs on her album is with Party Favor so it's poetic that they reunite for one of her tour dates. Additionally, having attended her tour last year with Elohim opening, the Chicago date will also be a fun reunion. New on the lineups will be Bleep Bloop for a single date and Chet Porter and Baauer adding their support for multiple dates on this tour.
Tickets are already on sale and still available, so grab your today via alisonwonderland.com and don't miss out!
---
Alison Wonderland presents Awake North American Tour 2018 – Flyer: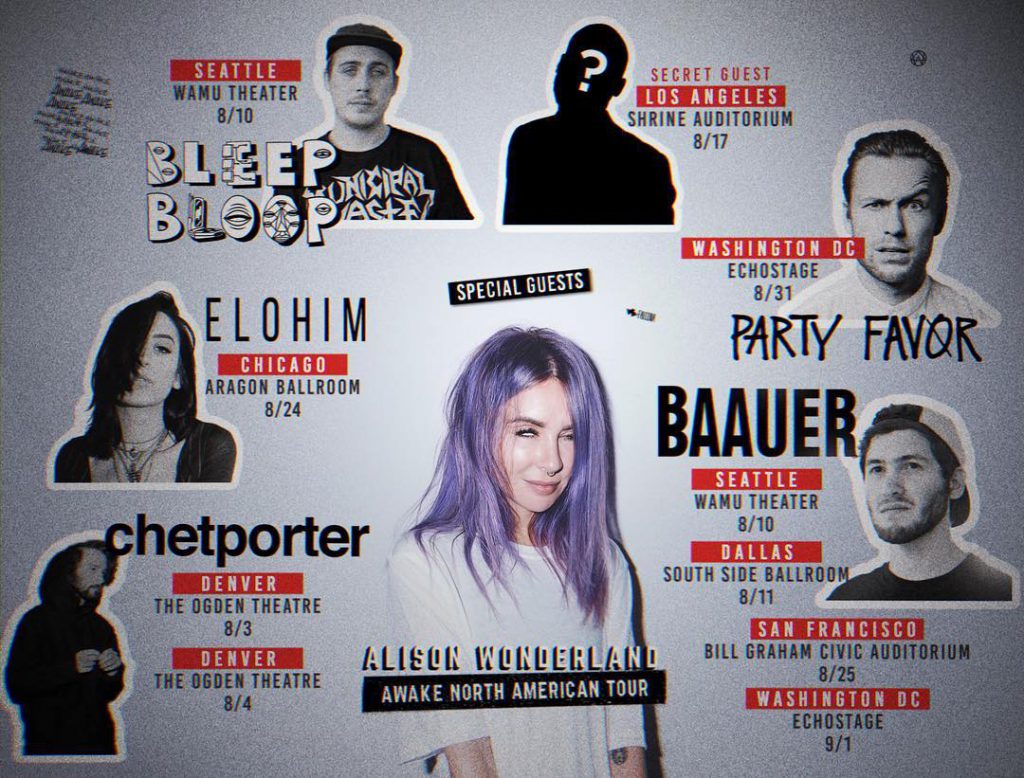 ---
Alison Wonderland presents Awake North American Tour – Dates:
8/3 – Ogden Theatre, Denver – Chet Porter
8/4 – Ogden Theatre, Denver – Chet Porter
8/5 – Belly Up, Aspen
8/10 – Wamu Theatre at Qwest Field, Seattle – Baauer, Bleep Boop
8/11 – South Side Ballroom, Dallas – Baauer
8/17 – Shrine and Expo Hall, Los Angeles – Special Guests
8/24 – Aragon Ballroom, Chicago – Elohim
8/25 – Bill Graham Civic Auditorium, San Francisco – Baauer
8/31 – Echostage Washington – Party Favor
9/1 – Echostage Washington – Baauer
---
Connect with Alison Wonderland on Social Media: