Dubbed an "Outdoor Psychadelic Gathering", the inaugural edition of Sacred Valley Festival has a lineup that will leave many impressed!
---
If you're looking for a new outdoor festival to attend this fall in Southern California then your sights should be set on the inaugural edition of Sacred Valley Festival. Hosted over the weekend of September 27 – 30 at the Los Coyotes Indian Reservation, this intimate gathering of artists is sure to leave many impressed.
Unveiling their debut lineup today, it boasts of some of the top names in the psytrance realm like Alpha Portal, Captain Hook, Sonic Species, Liquid Soul, and others who will take over the Lunaris Temple stage. These artists are complemented by those at the Solaris Temple, which brings the sounds of the underground with sets from Brennen Grey, Christian Smith, Tensnake, and more!
Tickets for Sacred Valley Festival go on sale Friday, July 27, and will be fairly limited as the capacity of this venue is not large. Check out the full lineup below and make sure to grab yours quickly if you love the sounds of psytrance or the underground!
---
Sacred Valley Festival 2018 Lineup: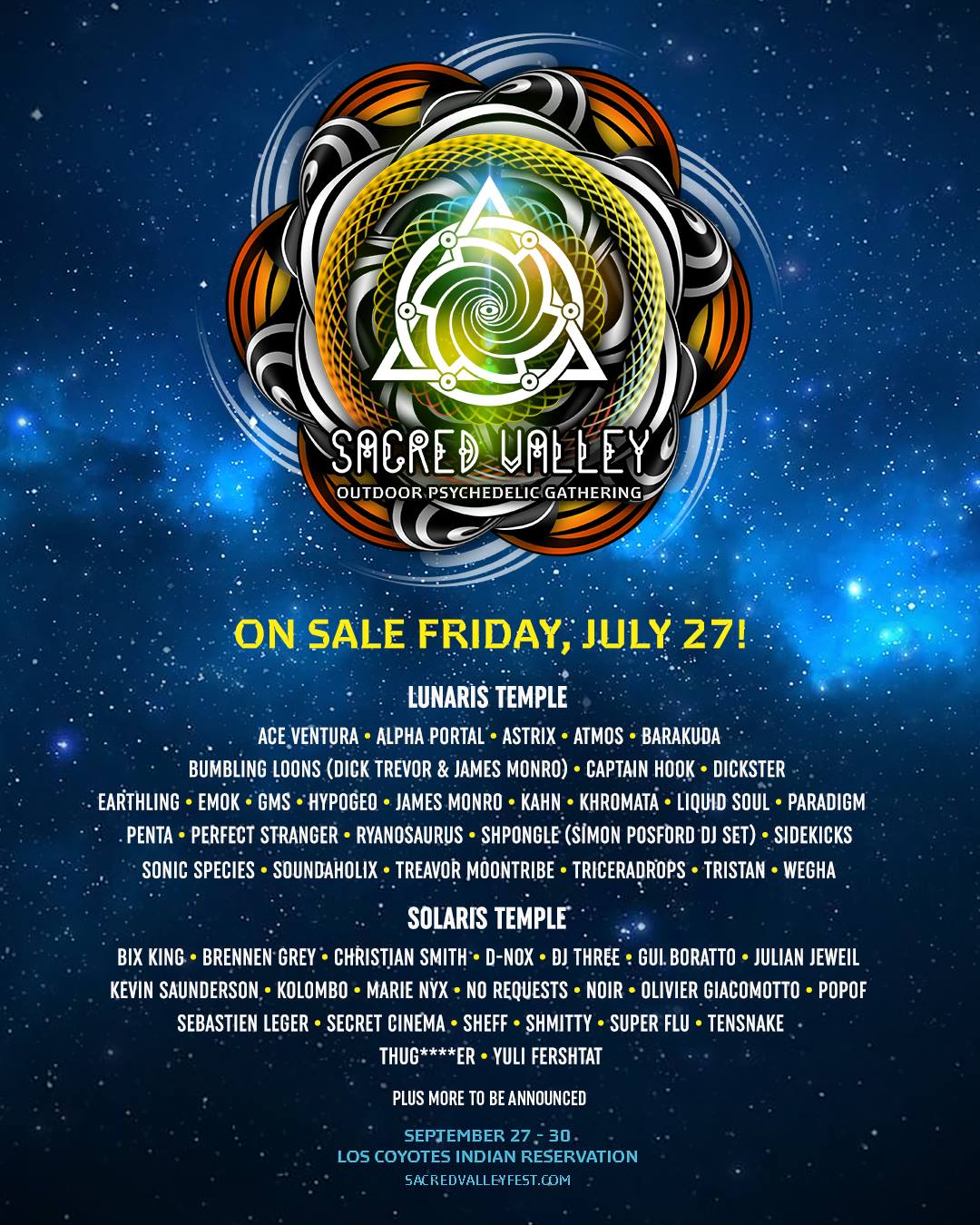 ---
Sacred Valley Festival 2018 – Lineup By Artist:
Lunaris Temple
Ace Ventura
Alpha Portal
Astrix
Atmos
Barakuda
Bumbling Loons (Dick Trevor & James Monro)
Captain Hook
Dickster
Earthling
Emok
GMS
Hypogeo
James Monro
Kahn
Khromata
Liquid Soul
Paradigm
Penta
Perfect Stranger
Ryanosaurus
Shpongle (Simon Posford DJ Set)
Sidekicks
Sonic Species
Soundaholix
Treavor Moontribe
Triceradrops
Tristan
Wegha
Solaris Temple
Bix King
Brennen Gray
Christian Smith
D-Nox
DJ Three
Gui Boratto
Julian Jeweil
Kevin Saunderson
Kolombo
Marie Nyx
No Requests
Noir
Olivier Giacomotto
Popof
Sebastien Leger
Secret Cinema
Sheff
Shmitty
Super Flu
Tensnake
Thugfucker
Yuli Fershtat
+ More to be announced!
---
Sacred Valley Festival 2018 – Event Information:
Date: September 27 -30, 2018
Location: Los Coyotes Indian Reservation
Age Restriction: 18+
Facebook Event Page: RSVP HERE
Tickets: On sale Friday, July 27 at Noon PT.
---
Follow Sacred Valley on Social Media: