Learn more about Las Vegas-based Artist 106&Parker who has been making waves with his dynamic sound!
---
Originally from Orlando but now based out of Sin City, 106&Parker set off on navigating the world of electronic dance music and hasn't turned back since. Bringing fresh ideas to the table in the studio, his dynamic sound is inspired by artists like Nero, Zeds Dead, Malaa, and Hans Zimmer. In fact, it was his DnB remix of Swedish House Mafia's "Leave The World Behind" that had us falling in love with his style.
Aside from his work as a DJ and producer, Parker has also worked as an event and festival manager, while also working with labels and brands in the industry like Insomniac, Miami Music Week, and Dim Mak. He also has the jump on the latest team to come to Sin City, managing events for the NFL's Raiders in town ahead of their move.
Looking for more insight into where he has been so far and what his plans are for the future, we reached out to 106&Parker for a chat. Listen to his exclusive guest mix below and read on to learn more about this rising star!
Stream EDMID Guest Mix 125 || 106&Parker on Mixcloud:
---
What were your initial influences in becoming a DJ and was there a moment you decided you wanted to pursue a career in electronic music?
Well I have always been into music, growing up in bands playing guitar and learning how to write lyrics was always a lot of fun. But one thing I always disliked was having to rely on other members of a band to get songs made, I enjoy creating things on my own and found that electronic music could complement that. DJing became something I wanted a pursue after trio I was in fell apart and was tired of working with people who didn't want to make music as badly as I did.
You've remixed notable tunes like Malaa's "Notorious" as well as Swedish House Mafia's "Leave The World Behind". How do you decide on the tunes you want to remix and put your own spin on?
"Leave The World Behind" was the first EDM track I have ever heard on a Top 40 radio station nearly ten years ago and I've felt it really had a cool Netsky-type piano lead that could do well as a DnB record. Malaa, on the other hand, came from seeing him perform live last year and noticing him slowing a Gesaffelstein record to 100 BPM to create a dope mid-tempo sound. I put a lot of research into songs I remix before doing so, seeing if anyone's done them and if so, how I can flip them in a differing direction that makes them stand out.
What's your production process like when making tracks? Do you have a specific setting you like to be in?
Because of my crazy schedule, I usually produce on the weekends, nothing is better than sitting with a cup of coffee, some dank memes to laugh at, and a new project to work on. I'll start with the drop initially then build my way back to the intros and outros before tackling interlude areas. My engineer at Virulent Audio also does a great job with edits, I tend to let him take liberty in ideas and suggestions and am pretty open to feedback.
Aside from being a DJ, you've also worked in other aspects of the electronic music industry. What has been your favorite non-DJ job to work in the scene?
Man, I've been fortunate to be involved in nearly every aspect of the scene. Starting off building stages for EDC, DJing on college circuit tours, sneaking into green rooms to network, and thankfully now working for the best nightclub in Las Vegas.
After years of doing just about every job you can in the industry, my favorite is definitely event manager, almost more so than DJing. There's a real thrill out of running shows, calling shots, and staying on top of events. It took years of failure, motivational videos from YouTube, and inspiring talks with friends to be where I'm at. Even though I'm nowhere near as satisfied, I am forever grateful to be involved in such an amazing industry.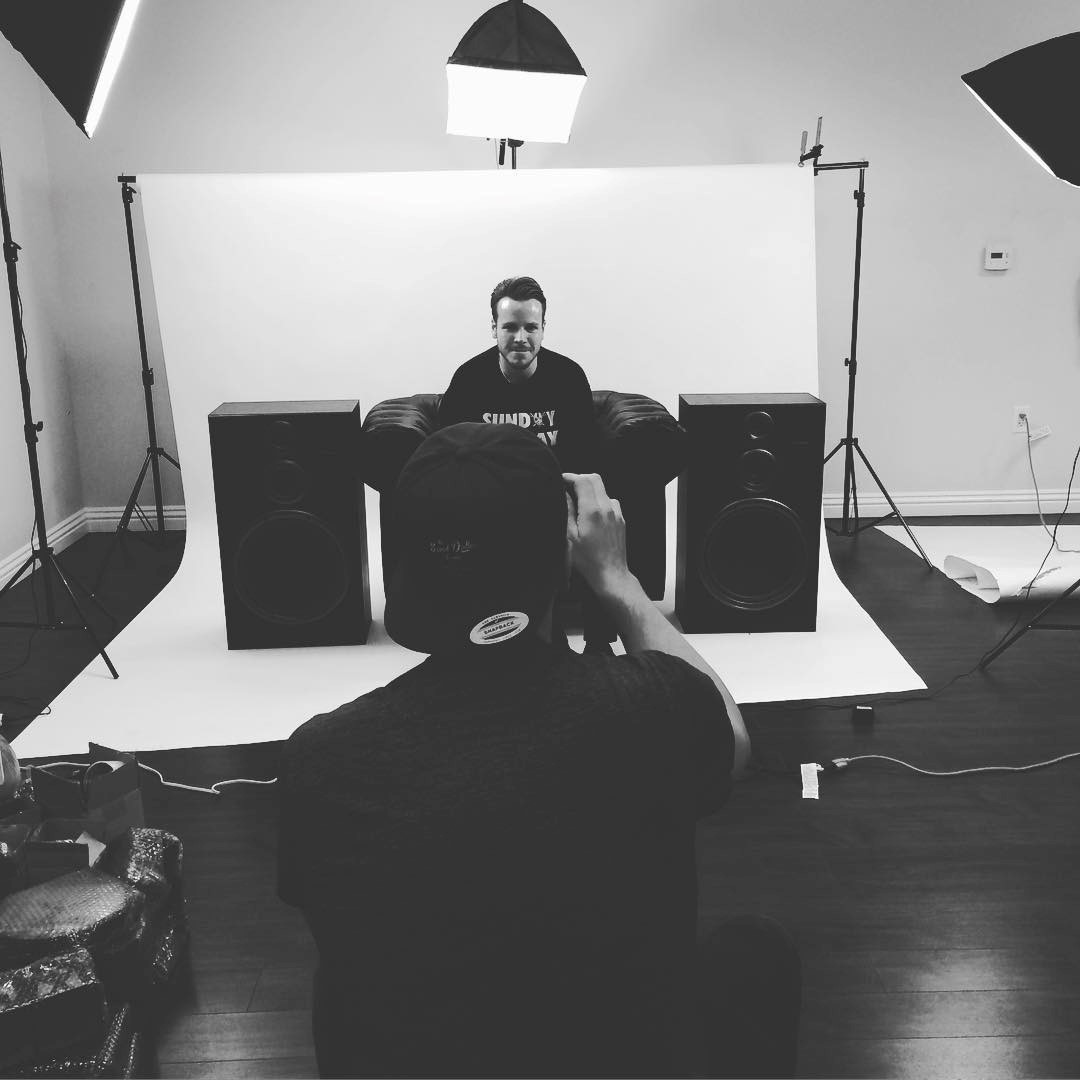 Originally hailing from Orlando but now living in Las Vegas, what prompted your move to Sin City, and have you adjusted to the dry weather?
I was originally going to move to LA and work for Dim Mak in marketing, but after interviewing for a bit, the job wasn't there for me. I decided Las Vegas would be a good jumping off spot to move to LA eventually, but luckily, I've found success in the desert and am enjoying it more than I think I would LA. Not mention no humidity, lower taxes, and less traffic. [Laughs]
Where is a dream venue or location that you'd like to play in the future?
My dream isn't to headline EDC or Ultra, but to be on a platform to reach thousands of people and share a story about why not giving up is so important. The actual thing I hope to achieve with the 106&Parker project is to be able to reach people who feel overwhelmed and like failures to give inspiration for them to keep moving forward. One day, I aspire to just stop in the middle of a massive set and give a speech on the importance of believing in yourself and how the only person stopping you from accomplishing your dreams is yourself.
With half of 2018 already gone, what's in store for 106&Parker in the remainder of the year?
Originally, I pledged in 2018 to create a new type of track every release, so far we have mid-tempo and DnB down. I'm quietly working on a Jauz dubstep flip then will probably do a long-awaited house record. I'm fairly new to Ableton so I'm praying to really learn a lot about the program and continuing to build an inspired following with each track.
When you're not thinking about music or the music industry, what do you like to do in your downtime?
A lot of my friends and family think I'm a lunatic because on top of working full-time, I'll take MMA courses daily, run events for the Raiders in Las Vegas, freelance write for blogs, and work on the 106 project. I miss the days when school and Halo 3 stats were my only worries. [Laughs]
Finally, where is your favorite spot to grab a bite to eat in Las Vegas?
Oh man, so much good food in Sin City. I personally enjoy the dive bar right by my house called Home Plate. Always end there after a desert rave or late night gig in Downtown Las Vegas. For anyone visiting, you've gotta try Tacos El Gordo, even Kaskade has a partnership with them for free food. It's that good.
---
Follow 106&Parker on Social Media: