Don't miss DJ Tennis and Dixon's epic performance this Saturday in Downtown LA's Chinatown at Future Primitive's Block Party!
---
When we think of techno, we immediately think of labels Life and Death and Innervisions. For the past decade, the two have essentially run the underground electronic music scene, along with founders DJ Tennis and Dixon, respectively. This Saturday, the two will play a special back-to-back, sunrise to sunset performance at historic Gin Ling Way in Downtown LA's Chinatown for the debut Future Primitive Block Party and trust us, you're not going to want to miss it.
Hailing from Berlin, Dixon has been helping to shape the techno and house scene since the 90s. As an artist, he is a perfectionist and has an eye for detail, traits that earned him the number one spot on Resident Advisor's Top 100 Poll four consecutive years in a row. Plus, as if you needed any more incentive not to miss an opportunity to see this Innervisions legend live, Saturday will be Dixon's only LA performance of the year.
DJ Tennis will also be joining the party! After starting Italy's first electronic focused booking agency, he officially kicked off his music career in 2010, quickly earning a reputation for his intimate and genre-defying performances. Tennis is also known for his Boiler Room sets, which have captivated audiences in cities such as London, Tuscany, and Tulum.
It's not every day that two techno pioneers such as DJ Tennis and Dixon come together to perform. Saturday will undoubtedly be an epic night filled with seven hours of energetic beats, so make sure to wear comfortable shoes. What a better way to kick off summer than by spending the evening with two of the most influential players in electronic music!
Make sure to snag your tickets via Resident Advisor before it's too late!
---
Future Primitive Block Party With DJ Tennis & Dixon – Essential Info:
Date: Saturday, June 23, 2018
Ages: 21+
Hours: 5pm – 12am
Venue Address: Gin Ling Way (Chinatown), Los Angeles, CA, 90012
Tickets: Purchase HERE
Facebook Event Page: RSVP HERE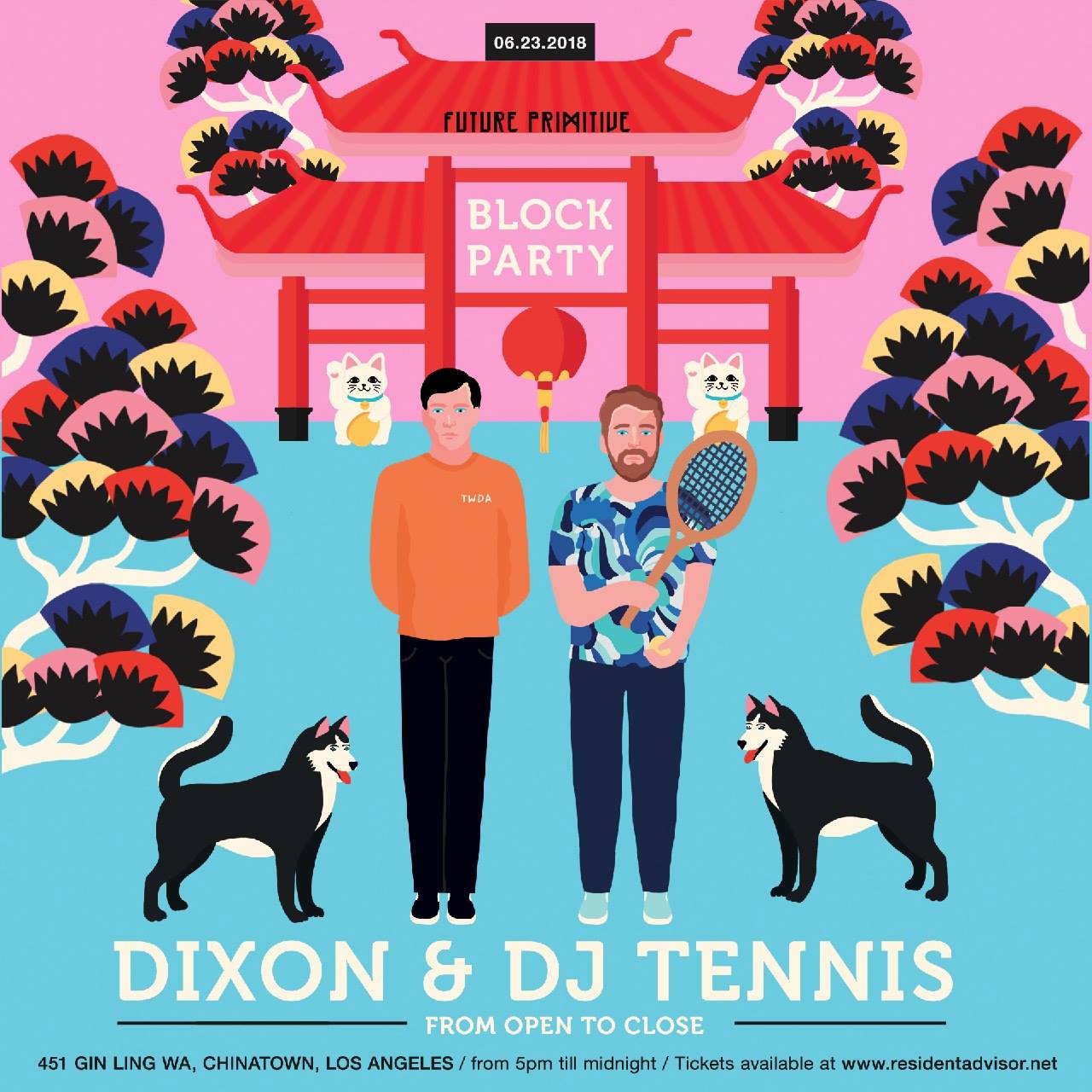 ---
Connect With DJ Tennis on Social Media:
Facebook | Twitter | Instagram | SoundCloud
Connect With Dixon on Social Media:
Facebook | Twitter | Instagram | SoundCloud