If you think festival experiences are getting stale, it may be time to jump sea and take the journey to Europe.
---
Every year, we drum up support for some of those craziest music festival experiences here in the United States. From the growing following for Dirtybird Campout and Lightning in a Bottle to the full-scale sensory onslaught of juggernauts like Ultra Music Festival, Electric Daisy Carnival, and Coachella, one may assume that the pinnacle of experiences remains in the US.
However, that may not be true. Certainly, major festival brands like Creamfields in the UK, Q-Dance's plethora of options throughout Europe, Aly & Fila's recurring Future Sound of Egypt parties in front of the Pyramids of Giza, or Transmission in the Czech Republic establish a quality level that in some respects the US is still striving for.
There are so many unique experiences when it comes to the European festival market, and we'd be remiss in not discussing some of the options out there that may be unfamiliar. So, for your interest and pleasure, check out a selection of European festivals you could dive into this year that we think are just awesome.
---

Diynamic Festival
May 25 in Amsterdam Bos, Amsterdam, The Netherlands
Solomun is no slouch with curating experiences – just one look into the Solumun + 1 experience in Ibiza is proof of that. His one-day, midday to 23:00 Diynamic Festival offers him a unique platform to hone the Techno sound his label is known to push.
Joining the label boss are artists like Kollektiv Turmstrasse, Adriatique, and Magdalena. Set in a local forest in Amsterdam, the festival truly separates itself from the hustle and bustle of daily living in the region and entices you with its web of beats. It's worth noting that this isn't the only stop for the festival this year as dates for Istanbul (8/4) and London (9/8) have also been announced.
For more information, check out the festival's website.
---

Uva Festival
June 8-10 in Ronda, Anadalucia, Spain
If you are looking for a boutique music festival set in historic UNESCO World Heritage sites, look no further than Uva Festival! This beautiful destination brings three stages out to the grounds at a 15th-century monastery converted to a vineyard outside of Ronda, Spain.
The festival cultivates a unique experience and attempts to shatter preconceptions by focusing the crowd into an inclusive atmosphere. At Uva Festival, that means that they are part of the visual art of the festival. If you're looking for top-tier DJs, you won't find it on the lineup – but you will find memories for a lifetime set to the background of good music.
For more information, check out the festival's website.
---

Free Your Mind Festival
June 2 in Arnhem, The Netherlands
The Netherlands continues to offer experience after experience for the festival attendee.  Free Your Mind caters to a more underground-oriented sound and will celebrate their 15th anniversary this year.
Talent ranges from legends like John Digweed, Henry Saiz, and Hot Since 82 to a smorgasbord of talent I can't even recall hearing of. Yep – it's that style of underground: growing talents mixed with a smattering of big names. If you like your deep beats in the daylight hours, Free Your Mind is a journey you ought to experience. Celebrate your artistic freedom here at Free Your Mind.
For more information, check out the festival's website.
---

Instytut Festival
June 22-23 in Warsaw, Poland
Proving that music continues to expand its reach, 15-year promotions group Instytut from Poland is launching its first-ever festival. While the Techno brand is no stranger to big-name talent, this venture offers a whole new locale for fans to take in. The festival is set to take place with three stages inside the Garnizon Modlin, which is a 19th-century fortress!
Nina Kraviz, Marcell Dettmann, Chris Liebing, Speedy J and Telefon Tel Aviv round out some of the biggest names on the two-day lineup for this inaugural edition. If you are a Techno fiend and looking for one of the coolest new locales to check out, make it Instytut Festival!
For more information, check out the festival's website.
---

Kappa Futur Festival
July 7-9 in Turin, Italy
Two days of Techno and House settle down in July in the Italian town of Turin. Whether it's Eric Prydz or Adam Beyer on Day One or Fatboy Slim or Jamie Jones on Day Two, your ears will find plenty to enjoy at this two-day festival. Having played host to the 2006 Winter Olympics, there is little doubt as to the cultural heritage of the city, but here at the Kappa Futur Festival, the beats boom at one of the most unique mainstages in the world: Parco Dora.
Parco Dora happens to be the site of many famous industrial companies in Turin up until the late 1990's. Fiat, Michelin, and more all set up shop in Parco Dora during their years in the city. The mainstage situates itself in a unique area within the Vitali area of the grounds, named as such for the Fiat factory that stood there years ago. The red pillars – a central location within the park – hold the high roof and cover part of the stripping shed during the steelwork portion of fabrication in the yard.
For more information, check out the festival's website.
---

Airbeat One Festival
July 11-15 in Airport Neustadt-Glewe, Germany
So, this one has probably hit your radar before. Airbeat One is nearly 20 years old now and remains a pillar of Germany's summertime festival scene. EDC Las Vegas and Tomorrowland aside, Airbeat One Festival offers the next level of production and caters to all sounds.
Whether you want the harder stuff courtesy of Q-Dance, feel like some Trance thanks to Transmission, or just want to party the night away with the big names at the main stage, you'll always find plenty to enjoy at the airfield. Think of this as Germany's diverse look at something like Ultra Music Festival, except more diverse.  Grab tickets soon – they are selling quickly!
For more information, check out the festival's website.
---

Liquicity Festival
July 21-22 in Geestmerambacht, The Netherlands
Maduk brings a Drum & Bass festival focused on the sounds of his label Liquicity and the sounds of a number of his friends. From Camo & Krooked and Ramses B, to Noisia and BCee, Liquicity Festival caters to a certain vibe that just doesn't permeate other Drum & Bass lineups.
Between camping near the ocean in The Netherlands, enjoying night activities like "Silent Disco," campfire gatherings, and daytime sporting activities, Liquicity offers more than simply being a music festival. It's a way to escape from the bustle of your everyday and get groovy with the Liquid scene in the Drum & Bass market.
For more information, check out the festival's website.
---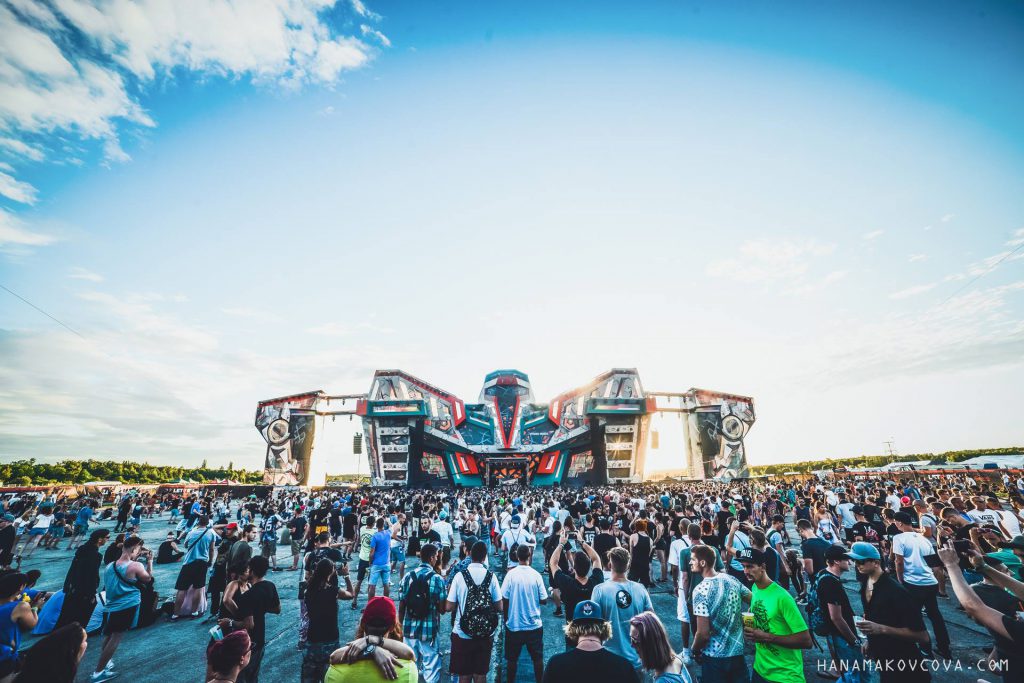 Let It Roll
August 2-5 in Letiště Milovice, Czech Republic
Like Airbeat One, Let It Roll maintains the mega-style… but it hones itself by maintaining a simple premise. Bringing a Drum & Bass-focused festival is not something the US market is used to. The closest we likely have out here is the growing Lost Lands festival or maybe Bassrush Massive. However, both of those tend to be less diverse than something like Let It Roll.
The beauty of Let It Roll is that it brings almost every major Drum & Bass label to host a stage. Whether your passion lies with Ram Records or Viper Recordings, you've got a tasty chomp on Hospital Records and Med School Music, or you love the swing of Shogun Audio, Spearhead Recordings, or Technique Recordings, there's something for all styles of Junglists. With nine stages and three nights of Drum & Bass music, we can only ask: Is it time to get down bo selecta? We think so!
For more information check out the festival's website.
---

SUNANDBASS
September 8-15 in San Teodoro D'Oviddè, Sardegna, Italy
Closing down the summertime heat in Europe is another eight-day Drum & Bass festival.  You read that correctly: eight days. Taking place on the island of Sardegna off the coast of Italy is the fifteenth edition of SUNANDBASS. Over seven different venues are involved with this year's project, including a secret location.
Although the lineup will not be announced until August, SUNANDBASS caters to the sunny vibe and energy you'd expect of a festival with this name. One thing to take to note: last year, the staff introduced the concept of curators. These are individuals who feel they can cultivate new names and garner some exposure to those growing talents in the industry, and you can expect that to continue this year.
For more information check out the festival's website.
---
With all these various avenues to experience music in Europe, I feel a bit of a shame that the US is lacking more boutique festival experiences.
I'll readily admit that the first CRSSD Festival I attended in San Diego gave me hope that boutique festivals were on the rise. Events that feature fewer stages and more uniquely tuned atmospheres just felt like the direction the industry ought to take to me.
We haven't seen a rampant expansion in smaller festivals like Europe, but they are out there. An example might be Electric Fairy Tale in Fresno. There is also the recent expansion of the Desert Hearts brand into festivals, too. These entities may bring intimate experiences to the forefront. I think the crew that pulls together the West Coast Weekender event does a fine job of this too, but time will tell where they head in future editions.
Maybe I miss it because I'm not a sole label fan like Anjunafam or into restricted sounds on a lineup like Lost Lands fans, but I'd love to see a festival that isn't bound by genres and caters to the craft and art and experience again.
There are enough major festivals, so let's branch out and get into those intimate experiences again! Which of these Europeans fests would you go to?