EDC Las Vegas may have just wrapped up this morning, but Insomniac has already released the dates for next year's edition of the event!
---
As the closing firework show descended upon the Las Vegas Motor Speedway early this morning, we wished EDC Las Vegas 2018 a sad farewell. Just hours after the last cars drove out of the festival parking lot and sleep-deprived attendees retreated back to their hotels, however, the festival already updated its website with the official dates for next year's event. EDC Las Vegas 2019 will return to the Las Vegas Motor Speedway in Las Vegas, Nevada from May 17-19, 2019!
After moving the festival dates up from June to May for this year's event, it seems as though Insomniac will be sticking with this decision, at least for now. 
Dancing in the desert for hours on end is exhausting, especially in the heat of summer. It's no coincidence that EDC LV takes place from sunset to sunrise, as this alleviates most of the dangers of the sun (e.g. overheating and dehydration.) Moving the festival up by a month further helped this issue as temperatures were less brutal this year than they have been in the past. It's no surprise to me that Insomniac chose to stick with this decision for 2019's festival.
EDC Las Vegas 2019 Dates (from EDC LV website):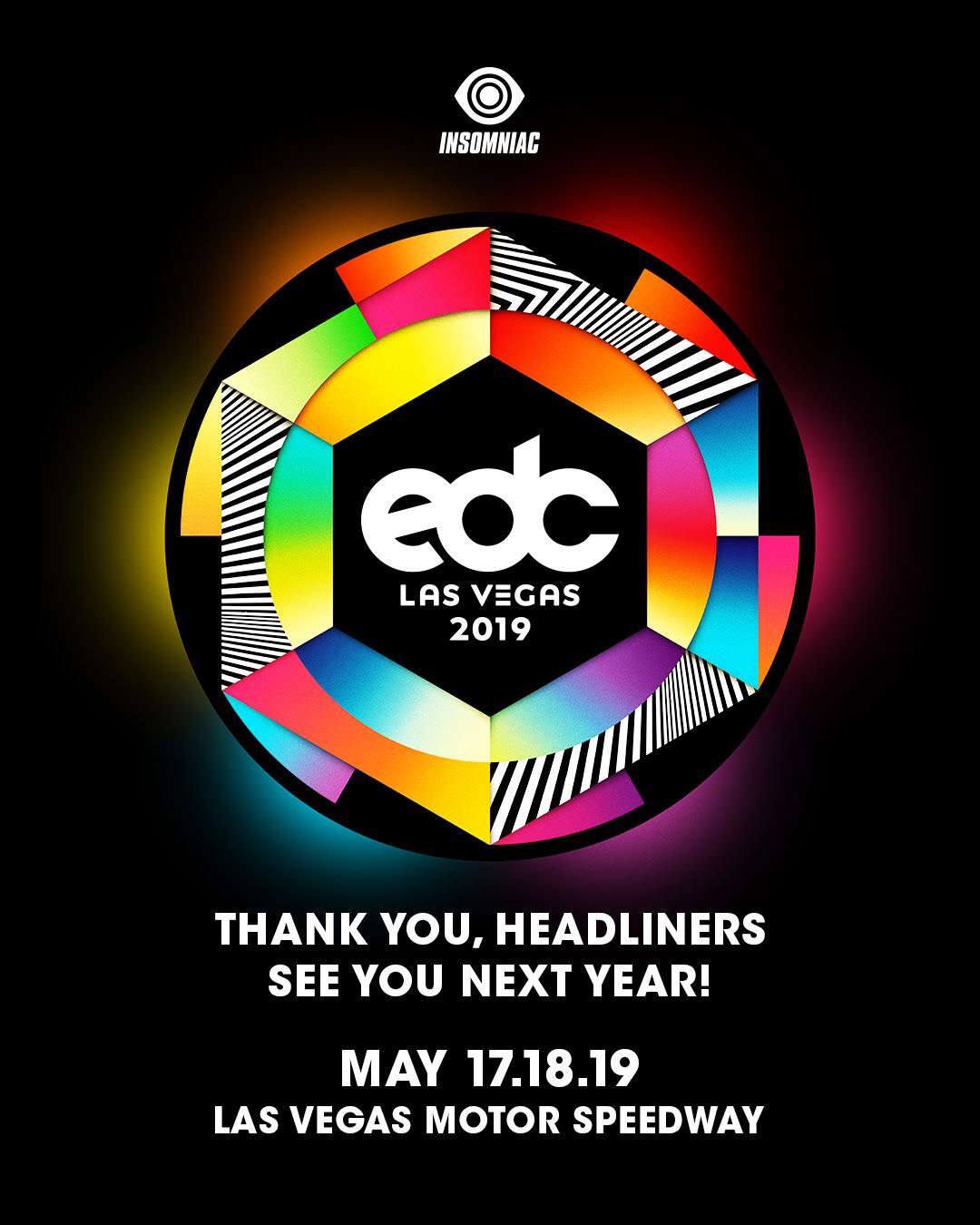 We're still months away from any word on which artists will be on next year's lineup, but EDC LV's lineup never disappointments. 
Since EDC Las Vegas is one of the biggest electronic music festivals of the year, its lineup is consistently stacked with many of the best artists in the scene. This year's event also boasted eight different stages, with each one specifically built and designed to fit a particular genre. From the massive womps and fiery explosions of bassPOD to the glowing mushrooms that adorn neonGARDEN, there's a stage for every type of music and headliner. The newest stage, stereoBLOOM, replaced upside-downHOUSE for this year's edition of the event and offered club-house beats that brought the true heart of Vegas to the speedway.
And if you're like me and spent the weekend staring longingly at your laptop while avoiding Instagram and all of your friends' posts who were lucky enough to attend, at least we were able to enjoy the amazing artists who were featured on this year's livestream. Favorites such as Don Diablo, Jauz, Tiesto, and Claude Von Stroke graced our screens throughout the weekend, as we danced around our bedrooms pretending as though we too were underneath the electric sky.
After hearing about the incredible experience that was unleashed at this year's event from both social media and my fellow EDM Identity team members, one thing is for certain: I know I will definitely be joining them next year!
---
Connect With EDC Las Vegas On Social Media: