It's EDCLV Week! We're throwing it back to a dubstep classic, Excision's "X Up".
---
If you're a basshead and you've never been to an Excision show, you're missing out. In addition to his colossal bass drops, Excision, otherwise known as Jeff Abel, brings his music to life with insane visual effects and stage production, as well as intricately synced lights and lasers. This dubstep expert will be snatching spines and nuking necks three times under the electric sky this weekend, so it's only right to pay tribute. "X Up" is a headbanger anthem and is one of my personal favorites, and you're going to want to hear it at EDCLV.
Featuring The Frim and Messinian, "X Up" begins with one of the most hype vocal intros I've ever heard before detonating into fiery bass lasers that'll have you leaving your neck on the floor. Witnessing this track live and seeing the entire crowd throw the signature "X" up with their arms is a feeling unlike any other, and I highly suggest you be there to witness it this weekend!
My first time seeing Excision was actually at Lost Lands since I've only recently gotten into bass music in the past year. Packing 750,000 watts of PK sound, Excision blew my expectations out of the water with bass so heavy and loud, it reverberated throughout my entire body. Between a graphic visual of Harambe stomping angrily through the Paradox screen and tearing his face off and a massive robotic cat, it's evident Excision puts an insane amount of detail into every aspect of his live performances.
Listen to Excision – X Up on YouTube:
Though his heavy dubstep sets are to die for, his detox sets are an entirely different beast. Deviating from the usual earthshattering drops, his detox sets are where he gets down and dirty with some low-frequency bass and funky experimental wobbles like we've never heard before. Here's a statement from Excision explaining what's so unique about his detox sets: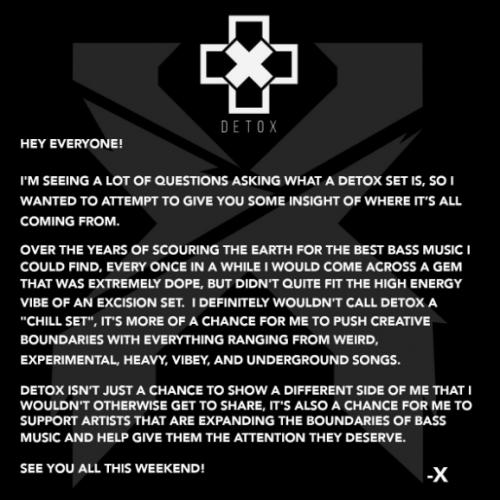 I know you probably have plenty of schedule conflicts if you're heading to EDC this weekend, so if you have to choose between which Excision set you need to catch, go with the detox set. It's a side of Excision you rarely see, and there's no better place to witness it than EDC. To get a feel for what an Excision detox set sounds like, listen to his Lost Lands 2017 detox set via SoundCloud.
---
Excision EDCLV 2018 Set Times: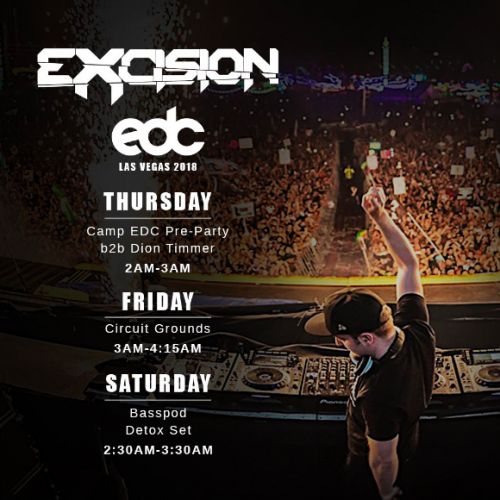 ---
Connect with Excision on Social Media:
Website | Facebook | Twitter | Instagram | SoundCloud | YouTube