Described as "celebrating ten years of thoughtfully curated music and art", Bass Coast has released their lineup for 2018.
---
Over the past decade, Bass Coast Festival has become a well-oiled machine, improving upon itself and showing its attendees and artists alike unforgettable experiences year after year. It has come to exceed many other festivals around the world with its deliberate care to even the most minute details. They don't cut any corners expending precious resources for indispensable facets such as harm reduction and environmental awareness. In addition to their world-class production, impeccable sound, and all-around excellent vibes, there are countless reasons why Bass Coast has become one of the most sought-out, yet still intimate events to attend in the world.
Celebrating its decennial edition, Bass Coast isn't pulling any punches with its musical lineup. This year they have organized an eclectic mix of styles with a bit of something for everyone. From big-name artists to local favorites, this lineup more ambitious than ever, and will undoubtedly help recreate the indelible vibes people rave about each year they attend.
For its heady bass music lovers, this lineup showcases the style with artists such as CharlestheFirst, Mat The Alien, and Greazus. They've got BC favorites like JPOD, Skii Tour, and Bass Coast cofounder The Librarian herself, who literally never puts on a bad show. To my excitement, they have also included funk duo and personal favorite The Funk Hunters. And this year they are bringing home loads of house music with artists from the Dirtybird crew like Ardalan, Smalltown DJs, and Justin Martin.
Check out their interesting, interactive website to learn more!
---
Bass Coast 2018 Lineup: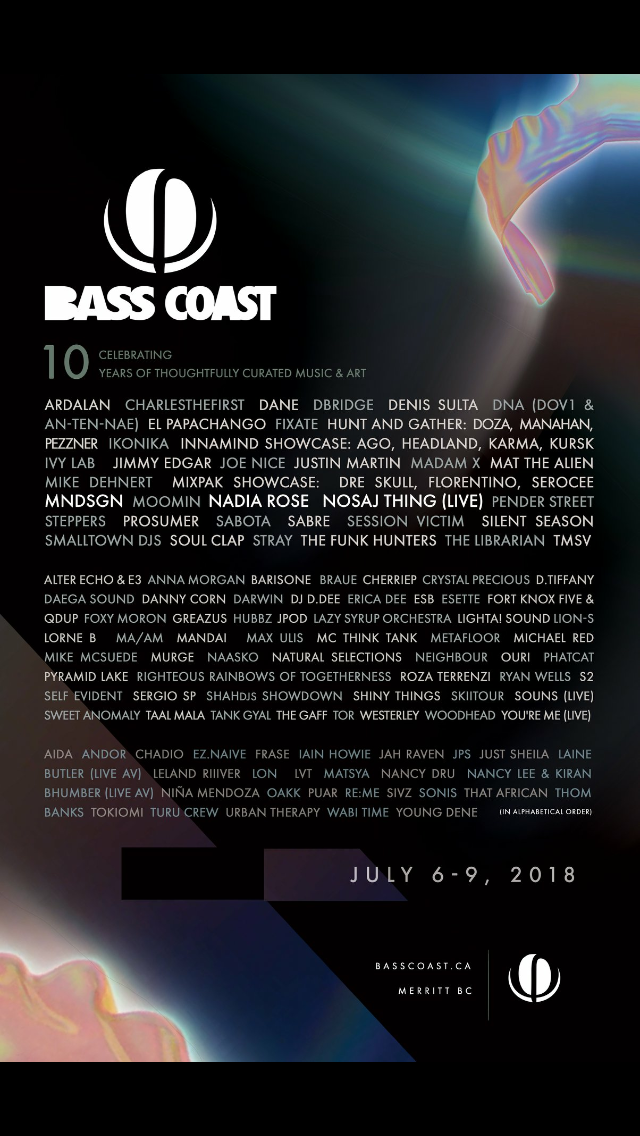 ---
About Bass Coast:
Bass Coast Festival is an innovative spectacle founded and run by women, and completely devoid of corporate presence or funding. It's a space where artists, musicians, and attendees alike can thrive and relentlessly self-express without fear of judgment. In a region saturated with breathtaking, world-renowned festivals, they have managed to remain at the top of the ranks with its peace-loving ethos and hardworking staff and teams of volunteers.
---
Follow Bass Coast on Social Media:
Website | Facebook | Twitter | Instagram | SoundCloud