Serenity Gathering returns for its fifth-anniversary celebration at the picturesque Woodford Reservoir in Oakdale, California.
---
One of the newest enlightened gatherings is celebrating its five-year anniversary by upgrading to one of the most spectacular venues that California has to offer. For the first time ever, Serenity Gathering will be hosted at the Woodward Reservoir in Oakdale, California.
Serenity Gathering boasts of its ability to bring people together in a collaborative environment for both art and music to thrive. With huge headliners such as G Jones, OTT, and Stylust Beats, the stages are sure to be rocking. And don't miss out on the special Full Moon Takeover by the Moontribe Collective! As a huge force in the EDM scene for the past 20 years, this takeover is promised to have an amazing impact on all those who attend.
Those who have been to this venue for other gatherings will want to take special note of what the weather is going to be like during this event. The venues looks to have temperatures around 20 degrees cooler than in late summer when other events were held there. Not only that, but there is water all around in case you need to cool your heels.
In addition to the musical offerings, attendees will be treated to a variety of dance performances curated by Nikki Nerida, the Amplify Her Showcase featuring performances and a workshop, and daily water blessings and closing ceremony and blessings by High Priestess of Bali Ida Resi Alit.
Tickets for Serenity Gathering 2018 are already on sale, so purchase yours now via Eventbrite!
Check out the Serenity Phase 3 Lineup Video feat. G Jones on Facebook:
---
Serenity Gathering 2018 – Lineup: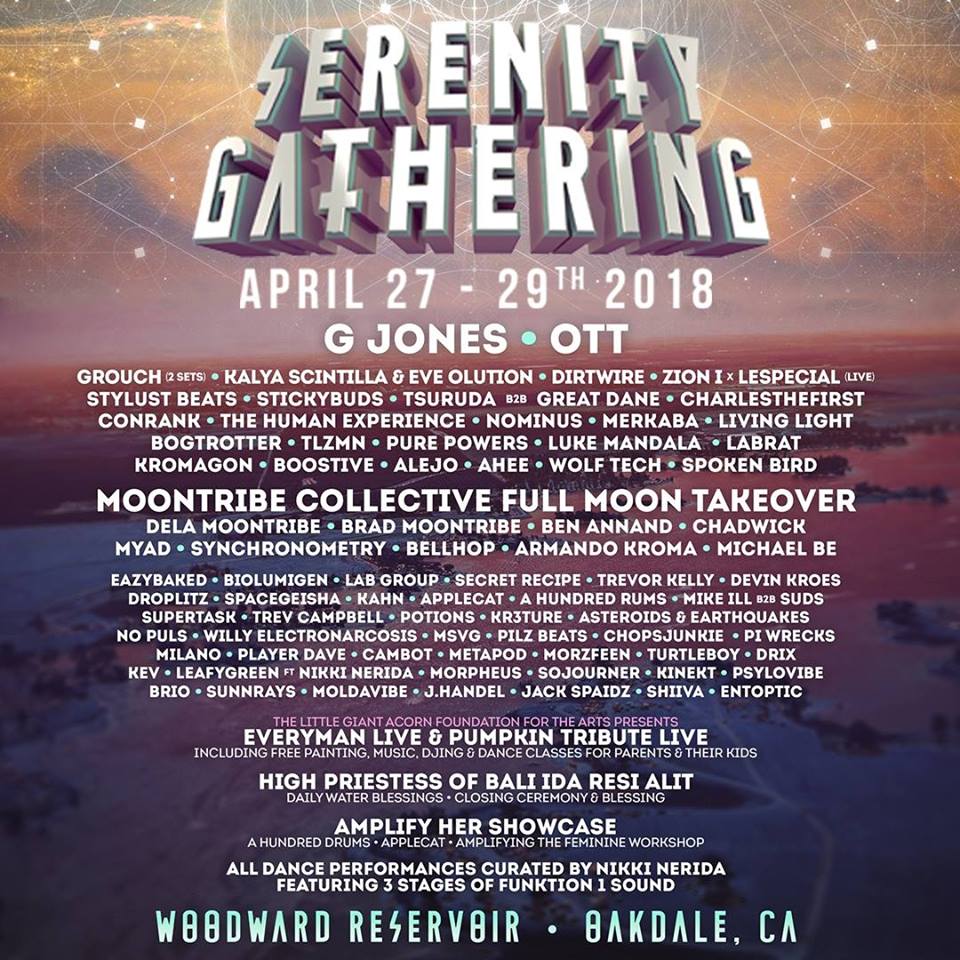 ---
Serenity Gathering 2018 Lineup by Artist:
G Jones
OTT
Grouch (2 Sets)
Kalya Scintilla & Eve Olution
Dirtwire
Zion I x LeSpecial (Live)
Stylust Beats
Stickybuds
Tsuruda b2b Great Dane
Charlesthefirst
Conrank
The Human Experience
Nominus
Merkaba
Living Light
Bogtrotter
Pure Powers
Luke Mandala
Labrat
Kromagon
Boostive
Alejo
Ahee
Wolf Tech
Spoken Bird
Eazybaked
Biolumigen
Lab Group
Secret Recipe
Trevor Kelly
Devin Kroes
Droplitz
Spacegeisha
Kahn
Applecat
A Hundred Rums
Mike Ill b2b Suds
Supertask
Trev Campbell
Potions
Kr3ture
Asteroids & Earthquakes
No Puls
Willy Electronarcosis
Msvg
Pilz Beats
Chopsjunkie
PI Wrecks
Milano
Player Dave
Cambot
Metapod
Morzfeen
Turtleboy
Drix
Kev
Leafygreen ft. Nikki Nerida
Morpheus
Sojourner
Kinekt
Psylovibe
Brio
Sunnrays
Moldavibe
J. Handel
Jack Spaidz
Shiiva
Entoptic
Moontribe Collective Full Moon Takeover
Dela Moontribe
Brad Moontribe
Ben Annand
Chadwick
Myad
Synchronometry
Bellhop
Armando Kroma
Michael Be
The Little Giant Acorn Foundation for the Arts Presents
Everyman Live & Pumpkin Tribute Live
---
Serenity Gathering 2018 – Essential Info:
Date: April 27 – 29, 2018
Ages: All Ages
Venue Address: Woodford Reservoir – 14528 26 Mile Rd, Oakdale, California 95361
Tickets: Purchase tickets via Eventbrite
Facebook Event Page: RSVP HERE
---
Follow Serenity Gathering on Social Media:
Facebook | Twitter | Instagram | SoundCloud