Desert Hearts Festival 2018 is coming up and now is the time to start planning out your outfits!
---
Infinite love, nonstop beats, house, techno, and love: this is what Desert Hearts is all about! The Desert Hearts family will be reuniting at the beautiful Los Coyotes Indian Reservation in Warner Springs, CA from April 27 to April 30. Since it's a month later than the previous year, I'm hoping that the weather will be a bit warmer. If the weather is anything like last year, expect to have warm days and cold nights.
Did I mention how cold it gets at night? Cause it gets COLD. Now that I've clarified how cold it gets at night, let's talk about outfits. Desert Hearts Festival is a magical place where you are free to be whoever you want to be. The best part is that no one will judge you–absolutely no one.
I've never seen so many beautifully dressed up people at a festival before until I went to my first DH event. Literally, everyone was a walking piece of art that I could not stop staring at. From the fur coats to the glitter, crazy hats, lace, colorful dreads, onesies, sequins, pasties, #freethenipple, and the patterns. This is the festival where creativity and individuality flow strongly.
"This is my first Desert Hearts event and I have no idea what to wear!" Have no fear! Julia is here to give you some awesome Desert Hearts festival fashion tips!
---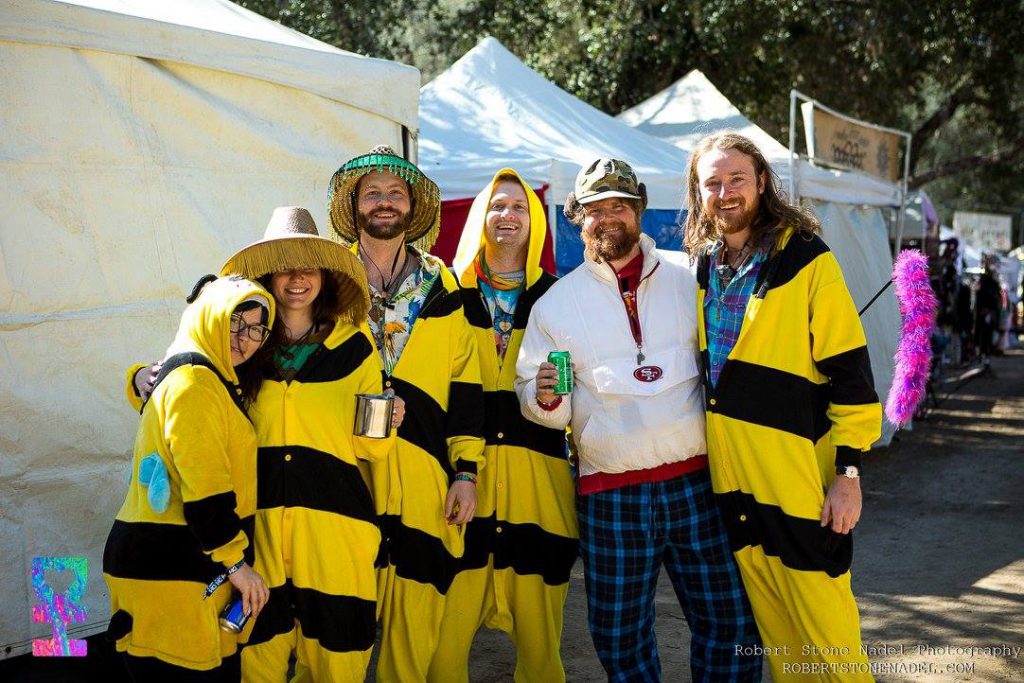 Onesies
When in doubt, wear your onesie out! Onesies are awesome because they allow you to match with your friends, they're an easy way to dress up in character, and are super comfortable! You can purchase them easily online or at stores like Target and Walmart. These cute bees are some of my friends who you may have seen buzzin' around at festivals. They're as sweet as honey; go say hello if you see them!
---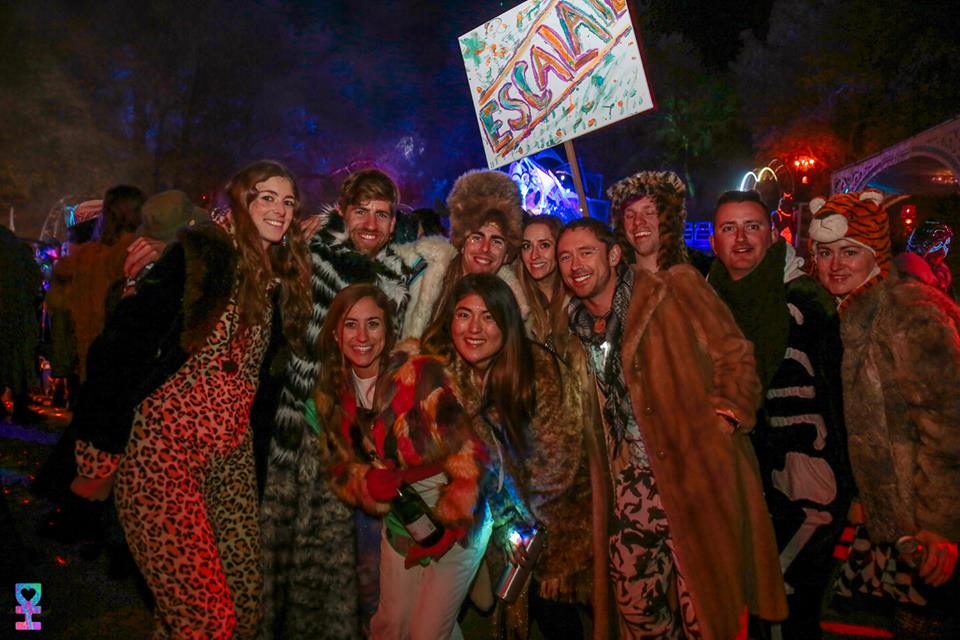 Fur Everything
Fur… fur everywhere. At my first Desert Hearts Festival, I felt like everyone but me had a warm fur coat. I had a fur vest, but nothing like those warm cozy-looking coats. Rarely, you may have some luck finding a fur coat at a thrift store, but if not, there are plenty of vendors at the festival selling them! I actually purchased my first faux fur coat from a vendor!
---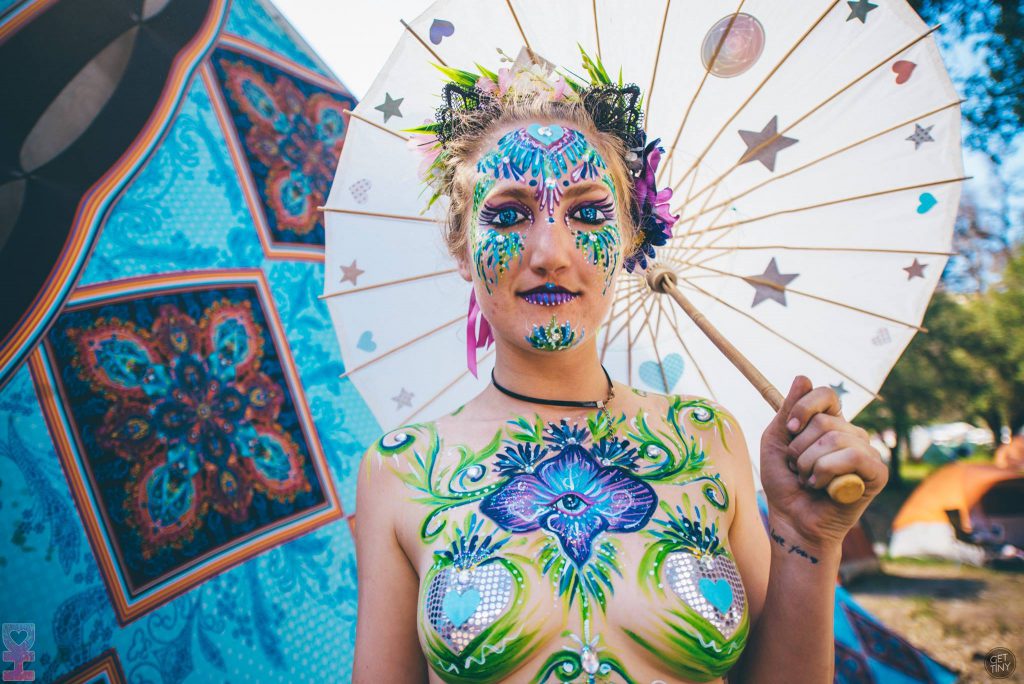 Facepaint/Glitter
With so many glitter options, including biodegradable versions, adding paint or glitter to your face and body is a simple and easy way to spice up your look. Sometimes, that's all you need for your outfit!  If you're wanting to step up your festival glitter game, then check out our step-by-step glitter guide!
---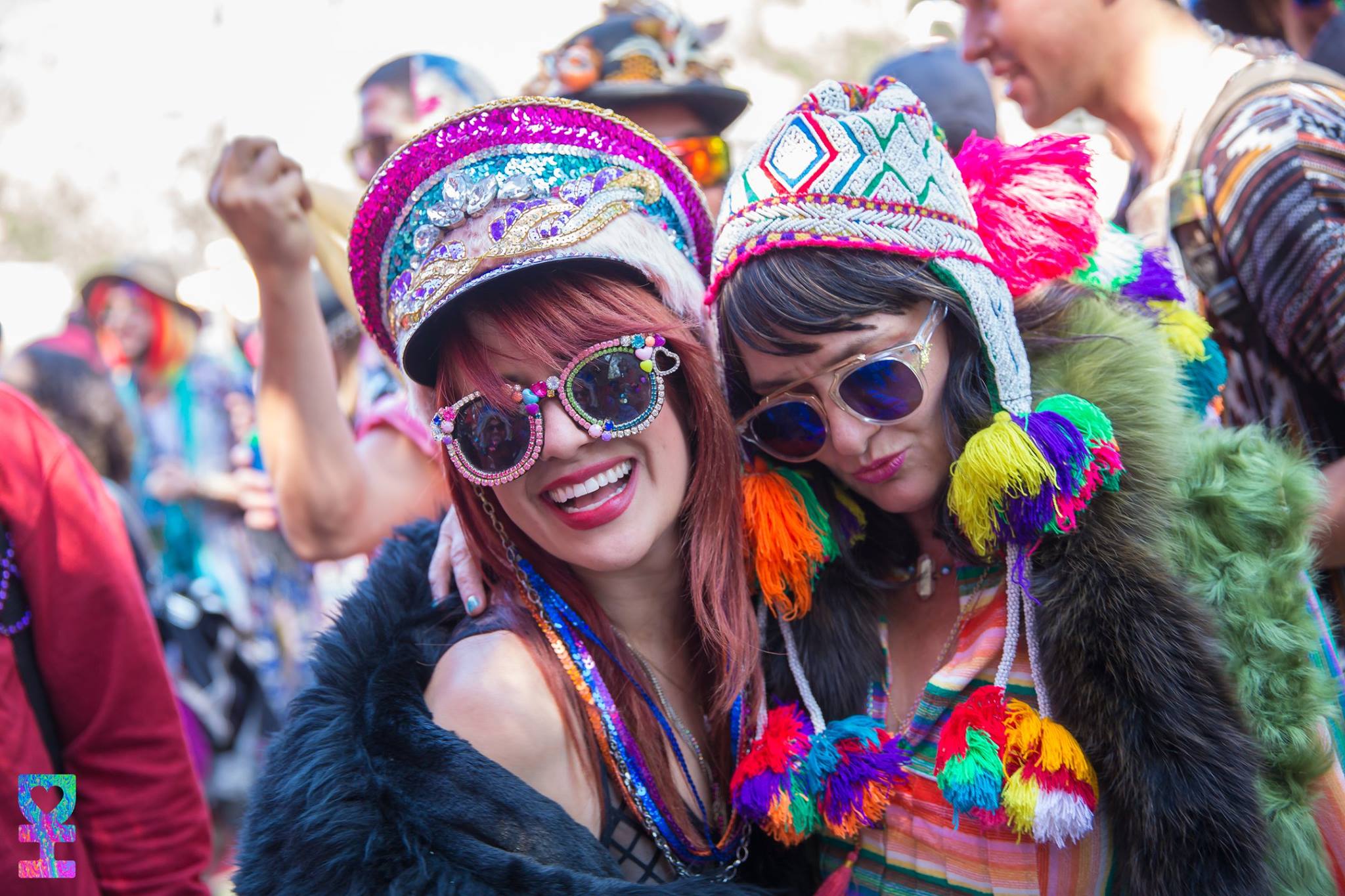 Hats
Hats are the perfect accessory to top off your outfit. They can be colorful, crazy, plain, tacky, and everything in between. If you're feeling creative, try styling up a plain hat with gems, glitter, fabrics, and paint! It may take some time, but the end results are well worth it knowing that the hat you're wearing is one-of-a-kind made by you! If busting out the hot glue gun and super glue isn't your thing, there are plenty of vendors who have done the work for you.
---
Wigs
Wigs are an easy way to change your identity and match with a friend! They are also a good way to have an effortlessly done-up look without having to get your hair did. Braids are also a great way of changing up your look and taming your festival-floofed hair. Those with long hair, you know what I mean!
---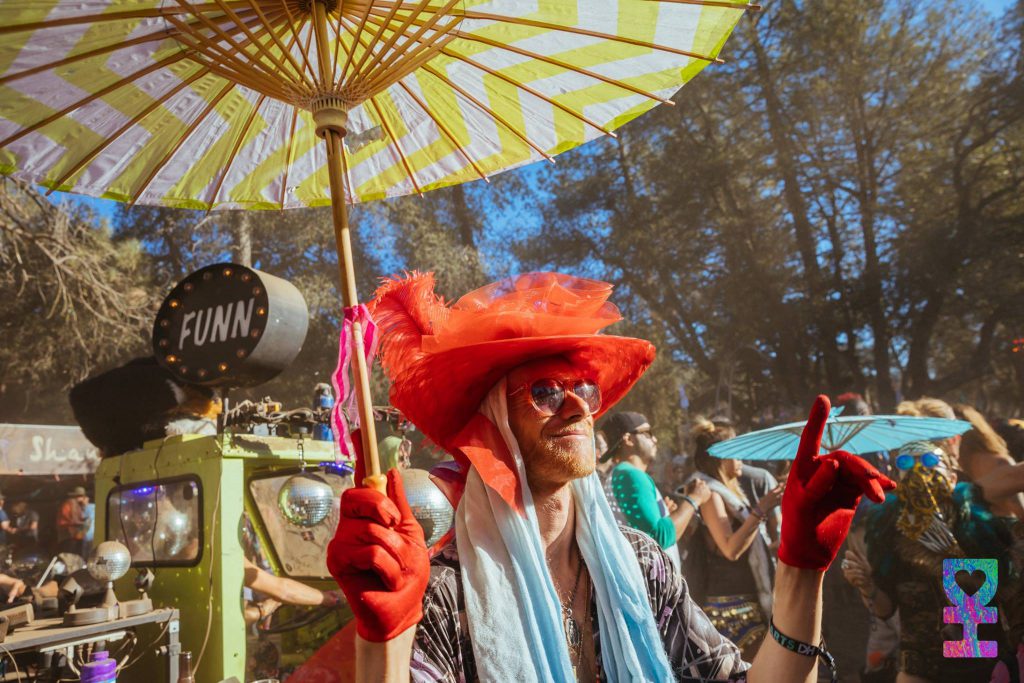 Accessories
Accessories are like the icing on the cake for outfits. You can finish off the perfect festival outfit with shades, parasols, gloves, jewelry, crowns, headpieces, scarves, capes, belts, and more!
---
Need suggestions on where to buy these awesome outfit ideas? We've got you covered!
With about a month left until the festival, there's still time to purchase from a vendor online or do some shopping at the festival! Here are a few Desert Hearts-friendly vendors that I recommend (and have purchased from myself)! We can't wait to see your creative festival spirit shine!
---
Laser Trees
Laser Trees makes high-quality laser-cut art, decor, jewelry, and more from sustainably harvested sources and in materials that are either naturally sourced, recycled, recyclable, or biodegradable.  They showcase natural beauty in organic materials, which are designed and produced with intention at an affordable price. These beautiful, attention-grabbing pieces are meant to inspire and enlighten.
---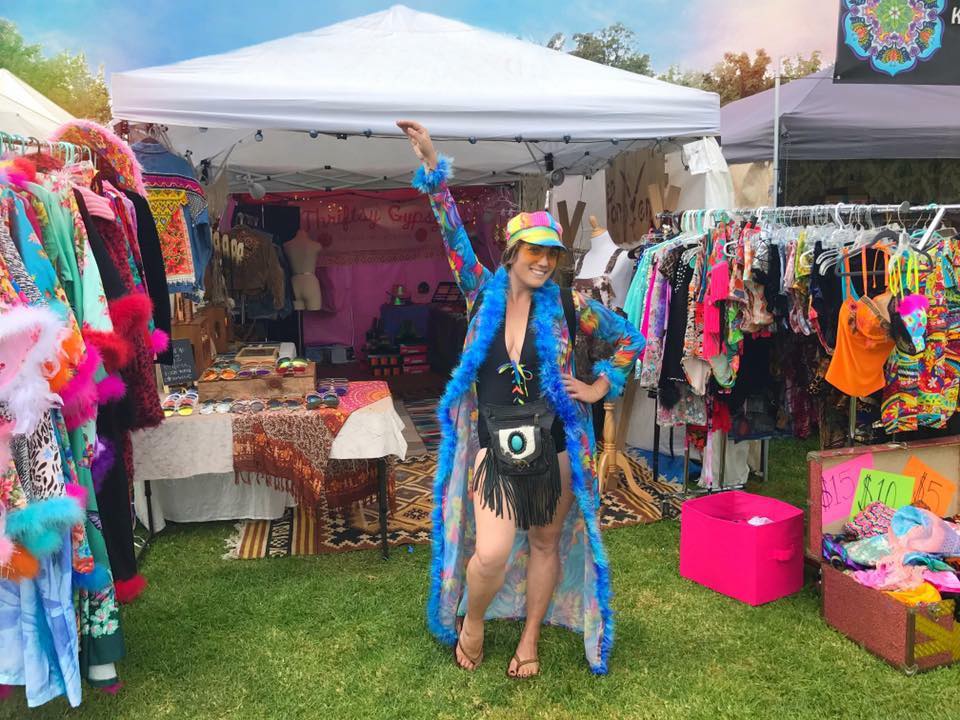 The Thriftsy Gypsy
The Thriftsy Gypsy creates fun, affordable, and colorful fashion that matches peoples' true personalities. They source a majority of their material from local nonprofit thrift stores while also creating handmade items from scratch.  From bodysuits to coats, sequins, blazers, hats, jewelry, shoes, and more, this Gypsy has got it all.
---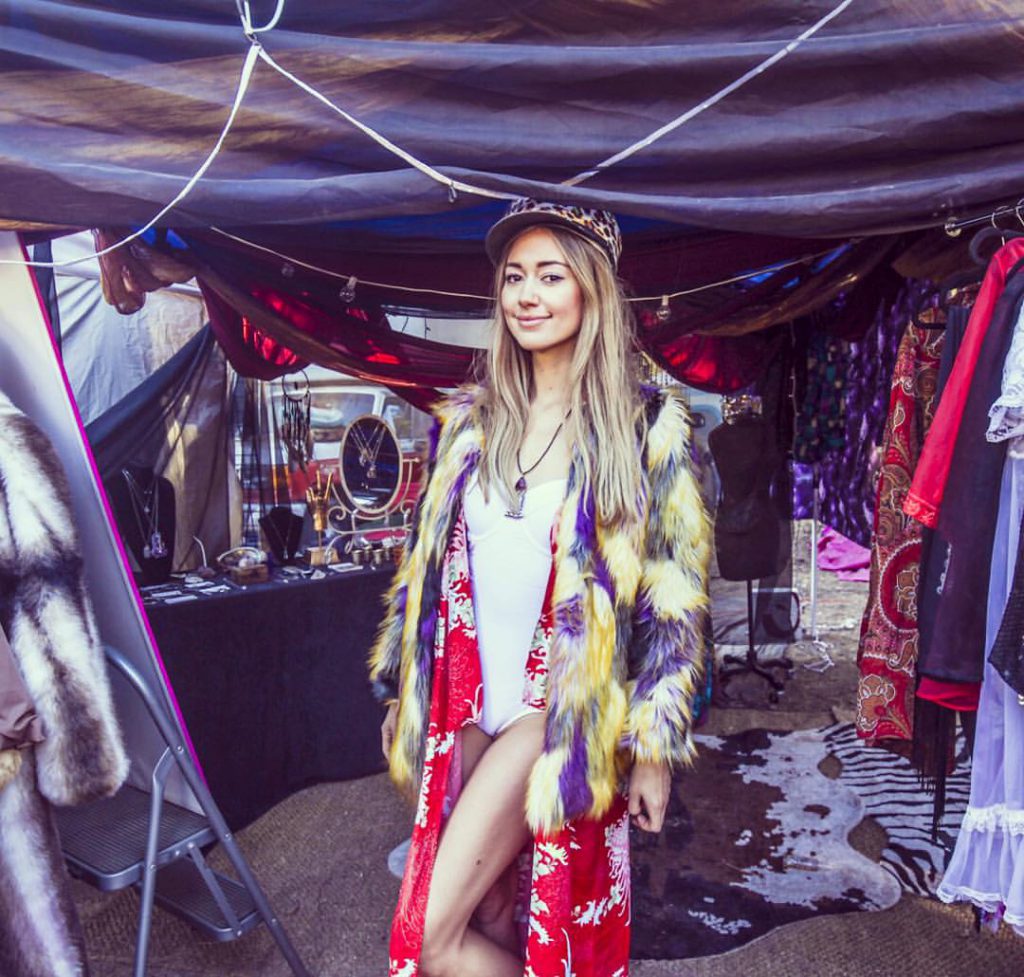 Love Tribe Style
Love Tribe Style handpicks vintage items such as bottoms, tops, jackets and coats, kimonos, boots, and accessories with a passionate heart and an eye for unique and alternative style. They were inspired by their love for other women and believe in supporting one another. They also believe in leaving a positive impact on the fashion industry and the environment by providing vintage clothing that leaves a minimal carbon footprint. Love Tribe isn't just a brand, but also a beautiful community.
---
Jewelz By Jewlia
Offering handmade designer headwear and jewelry for the enlightened being, Jewelz By Jewlia creates one-of-a-kind 'Jewelz'. Her beautiful wire wrapped quartz crystal crowns will make you feel like the goddess you always knew you were.
---
Shop Space Boots
Get ready to take off and feel like the funkiest alien from another planet with Shop Space Boots. They carry everything from tops, bottoms, bodysuits, goggles, faux fur, chokers, and the trippiest boots from outer space.
---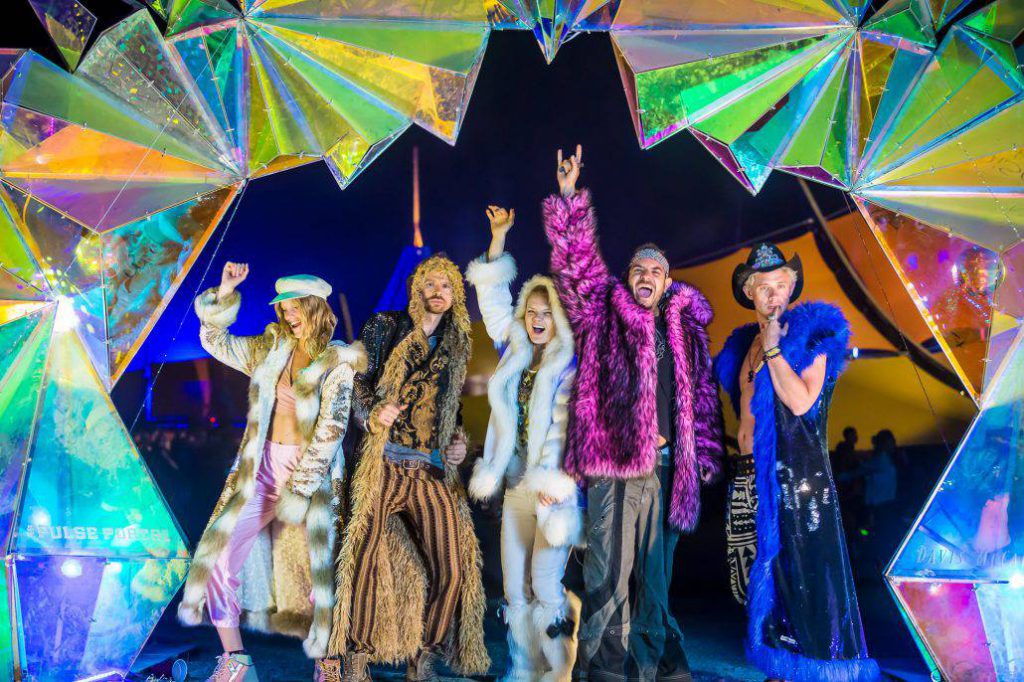 Boho Coats
Made from the finest quality faux fur in San Francisco, Boho Coats designs and creates some of the best and unique faux fur coats I've seen! All coats are reversible with extraordinary art and patterns leaving you with a one-of-a-kind warm and cozy coat!
---
Connect with Desert Hearts on Social Media:
Website | Facebook | Twitter | Instagram | SoundCloud