Glitter makeup is one of the hottest festival trends of 2017. Follow our tips to sparkle and shine all night long!
---
Festival season is here, and you can almost smell the glitter and sweat in the air – at least here in Colorado, you can! Before we jump right into it, allow me to introduce myself. My name is Melinda Wolfe, and I am a Denver-based special FX makeup artist who will always have a place in the EDM world. I also worked for Insomniac's Escape in 2015 and have worked for a local haunted house, so I have had the opportunity to do some pretty amazing makeup.
I have a few tips for all the people interested in keeping makeup, glitter, and rhinestones on your face while you dance the day and night away. There is nothing more frustrating than spending hours on your makeup just to have it sweat off into a runny mess. Fortunately, with a little bit of prep, you can avoid that and keep looking fab all night long!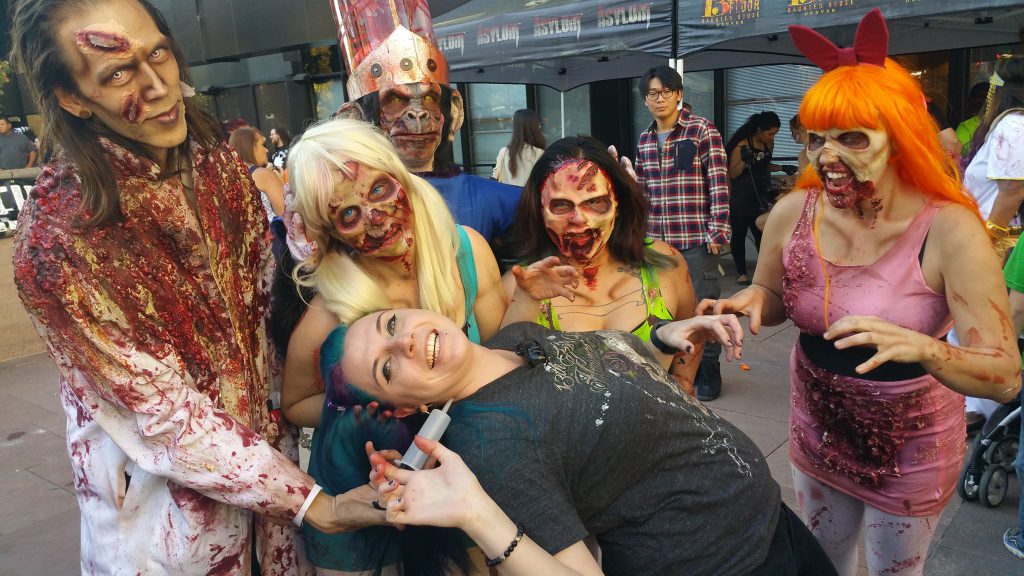 ---
Before applying your makeup, take a shower and moisturize your face and body with a light, unscented and alcohol-free moisturizer.
I recommend CeraVe, although there are many other brands that will work just fine. I personally use CeraVe because it's suitable for any skin type, it works on both face and body, and it absorbs very quickly. Once you've finished that, apply your makeup as you normally would, including primer, foundation, setting powder, eyeshadow, and mascara. Finish it all off with makeup-setting spray.
Now, you've made it to the fun part – glitter!
BEFORE YOU PROCEED: Make sure you are using cosmetic grade glitter on your face!
Listen – getting crappy glitter in your eye can cause severe infections and brings with it the possibility of permanent eye damage. I've seen pictures of a woman who got craft glitter in her eye and later had to have it removed. This is not a joke – pay attention to the glitter you use, and if you don't have the right stuff on hand, go and get it before proceeding to the next step. You can get cosmetic glitter in many places, including Dust & Dance and Etsy shops like Orglamix. I cannot emphasize enough how important this is!
Now that you have the right glitter, applying it is simple.
The easiest way I have found is to mix your glitter with Duraline to create a waterproof adhesive. Duraline is intended to change an eyeshadow into eyeliner or to rehydrate gel liner, but it works great for these purposes, too. I typically mix a few drops with glitter or eyeshadow on the back of my hand and apply from there. Remember – you can always add more, but taking away is harder, so start small.
Once you've mixed your glitter solution, apply it to the inner corners of your eyes, your cheekbones, your collarbones, or any of the high points of your body. I often use a clean ring finger, but a flat eyeshadow brush will work just as well. Use glitter as highlights to your overall look.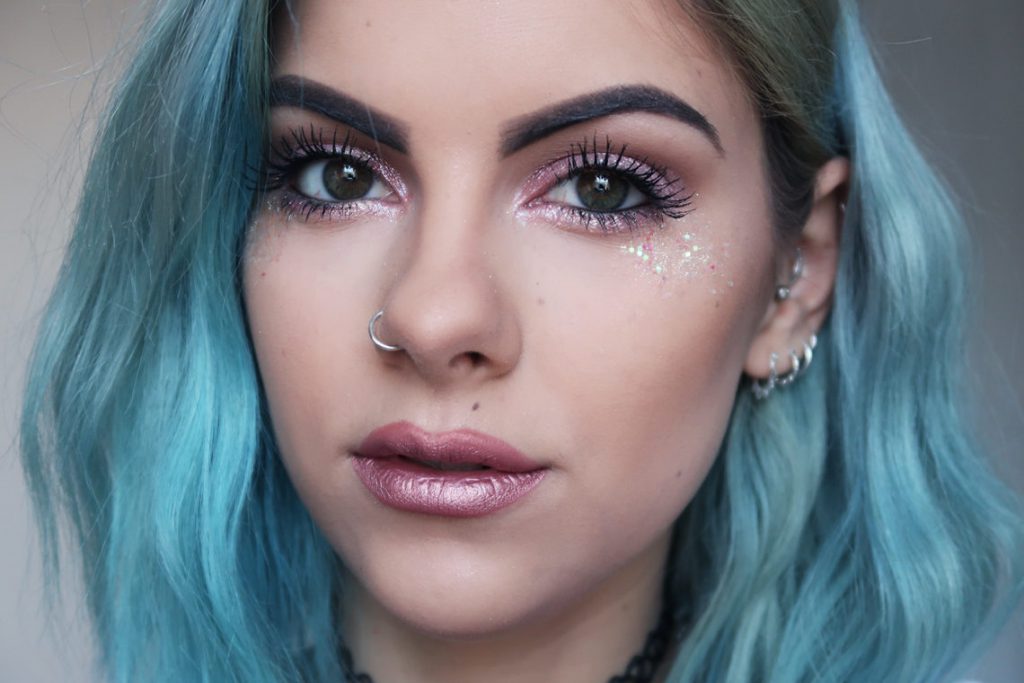 It's a bit more work to get rhinestones to stay on your face and body, so you'll need some specialty adhesive.
You can get prosthetic adhesive at any costume store for around $10. In my work as a makeup artist, I regularly apply full facial prosthetics to performers who need them last all day, through sweat, water, and hot lights. Pros-Aide brand adhesive is my personal favorite and provides great holding power. If you can't find that, Ben Nye prosthetic adhesive is a good middle-of-the-road brand that is usually available at your local costume shop.
Apply rhinestones and gems using the following steps:
Take a q-tip and lightly apply the pros-aide to the back of the rhinestone
Apply the pros-aide to the area of your body where you are going to place it
Wait until both areas dry completely clear
Firmly apply the rhinestone to the area and hold for a few seconds
For extra hold, seal the whole rhinestone with more pros-aide by running the q-tip over and around the rhinestone
Note: prosthetic adhesive will dry shiny and sticky, so you'll need a setting powder to cover up the stickiness. I typically use either baby powder or flesh tone powder. There are many varieties of setting powder available. I usually don't use the expensive stuff for this!
Rhinestones and gems are best used as an accent to the glitter you've already applied in places like the forehead, upper and lower brow bones, and the inner corners of your eyes.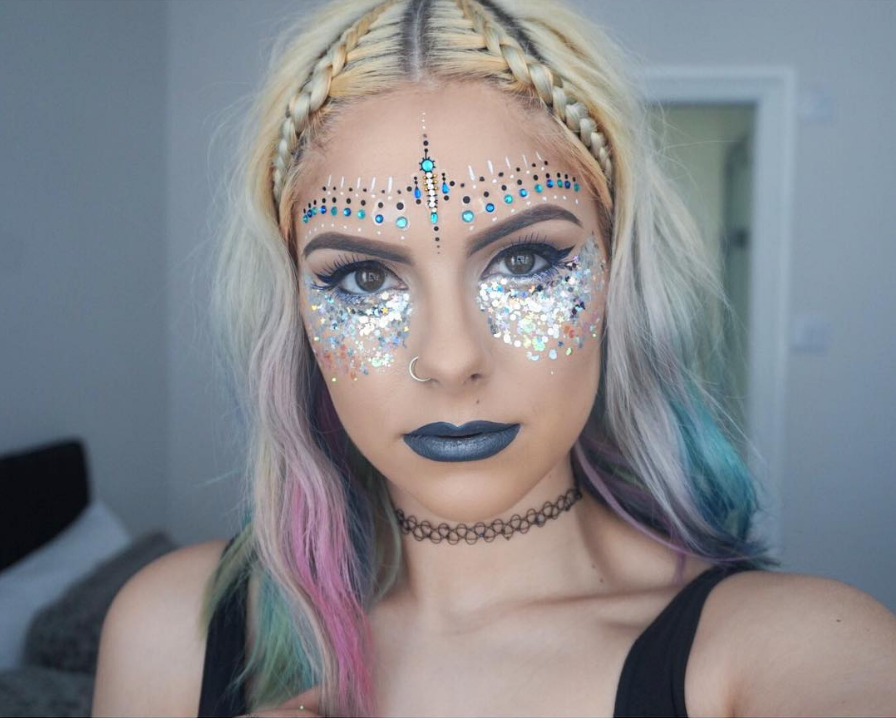 Once the festivities are over, let's talk makeup removal.
Now that you've returned home or to your hotel room, you can remove most of your makeup with baby wipes or makeup wipes. I typically use Equate Oil-Free Eye Makeup Remover, but whatever product you have should do. Make sure not to scrub your face when removing your makeup! Bring extra cotton balls and swirl gently over your eye to remove any glitter or makeup residue.
For any particularly stubborn prosthetic adhesive residue or tough glitter spots, I recommend using a specialty adhesive remover. Telesis Super Solv is the best – I personally use on all my actors and models. It's gentle on the skin and oil based, so it will break down that adhesive really quickly. You can also use 90% alcohol to remove adhesive, but I would not recommend using it on your face since it will dry out your skin.
Don't get discouraged if you make a mistake. Plan ahead and practice!
It's happened to us all before: you spent what seems like hours on your makeup only to make a mistake on the last step and have to start all over again. Avoid that pain by scheduling a practice run a few days before the festival – bring your friends and make a night of it! If you can't squeeze one in or you're a last minute person like I am, leave yourself at least an extra twenty minutes above and beyond your normal makeup routine to give yourself plenty of time to get it right.
---
Are you planning to up your makeup game with some festival glitter this season? Hit the comments to show us your look!
Featured Photo Credit: Bosso Makeup Beverly Hills