Datsik has been accused of sexually assaulting multiple women via a string of tweets that has since caused an uproar in the bass music community.
---
Update 3/20 2pm PT: Datsik's former management, Deckstar, was made aware of multiple sexual assault allegations via an email from a victim. Within 24 hours of sending the email, the victim was contacted by a publicist, who pressed her for more information and asked, "What is it that you're looking for?"
The victim stated that after a show in London, Datsik approached her, plied her with alcohol until she was blacked out, and assaulted her, according to the victim's emails, which she sent to EDM.com and seen by Magnetic Magazine. She also tells a similar story of a friend who met Datsik in New York, the details of which appear to be very much in line with other allegations made against him.
As of this writing, Deckstar has not commented on this matter.
Update 3/16 6pm PT: An instrumental of RUFF NECK's track "Rain Man" was uploaded to Datsik's Apple Music store titled "Sorry" with a release date of Wednesday, March 14, which was the day the accusations were posted online according to YourEDM.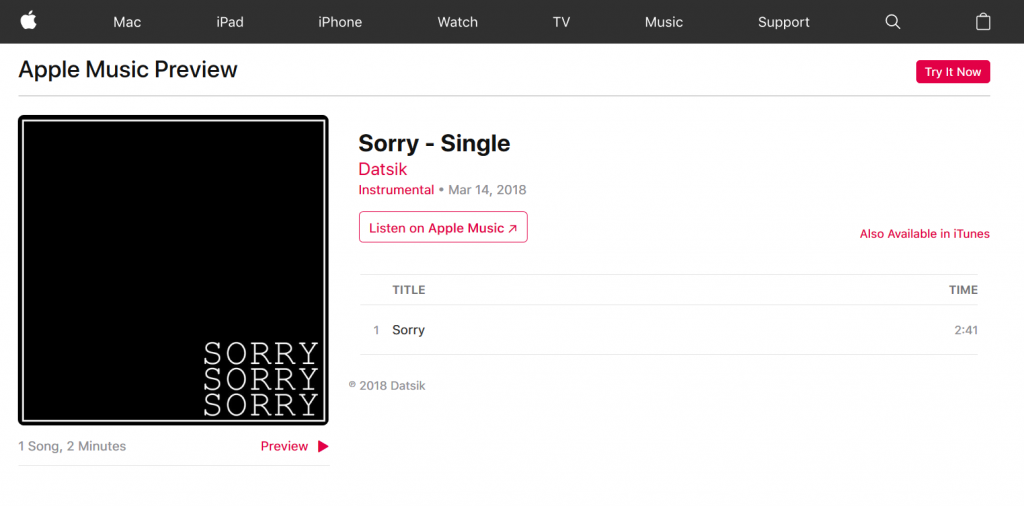 Update 3/15 3pm PT: Deckstar Management and Circle Talent Agency have both severed ties with Datsik amidst these allegations. Both statements were released via YourEDM and can be found below.
"In light of recent allegations that have come forth, we have decided to sever our relationship with Datsik at this time.  Although we lack concrete information to confirm or deny these allegations, the nature and volume of the accusations demand swift and decisive action.  We have always held ourselves and clients to the highest standards and believe that at this time it is in the best interest of our company and staff to move on. " – Deckstar
"In light of recent allegations, Circle Talent Agency, effective immediately, has severed all ties with Datsik." – Circle Talent Agency
Update 3/15 12:15pm PT: Datsik has officially stepped down as the head of Firepower Records. Statement from the Firepower Records Facebook Page can be found below.
Update 3/15 11am PT: Datsik has officially pulled out of all future festivals and has canceled the remaining dates on his Ninja Nation Tour. His official statement on Facebook is below. His twitter account has now been made private as well.
Update 8:30pm PT: CARBIN has officially canceled on the remaining dates of Datsik's Ninja Nation Tour.
As of today im unfotuntely canceling the rest of my dates on the Ninja Nation Tour.
I hope i can reschedule these dates to come perform for you all soon and i apologize to everyone looking forward to seeing me.
Much love and thanks for the continued support ❤️

— CARBIN (@CarbinOfficial) March 15, 2018
Update 7:50pm PT: Excision has released a statement on Twitter and Riot Ten has officially pulled out of Datsik's Ninja Nation Tour. Both updates can be found below.
— Excision (@Excision) March 15, 2018
until further investigation, i am pulling off the tour. sorry to all my fans. i hope to see you soon and that this gets resolved.

— riot ten (@RiotTenMusic) March 15, 2018
---
Bass music artist Datsik has found himself embroiled in accusations of rape and other sexual misconduct after a series of screenshots were posted online earlier today by Twitter user @_princessjay.
The screenshots that brought the accusations against Datsik to light triggered a flurry of activity which resulted in numerous others coming forward to tell their stories. Since then, a similar theme has been present throughout as many members of the scene have disclosed their instances while artists have also begun to respond to the news.
It all began when @_princesssjay shared a screenshot of Facebook conversations which allege rape and sexual misconduct by Datsik:
yall i have to delete my original tweet due to a request for privacy, here it is for the 3rd time! pls RT pic.twitter.com/WHnxXI9ptN

— mrs. wobble➡️➡️SG (@_princesssjay) March 14, 2018
Not long after, the floodgates opened and Datsik went on the defensive.  In an effort to save face, he deleted at least two tweets which appear to minimize the serious abuse that is date rape culture in addition to the sexual objectification of women:
In case you missed them 🙂 pic.twitter.com/0QNSvmzyKu

— flow nug (@kaitlyn_baggett) March 14, 2018
As if to add to the chorus, others showed pictures of the Tulsa name tags which confirmed the reports of them being distributed:
— Truman Nolan (@TrumanBassMusic) March 14, 2018
I was given this 2 years ago in Orlando when I was invited on Datsik's tour bus. pic.twitter.com/Q2GT9mlcHK

— Amanda (@moreaamandaa) March 14, 2018
Other artists in the bass music community like Jauz have also begun to release statements surrounding this developing story.
All I'm gonna say right now is what goes around comes around and you'll always get what's coming to you. Be a good person and good things will come… be a horrible fucking human being and eventually it'll bite you in the ass. Simple enough

— Jauz (@Jauzofficial) March 14, 2018
Excision, who has been a longtime friend of Datsik's has also responded to the allegations that were made today.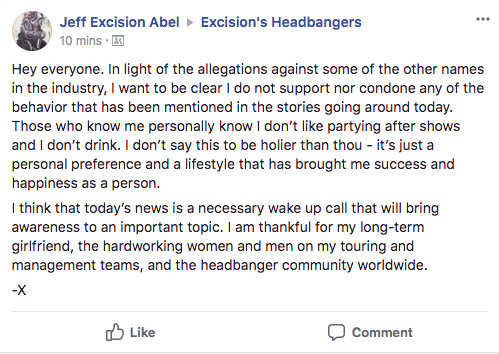 Space Jesus, who was also involved in allegations earlier today, has released this statement regarding the allegations and has subsequently pulled out of the Ninja Nation Tour.
— SPOCKSTAR (@SpaceJesusBASS) March 15, 2018
Riot Ten has also officially pulled out of the Ninja Nation Tour until more details surface. His statement on Twitter.
until further investigation, i am pulling off the tour. sorry to all my fans. i hope to see you soon and that this gets resolved.

— riot ten (@RiotTenMusic) March 15, 2018
---
Datsik's Official Statement released via his Twitter account:
On the real.. pic.twitter.com/BAvQzzZDyP

— Datsik (@datsik) March 14, 2018
The statement regarding the allegations from Datsik reads:
Yo everyone. This is a very serious matter to me..

There have been recent allegations against me for things I have not done. I am a vibe reader, I hang out with a ton of people after every show, and always keep a positive vibe. I would never bend anyone against their will and I mean that shit. I'm an adult, I've seen and been thru it all.  but these claims are shaking me to the core. This type of shit is detrimental to my persona as I truly take pride in being myself and being honest. I want everyone to know that I am being the best Datsik I can, as well as being the Troy I can be.  You should know that tour is a safe and fucking rad zone for us all.  It really breaks my heart when people feel upset at the end of the day because I am a good person and would never take advantage of anyone.  Let me be straight up.  I don't condone that kind of behavior and I care about every single person that I meet, on the real.  I know this is a sensitive subject and I am also a sensitive dude, so please say what u must but honestly I want u to know that this shit means the world to me.  This is my life and my passion as I know it.  I care so much about my fans and my music and what you all think of me.  I will make a bigger effort to make sure that nothing I do will be misinterpreted in the future.
---
Without commenting on the veracity of the allegations levied against Datsik today, the staff at EDM Identity wish to make one thing abundantly clear: any conduct which violates another being's agency and autonomy, but especially those acts of a sexual nature, are abhorrent and have no place in the dance music scene.
We encourage everyone to understand what consent is, when it can be given, and what to do if you're not sure.  If consent isn't clear, give this video a go.