This brand new OMNIA Los Cabos is without a doubt the hottest new upscale party spot in Baja California!
---
OMNIA is one of the first clubs to bring world-renowned DJs to the long-time party spot of Los Cabos, México, and we couldn't be happier about it. While the area boasts beach bars galore and a downtown filled with crazy bars, it was missing a spot for those looking for a more luxurious experience while still enjoying top-notch music. Taking place on the last weekend of February, OMNIA Los Cabos Grand Opening included performances by Steve Aoki, Zedd, and Calvin Harris, and I was lucky enough to experience the very first night with Steve Aoki.
OMNIA Los Cabos is an exquisite crossover between a Vegas dayclub and an upscale Mexican beach resort, bringing all the craziness of a Vegas pool party to an absolutely stunning venue right on the beach. The club encircled a giant pool, with daybeds, restaurants, bars, and cabanas lining the edges. But these were no normal cabanas – these were treehouses, reaching to the sky with infinity pools flowing off the back that looked out onto the beach. I can't even imagine how magnificent these must've been in the daytime!
The club is located in the Vidanta Resort in San José Del Cabo, about a thirty-minute drive from our hotel in Cabo San Lucas. Doors opened early around 6, but we didn't get there until closer to 9. It ended up being perfect timing, allowing us to admire the club and grab some drinks before Steve Aoki took the stage.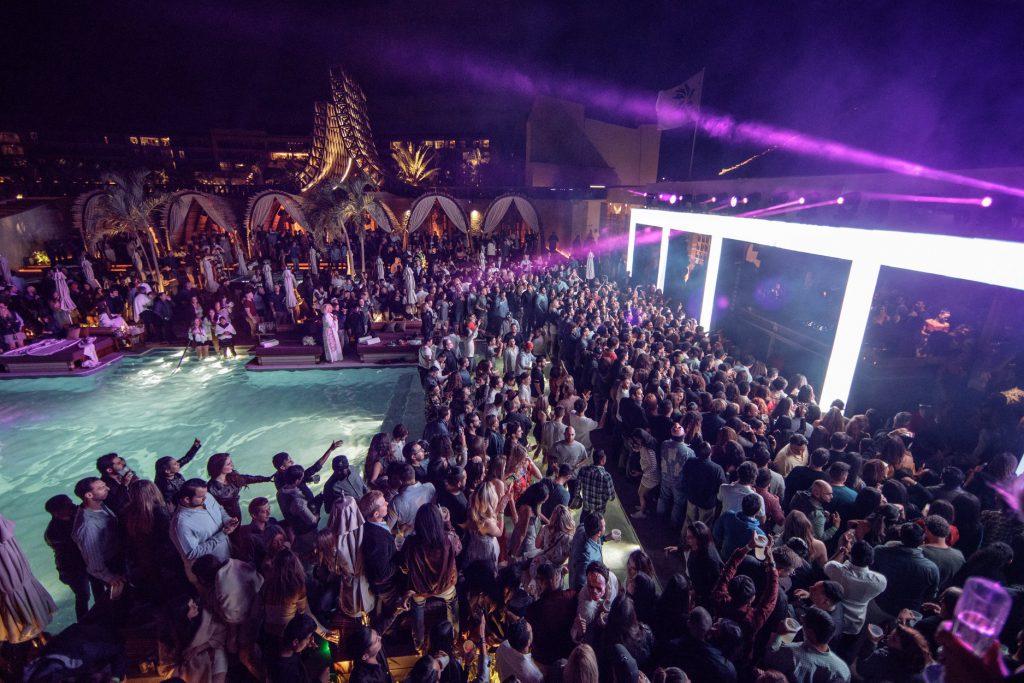 Behind the DJ booth was the beautiful Casa Calavera Mexican restaurant, serving delicious food and drinks all night.
As we walked in, they greeted us with intricate Mexican masks that complemented the theme of the restaurant. Many people had tables within the restaurant rather than out by the pool, eating and drinking the night away until the main event began. We mingled, explored, and drank some scrumptious margaritas as the opening act heated things up. Finally, Steve Aoki took the stage and we ran over to get a good spot towards the front, right between the pool and DJ booth.
In classic Steve Aoki fashion, he played a banging set start to finish and raged with us the entire time!
I hadn't seen an Aoki set in years and honestly expected somewhat generic mainstream music, but he truly blew me away. His set ranged from progressive to bass house to hip-hop, and no matter what he kept the energy through the roof. His mixing was impeccable, with impressive seamless transitions throughout the set. Beat after beat Aoki kept us dancing, dropping a ton of new music like his new track with Carnage "PLUR Genocide" that had just been released earlier that day.
Aoki was the perfect choice to kick off OMNIA Los Cabos's Grand Opening Weekend. It was quite the celebration, complete with crowd surfing, lots of champagne, and even a surprise appearance by Zedd who also played a daytime set the following day. As the set ended, a spectacular firework show went off from the beach, closing out an amazing night and celebrating many more to come!
There really is nothing better than raging to a world-class DJ in a breathtaking venue such as this. If I ever find myself back in Cabo I will without a doubt be hitting OMNIA Los Cabos for round two.
Make sure to check out their event calendar for upcoming shows – March is looking absolutely insane for OMNIA with performances by Dillon Francis, Oliver Heldens, NGHTMRE, and more! 
---
Watch the Grand Opening Weekend OMNIA Los Cabos Recap: 
---
Connect with Omnia Los Cabos on Social Media: