The West Coast Weekender is back and is set to feature some talented artists and insightful panels at this year's edition!
---
If you're in Southern California and looking for an event that not only will help educate you on the electronic music scene but also provide a sick soundtrack to dance away to, look no further than West Coast Weekender. Dubbed a celebration of music, dance, and culture in SoCal, this event is one of the best that San Diego has to offer.
Hosted in America's Finest City over the weekend of May 3-6, West Coast Weekender is jam-packed with a lineup that will keep things grooving along nicely. Hosted at The Lafayette Hotel as well as the World Beat Center, this centralized location close to Downtown San Diego will make it easy for anyone to access the event.
Artists like Doc Martin, Red Sonya, and Cris Herrera will be taking the stage throughout the course of the event, and we definitely suggest catching the sets from Alien Tom and Matthew Brian as well. Aside from the music, West Coast Weekender will also be hosting yoga sessions, workshops, and panels that will help immerse you in the dance music culture and offer insight from members of the community who have years of experience.
Tickets for the full weekend, the shows at World Beat Center only, and special Ableton courses are available now via westcoastweekender.net/tickets. Additionally, if you're coming in from out of town or looking for a staycation, rooms are available at The Lafayette Hotel, more information can be found via westcoastweekender.net/hotel!
---
West Coast Weekender 2018 Lineup Flyer: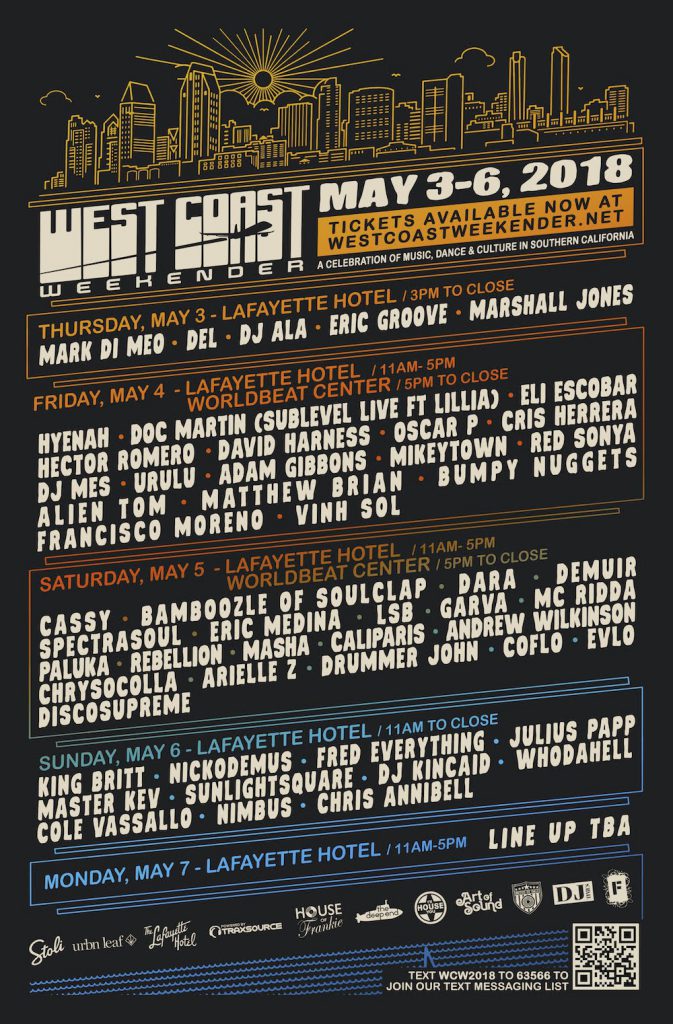 ---
West Coast Weekender 2018 Lineup By Artist:
Cassy
Hyenah
Bamboozle from Soul Clap
King Britt
Doc Martin (Sublevel Live ft Lillia)
Dara
Spectrasoul
Demuir
Eli Escobar
LSB
Fred Everything
DJ Mes
Hector Romero
David Harness
Nickodemus
Oscar P
Del
Julius Papp
Cris Herrera
Eric Medina
Adam Gibbons
Garva
MC Ridda
Urulu
Sunlightsquare
Mark di Meo
MasterKev
Paluka
Masha
Red Sonya
Alien Tom
CaliParis
DJ Ala
Mikeytown
Eric Groove
Rebellion
Arielle Z
DJ Kincaid
Chrysocolla
Matthew Brian
Marshall Jones
Bumpy Nuggets
Vinh Sol
Andrew Wilkinson
WhoDaHell
Coflo
DiscoSupreme
Cole Vassallo
Drummer John
Francisco Moreno
More TBA
---
Connect with West Coast Weekender on Social Media:
Website | Facebook | Twitter | Instagram | Mixcloud | YouTube