Heading to Okeechobee Music & Arts Festival this year? Stay in the know with this essential information!
---
This weekend the portal will re-open and we are more than ready to jump straight in. Nestled a few hours south of Orlando, Okeechobee is a mix of both unique art and epic music to give attendees an amazing weekend. The four-day festival will open its gates at 12pm on Thursday and thousands of attendees will once again experience this other world adventure.
The Okeechobee 2018 lineup spans multiple genres to feature artists like Travis Scott and Halsey alongside Bassnectar and Illenium. Beyond the music, there will be daily yoga, art installations, and interactive activities to participate in as well. With so much going on it can be hard to keep track of everything there is to know, so we've organized it all here for you!
---
Okeechobee 2018 Essential Info:
Dates: Thursday, March 1 – Sunday, March 4
Show times: 12pm – 6am
Venue Address: 12517 NE 91st Ave, Okeechobee, FL 34972
Ages: All Ages
Acceptable Forms of Identification for Entry:
Passport, Driver's License, State ID Card, or Government Issued ID will be the only forms of identification accepted on site to pick up tickets at will call or purchase alcohol. Please make sure to bring at least one of these with you to the festival!
---
Okeechobee 2018 Set Times:

---
Okeechobee 2018 Festival and Camping Maps: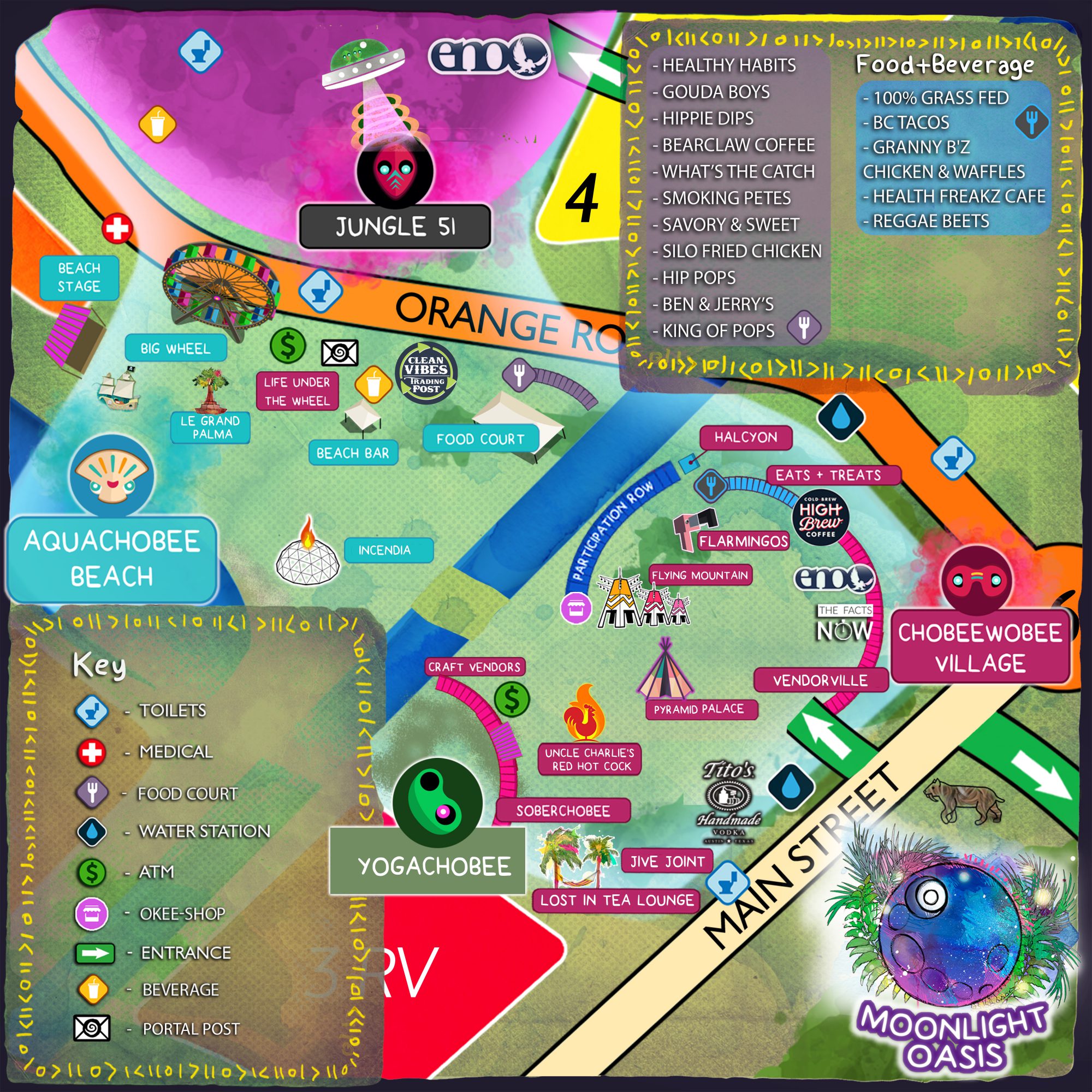 ---
Okeechobee 2018 Do's & Don'ts:
DO BRING
Your own Tent and Camping Gear
Blanket / Sleeping Bag
Towel
Toiletries (Soap, Shampoo, Toothpaste, etc)
Water or Refillable Water Container
Food for the duration of the festival (Or Cash for Food vendors)
Non Alcoholic Beverages
Alcoholic Beverages (21+ only) *Limit 1 case of beer & 1 bag/box of wine per car. NO GLASS!!
Cell Phone / Cell Phone Charger/ Extra battery packs
Sunscreen
Backpack
Camera / Go pro *No detachable lenses
Ear plugs
Wet Wipes (Trust us on this one 😉 )
Sunglasses
Hammock
Small Propane Grills
Cooler / Ice
Camping chairs *not allowed in main stage area, but encouraged at the campsites!
DO NOT BRING
Generators
Charcoal/Open Flame Grills
NO CAMPFIRES!
Drones / Aircraft
Drugs / Drug Paraphernalia
Fireworks / Explosives / Road Flairs
Dry Ice
Helium, Nitrous, or CO2 Tanks
Glass Bottles / Jars
Guns (Toy or Real) / Knives / Weapons of any kind
Pets / Animals
Scooters / Skateboards / Bikes
Totems over 7 ft.
Citronella candles or candles of any kind
Professional Cameras (Detachable Lens)
Professional Video Equipment
Propane Lanterns and Chinese Lanterns – ABSOLUTELY NO OPEN FLAMES
We prefer you do not bring disposable plastic water bottles, but please DO bring reusable ones!
---
Reminder To Mind Your Belongings:
Unfortunately, many people have reported pickpockets, bag slashings, and theft of wallets, smartphones, purses and other valuables during this festival season. While this small number of bad apples in the bunch doesn't define an entire crowd, there are opportunistic people who come to these events to take advantage of unsuspecting partygoers and it's important to be mindful of your valuables while at Okeechobee.
Pay attention to who and what is going on around you. Keep your wallet and phone in your front pocket(s) if you can. Treat your phone the same way you would treat cash; don't set it down on a table or bar and look away. If a friend isn't standing behind you in a crowd, be careful of your backpack or purse, and don't put valuables in a pocket that could easily be unzipped by someone behind in a crowded spot without you realizing what has happened.
---
Connect with Okeechobee Music & Arts Festival:
Website | Instagram | Twitter | Facebook | SoundCloud | YouTube